Khushi Kapoor's fashionable black top and stunning denim skirt is PROPER STEAL
Get ready to be dazzled by the ultimate fashion spectacle as Khushi Kapoor, the promising young star, takes center stage to promote her upcoming film, "The Archies." The world of Bollywood fashion has witnessed a unique transformation with the arrival of these Gen-Z celebrities, who are adding their own distinctive and stylish spin to the industry. As Khushi Kapoor steps into the spotlight, she brings forth a refreshing and innovative approach to fashion that is sure to inspire and captivate fashion enthusiasts everywhere.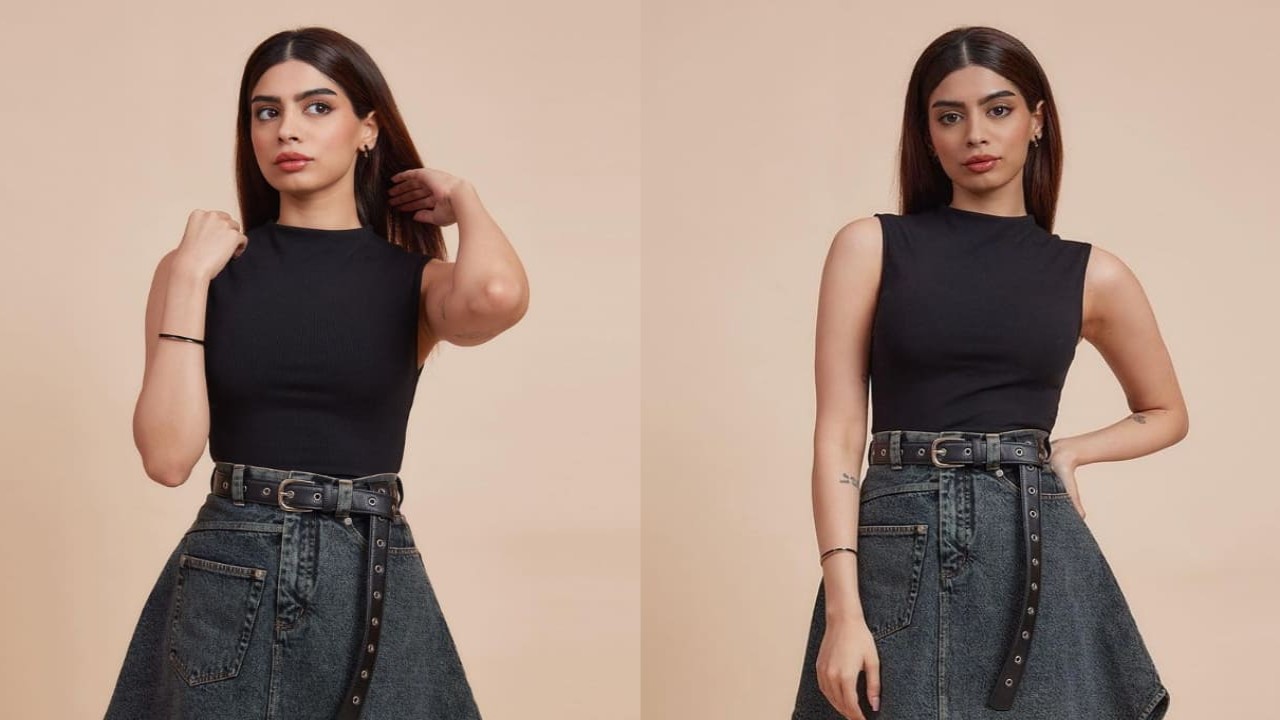 Khushi Kapoor's fashion-forward ensemble for the promotion of "The Archies" is nothing short of spectacular. It's a visual treat that promises to leave you in awe. Her ability to effortlessly blend sophistication with modern style is a testament to her burgeoning talent and impeccable fashion sense. This is a moment that will undoubtedly leave you breathless and inspired, as Khushi Kapoor sets a new standard for fashion in the Bollywood industry.
Khushi Kapoor, the embodiment of a supreme fashionista, has been consistently wowing us with her sartorial choices. Her recent fashion endeavors have been nothing short of impressive. It all began with her immaculate white little dress, a look that left us yearning for more of her perfect style. With her debut, she set a high bar for her fashion game, and it was evident that she had much more to offer.
However, Khushi Kapoor didn't leave us waiting for long. Shortly after her first stunning appearance, she graced us with her presence in a sleek black mini-dress that exuded absolute elegance. This look showcased her ability to effortlessly transition from one style to another, proving her versatility as a fashion icon. Her choice of a black mini-dress highlighted her keen sense of sophistication and her knack for making a striking statement.
Just when we thought we couldn't handle any more fashion awesomeness, Khushi Kapoor unveiled her latest outfit – a brilliant combination of black and denim in the form of a beautiful skirt. This ensemble once again demonstrated her evolving fashion prowess, as she continued to push the boundaries of style. With each new appearance, Khushi Kapoor keeps us eagerly anticipating what she'll wear next, making her a force to be reckoned with in the fashion world.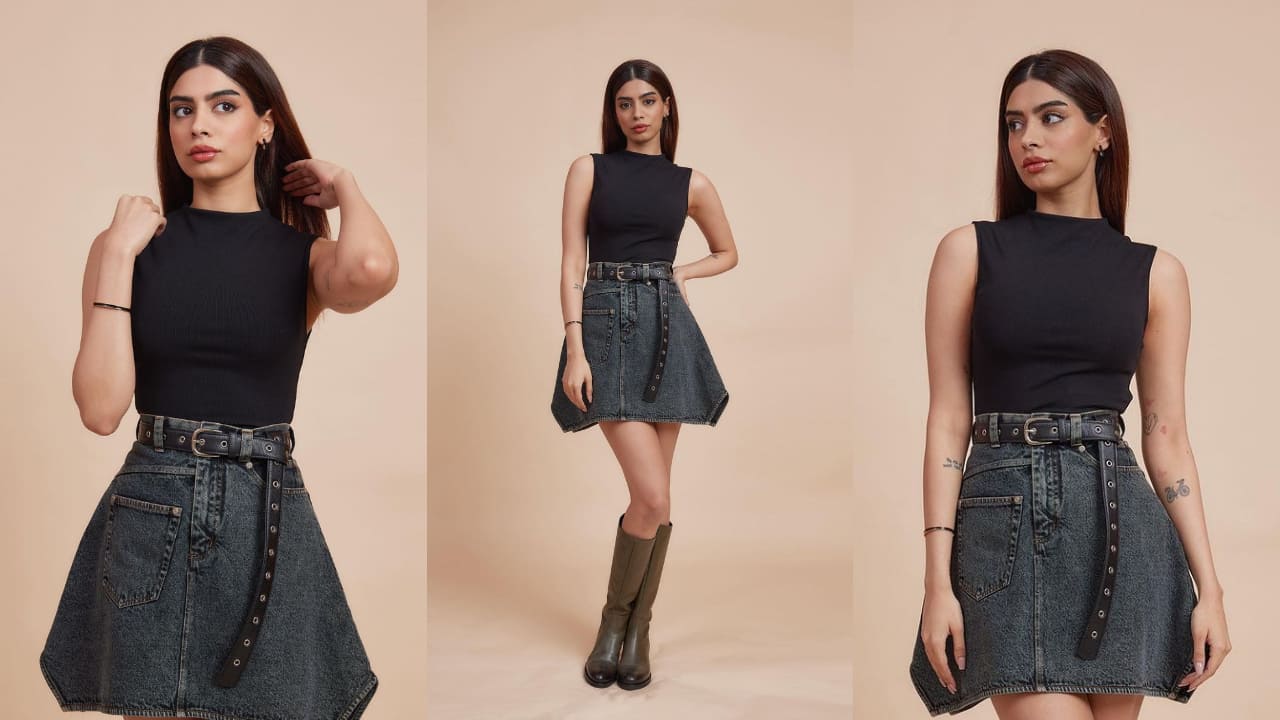 Khushi Kapoor's fashion journey took a daring turn when she opted for a gorgeous black box-style top. The box-style top is a bold choice that deviates from the conventional, and it showcased her fearless approach to fashion. The boatneck neckline of the top added an extra layer of elegance to an already stunning outfit, balancing out its edgy elements with a touch of sophistication.
The outfit as a whole was a fantastic combination of edginess and sophistication, especially when paired with a denim skirt. Khushi Kapoor's choice of the denim skirt added an element of contrast and uniqueness to the ensemble. The skirt had a distinct form and style that set it apart from the rest, making it clear that Khushi was keen on pushing the boundaries of fashion and making her own mark in the industry.
This bold and innovative fashion statement reflected Khushi Kapoor's evolving sense of style, proving that she's unafraid to experiment with different looks and take risks in her sartorial choices. Her ability to seamlessly blend edginess with sophistication is a testament to her growing influence as a fashion icon. Each new appearance brings a fresh and exciting twist, leaving fashion enthusiasts eager to see what she'll do next.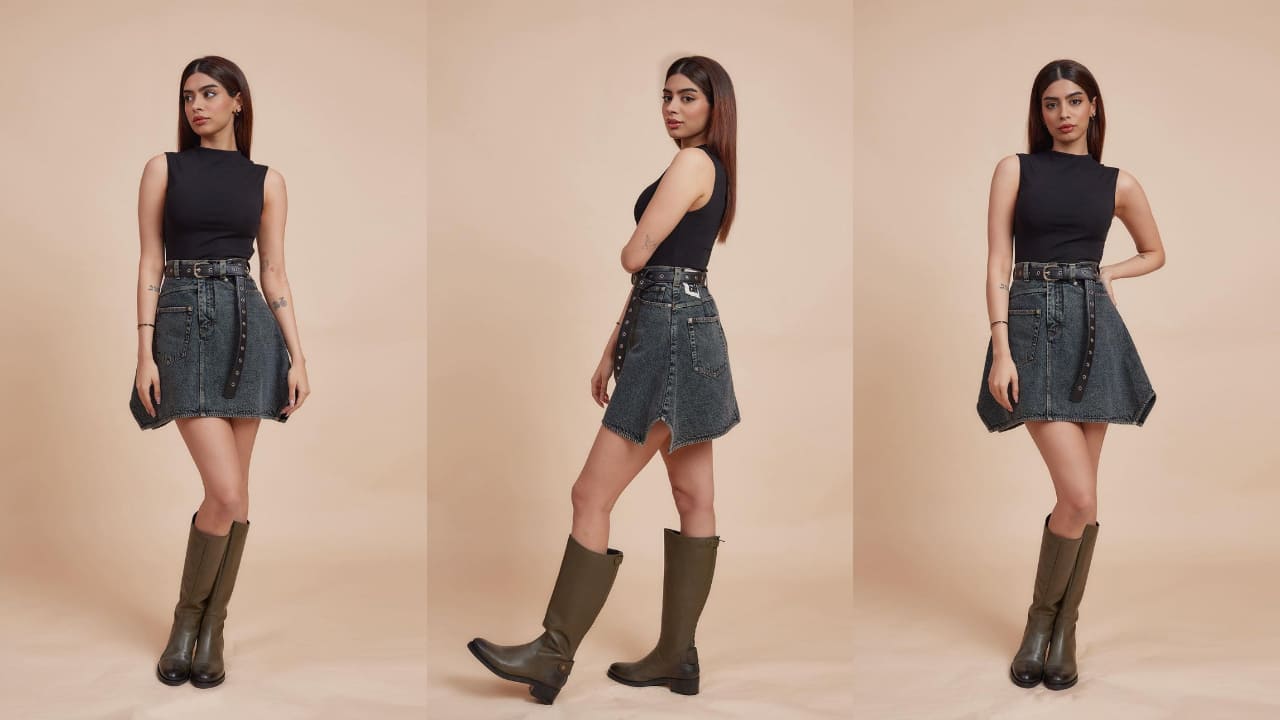 Khushi Kapoor's fashion-forward choices extended to her accessories, as she added a sleek black belt to her ensemble. This accessory provided an extra touch of glamour and sophistication, lifting the entire look to new heights. The black belt not only accentuated her waist but also added a stylish element to the outfit, showing her keen eye for fashion detail.
The denim skirt, which played a significant role in this ensemble, was a standout piece from Dhruv Kapoor's Spring/Summer 2023 collection. By selecting this skirt, Khushi Kapoor showcased her penchant for keeping up with the latest fashion trends and her ability to source unique and trendy pieces to incorporate into her wardrobe.
The overall look was expertly styled by Poornamrita Singh, who played a crucial role in curating this stunning appearance. Her skillful approach to fashion allowed Khushi Kapoor to shine and make a lasting impression. The collaboration between the stylish duo resulted in a fashion moment that highlighted Khushi's rising status as a style icon, and it left a memorable mark on the fashion scene.
Khushi Kapoor's attention to detail extended to her choice of accessories, which perfectly complemented her gorgeous outfit for the occasion. For her jewelry, she opted for a sleek and understated look, keeping it simple and elegant. Khushi adorned her ears with plain black Ishkaara earrings, which seamlessly blended with her overall style. These earrings not only added a touch of sophistication but also maintained the sleek and minimalistic aesthetic of her ensemble.
To add a touch of elegance to her hands, Khushi Kapoor chose a single bracelet from Radhika Agrawal Studio. This bracelet provided a modest yet fashionable flair to her look, highlighting her commitment to balance and subtlety in her accessory choices. It perfectly accentuated her hands without overpowering the ensemble, demonstrating her fashion sensibility and ability to enhance her appearance with understated yet stylish jewelry.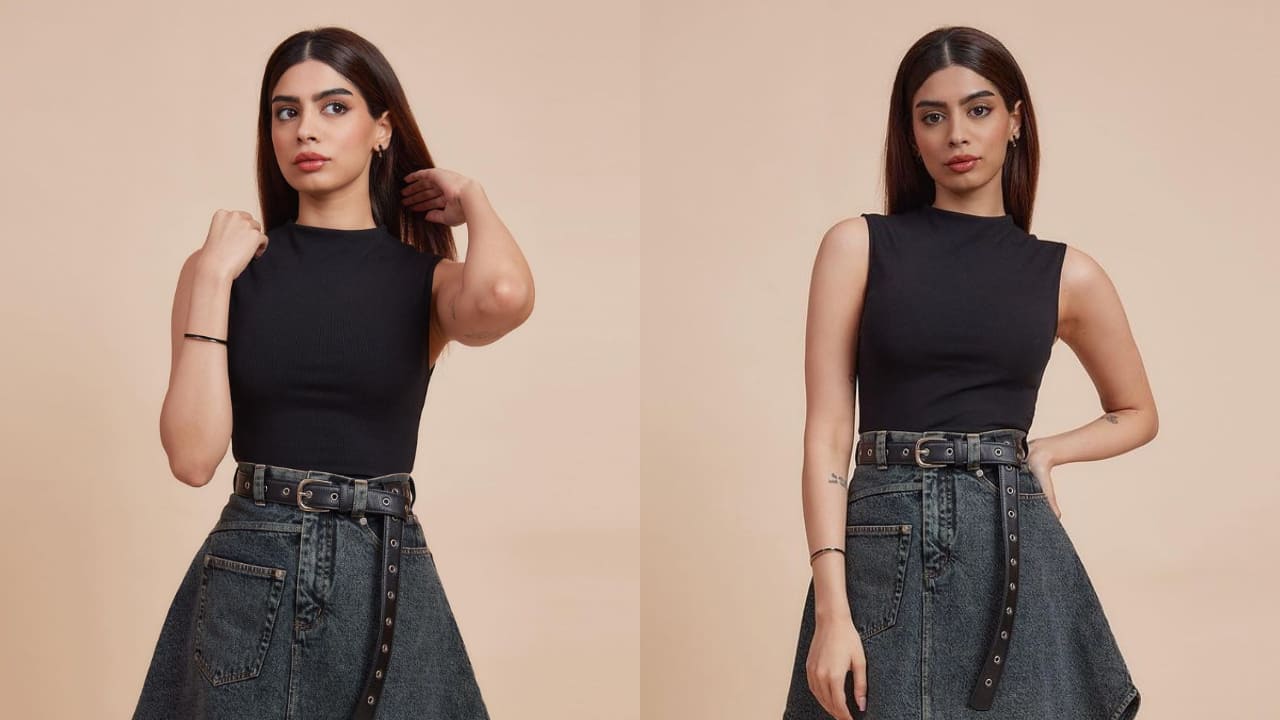 Khushi Kapoor's well-thought-out selection of accessories showcased her ability to refine her fashion choices to create a harmonious and elegant look. Her choice of plain black earrings and a single bracelet added a touch of finesse to her outfit, contributing to her reputation as a fashion icon who knows how to make a statement with grace and style.
Khushi Kapoor didn't stop at just clothing and jewelry to make a statement; she completed her ensemble with a pair of stunning knee-high boots that added a modern and aggressive edge to her look. The choice of olive green leather boots from Saint G World was a bold and inspired decision. These boots not only contributed to the overall aesthetic of her outfit but also showcased her daring approach to fashion. The knee-high design added a touch of drama to the ensemble, making her look stand out even more.
It's worth noting that these fantastic boots came with a price tag of Rs. 15,500. Khushi Kapoor's choice of investing in statement-making products demonstrated her understanding of how to balance luxury with style. She clearly values the impact that well-chosen accessories can have on an outfit and isn't afraid to invest in pieces that elevate her look. This approach to fashion further solidified her position as a style icon who knows how to make bold yet sophisticated choices.