Katrina Kaif OWNS Rosario's draped ankle-length dress; A true fashionable marvel
Katrina Kaif, the beloved sensation of Bollywood, has consistently demonstrated her impeccable fashion sense, earning her a reputation as a style icon. The talented actress, known for her role in "Tiger 3," has a fashion game that always remains on point. Her ability to captivate the fashion world with her style choices is a testament to her innate sense of fashion and her continuous evolution in the realm of style.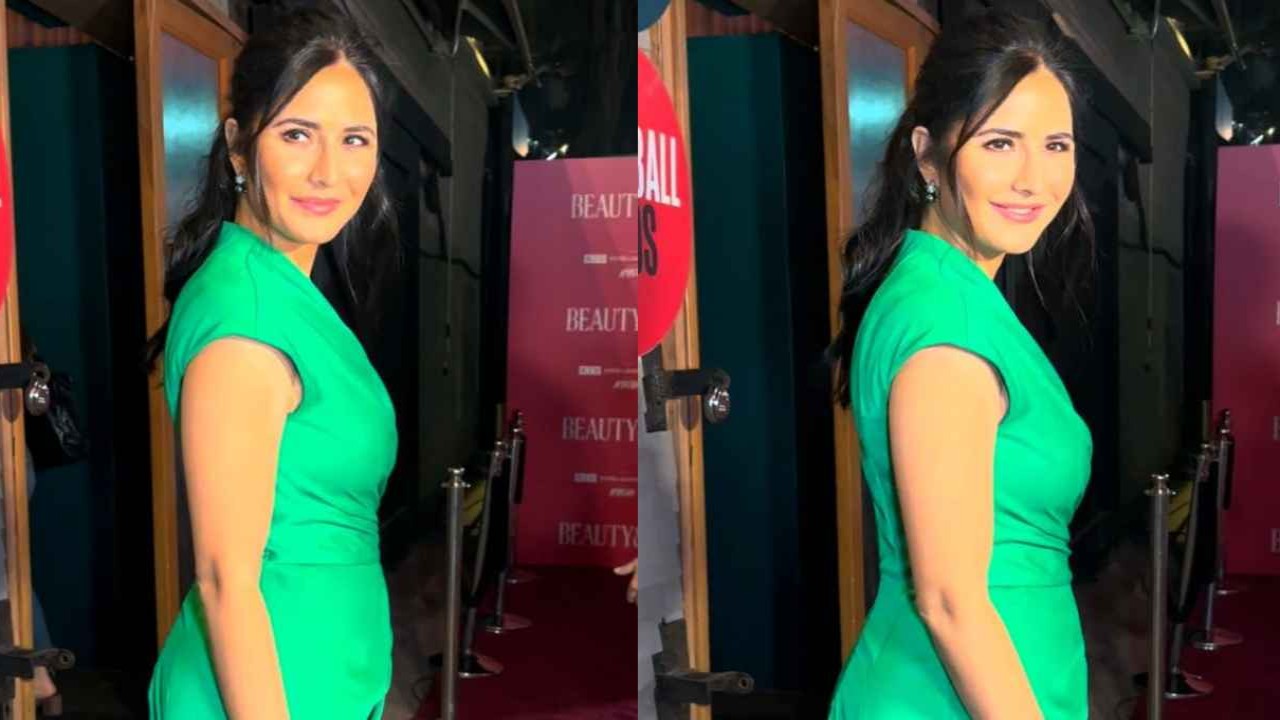 This was further reinforced by a recent appearance at a prominent event in Mumbai, where Katrina Kaif graced the occasion in a classy green ensemble that left everyone green with envy. Her choice of attire showcased her ability to make a statement and set the fashion bar high. The classy green ensemble not only suited the occasion but also perfectly complemented her personal style, making her the center of attention and a fashion inspiration for many.
Katrina Kaif's presence in the fashion world continues to be a source of inspiration and admiration. Her fashion choices consistently create waves in the industry, setting trends and leaving an indelible mark on the world of style. She is a true fashion maven who knows how to steal the show and make a lasting impression with her impeccable fashion choices.
Katrina Kaif made a stunning appearance at a prominent event in Mumbai, and for this fabulous occasion, her choice of attire was nothing short of exquisite. She selected a sleeveless elegant draped-style ankle-length satin evening dress from Rosario, which had a ruched appeal and featured button detailing on the side. The dress was a true statement piece, with an approximate worth of Rs. 1,55,680, highlighting her penchant for high-fashion choices.
The dress not only exuded a sense of sophistication and luxury but also perfectly suited the event. Its elegant design and the meticulous detailing added a touch of glamour to Katrina's overall look. The gown gently hugged her frame, showcasing her curves and accentuating her silhouette. The choice of this dress demonstrated her understanding of how to make a striking fashion statement while maintaining an air of grace and style.
Katrina Kaif's appearance in this Rosario evening dress was a fashion moment that left onlookers in awe and admiration. Her ability to select attire that not only complements her but also sets her apart as a fashion icon is a testament to her evolving fashion sense and her impact on the world of style.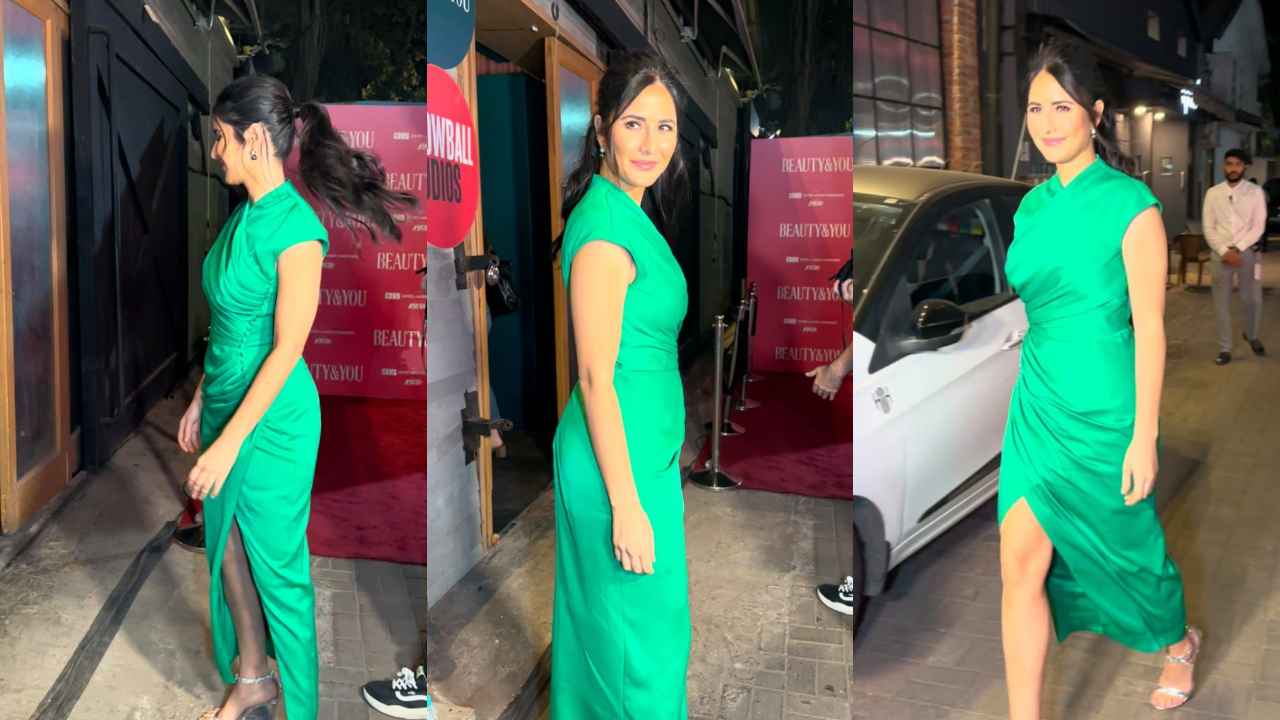 Katrina Kaif's choice of the vibrant green-colored dress for the event was a bold and eye-catching selection. The dress featured an open-shoulder design, leaving her shoulders and arms bare, which added a modern and stylish twist to the ensemble. This choice showcased her confidence and her ability to embrace contemporary fashion trends while maintaining her innate elegance.
The high V-neckline of the dress added a sophisticated appeal to the overall look, enhancing the visual interest of the outfit. It perfectly balanced the boldness of the open shoulders, creating a harmonious and well-thought-out aesthetic.
What added a sultry twist to the classy dress was its front thigh-high slit. This daring element allowed the talented Ek Tha Tiger actress to show off her toned legs and merge elegance with a touch of hot and alluring modernity. The combination of the high slit and the vibrant green color made the ensemble truly striking, and it was a clear indication of her willingness to push the boundaries of fashion and set new trends in the industry.
Katrina Kaif's choice of this dress was not just a fashion statement but a reflection of her confidence, versatility, and ability to infuse modernity into her style. It left a lasting impression, making her the center of attention and an inspiration to fashion enthusiasts.
Indeed, it's safe to say that this dress proved Katrina Kaif's ability to carry off any color with effortless grace. The vibrant green hue showcased her versatility and her capacity to embrace various shades with ease. It's a testament to her fashion prowess and her confidence to experiment with different colors, further solidifying her status as a style icon.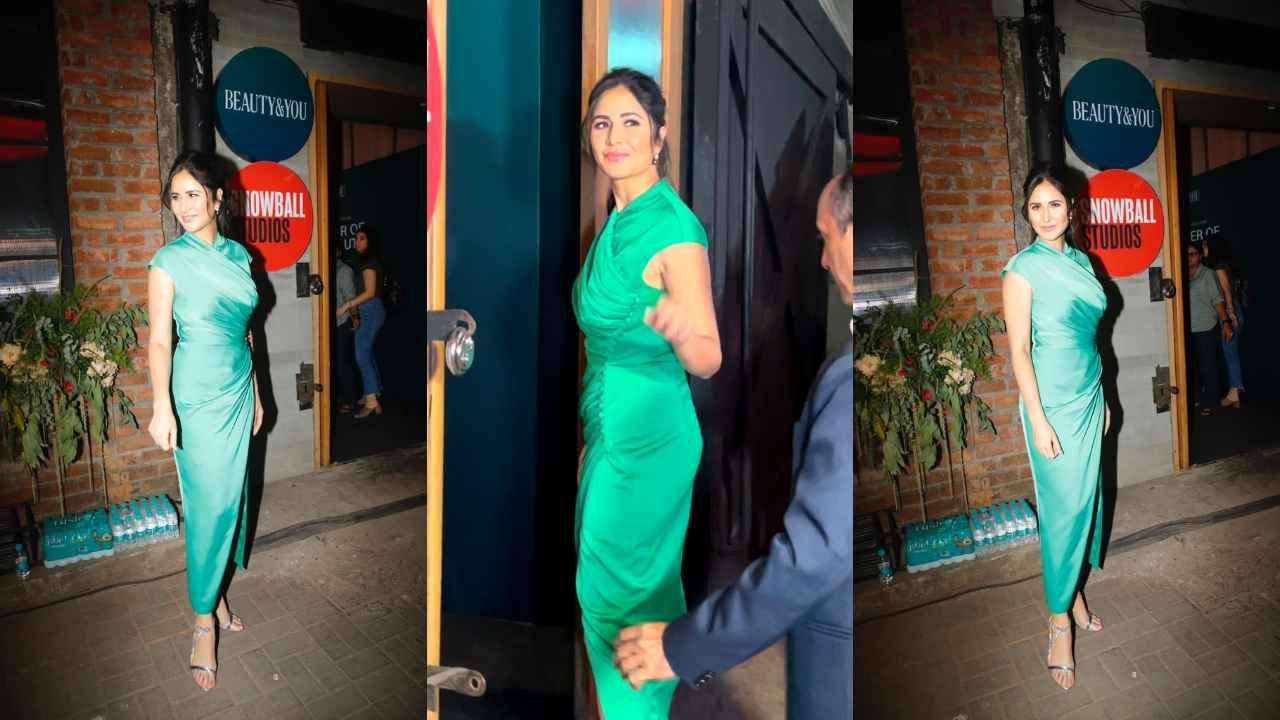 The Tiger Zinda Hai actress looked incredibly stylish in this ensemble, with the dress highlighting her impeccable fashion sense. Her choice to pair the green dress with silver strappy heels featuring peep toes was a brilliant one. These heels not only completed her super fashionable ensemble but also added a harmonious edge to her overall look. The silver accents blended seamlessly with the dress, enhancing the overall aesthetic and contributing to the overall modern and stylish appeal.
Katrina Kaif's fashion choices consistently captivate the fashion world, and this appearance was no exception. Her ability to effortlessly blend colors and styles demonstrates her unmatched sense of fashion, making her an enduring source of inspiration for fashion enthusiasts worldwide.
In addition to her stunning attire and footwear, Katrina Kaif opted for a minimalistic approach to accessories, further highlighting her exceptional fashion sensibility. She chose to adorn herself with simple silver droplet earrings, showcasing that sometimes, less is more. These delicate earrings proved that even the most understated pieces can elevate an ensemble to great heights.
Katrina's choice of these elegant earrings was a testament to her understanding of balance and subtlety in fashion. The minimalist approach allowed her dress and overall look to take center stage while still adding a touch of refinement to her appearance. It demonstrated her ability to let her outfit do the talking, showcasing her innate sense of style and the power of well-chosen accessories.
The talented Welcome actress' fashion choices in this ensemble were indeed something to be obsessed with. Her commitment to simplicity and sophistication was evident in every detail, making her look not only fashionable but also a timeless example of how to make a statement with understated elegance. Katrina Kaif's choices continue to be a source of inspiration for those who appreciate the art of minimalistic yet impactful fashion.
Katrina Kaif's impeccable fashion sense extended to her hair and makeup choices, making her look truly flawless. The talented Dhoom 3 actress opted for a hairstyle that was nothing short of perfection. She tied her hair up and styled it into a high ponytail with wavy flicks on both sides of her face, effectively framing her face and enhancing her overall charm. This hairstyle was a harmonious choice, adding a touch of modernity to her look while maintaining a timeless elegance.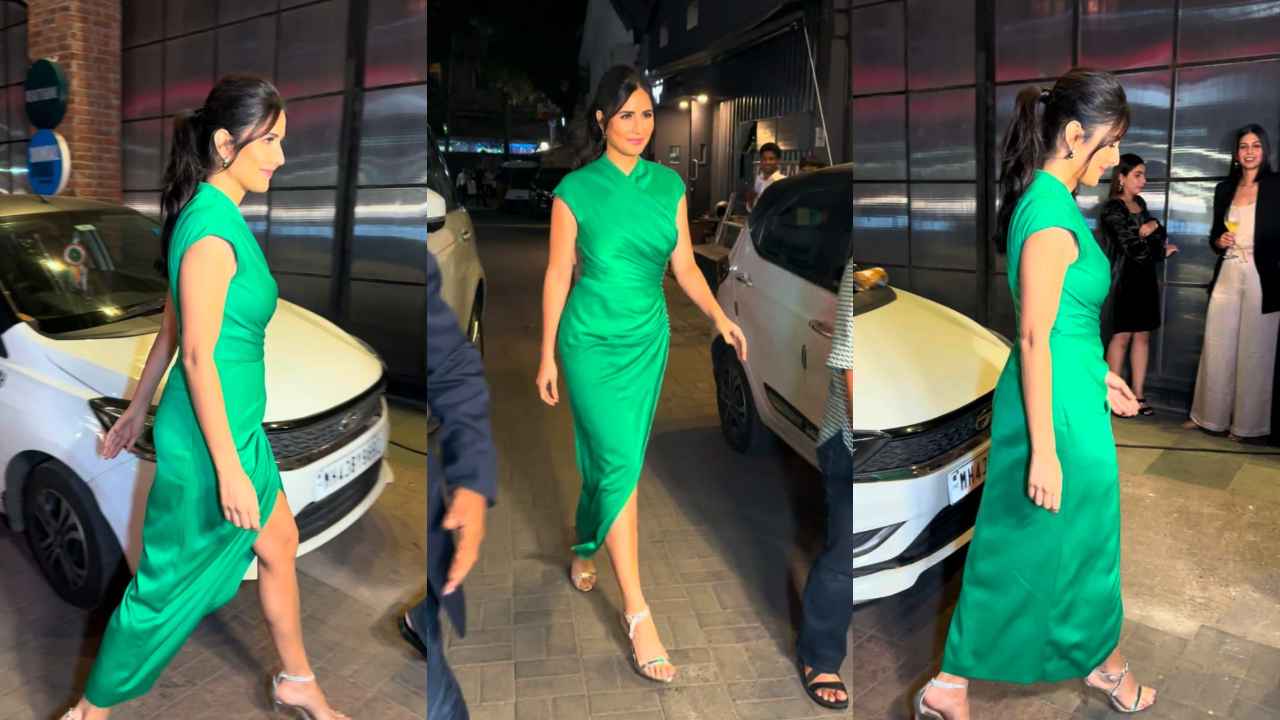 To complement her super stylish and vibrant green ensemble, the Baar Baar Dekho actress chose a rather understated and subtle makeup look. Her makeup highlighted her natural beauty and allowed her outfit to take center stage. This choice demonstrated her keen understanding of the balance between fashion and beauty. The subtle makeup look was perfectly in sync with her ensemble, creating a cohesive and refined appearance.
Katrina Kaif's hair and makeup choices further solidified her status as a fashion and beauty icon. Her ability to harmonize every aspect of her look, from the attire to the hairstyle and makeup, showcased her mastery of the art of fashion and beauty. Her overall appearance was a testament to her impeccable sense of style and her ability to shine in every aspect of her public appearances.