Kareena Kapoor Khan STUNS in draped satin-twill maxi dress at SRK's birthday bash!
Last night, a star-studded birthday bash for Shah Rukh Khan was the talk of the town, and it was none other than Kareena Kapoor who managed to steal the show. Dressed in a breathtaking white gown, Kareena Kapoor once again proved her status as a style icon in Bollywood. She's a name that most of us fondly remember as the legendary "Poo" from her iconic role in "Kabhi Khushi Kabhie Gham," and she continues to dazzle us with her style.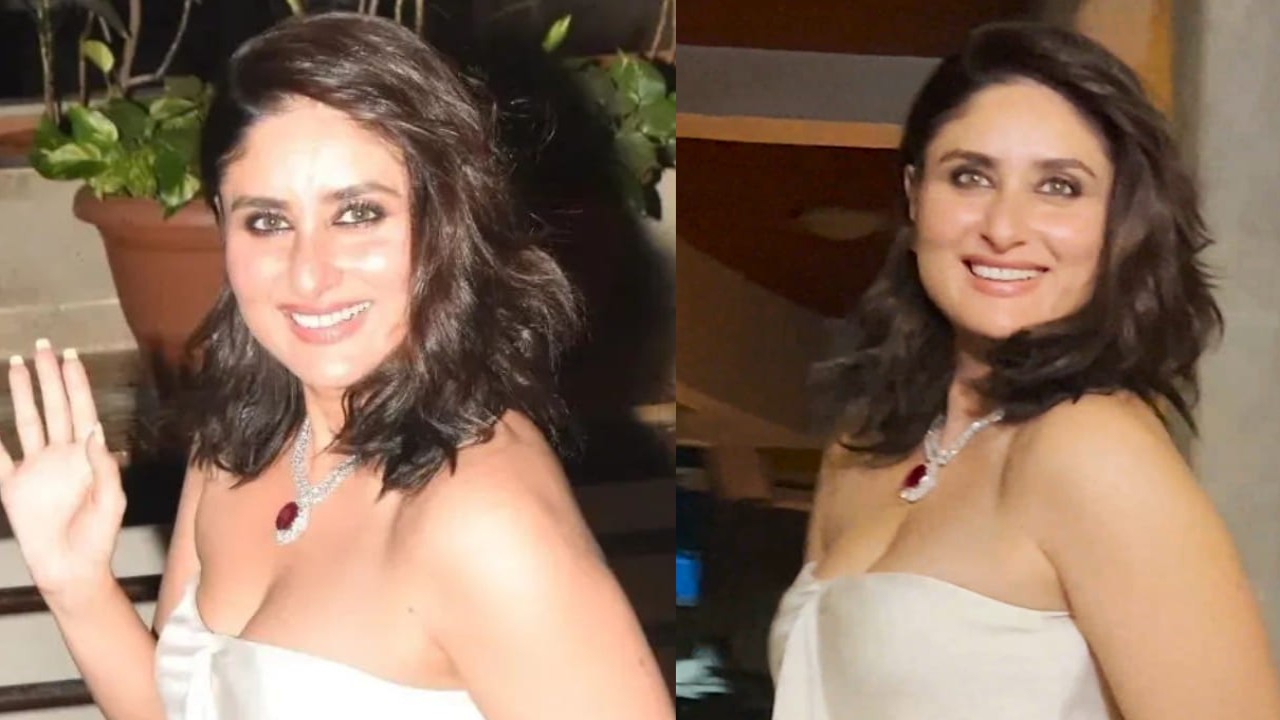 Kareena Kapoor's fashion game has always been on point, and she consistently provides us with major style aspirations. Over the years, she has maintained her impeccable sense of style, evolving with the ever-changing fashion trends. Her ability to adapt and reinvent herself in the world of fashion has earned her the well-deserved title of the "fashion queen" of Bollywood.
Her presence at Shah Rukh Khan's birthday celebration was a clear reminder of her enduring influence and her ability to make a lasting fashion statement. Kareena Kapoor is not just a Bollywood queen but a style icon who continues to inspire and captivate fashion enthusiasts worldwide.
Kareena Kapoor's gorgeous appearance at Shah Rukh Khan's birthday event was nothing short of a show-stopper. She made a stunning statement in an immaculate white strapless draped satin-twill maxi dress. This elegant ensemble was crafted from gleaming satin fabric, which lent it a luxurious shine, making her stand out and brightening up the entire night.
The choice of a strapless design added a touch of modernity and elegance to the dress. It highlighted her shoulders and collarbones, giving her a regal and poised appearance. The draping and flowing nature of the maxi dress contributed to its overall grace and sophistication, and it perfectly showcased her impeccable fashion sense.
Kareena Kapoor's fashion choices have always been highly anticipated, and this appearance was no exception. Her selection of the gleaming white dress was a testament to her ability to capture attention and set trends in the world of fashion. Her stunning presence at the event reaffirmed her position as a true style icon, leaving everyone in awe of her timeless beauty and fashion-forward approach.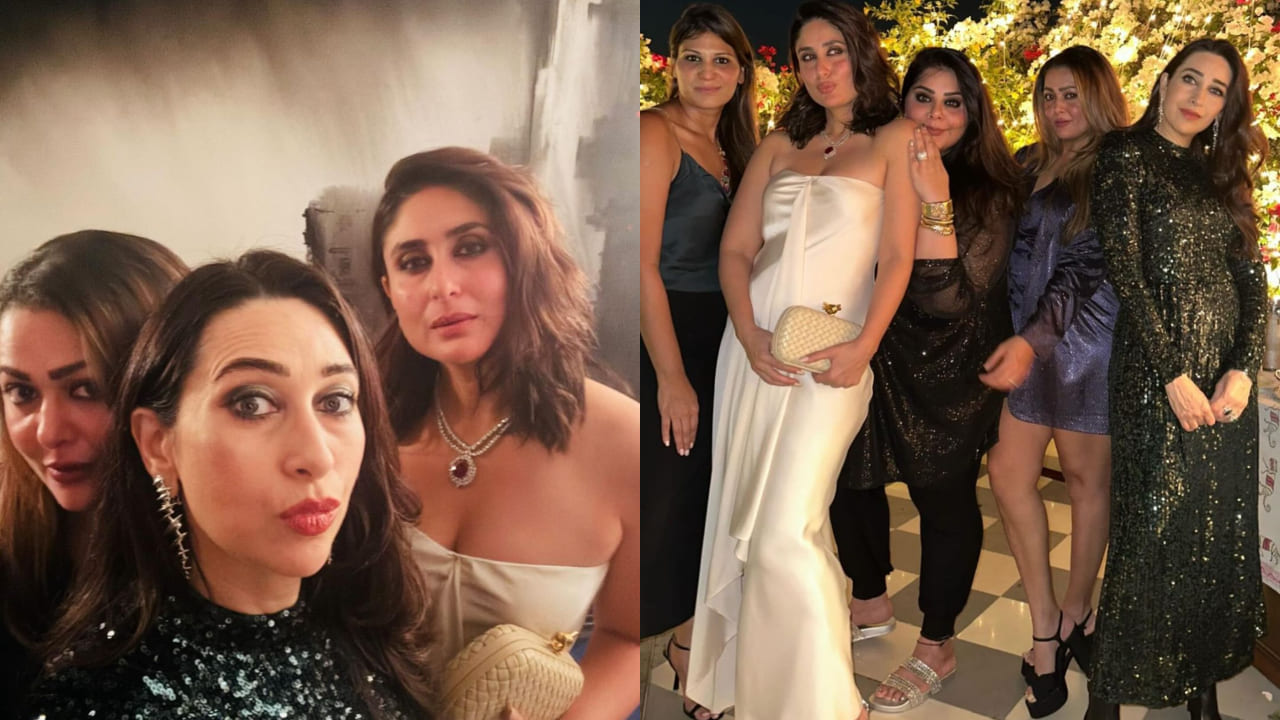 Kareena Kapoor's full-length white dress not only exuded elegance but also featured unique design elements that set it apart. The draped details and the uneven high-low hem in the front gave the ensemble a whimsical and unusual twist. These design features added a touch of creativity and unpredictability to the outfit, showcasing her willingness to experiment with fashion and make bold choices.
This magnificent creation was the work of the outstanding designer, Brandon Maxwell, known for his innovative and contemporary designs. His collaboration with Kareena Kapoor resulted in a dress that seamlessly merged classic sophistication with modern flair, making her look one of a kind and truly memorable.
Kareena Kapoor's choice of this Brandon Maxwell design highlighted her ability to embrace fashion that challenges convention and captivates with its unique charm. Her appearance at the event was a clear indication of her impact on the world of style, demonstrating her continued evolution as a fashion icon.
Kareena Kapoor's impeccable fashion sense extended to her choice of accessories for the evening, which further enhanced her stunning look. First and foremost, she adorned her neck with a stunning necklace that added the ideal touch of glitz to her ensemble. This necklace was a statement piece that perfectly complemented her elegant dress, enhancing the overall glamour of her appearance.
The choice of this necklace showcased her understanding of how to balance and enhance her outfit with the right accessories. It added a layer of sophistication and opulence to her look, making her stand out as a true fashion maven. Kareena Kapoor's ability to select accessories that complete her outfit and elevate her style is a testament to her exceptional fashion sense and her continued reign as a style icon in the industry.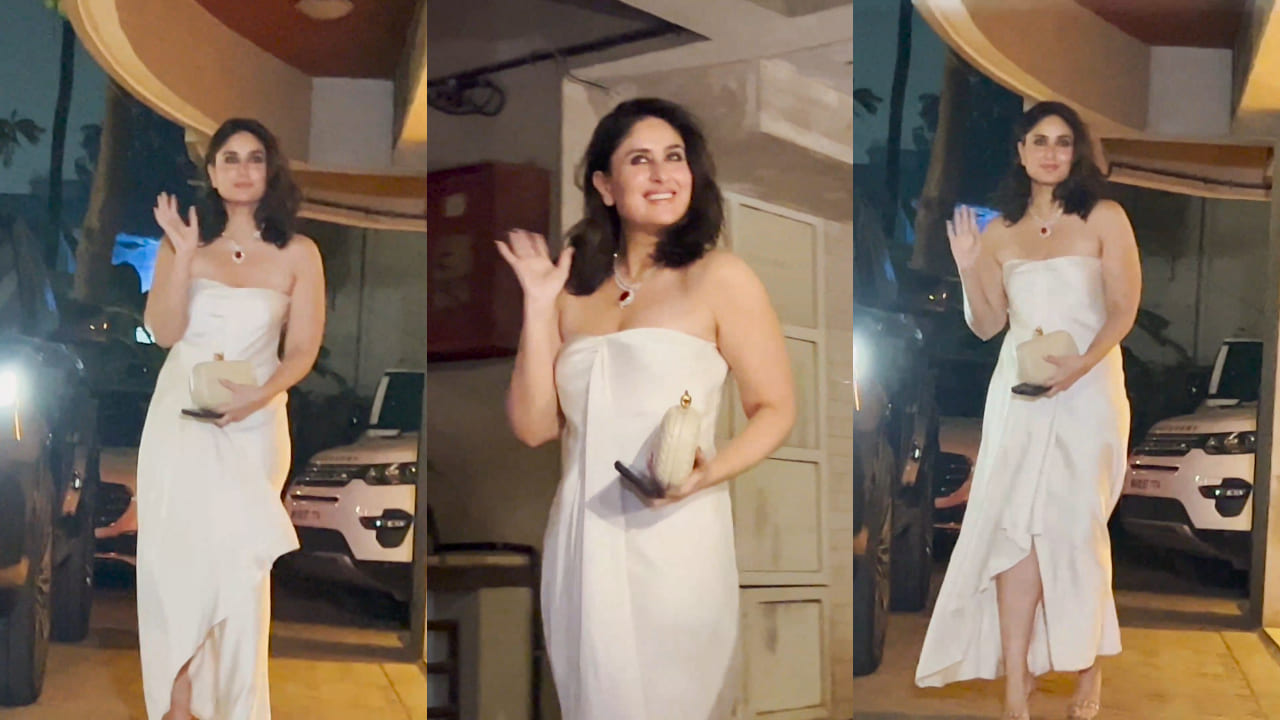 Kareena Kapoor's attention to detail extended to her choice of essentials for the evening. When it came to carrying her essentials, she opted for a textured clutch by Bottega Veneta. This choice was not just practical but also showcased her commitment to class and sophistication. The Bottega Veneta clutch added a touch of luxury and refinement to her overall look, underscoring her ability to make thoughtful and stylish choices in every aspect of her fashion ensemble.
However, Kareena Kapoor didn't stop there; she went the extra mile to complete her appearance. She slipped into a pair of Gianvito Rossi's golden ankle strap heels, which added an extra touch of beauty and class to her look. These heels not only provided a harmonious finishing touch to her outfit but also introduced a pop of metallic glamour, further elevating her appearance.
Kareena Kapoor's choice of accessories and footwear was a masterclass in fashion coordination and refinement. Her commitment to style and her ability to select accessories and heels that perfectly complemented her outfit was a clear indication of her fashion prowess. She left an indelible mark on the event, reaffirming her status as a timeless fashion icon.
The side-parted, open hairstyle was a reflection of Kareena Kapoor's timeless beauty and her understanding of how to enhance her features with subtle yet effective hair styling. It was in harmony with her outfit and contributed to her overall sophisticated and elegant aura. Her effortless approach to hairstyling further solidified her status as a true style icon who knows how to make every detail count.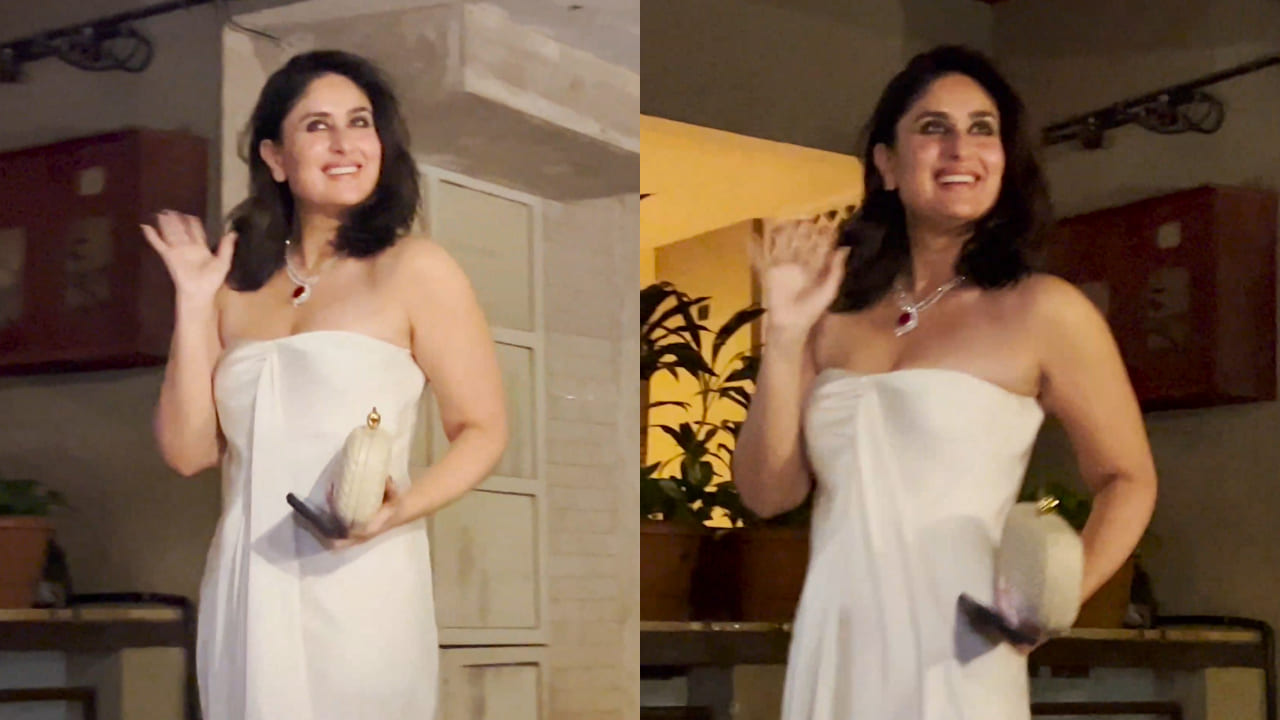 Kareena Kapoor's beauty and style choices continue to captivate and inspire, as she effortlessly combines grace and glamour in every public appearance. Her hairstyle for the evening was no exception, showcasing her mastery of the art of beauty and fashion coordination.
Kareena Kapoor's makeup game for the evening was just as impeccable as her fashion choices. Her makeup was expertly applied, highlighting her stunning features. She sported contoured and flushed cheeks, adding dimension and a healthy flush to her complexion. This technique accentuated her cheekbones and overall bone structure, giving her a sculpted and polished appearance.
Her eyes were the centerpiece of her makeup look. They were expertly smeared with eyeliner and kohl-rimmed, creating a sultry and captivating gaze. The use of eyeliner and kohl added depth and intensity to her eyes, making them the focal point of her beauty.
To complete the look, the Jaane Jaan actress opted for a flash of peach-colored lipstick. This choice added a sense of freshness and vitality to her face, striking a harmonious balance with her contoured cheeks and sultry eyes. The peach lipstick was a pop of color that brought vibrancy to her overall appearance, showcasing her mastery of the art of makeup and beauty coordination.
Kareena Kapoor's makeup choices for the evening were a clear example of how to create a cohesive and striking look. Her ability to accentuate her best features with precision and style demonstrated her status as a beauty and fashion icon, leaving an enduring mark on the event and in the world of style.