Kareena Kapoor Khan bewitches in Rajesh Pratap Singh's kaftan gown with pink sleeves and statement earrings!
When it comes to fashion, Bollywood's ultimate style icon, Kareena Kapoor Khan, never fails to leave us in absolute awe of her fashion statements. The Jab We Met actress has consistently proven her prowess in setting trends and redefining elegance with her impeccable choice of outfits. Her recent appearance at the Jio MAMI Film Festival 2023 was no exception, as she once again displayed her innate sense of style and grace.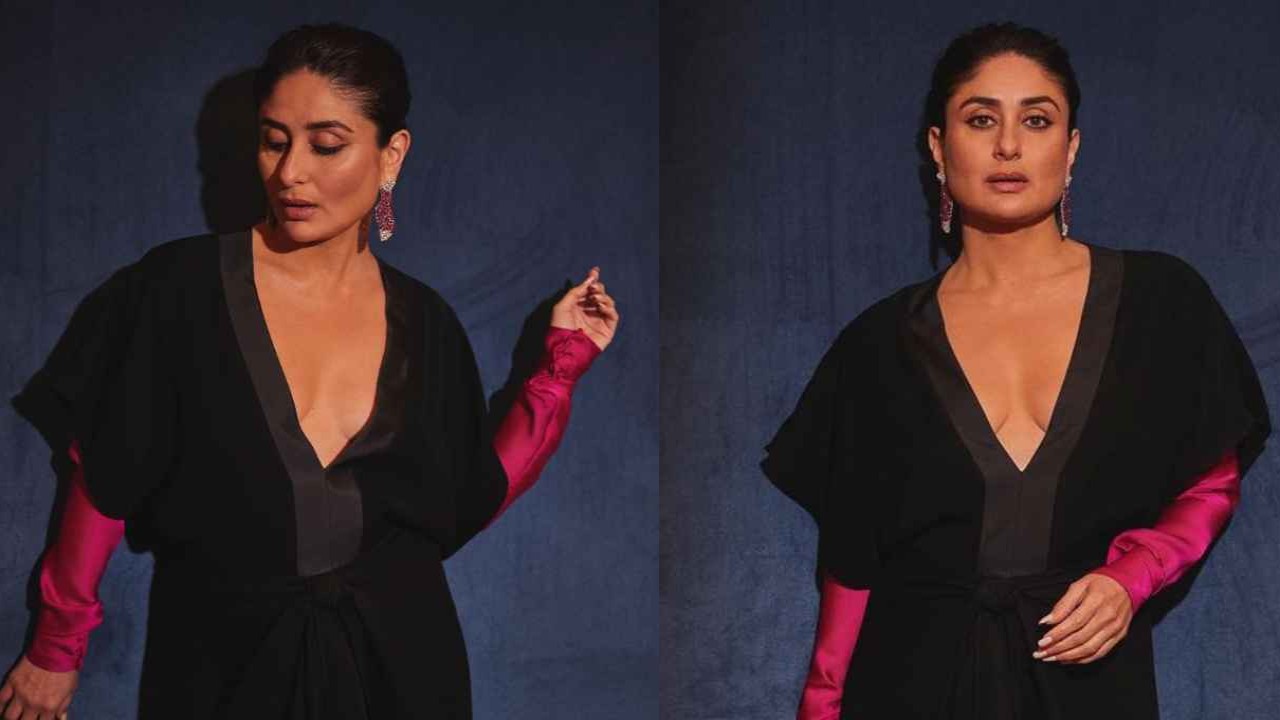 Kareena Kapoor Khan is celebrated not only for her acting skills but also for her influential presence in the world of fashion. She has a unique ability to effortlessly merge classic and contemporary elements in her attire, and her choice for the Jio MAMI Film Festival was a testament to her fashion-forward approach.
The gown's design, with its enchanting details and exquisite tailoring, made a profound statement in the world of fashion. It left onlookers and fashion enthusiasts mesmerized, and the event was abuzz with praise for Kareena's choice. This moment showcased not only her fashion sense but also her ability to make an indelible mark in the world of style and couture.
Kareena Kapoor Khan's appearance at the Jio MAMI Film Festival 2023 is a testament to her enduring influence on the world of fashion. Her choice of attire, designed by Rajesh Pratap Singh, served as a reminder of her status as an iconic fashion figure. As always, she left her fans and the fashion world in eager anticipation of more stunning looks and trend-setting ensembles in the future.
Kareena Kapoor's fashion choices have consistently served as a wellspring of inspiration for every fashionista. Her recent appearance in the black gown was nothing short of bewitching and added to her growing list of iconic looks. What made this outfit particularly intriguing was the top half of the silhouette, which skillfully gave the illusion of a kaftan, paying homage to the diva's fondness for this style.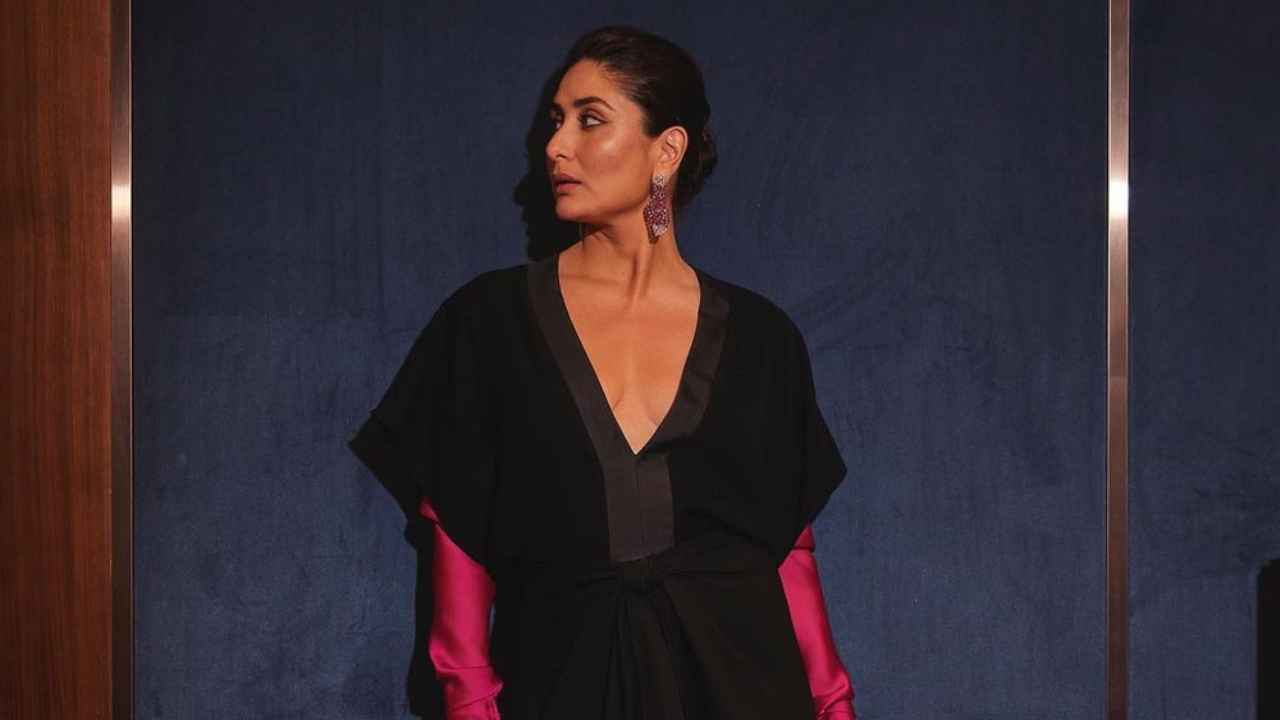 The gown's design was a remarkable canvas for Rajesh Pratap Singh's masterful craftsmanship. Singh's signature knotted pattern was evident in the intricate detailing of the gown. This added a unique texture and depth to the outfit, setting it apart from conventional evening gowns. Furthermore, the gown featured a V-shaped sultry deep neckline, infusing a touch of drama into an otherwise subtle and elegant look.
Kareena's choice to incorporate elements of a kaftan and the skillful execution of the gown's design was a reflection of her fashion-forward approach. It showcased her ability to seamlessly blend tradition with modernity, giving her fans and fashion enthusiasts another reason to admire her impeccable style. Her appearance in this gown at the Jio MAMI Film Festival 2023 reaffirmed her status as a trendsetter and a fashion icon, leaving a lasting impression on all those who witnessed her bewitching presence.
Furthermore, in a departure from the monochromatic palette, the talented actress of "Kurbaan" fame, Kareena Kapoor Khan, added a delightful and eye-catching pop of color to her ensemble. The addition of metallic pink full sleeves to the black gown was a bold and inspired choice. This shade of pink has evidently become a favorite in Rajesh Pratap Singh's color wheel, and it's easy to see why.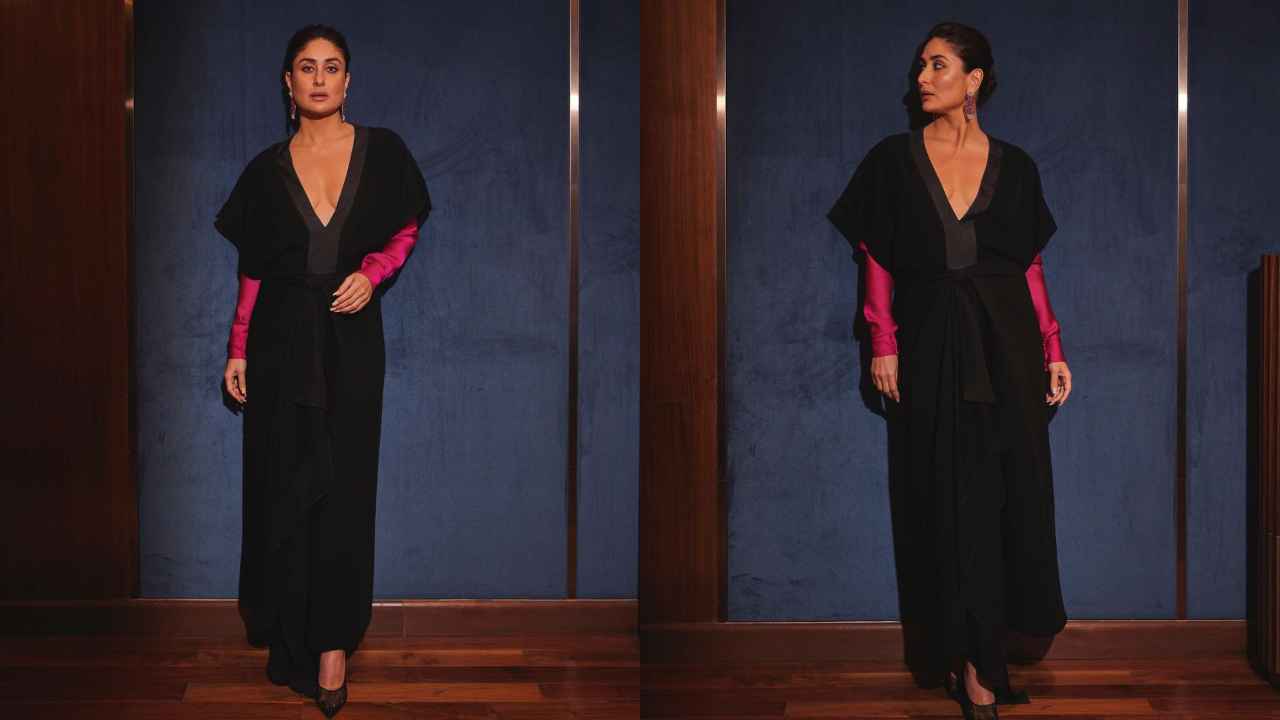 The choice of metallic pink served as a vibrant and captivating contrast to the deep black of the gown. It not only broke away from the traditional all-black evening attire but also created a harmonious blend of colors that accentuated Kareena Kapoor Khan's grace and style. The juxtaposition of the bold pink with the classic black added an exciting element to the outfit, highlighting the actress' ability to infuse her personal style into every look, setting new trends, and leaving fashion enthusiasts in awe.
It's safe to say that Kareena Kapoor Khan's ensemble was a carefully curated masterpiece, and credit for many of her iconic looks goes to her celebrity stylist, Lakshmi Mehr. Lakshmi Mehr has consistently been a driving force behind Kareena's memorable fashion moments, and this appearance at the Jio MAMI Film Festival 2023 was no exception.
In keeping with the overall elegance of the ensemble, Kareena opted for black pumps that harmonized perfectly with the gown. The choice of black footwear was a seamless and sophisticated addition, ensuring that all attention remained on the gown and its captivating details. This decision exemplified the thoughtfulness that goes into creating a well-coordinated and polished look.
The real showstopper, however, was the statement rhinestoned pink earrings that Kareena chose to adorn. These earrings added a touch of glamour and extravagance to the ensemble, elevating it to a new level of sophistication. Not only did they bring a pop of color, but they also beautifully completed the look, giving it an overall harmonious and balanced appeal. Kareena's choice of accessories, especially these dazzling pink earrings, exemplified her ability to pay attention to the finer details, ensuring that her fashion statements are nothing short of iconic.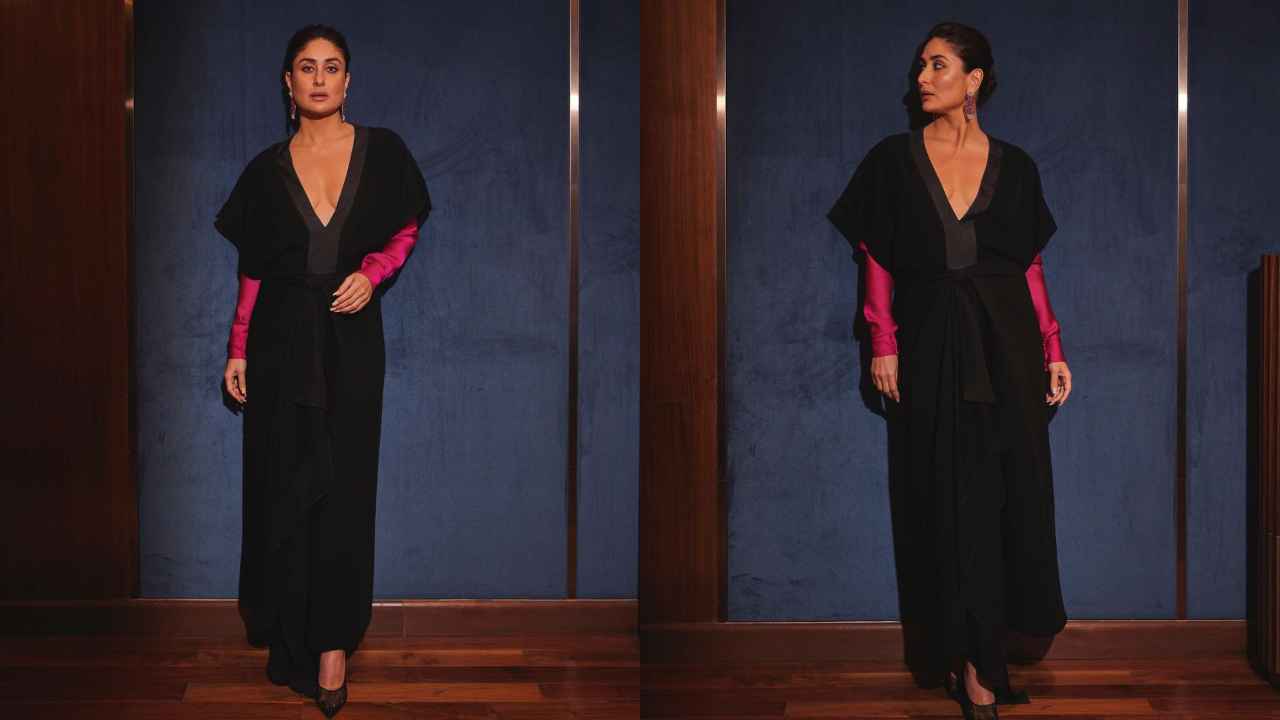 Kareena Kapoor Khan's collaboration with stylist Lakshmi Mehr, the well-chosen black pumps, and the statement rhinestoned pink earrings all contributed to making this appearance at the Jio MAMI Film Festival 2023 a remarkable and harmonious fashion moment that will be remembered and celebrated by fashion enthusiasts for years to come.
The icing on the cake came in the form of exceptional photography by Sheldon Santos. His expertise behind the lens captured the diva in three breathtaking pictures, which truly celebrated Kareena's style and charm. These images, when shared by the diva on her social media platforms, served as a visual testament to the beauty and grandeur of her look at the Jio MAMI Film Festival 2023. Sheldon Santos' photography skillfully highlighted the intricate details of the gown, the striking contrast of colors, and, most importantly, Kareena's innate beauty and poise.
In the world of high fashion and celebrity appearances, the collaboration of talented professionals like Mike Desir and Sheldon Santos is often the secret behind the unforgettable moments on the red carpet. Their contributions, combined with Kareena Kapoor Khan's innate sense of style, resulted in a remarkable showcase of fashion, style, and charisma at the event. These images not only celebrated her style but also left a lasting impression on her fans and fashion enthusiasts, solidifying her status as a timeless fashion icon.