Tejasswi Prakash's TOO HOT to handle in a shimmery black and silver gown with cut-out design and classy train!
In the glamorous world of Bollywood and the Indian television industry, fashion perpetually takes center stage, and the stunning Tejasswi Prakash consistently captures the spotlight with her fiery fashion game. As the renowned actress from the popular show Naagin 6, Tejasswi has a knack for turning heads and setting fashion enthusiasts abuzz with her extraordinary fashion choices. Her recent appearance at the Jio MAMI Film Festival was no exception.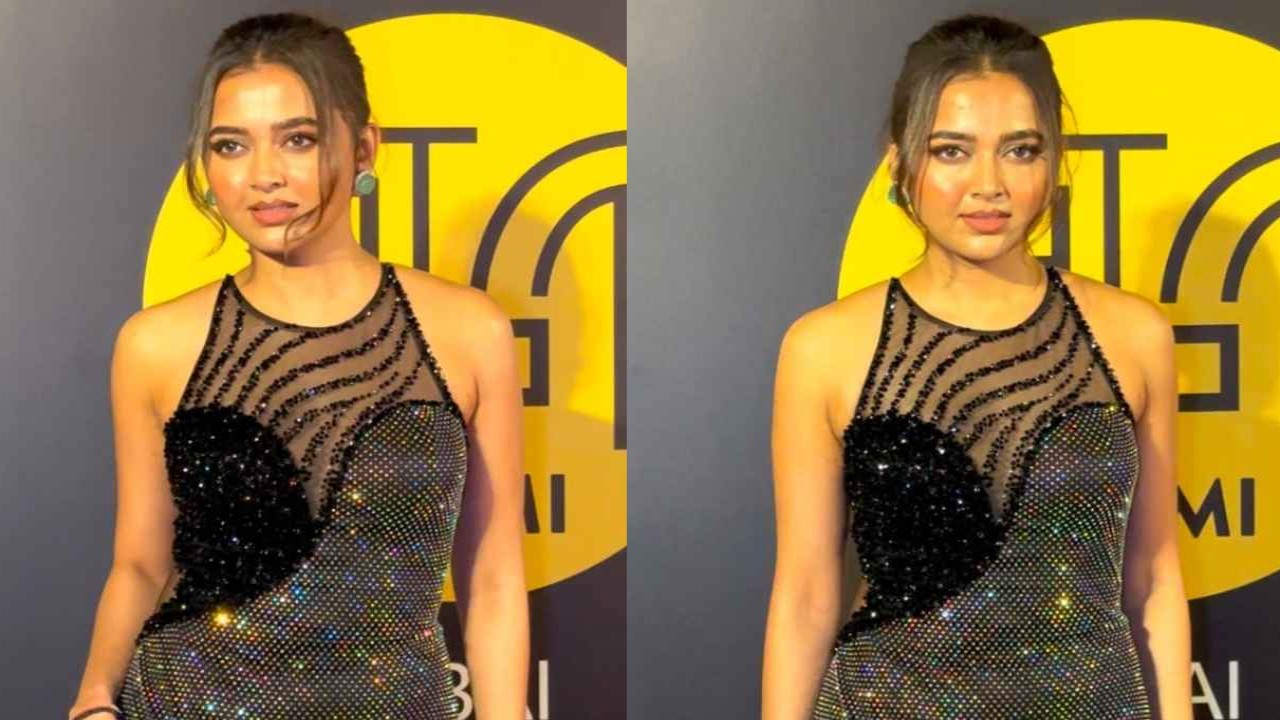 Tejasswi Prakash made an unforgettable entrance in a sequin-encrusted gown that shimmered with black and silver hues. The gown was a dazzling masterpiece that exuded a sense of opulence and glamour. The sequins not only added a touch of sparkle but also gave the ensemble a luxurious feel, befitting the grandeur of the event. It was a bold choice that emphasized her penchant for pushing fashion boundaries.
The gown's design was equally noteworthy, featuring a beyond-sultry cut-out design that added a sensuous and contemporary touch to her attire. This daring design element showcased Tejasswi's confidence and willingness to experiment with her style, cementing her status as a trendsetter in the industry. Additionally, the gown boasted an elegant train that added a touch of drama and grandeur to the ensemble, elevating her red carpet look to a whole new level.
Tejasswi Prakash's choice of attire at the Jio MAMI Film Festival was a testament to her fearless approach to fashion. Her sequin-encrusted gown with its sultry cut-out design and elegant train was a showstopper that left a lasting impact and further solidified her reputation as a style icon in the world of Indian entertainment. Her fashion choices continue to inspire and captivate fashion enthusiasts, making her a prominent figure in the industry.
Tejasswi Prakash, known for her impeccable style and remarkable screen presence, recently made a stunning impact on the red carpet at the Jio MAMI Film Festival. The talented actress has consistently demonstrated her flair for fashion, and her choice of outfit with a strappy backless style was a bold and captivating statement. It's no wonder that her appearance at the festival instantly became the talk of the town.
The gown she wore was far more than just a piece of clothing; it was an embodiment of glamour and sophistication. The strappy backless design added a contemporary and alluring touch to her look, showcasing her willingness to take risks and push the boundaries of conventional red carpet fashion. Tejasswi's choice highlighted her confidence and unique sense of style, making it clear that she doesn't just follow trends but sets them.
The red carpet moment at the Jio MAMI Film Festival was a testament to Tejasswi Prakash's ability to make a memorable and fashionable impact on any event she graces. Her gown, with its strappy backless style, was a bold statement that underlined her status as a true fashion icon, celebrated not only for her acting skills but also for her captivating and trendsetting presence in the world of fashion. It was a glamorous and sophisticated choice that added to her growing list of iconic red carpet moments.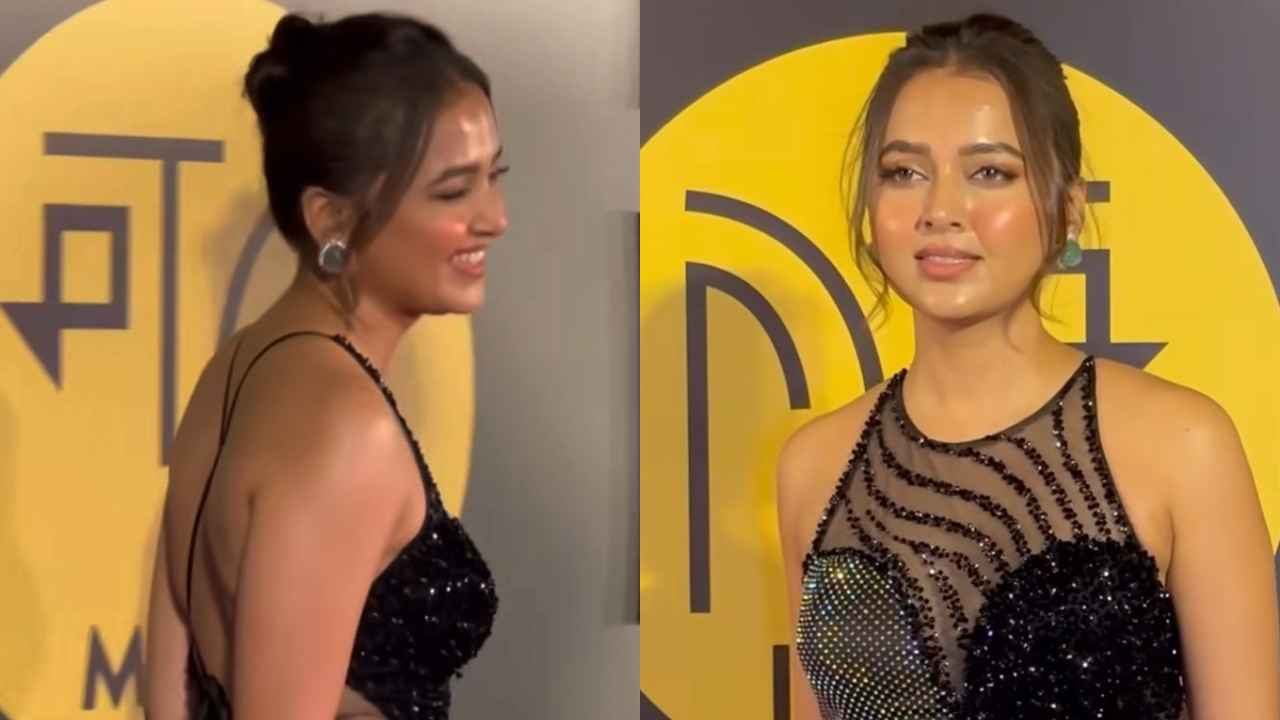 The black and silver color palette of Tejasswi Prakash's gown exuded timeless elegance, ensuring that she stood out in the crowd at the Jio MAMI Film Festival. The shimmering fabric added a touch of luxury and glamour to her appearance, making her a true standout on the red carpet. The combination of black and silver was a classic choice, further highlighting her penchant for blending tradition and modernity in her fashion.
However, what truly set this gown apart was its unique semi-sheer and cut-out design at her waist. This design element added a touch of sultriness to her ensemble without compromising on the overall grace and sophistication. It showcased her ability to infuse bold and contemporary elements into her attire while maintaining a sense of refinement and poise.
The floor-length sleeveless gown with a sexy thigh-high side slit was the epitome of combining sexiness and sophistication. This choice was a testament to Tejasswi's impeccable fashion sense, as she effortlessly balanced sensuality and elegance, creating a look that was both alluring and refined. The thigh-high side slit added a dash of drama to her outfit, ensuring that all eyes were firmly fixed on her as she made her grand entrance at the festival.
Tejasswi Prakash's gown was a true masterpiece that celebrated the fusion of timeless elegance, sultry design, and modern sophistication. Her fashion choices continue to captivate and inspire, solidifying her status as a style icon in the world of Indian entertainment and red carpet fashion.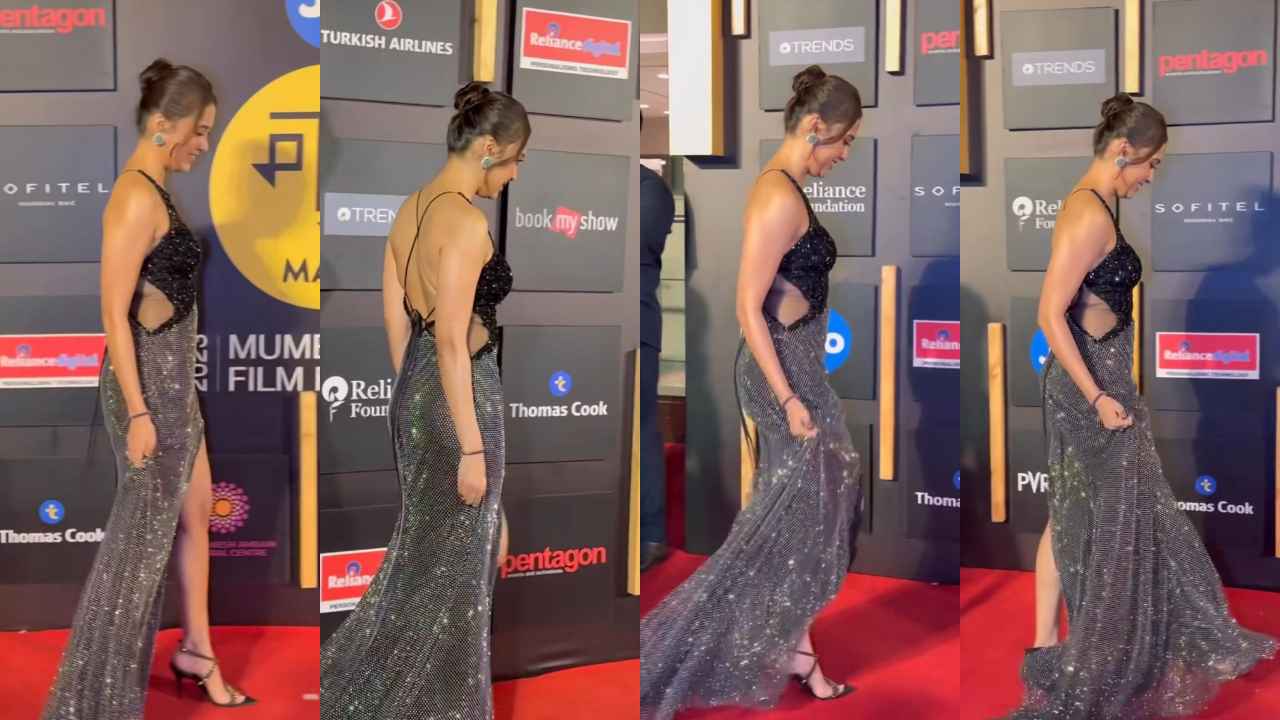 As Tejasswi Prakash gracefully graced the red carpet, the elegant train of her gown trailed behind her like a scene from a fairy-tale. The train was a stunning addition that not only added a touch of drama to her appearance but also emphasized the regal and princess-like quality of her attire. It cascaded behind her with every step, creating a sense of grandeur and making her entrance truly enchanting.
The gown was not just a piece of clothing; it was a profound fashion statement that seamlessly blended innovation and tradition. Tejasswi's choice to wear a gown with such a striking train showcased her love for fashion that transcends the ordinary. It was a unique and memorable look that marked her as a fearless trendsetter, willing to push the boundaries and create her own fashion narrative.
To complete her outfit, Tejasswi added matching black heels, ensuring an overall harmonious and polished appearance. The choice of black heels perfectly complemented the black and silver gown, creating a balanced and cohesive look from head to toe. This attention to detail highlighted her ability to curate a complete and well-coordinated red carpet ensemble.
Tejasswi Prakash's red carpet appearance at the Jio MAMI Film Festival was a remarkable fusion of regal elegance, innovative design, and harmonious coordination. Her gown, with its enchanting train and striking silhouette, was a fashion statement that set her apart as a true style icon, and her meticulous attention to detail made the look unforgettable.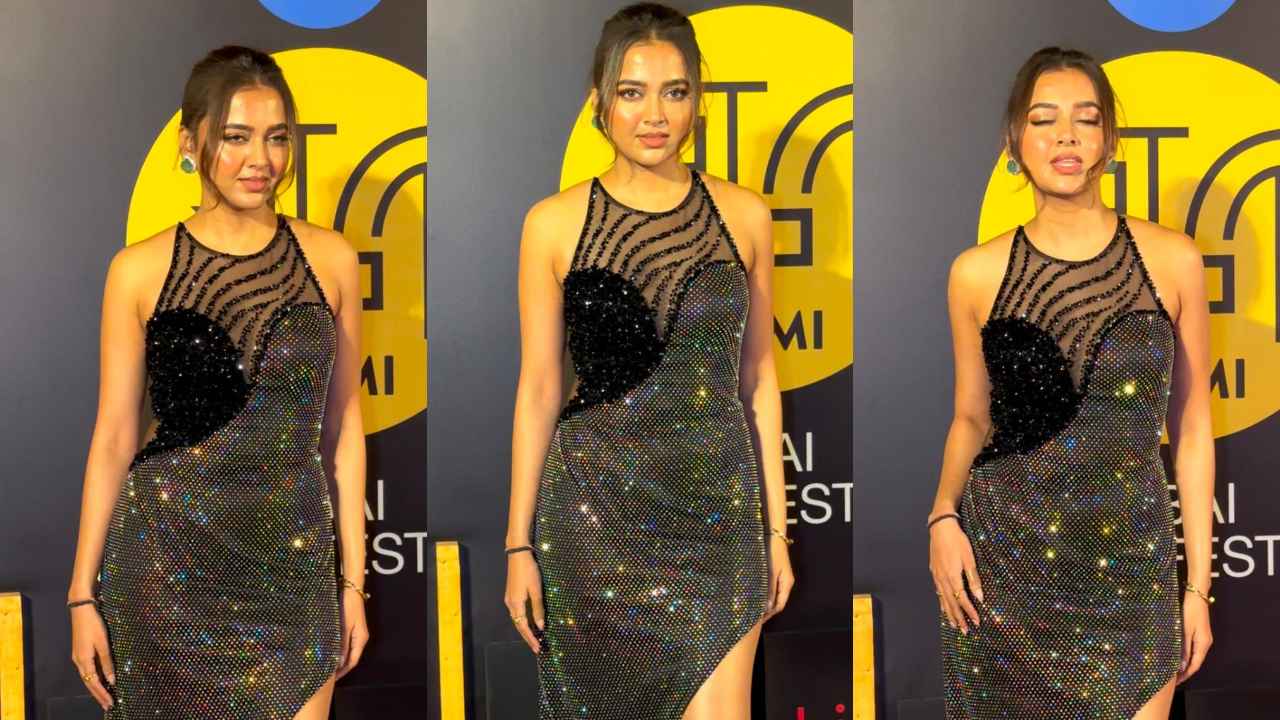 Lastly, Tejasswi Prakash's hair and makeup game at the Jio MAMI Film Festival was nothing short of spectacular. The Karn Sangini actress showcased a hair and makeup look that was on fire, further enhancing her overall appearance.
Tejasswi Prakash's attention to detail in her hair and makeup choices was truly commendable. Her hairstyle and makeup perfectly complemented her outfit, enhancing her overall red carpet appearance. The entire look exuded elegance, grace, and contemporary sophistication, cementing her status as a fashion-forward icon in the Indian entertainment industry.