Janhvi Kapoor flaunts her love for Manish Malhotra in a classy pink and gold handwoven tissue saree
In the world of Bollywood fashion, many actresses can impress us with their classy fashion statements, but not all of them have the ability to make us fall in love with everything they wear quite like the young diva, Janhvi Kapoor. The talented actress has gained a reputation for her exceptional skill in acing ethnic ensembles with an incomparable level of sheer perfection. Her fashion choices consistently capture the hearts of fashion enthusiasts and elevate her status as a trendsetter.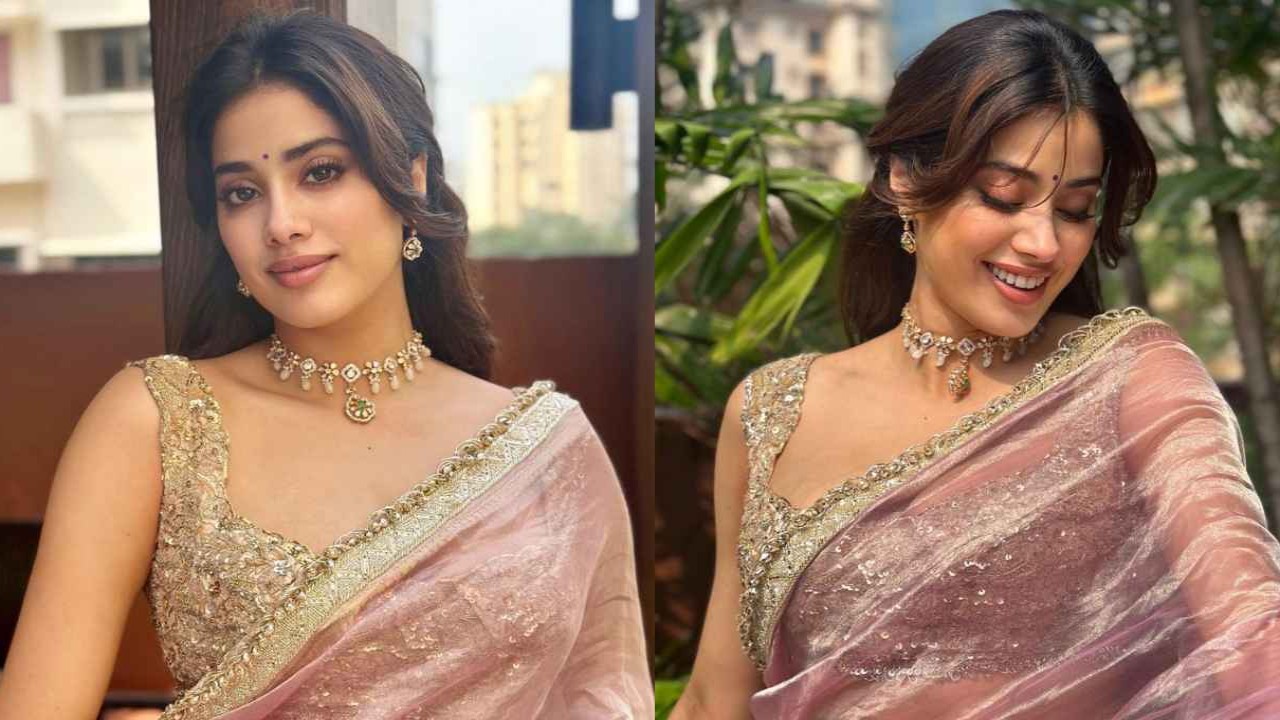 Janhvi Kapoor's style is a captivating blend of tradition and modernity, and she effortlessly showcases this in her ethnic ensembles. Whether it's a classic saree or an intricately designed lehenga, she has the innate ability to wear these outfits with grace and flair, leaving an indelible mark in the fashion world.
Janhvi's fashion journey is an ongoing testament to her evolving style and her commitment to pushing the boundaries of conventional Indian fashion. Her choices often reflect her appreciation for cultural heritage, craftsmanship, and a contemporary approach, making her an icon for both traditionalists and trendsetters.
In summary, Janhvi Kapoor's fashion choices, especially her expertise in ethnic ensembles, have made her a beloved figure in the world of Bollywood fashion. Her ability to embrace tradition with a modern touch and consistently radiate perfection in her attire is a true testament to her status as a fashion diva.
Staying true to her reputation as a fashion icon, Janhvi Kapoor recently graced the grand Navratri celebrations organized by Kalyan Jewellers. For the occasion, she chose an undeniably gorgeous blush pink saree that was created by none other than Bollywood's favorite fashion maven, Manish Malhotra. To say that the Devara-I actress looked ethereal in this outfit would be an understatement.
Janhvi's choice of attire for the Navratri celebration was a masterstroke in fashion. The blush pink saree not only celebrated her innate grace and beauty but also perfectly complemented the festive atmosphere of the event. The saree, designed by Manish Malhotra, is a testament to his extraordinary talent and his ability to craft ensembles that effortlessly blend traditional aesthetics with contemporary style.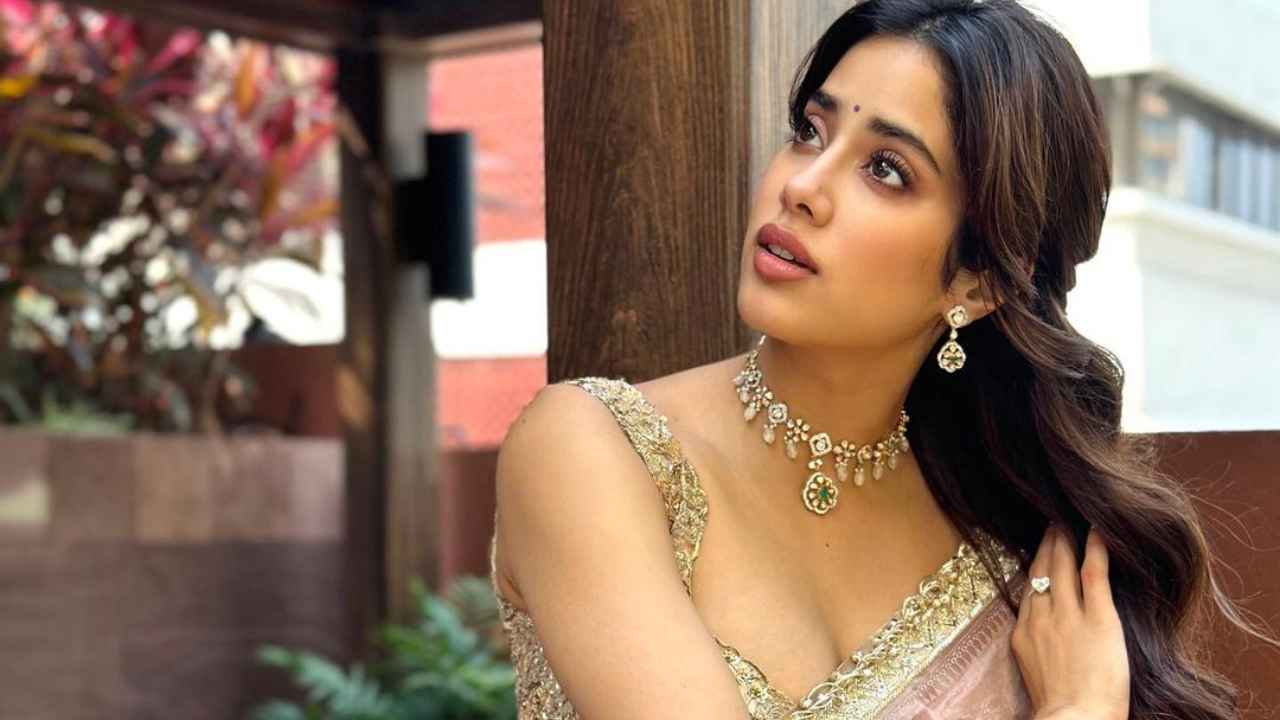 In essence, Janhvi Kapoor's appearance in the Manish Malhotra blush pink saree at the Kalyan Jewellers' Navratri celebration was a true fashion moment. It showcased her status as a style icon and her impeccable taste in attire, making her an embodiment of elegance and beauty. Her outfit left an indelible mark in the world of fashion, capturing the hearts and admiration of fashion enthusiasts and setting the bar for impeccable style.
Janhvi Kapoor, the talented actress, made a striking appearance at the grand Navratri celebrations organized by Kalyan Jewellers. For this star-studded evening, she made a remarkable choice by adorning a beautiful pink handwoven tissue saree, a creation of the fashion genius Manish Malhotra. The semi-sheer drape featured a beautiful and feminine aesthetic, and it exuded an elegant yet formal touch that made her look truly exceptional.
The saree's classic antique gold zari-crusted border was the true showstopper, elevating the ensemble to unparalleled heights. It added a touch of regal opulence and served as a visual masterpiece, enhancing the saree's beauty. Manish Malhotra's creation showcased his unparalleled craftsmanship and his ability to merge traditional textiles with modern sensibilities.
In essence, Janhvi Kapoor's choice of a Manish Malhotra handwoven tissue saree was a fashion moment that epitomized elegance and sophistication. The antique gold zari-crusted border was a masterstroke, and it added an unmatched level of grandeur to the ensemble. Janhvi's presence at the event, wearing this stunning saree, was a testament to her status as a fashion icon, setting the bar high for exceptional style and elegance.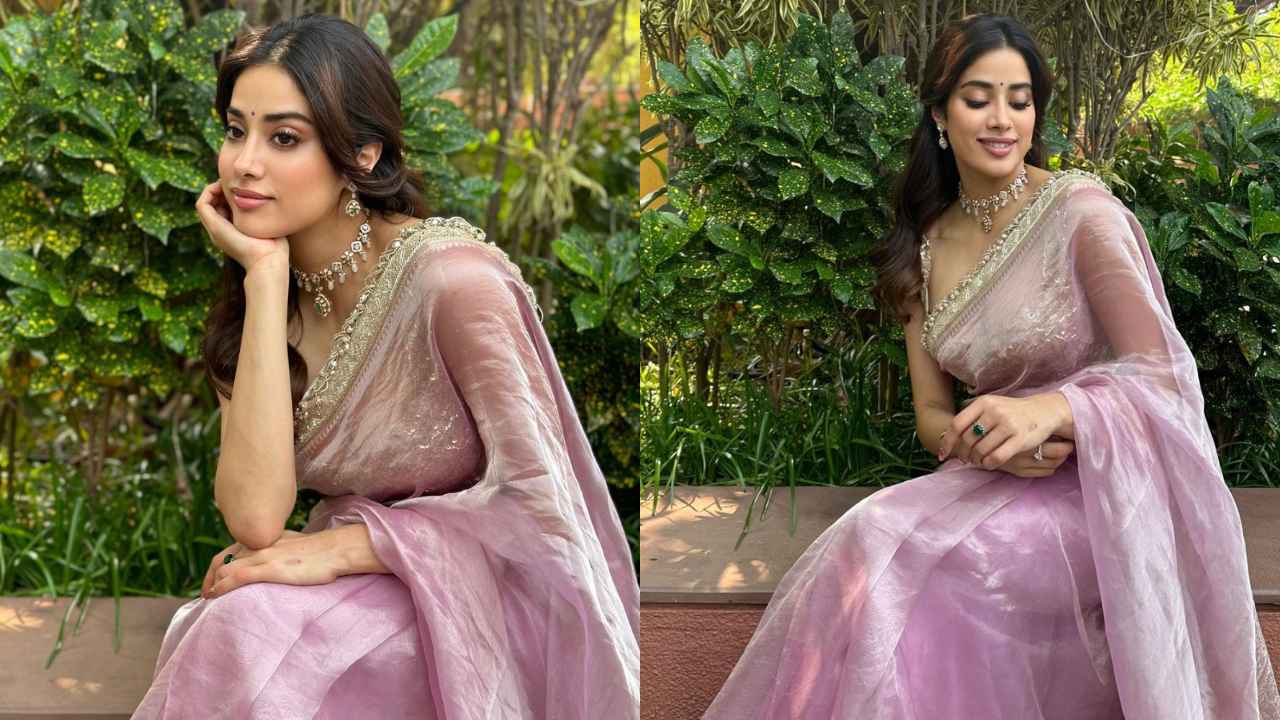 Janhvi Kapoor's exquisite fashion choices didn't end with the stunning Manish Malhotra saree. She paired this exceptional saree with an undeniably magical gold blouse that took the ensemble to another level. The blouse featured wide straps and a simply sultry sweetheart neckline, enhancing the overall appeal of the outfit. This intricate blouse was laden with traditional gold embroidery, which added a touch of timeless charm, making it a masterpiece that made our hearts skip a beat.
The gold blouse's design, with its wide straps and sultry sweetheart neckline, was a work of art. It exuded both modern allure and traditional elegance, creating a fusion that was utterly captivating. The traditional gold embroidery added a touch of cultural richness and symbolism to the ensemble, beautifully celebrating the heritage of Indian craftsmanship.
In summary, Janhvi Kapoor's choice of an enchanting gold blouse to pair with her Manish Malhotra saree was a true fashion statement. The combination of modern design elements with traditional embroidery showcased her ability to seamlessly merge different aesthetics, creating an outfit that was simply breathtaking. Her outfit was a testament to her status as a fashion icon, capturing the hearts and admiration of fashion enthusiasts and setting new standards for elegance and allure.
Janhvi Kapoor's attention to detail extended to her choice of accessories, which perfectly complemented her elegant ethnic ensemble. She decided to complete her look with matching gold sandals, adding a harmonious touch to her overall outfit. These sandals not only added a sense of coordination but also provided comfort and style.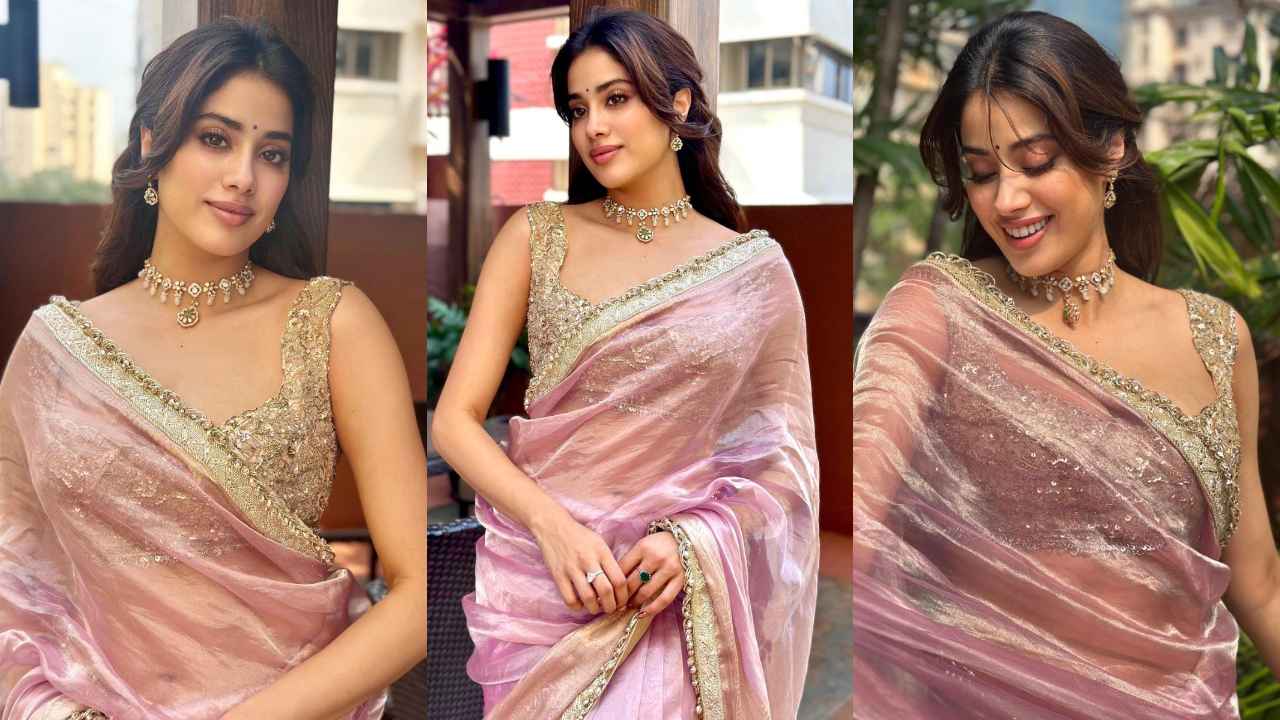 To elevate her look further, the Jana Gana Mana actress accessorized her elegant ethnic ensemble with a traditional delicate gold droplet choker-like neckpiece featuring a green emerald piece. She also wore a matching ring and simple, minimalistic matching earrings, all from the iconic Kalyan Jewellers. This choice of jewelry was the epitome of elegance and craftsmanship, perfectly harmonizing with her outfit and adding a regal touch.
In addition, the diva adorned a matching delicate and small bindi, which served to complement her look. This accessory not only added a cultural and traditional touch but also highlighted the fine details in her overall appearance.
In summary, Janhvi Kapoor's choice of matching gold sandals and her selection of jewelry, including the delicate neckpiece, ring, and earrings, along with the small bindi, created a harmonious and well-coordinated look. Her attention to detail was evident in every aspect of her outfit, reinforcing her status as a fashion icon with an impeccable sense of style and beauty.