Rani Mukerji is 'draped in gold, drenched in beauty' as she dons organza saree styled with strappy blouse
Rani Mukerji, often regarded as Bollywood's original diva, has long been a trailblazer in the Indian film industry. Her impact goes beyond her acting abilities, extending to her excellent fashion sense. Even today, she remains a style icon, effortlessly showcasing her innate sense of style in both Western and traditional attire. Rani's intuitive fashion sense allows her to master any look, whether it's a fashionable Western dress or a beautiful traditional outfit. Her dress sense has consistently been impeccable, capturing the essence of glamour and refinement.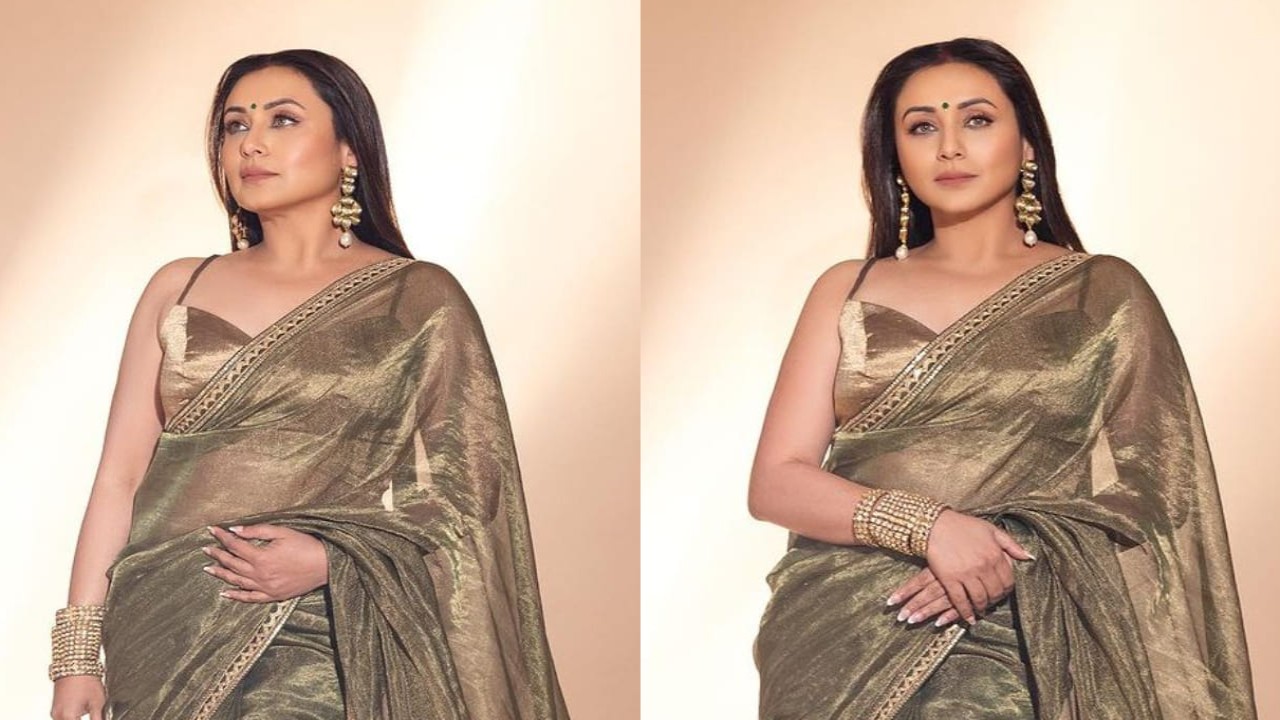 Rani Mukerji's ability to effortlessly transition from Western fashion to traditional Indian attire has been a hallmark of her style. She has the innate talent to carry herself with elegance and grace in any outfit she chooses, and this versatility in her fashion choices is a reflection of her deep understanding of fashion and her ability to adapt to various styles and trends.
In summary, Rani Mukerji has been a timeless style icon in the world of Bollywood. Her fashion sense, whether in Western or traditional clothing, consistently exudes glamour and sophistication. Her ability to embrace a wide range of styles showcases her versatility and cements her status as a celebrated figure in the fashion industry.
As the Navratri celebrations continue, Bollywood divas have taken the opportunity to dazzle us with their traditional avatars. Rani Mukerji, an expert at pulling off the saree look, exuded grace and elegance, capturing everyone's attention with her stunning saree ensembles. Rani, who has a deep understanding of how to make a sartorial statement, emphasized her lovely features and enhanced her innate appeal with her latest look.
Rani Mukerji's mastery of the saree has been evident in her ability to infuse grace and elegance into every appearance. Her choice of sarees for the Navratri celebrations perfectly showcased her style and her appreciation for traditional Indian fashion. She has consistently stood out as a fashion icon with a knack for turning heads.
In essence, Rani Mukerji's latest look during the ongoing Navratri celebrations was a reflection of her timeless charm and her ability to exude grace and elegance. Her saree choices have been a testament to her fashion acumen and her innate appeal, making her a beloved figure in the world of Bollywood fashion.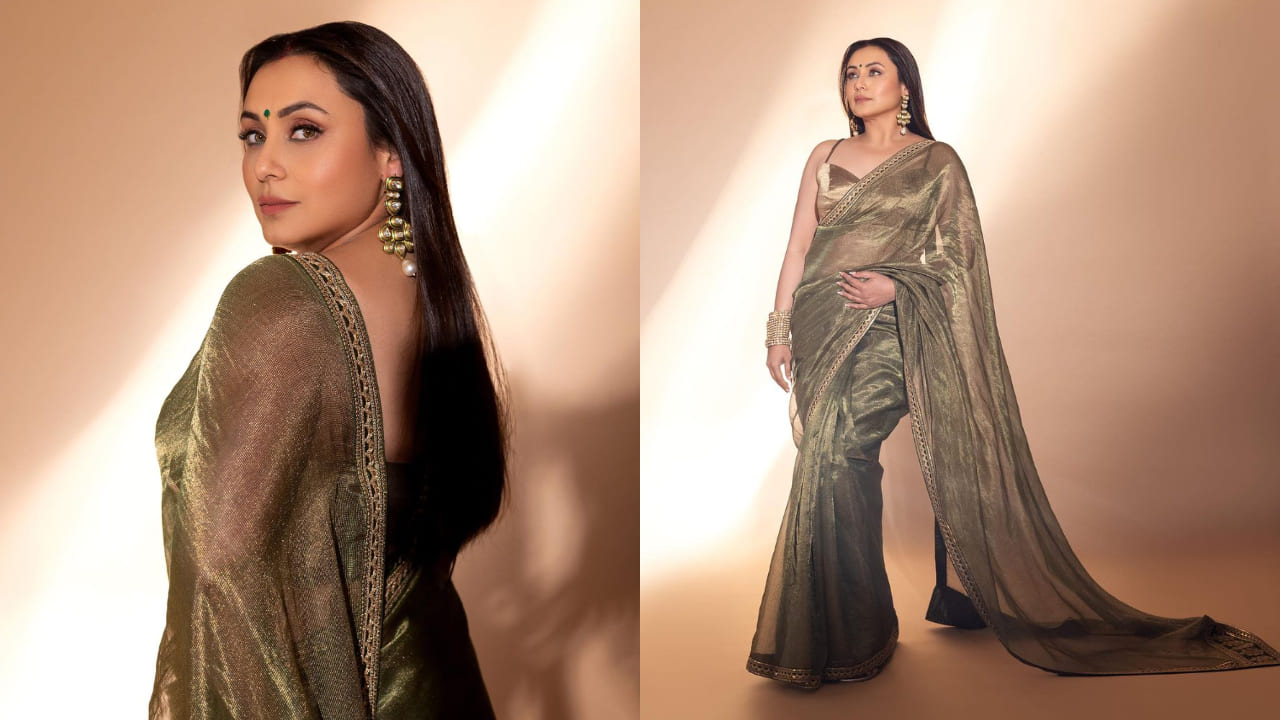 Rani Mukerji's fashion choices continue to set new standards and inspire fashion aficionados to explore eye-catching saree patterns. Her ability to seamlessly blend traditional elements with modern design is a testament to her fashion acumen and her innate sense of style. With each appearance, she reaffirms her status as a fashion icon, motivating others to embrace the beauty of traditional Indian attire while infusing it with contemporary allure.
In summary, the scallop-shaped embroidered accents, fashioned with golden thread, were the defining feature that made Rani Mukerji's saree truly stand out. These intricate embellishments added beauty and class to her attire, further establishing her as a trailblazer in the world of Bollywood fashion.
Rani Mukerji's mastery of the saree was evident as she expertly pleated the folds to create a gorgeous shape. The precise pleating technique added structure to the saree, accentuating her form and enhancing the overall aesthetic. Her attention to detail and the way she styled the saree showcased her innate understanding of traditional Indian attire.
The pallu, delicately draped, was a graceful addition to her attire. It lay elegantly on her shoulder, adding an exquisite touch to the ensemble. The pallu not only served as a functional element but also contributed to the overall elegance and sophistication of her saree look. Rani's ability to effortlessly drape the saree in a way that highlighted her features and added to her overall charm reaffirmed her status as a fashion icon.
In essence, Rani Mukerji's skillful pleating and the graceful drape of the pallu were integral in making her saree look truly remarkable. Her expertise in carrying the saree with poise and style highlighted her understanding of traditional Indian fashion, setting a high standard for elegance and grace in the world of Bollywood fashion.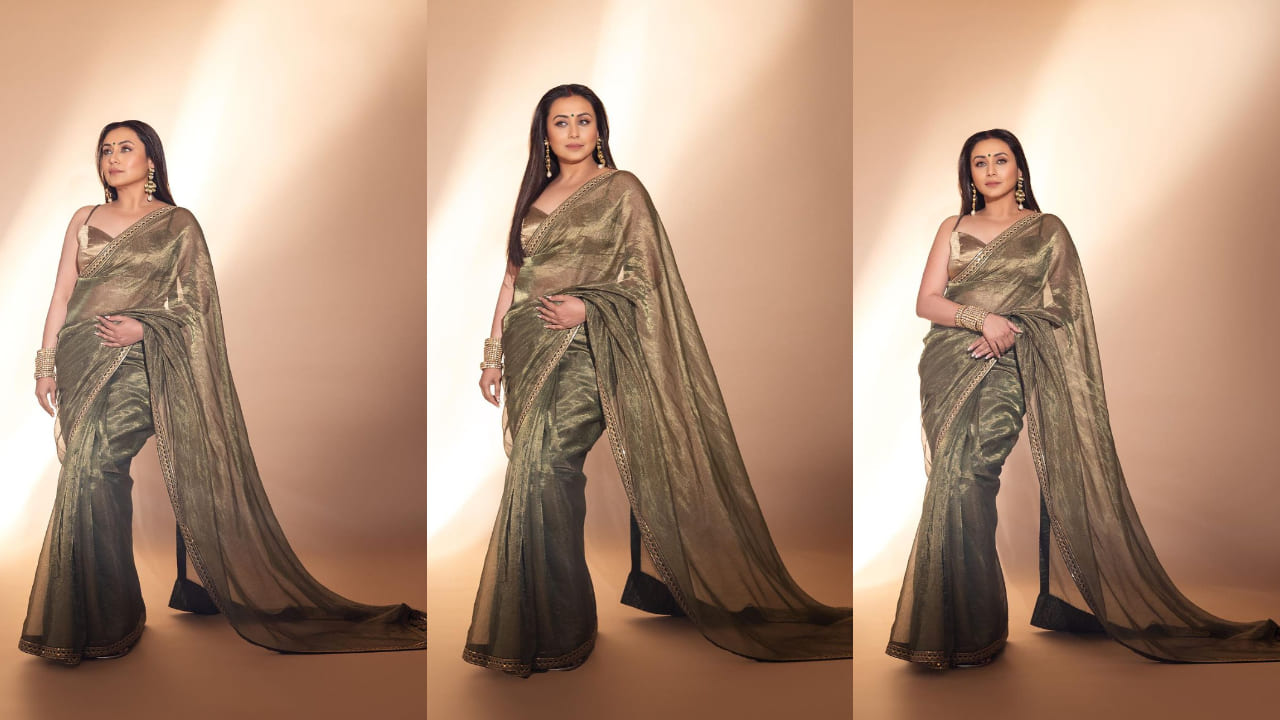 Rani Mukerji's choice of a golden bustier with a sweetheart neckline was a bold and stylish addition to her traditional saree. Her ability to blend traditional and modern elements showcased her flair for fashion experimentation, inspiring fashion enthusiasts to explore new and trendy combinations in their own wardrobe choices. Her exquisite sense of style continues to set the standard in the world of Bollywood fashion.
Rani Mukerji's mastery of making a fashion statement extended to her choice of accessories. She selected large kundan earrings that unquestionably stole the show, infusing her look with a sense of royal majesty. The ornate kundan earrings were not just accessories; they were a regal centerpiece that enhanced her overall outfit. The intricate design and the sparkling kundan stones added a touch of opulence to her ensemble, capturing the attention and admiration of onlookers.
What set these earrings apart was the teardrop-shaped pearl affixed to the end of each sparkling kundan earring. These pearls added a sense of refinement and sophistication to her entire outfit, creating a harmonious balance between traditional Indian motifs and modern aesthetics. Rani's choice of these statement earrings demonstrated her impeccable taste and her ability to choose accessories that elevated her look to a higher level of elegance and glamour.
The gold bangles brought a sense of tradition and cultural symbolism to her ensemble. Their jingling sound added an auditory element to her presence, accentuating the grace and charm of her outfit. Rani's choice of these bangles showcased her ability to balance modern accessories with traditional elements, creating a look that celebrated both the past and the present.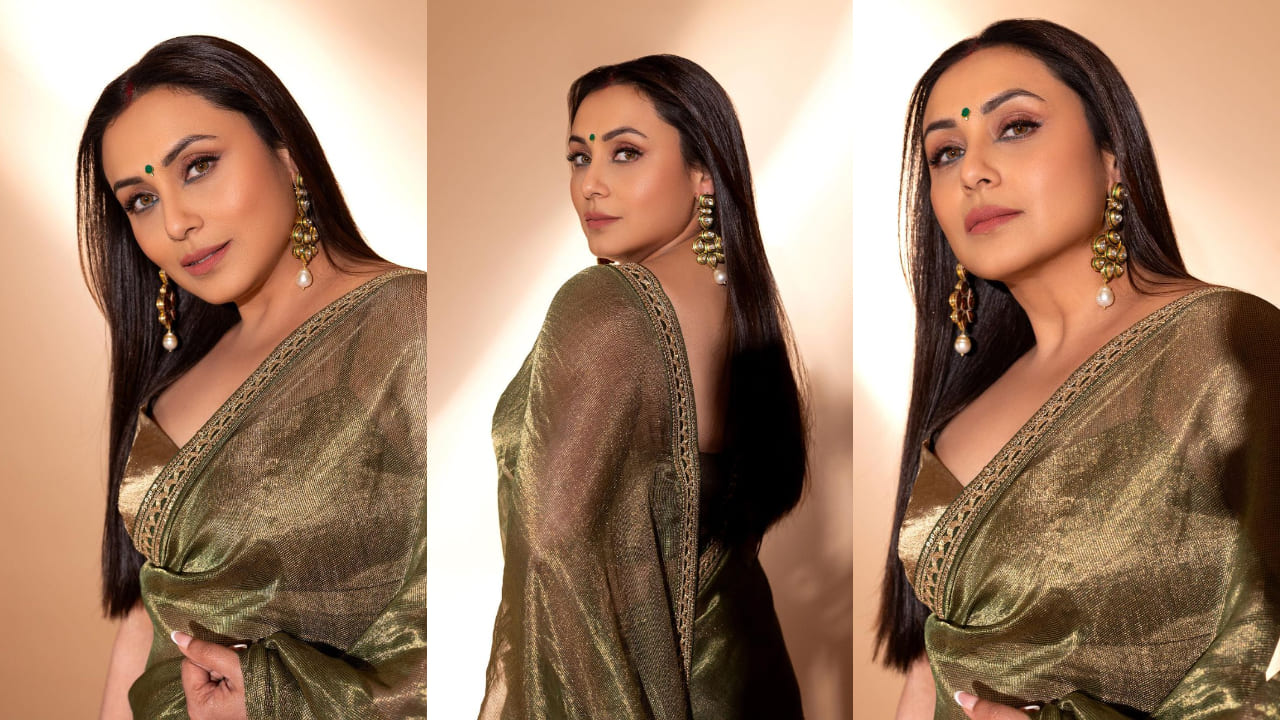 In summary, Rani Mukerji's selection of gold bangles was a fitting choice that beautifully complemented her saree attire. These bangles added a sense of heritage and glamor, and their jingling presence contributed to the overall elegance and appeal of her look. Her attention to detail in accessorizing was a testament to her status as a fashion icon with an unwavering sense of style and cultural appreciation.