Rani Mukerji channels her inner Tina in gorgeous black and white saree showcasing the magic of monotone
In the fabulous and glamorous world of Bollywood, there is a select group of actresses who stand out for their immense talent and timeless beauty, and Rani Mukerji is undoubtedly one of them. Known for her incredible acting prowess and undeniable charm, Rani consistently goes above and beyond in serving us the most fierce and fashion-forward ensembles. The iconic Mrs Chatterjee vs Norway actress has a reputation for setting trends and raising the fashion bar, making her a beloved figure in both the film and fashion industry.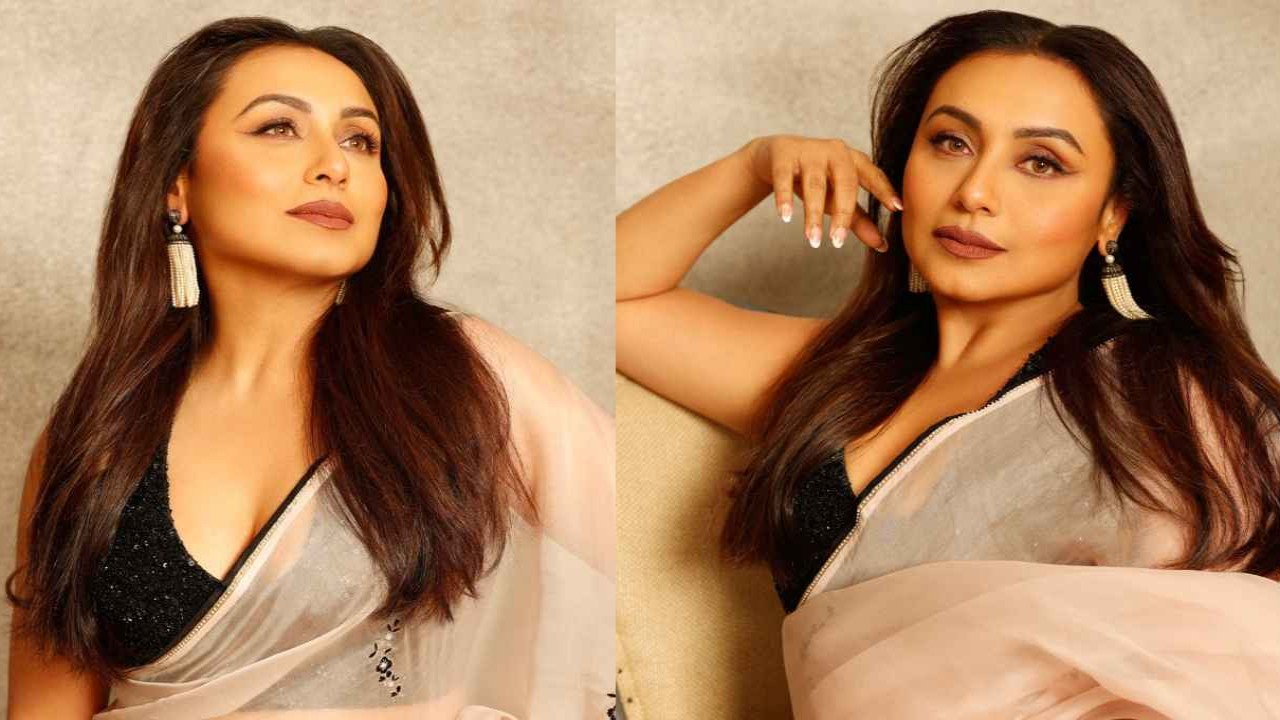 Rani Mukerji recently graced a special screening of the timeless classic "Kuch Kuch Hota Hai" in a captivating black and white saree that had everyone yearning for more of her iconic style. Her choice of attire for the occasion was a true testament to her flair for fashion and her ability to make a statement with her impeccable style. The Bunty and Babli 2 actress once again showcased her mastery in blending classic and contemporary elements, leaving her fans and fashion enthusiasts eagerly awaiting her next fashion revelation.
Rani Mukerji's remarkable fashion choices continue to be a source of inspiration and admiration in the world of Bollywood. Her appearances are not just moments of style but lessons in how to exude elegance and charisma effortlessly. The captivating black and white saree she wore for the special screening was yet another reminder of her enduring fashion legacy and her unrivaled status as a true fashion icon. It's no wonder that her fans are always left hoping and begging for more of her sensational wardrobe choices.
The incredible Hichki actress, Rani Mukerji, once again graced an event with her remarkable fashion sensibility. She was recently spotted wearing a gorgeous and pristine white saree adorned with black lace at the edges. Rani's choice of attire exemplified her timeless elegance and her ability to make a powerful style statement.
She tied the semi-sheer saree with sequin work to perfection, creating well-formed pleats that accentuated her figure. The pallu, extended and flung over her shoulder with grace, added an air of confidence to her overall look. Rani Mukerji's mastery in draping a saree with finesse is a testament to her understanding of the intricacies of Indian fashion, and it gave the drape a defined and elegant look that was nothing short of amazing.
Rani Mukerji's appearance in the pristine white saree with black lace edges left no room for doubt—she looked absolutely amazing. Her innate grace and her ability to elevate the simplest of ensembles into fashion statements are qualities that have consistently endeared her to her fans and the fashion-conscious community. This particular outfit reaffirmed her status as a true fashion icon with a knack for transforming traditional attire into contemporary chic.
Furthermore, the fabulous Mardaani actress added a contemporary twist to her classic saree by pairing it with a black sleeveless, halter-neck blouse laden with shimmery sequins. This bold and stylish choice perfectly complemented the pristine white saree with black lace edges, adding a touch of modernity and sophistication to her ensemble.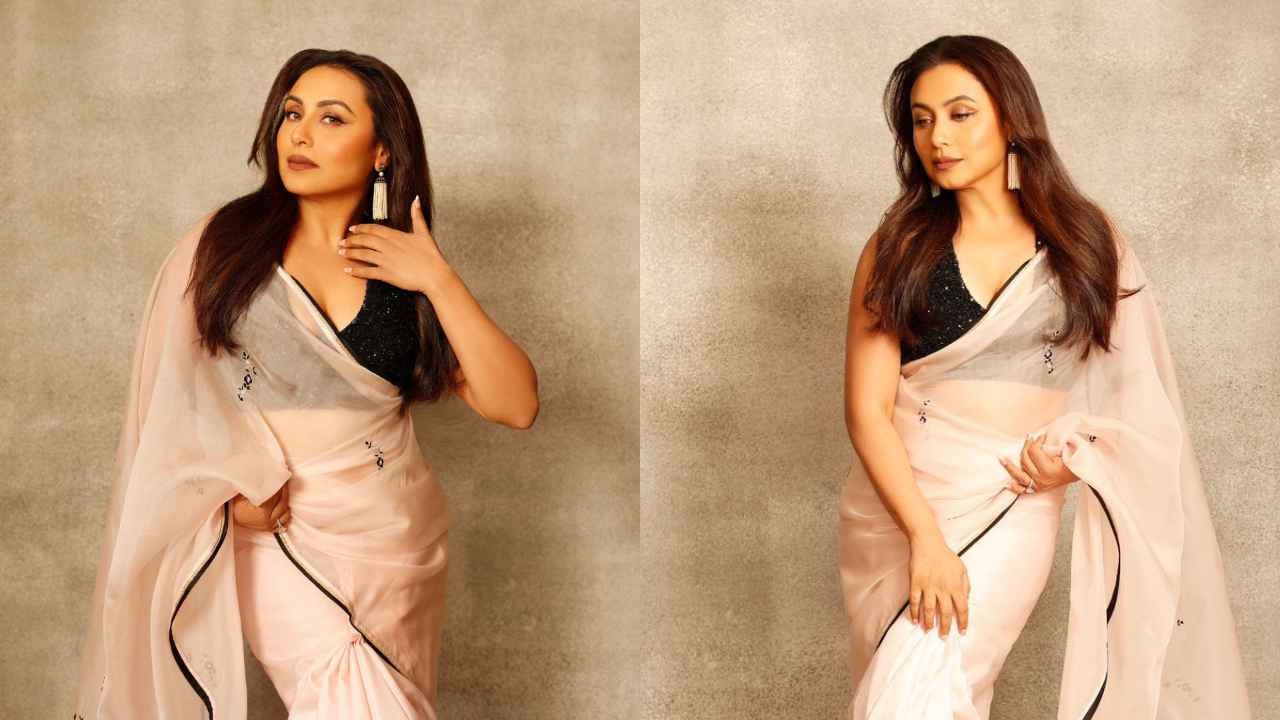 The blouse's design, featuring a deep U-shape and a plunging neckline, not only added a bold and alluring element but also contributed to the overall allure of her outfit. The sequins on the blouse caught the light and added a touch of glamour, perfectly balancing the elegance of the saree. Rani Mukerji's choice to combine the traditional saree with a contemporary blouse design showcased her ability to blend classic and modern fashion elements with finesse.
Rani Mukerji's fashion choices have consistently stood out in the industry, and her pairing of the saree with the sequin-laden, plunging neckline blouse was yet another example of her impeccable style. Her appearance at the event was a clear reflection of her fashion-forward approach and her ability to make a statement that resonates with both traditional and contemporary sensibilities.
The iconic Kabhi Alvida Naa Kehna actress made a perfect choice to complete her ethnic and elegant ensemble with black heels, creating a harmonious look from head to toe. The black heels not only added height and grace to her overall appearance but also ensured that she moved with confidence and poise. Rani Mukerji's ability to harmonize her outfit with well-chosen footwear showcases her attention to detail and fashion finesse.
In keeping with her minimalistic approach, the legendary Kabhi Khushi Kabhie Gham actress chose to accessorize her outfit with a subtle touch. Her decision to let the ensemble speak for itself without overwhelming it with excessive jewelry or accessories exemplifies her understanding of how to create a balanced and refined look. This minimalist approach not only highlighted the elegance of the saree and blouse but also emphasized her innate style and sophistication.
Rani Mukerji's choice of black heels and minimalistic accessories was a reflection of her seasoned fashion sense, which combines traditional elegance with a contemporary edge. Her appearance at the event served as a reminder that sometimes, less is more, and that the right choice of footwear and accessories can contribute to a look that is timeless and tasteful.
Rani Mukerji's impeccable sense of fashion extended to her choice of accessories for her elegant ensemble. She decided to enhance her look with matching white tassel earrings and a delicate matching ring. These accessories beautifully complemented the pristine white saree and black sequin blouse, adding a touch of finesse without stealing the focus from the monotone marvel.
The white tassel earrings and the delicate ring were the perfect finishing touches to her outfit, highlighting her attention to detail and her ability to create a cohesive and polished appearance. These accessories served as accents that beautifully harmonized with the ensemble, allowing the saree and blouse to remain the central focus, as they rightfully deserved.
Rani Mukerji's choice to accessorize with restraint ensured that the overall look was balanced and refined. Her fashion choices consistently strike a harmonious balance between tradition and modernity, making her a revered figure in the industry. The choice of accessories in this appearance was another demonstration of her impeccable style, where every element comes together seamlessly to create a complete and elegant look.
Lastly, let's discuss the exceptional Talaash: The Answer Lies Within actress's impeccable hair and makeup game, which was, as expected, on fleek. Rani Mukerji, celebrated for her memorable role in Hum Tum, made a smart choice by leaving her hair open and styling it into a sleek and straight look that framed her face to perfection.
The sleek and straight hairdo was not only contemporary but also added a touch of sophistication to her overall appearance. It beautifully framed her face, drawing attention to her features and her stunning attire. Rani's choice of hairstyle perfectly complemented her classic yet modern ensemble, showcasing her ability to balance traditional and contemporary elements with grace.
Rani Mukerji's makeup was equally flawless, enhancing her natural beauty without overpowering her look. Her choice of colors and techniques accentuated her eyes, lips, and complexion, ensuring that she looked radiant and elegant. Her hair and makeup were in complete harmony with her outfit, creating a polished and timeless appearance that was nothing short of perfection.
Rani Mukerji's commitment to her hair and makeup game further solidified her reputation as a fashion and style icon. Her ability to pay meticulous attention to every detail, from her outfit to her hair and makeup, is a testament to her dedication to presenting herself with grace and poise in the world of glamour. Her appearance at the event was a complete package of beauty, style, and sophistication, making her an enduring fashion icon in the Bollywood industry.