Sonam Kapoor Ahuja glows in white cotton gown with fishtail design, black blazer and red heart bag from Alaïa
When it comes to fashion, Sonam Kapoor Ahuja, often hailed as Bollywood's premier fashionista, consistently mesmerizes us with her unique and daring style choices. Her recent appearance at an event further solidified her status as the OG fashion queen as she donned an exquisite white cotton gown by Maison Alaïa. The gown's ethereal design, combined with her signature bold and experimental approach, made a striking fashion statement that left everyone in awe.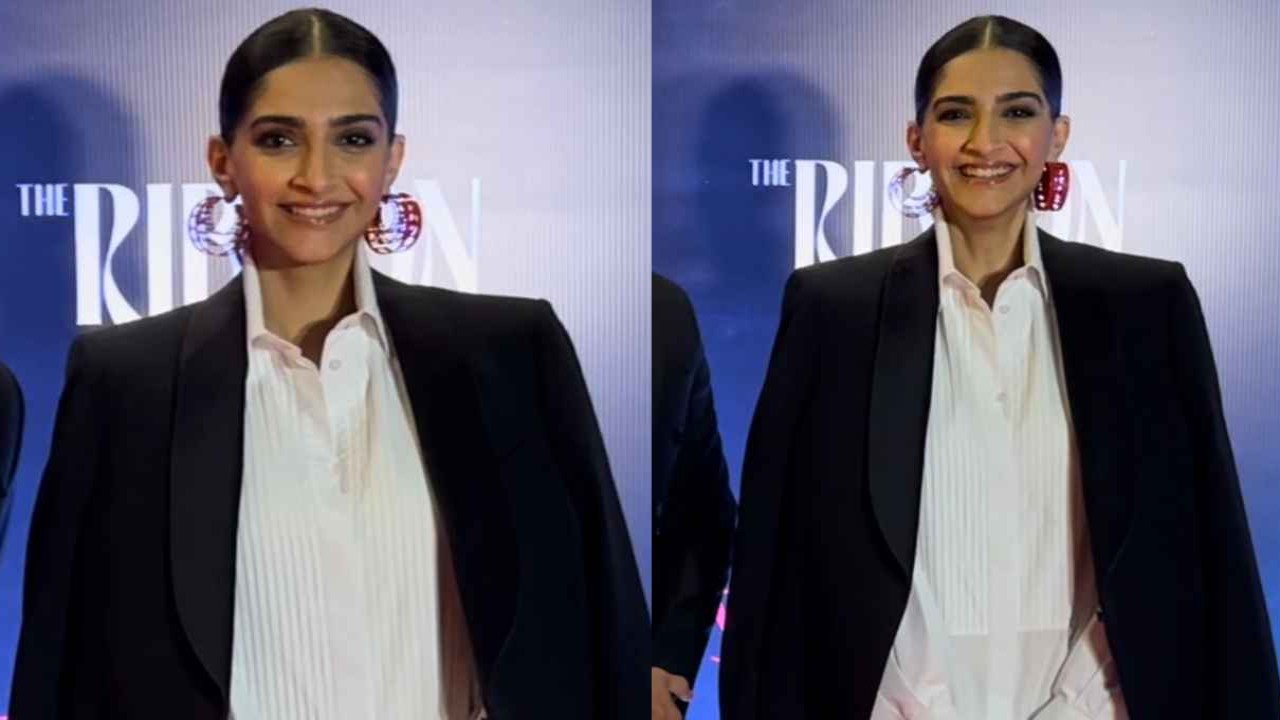 The white cotton gown by Maison Alaïa showcased Sonam's penchant for avant-garde fashion. Its intricate design and impeccable craftsmanship exemplified the artistry behind the garment, a perfect fit for someone known for pushing the boundaries of style. The gown's timeless elegance was further enhanced by the addition of a black blazer, which brought a touch of contemporary sophistication to the ensemble.
But that wasn't all – Sonam Kapoor Ahuja took her fashion game a step further by accessorizing with a vibrant red heart-shaped bag. The bold and contrasting choice of this bag not only added a pop of color to her outfit but also served as a bold fashion statement. This ensemble, combining classic, modern, and avant-garde elements, was nothing short of a fashion moment that captured the admiration and love of onlookers and fashion enthusiasts alike.
Sonam Kapoor Ahuja's innate ability to experiment with fashion and make it her own continues to be a source of inspiration for her fans and the industry. Her unique style choices and fearless approach to fashion make her a true trendsetter and an icon in the world of glamour. We can't help but be absolutely in love with her unmatched fashion sensibility.
Sonam Kapoor Ahuja, known for her exceptional fashion choices, made a stunning appearance in a gorgeous white cotton gown with distinctive features. The gown, from Maison Alaïa, boasted a floor-length design with full sleeves and a crisp collar, giving it a buttoned-down, elegant look. The unique design of the gown, with its extended stylish fishtail, added a contemporary and fashion-forward element to the ensemble, showcasing Sonam's ability to embrace avant-garde fashion.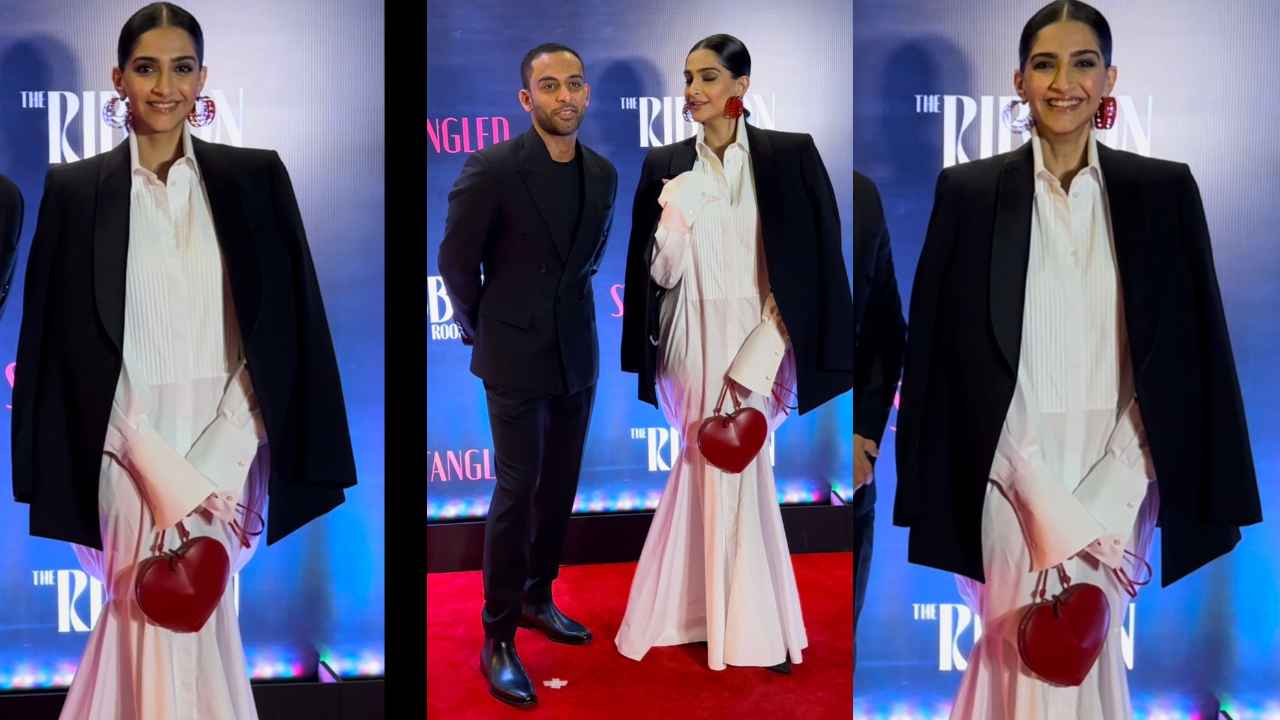 One of the standout features of this gown was the small, graceful train that cascaded behind her as she walked. This addition not only enhanced the gown's allure but also exuded an air of timeless beauty and sophistication. The train added a touch of drama and grandeur to the overall look, making it an outfit that was bound to turn heads and capture the attention of onlookers.
Sonam Kapoor Ahuja's choice of this Maison Alaïa gown further solidified her reputation as a style icon who consistently surprises and delights with her fashion sensibility. The unique elements of the gown, including the fishtail and the graceful train, were a masterstroke in creating an ensemble that was equal parts classic and contemporary. It's no wonder that her fans and fashion enthusiasts couldn't help but be captivated by her unmatched fashion flair.
The slightly loose, oversized, and comfortable fitting of the gown allowed the Aisha actress to embrace style with a unique and charming edge. This choice of an easy fit conveyed a sense of effortlessness that perfectly complemented the overall look. It's a testament to her understanding of fashion that style can also be comfortable and easygoing.
To add a touch of formal elegance and a modern edge, the stylish Khoobsurat actress decided to layer the white gown with a full-sleeved black formal blazer. The black blazer not only provided a stylish contrast to the pristine white but also contributed to the outfit's overall aesthetic and charm. The coat, gracefully resting over her shoulders, created a visual juxtaposition that highlighted her fashionable choices.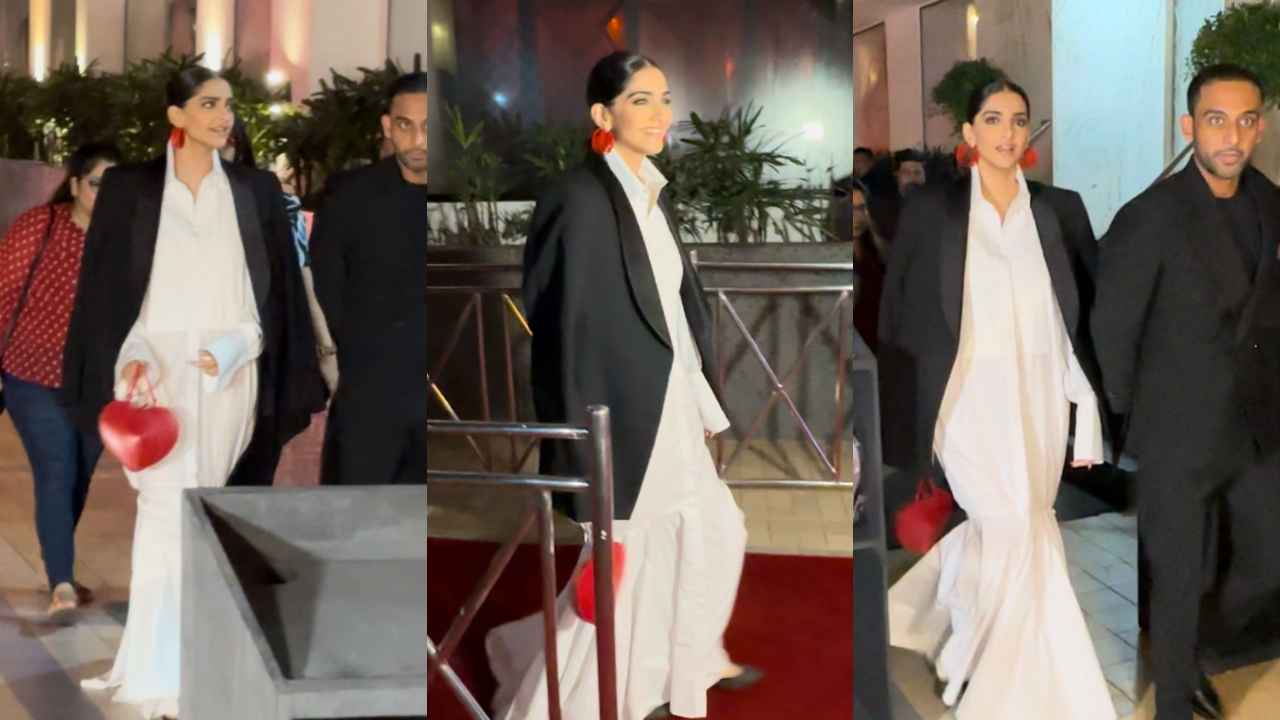 Sonam Kapoor Ahuja's ability to effortlessly blend different elements of fashion, from loose and comfortable fitting to the structure of a formal blazer, showcased her flair for creating looks that are both unique and captivating. Her choice to layer the blazer over the gown was a bold fashion statement that added sophistication and a touch of modernity to her ensemble. It was a perfect example of her fashion-forward approach that continues to inspire and captivate her fans and fashion enthusiasts.
The stylish actress decided to add a touch of bling to her ensemble with vibrant red hoop earrings adorned with beads. These eye-catching earrings not only introduced a pop of color to the look but also provided a playful and whimsical element to the overall attire. The addition of these earrings showcased Sonam's knack for accessorizing with a creative and bold touch.
To further enhance the vibrancy of her outfit, the pretty actress paired her graceful ensemble with a vibrant red Le Cœur bag in calfskin from Maison Alaïa. This red bag, with its unique heart-shaped design, not only matched the earrings but also served as a striking fashion statement. It added a delightful and playful element to her look, bringing a burst of color and charm to the ensemble.
Sonam Kapoor Ahuja's choice of accessories, the red hoop earrings and the Le Cœur bag, demonstrated her ability to introduce a sense of fun and whimsy to a sophisticated outfit. The pop of red perfectly complemented the black and white ensemble, creating a balance of colors that added to the overall charm and aesthetics. It was yet another example of how Sonam Kapoor Ahuja consistently surprises and delights with her bold and creative fashion choices, earning the admiration of her fans and fashion enthusiasts.
The extremely stylish heart-shaped bag that Sonam Kapoor Ahuja chose for her ensemble comes with a beautiful and simplistic cut that not only creates volume and shape but also adds to the piece's allure. The clean and uncomplicated design of the bag makes it a standout accessory that exudes both charm and sophistication. Its unique heart shape and structural design perfectly complemented the overall look, adding an element of whimsy and style.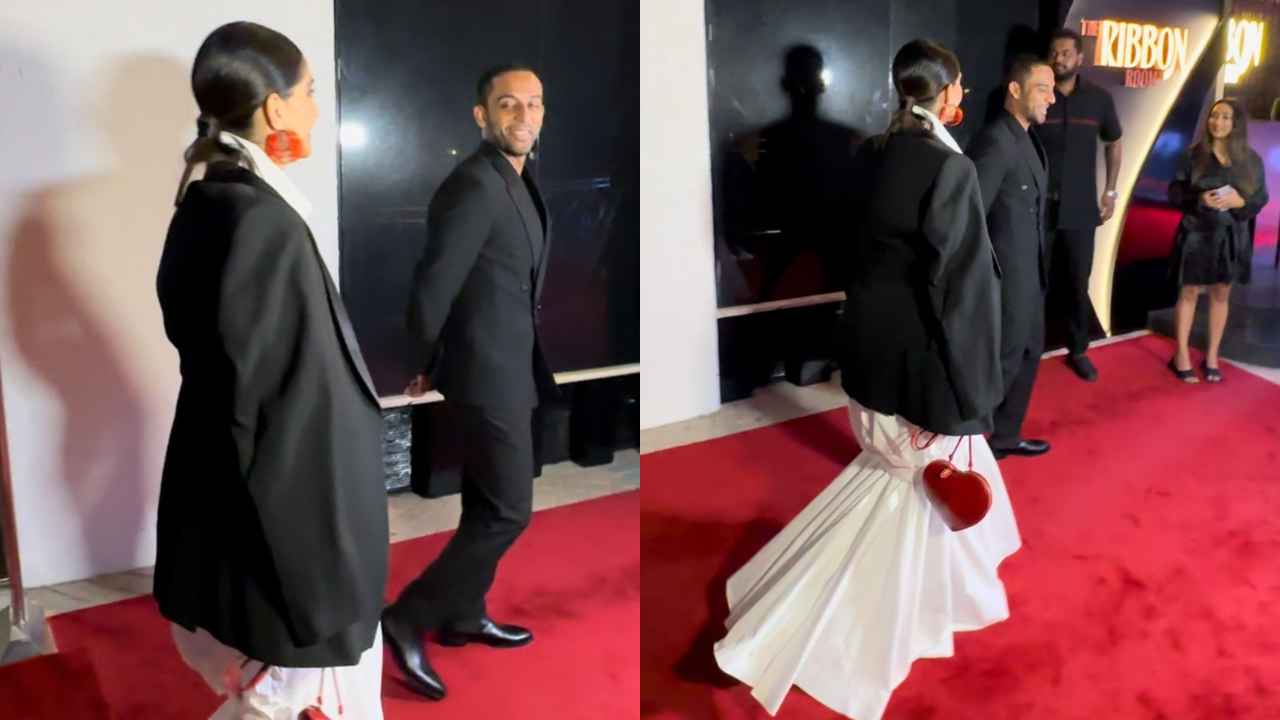 The bag, with its adjustable strap, not only offers functionality but also enhances its appeal as a fashion statement. The versatility of the strap allows it to be worn in various ways, making it a practical yet stylish addition to the outfit.
However, it's worth noting that this stylish piece comes with a relatively heavy price tag, approximately Rs. 89,262. This price reflects the quality craftsmanship and design of the bag, as well as the association with the Maison Alaïa brand, known for its luxury and innovation in fashion.
Sonam Kapoor Ahuja's choice of this bag was a perfect example of her ability to select accessories that are not only visually appealing but also add depth and character to her overall look. It was a bold and confident fashion choice that demonstrated her love for unique and high-end pieces, earning her praise from her admirers and fashion connoisseurs.
Last but not least, let's discuss the impeccable hair and makeup game of the stylish actress known for her role in Delhi 6. Sonam Kapoor Ahuja's attention to detail and her dedication to a polished appearance extended to her choice of hairstyle for this ensemble. She tied her hair up into a sleek and gorgeous center-parted bun, adding a touch of sophistication to her overall look.
The center-parted bun not only showcased her facial features but also highlighted the elegance of her ensemble. It framed her face beautifully and added a sense of refinement to the entire outfit. Sonam's ability to make a well-thought-out choice for her hairstyle, balancing tradition and modernity, was yet another reflection of her fashion-forward approach.
Sonam Kapoor Ahuja's makeup was also on point, enhancing her natural beauty without overpowering her look. Her choice of colors and techniques brought out her features and ensured that she looked radiant and elegant. The combination of the sleek center-parted bun and flawless makeup created a harmonious and polished appearance that was the perfect finishing touch to her ensemble.
Sonam Kapoor Ahuja's commitment to her hair and makeup game, like the rest of her fashion choices, further solidified her reputation as a style icon. Her attention to detail, her knack for combining various elements to create a complete look, and her impeccable fashion sensibility were on full display in this appearance. Fans and fashion enthusiasts couldn't help but be captivated by her flawless and captivating ensemble from head to toe.