Ananya Panday's golden lehenga set with sleek bun is the PERFECT choice for Diwali parties
Ananya Panday, a familiar face in the fashion industry, has a remarkable knack for capturing attention with her exquisite ensembles. While she is often associated with her preference for tiny dresses that exude modernity and chicness, she proves time and again that she can effortlessly don any traditional attire. With her impeccable style and grace, Ananya knows how to make a statement in a sleek kurta set or a mesmerizing lehenga.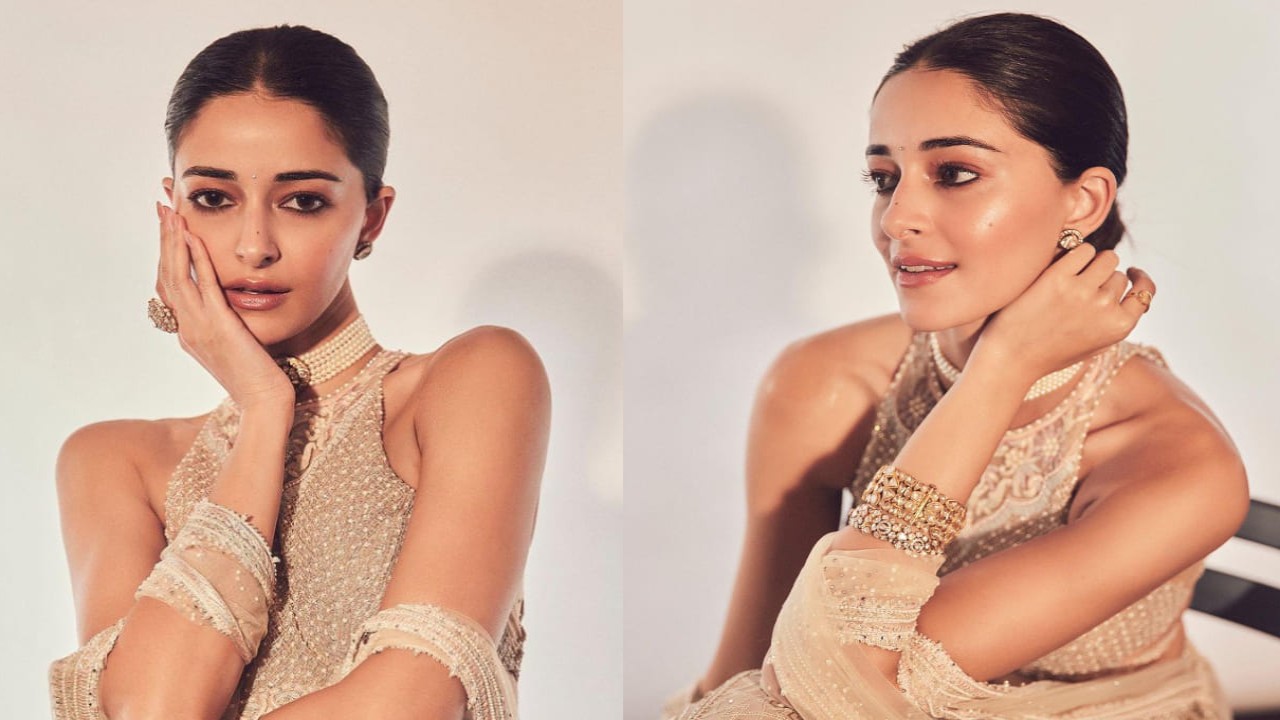 One of the most recent occasions where Ananya Panday left fashion enthusiasts in awe was when she graced an event in a stunning golden lehenga. The golden lehenga was a true masterpiece, radiating an aura of opulence and grandeur. Ananya's choice of this exquisite outfit not only showcased her love for traditional Indian fashion but also highlighted her versatility in effortlessly carrying off a wide range of styles.
What truly sets Ananya apart in the world of fashion is her ability to carry herself with grace and elegance. Whether she's in a contemporary mini-dress or a lavish lehenga, her sartorial choices reflect her immaculate sense of style and her confidence in experimenting with different looks. Ananya Panday's fashion journey is an inspiration to many, proving that she is not just a fashion icon, but a trendsetter who knows how to leave a lasting impression with her ever-evolving and sophisticated style.
Ananya Panday's golden lehenga was a mesmerizing ensemble that truly captivated onlookers. It was a harmonious blend of delicate embroidery, flowing fabric, and sparkling pearls, which collectively created an aura of timeless beauty and opulence. The choice of gold as the primary color added a touch of regality to the attire, making it perfect for a special occasion or a grand celebration.
The halter neck blouse, undoubtedly, was the standout feature of this set. With its intricate white thread flower embroidery, it showcased a level of craftsmanship that was both intricate and elegant. The delicate details on the blouse were a testament to the skilled artisans who brought this creation to life, and they added a touch of femininity and grace to the overall look. The sleeveless design of the blouse further accentuated Ananya's slender frame, allowing her to exude confidence and poise.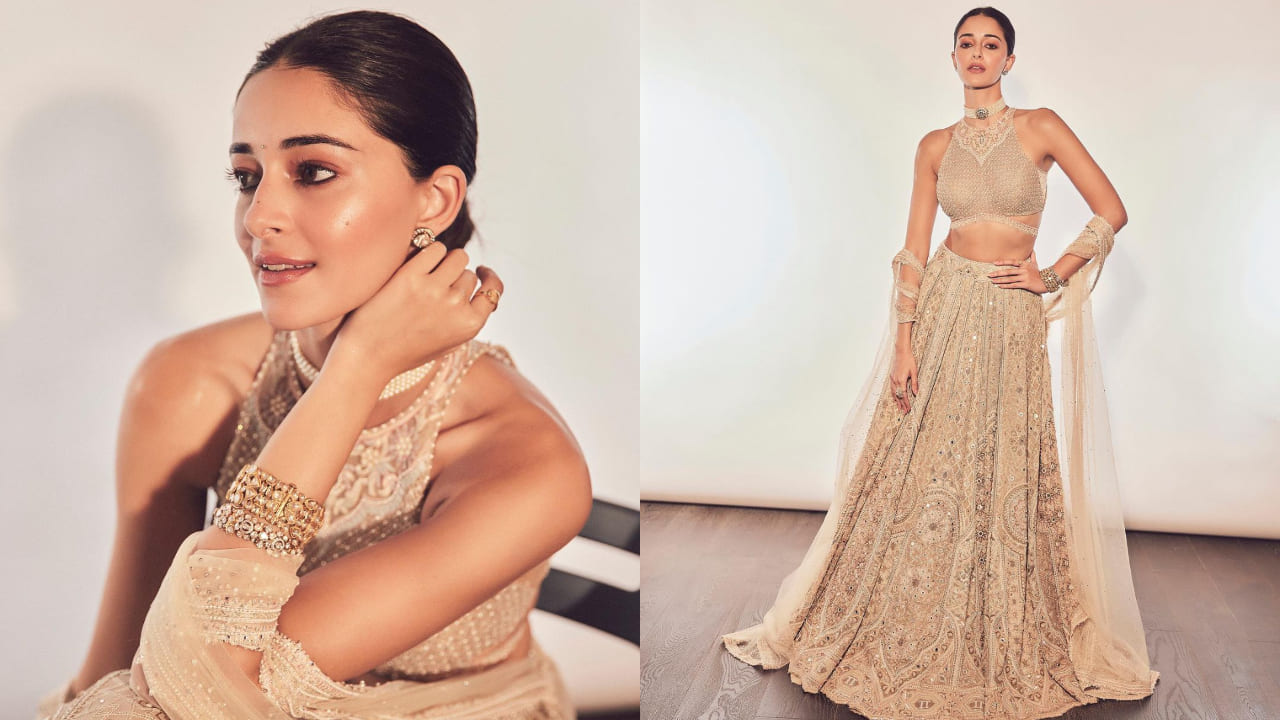 Ananya's choice of this ensemble highlighted her ability to select outfits that not only make a style statement but also pay homage to the rich tradition of Indian fashion. The golden lehenga, with its exquisite details and the show-stopping halter neck blouse, exemplified the perfect fusion of modern elegance and traditional charm, showcasing Ananya Panday's impeccable taste and her ability to make heads turn with her fashion choices.
The lehenga and dupatta in Ananya Panday's ensemble flowed with a striking sense of grace and beauty. Their soft golden hues complemented each other perfectly, creating a harmonious and captivating look. The lehenga, with its intricate embroidery and exquisite design, exuded an air of sophistication and timeless appeal. The dupatta, adorned with similar detailing, added an extra layer of elegance and served to complete the overall look.
Ananya's ability to carry off the lehenga with such poise and grace was truly remarkable. Her confidence and charisma shone through as she wore this stunning ensemble. It was a testament to her impeccable fashion sense and her understanding of how to make a fashion statement while maintaining an aura of sophistication and charm.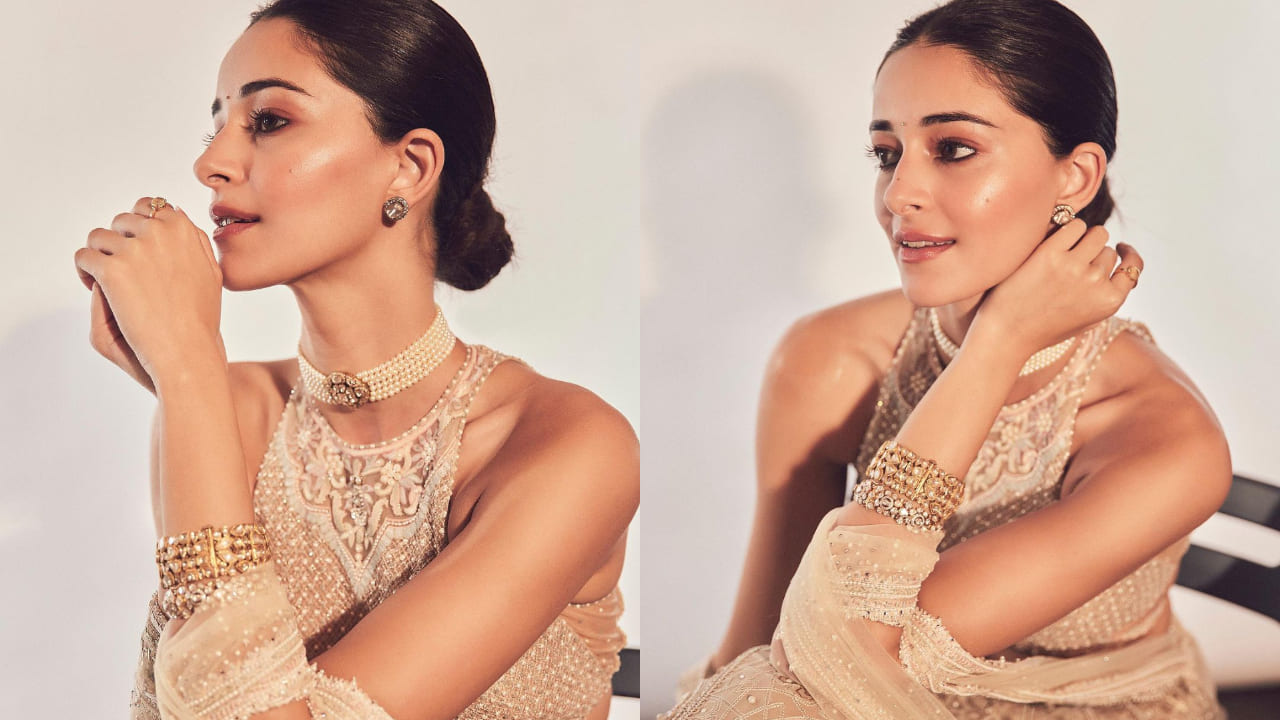 The way Ananya Panday effortlessly pulled off this golden lehenga and dupatta set showcased her versatility in fashion and her innate ability to embrace and enhance the beauty of traditional Indian attire. Her appearance in this exquisite outfit left a lasting impression, proving once again that she is a style icon with an unwavering sense of grace and elegance.
Ananya Panday's mid-waisted lehenga was a truly mesmerizing ensemble that seamlessly blended traditional craftsmanship with a touch of contemporary fashion. The key elements that made this outfit stand out were the intricate mirror work, delicate flower embroidery, and the captivating cutwork design. These exquisite surface embellishments collectively elevated the attire to a new level of elegance and sophistication, showcasing the rich heritage of Indian craftsmanship.
The mirror work on the lehenga was a dazzling feature that caught the eye and added a radiant element to the ensemble. Mirrors, with their reflective quality, not only added a sense of opulence but also made the outfit come alive as they twinkled in the light. The delicate flower embroidery added a soft and feminine touch, enhancing the overall appeal of the lehenga.
What set this outfit apart even further was the cutwork design on the hem. This modern twist brought an element of fashion-forward thinking to the traditional lehenga. The cutwork design, with its contemporary and intricate patterns, created a fusion of old and new, demonstrating the adaptability and creativity of Indian fashion.
Ananya Panday's choice of this ensemble showcased her ability to embrace the rich cultural heritage of Indian fashion while incorporating elements of modernity and style. It was a beautiful amalgamation of tradition and innovation, highlighting the intricacy and creativity of Indian craftsmanship. This mid-waisted lehenga was a testament to her impeccable fashion choices and her capacity to make a statement through her unique and mesmerizing ensembles.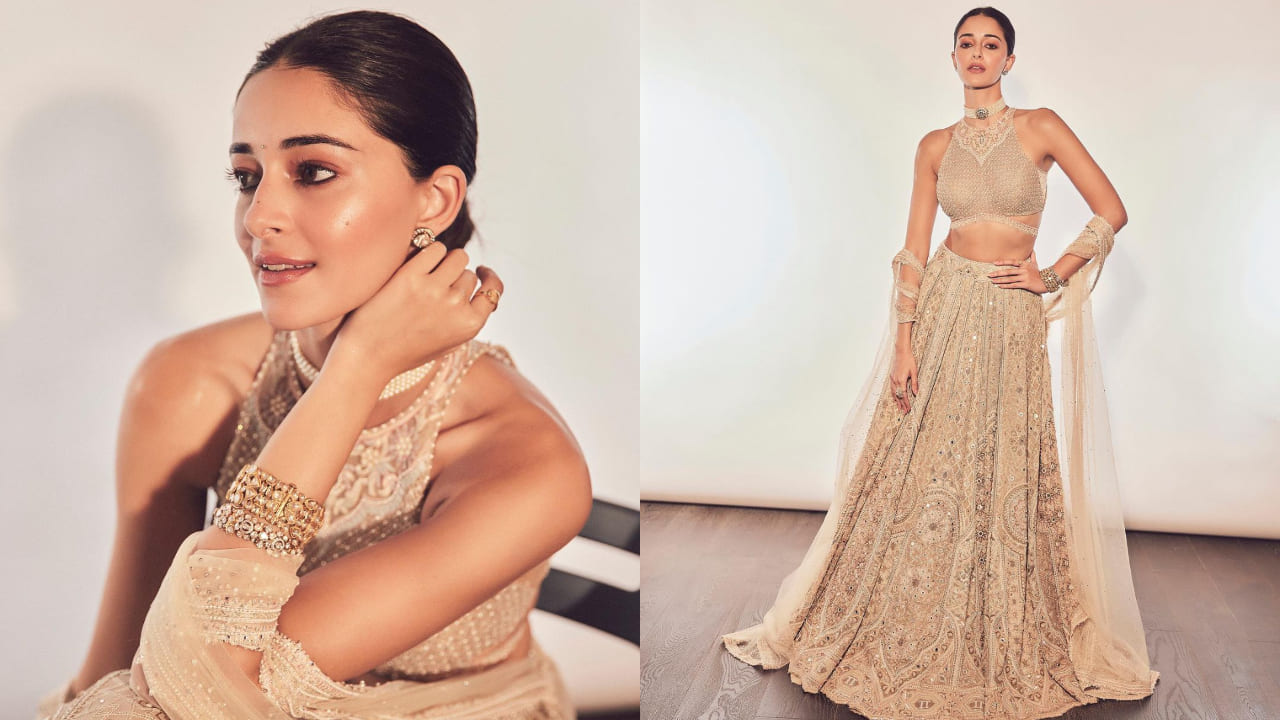 Ananya Panday's lehenga was nothing short of a masterpiece, a testament to the rich tradition of Indian craftsmanship. Designed by the renowned Tarun Tahiliani and styled by the talented Tanya Ghavri, this ensemble was a perfect blend of classic and contemporary elements. The mid-waisted lehenga, adorned with intricate mirror work, delicate flower embroidery, and a captivating cutwork design along the hem, showcased the exceptional craftsmanship and attention to detail that went into creating this stunning outfit.
The net dupatta that accompanied the lehenga was a work of art in itself. Adorned with pearl decorations throughout, it added a touch of luxury and elegance to the ensemble. The pearls, with their lustrous sheen, complemented the golden hues of the lehenga beautifully. Ananya Panday's choice to elegantly drape the dupatta over both of her hands was not only a nod to traditional Indian style but also served to complete the overall look with finesse.
This ensemble, created by the masterful Tarun Tahiliani and styled by Tanya Ghavri, represented the epitome of Indian couture. Ananya's choice to wear this outfit was not just a fashion statement but a celebration of the artistry and craftsmanship deeply ingrained in India's sartorial tradition. The overall look was a visual masterpiece, showcasing the beauty of Indian fashion and design. Ananya Panday's grace and elegance while wearing this outfit only added to its allure, making it a memorable moment in the world of fashion.