Nora Fatehi elevates her monochromatic athleisure outfit with Rs. 2,55,544 Prada shoulder bag
In the realm of Bollywood, there are numerous actresses and dancers who can captivate audiences with their mesmerizing moves. However, when it comes to dancing with sheer allure, it's hard to deny that Nora Fatehi stands out as the undisputed dancing queen. Her talent as a dancer, coupled with her modest yet noteworthy acting skills, music endeavors, and unique fashion choices, has made her a force to be reckoned with in the industry.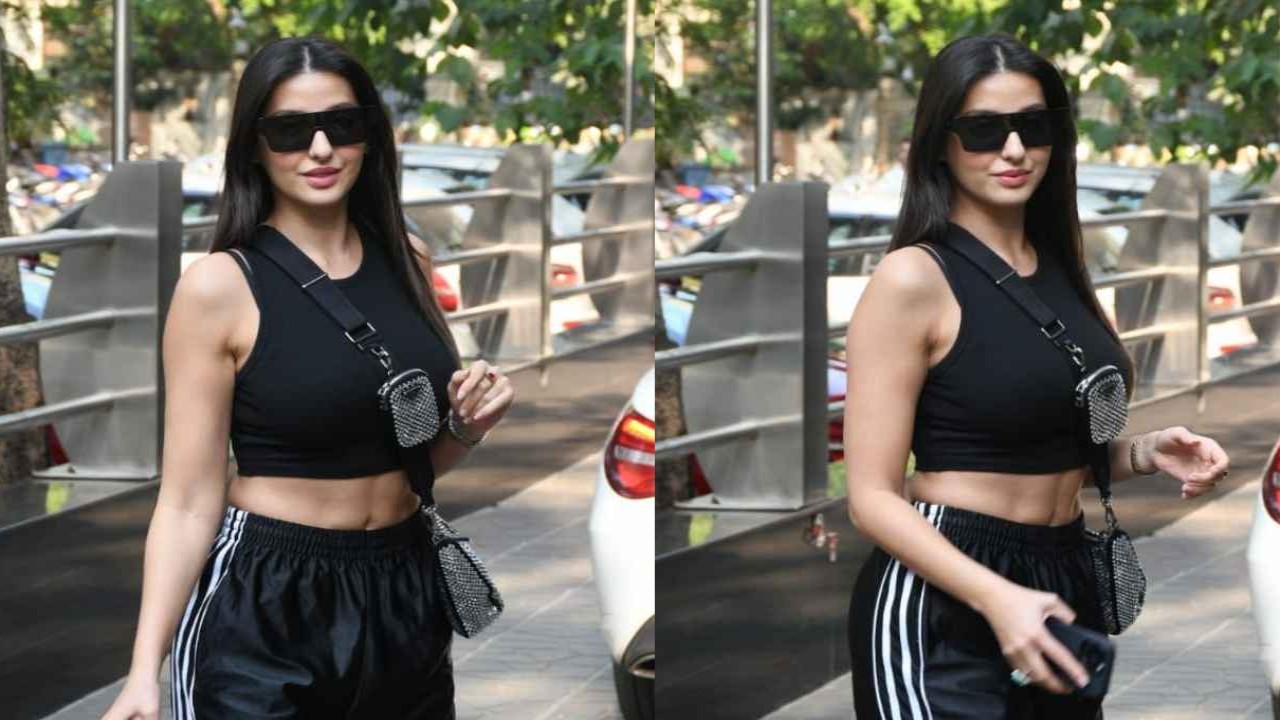 As a judge on "Hip Hop India," Nora Fatehi has not only showcased her exceptional dance abilities but has also shared her expertise and passion for the art form with aspiring talents. Her influence on the dance scene in India is undeniable, and she continues to inspire countless dancers with her incredible performances.
Nora's unique sense of fashion has always been a talking point in the entertainment world. She effortlessly blends style, comfort, and trendiness in her outfits, making her a fashion icon for many. Recently, Nora Fatehi made heads turn once again as she stepped out in a black and white sporty ensemble that has left fans and fashion enthusiasts absolutely obsessed. Her ability to pull off such diverse looks with ease only underscores her status as a versatile and trendsetting artist in Bollywood.
The talented Nora Fatehi recently made a bold and stylish fashion choice by opting for a sleeveless black basic crop top. This choice not only allowed her to flaunt her toned waist but also accentuated her curves in all the right places, showcasing her confidence and style. The sleeveless design added a touch of modernity and sophistication to her look, and it perfectly complemented her sporty attire.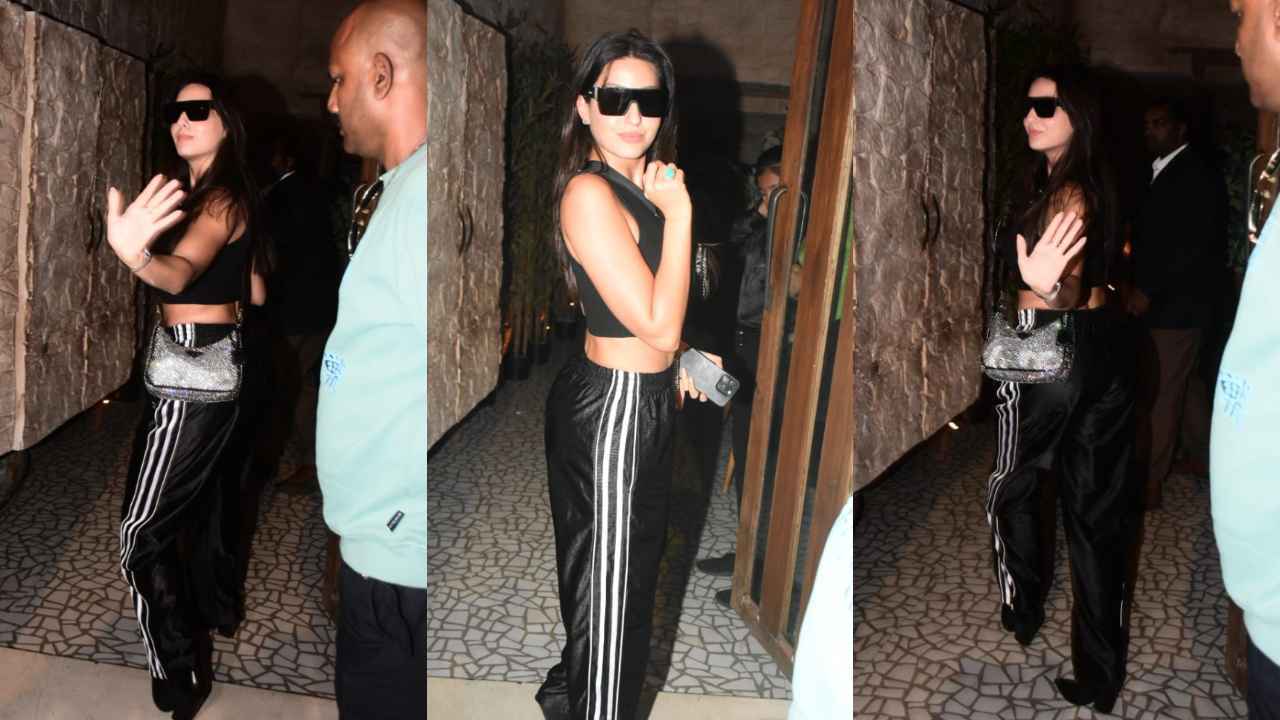 In a further bid to elevate her ensemble, the "Thank God" actress paired her crop top with black Balenciaga sporty B cropped tracksuit trousers. These trousers, priced at approximately Rs. 67,640, added an element of luxury and high-fashion to her sporty outfit. The choice of Balenciaga, known for its premium quality and design, added an extra layer of glamour to her overall look, demonstrating Nora Fatehi's ability to effortlessly blend high-end fashion with comfort and style. This fashion choice undoubtedly solidified her status as a trendsetter and style icon in the entertainment industry.
The Balenciaga sporty B cropped tracksuit trousers chosen by Nora Fatehi not only exude style but also offer comfort and functionality. These wide-legged joggers feature a special elasticated waistband that conforms to the shape of one's waist, ensuring a comfortable fit. This attention to detail highlights the designer's commitment to combining fashion and comfort, making it a practical choice for a busy and fashion-conscious individual like Nora.
Moreover, these ankle-length flared pants are adorned with white-colored striped details along the sides, which not only add a touch of sporty elegance but also create a visually appealing contrast against the black fabric. The inclusion of two convenient pockets and a back pocket adds to the trousers' utility, allowing the wearer to carry essentials with ease.
Of course, no Balenciaga attire is complete without the brand's logo on display, and these trousers are no exception. The presence of the Balenciaga logo on the front subtly announces the designer's signature style, making it clear that Nora Fatehi's fashion choice is a fusion of luxury and sporty chic.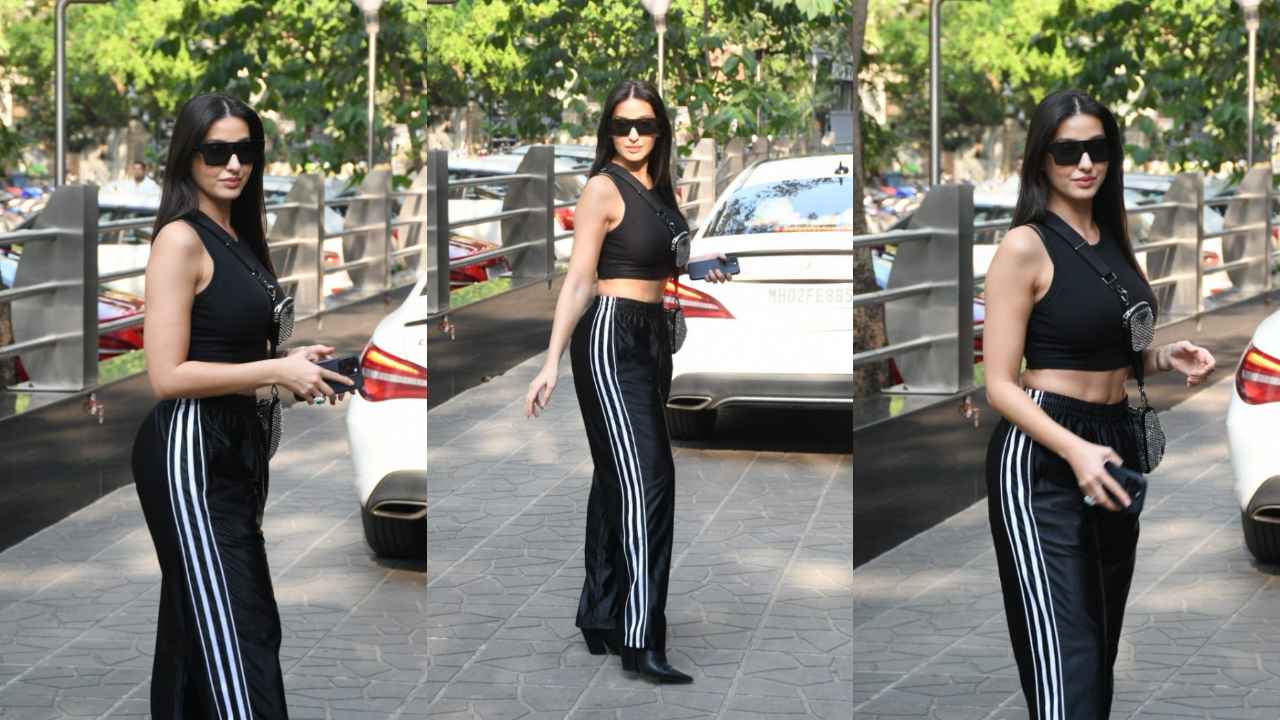 Nora Fatehi has indeed proven that athleisure wear can be elevated to a level of pure perfection. Her choice of these Balenciaga trousers not only reflects her distinctive fashion sensibilities but also showcases how one can effortlessly blend comfort, style, and luxury in a single ensemble, making her a true fashion trendsetter.
Nora Fatehi's fashion choices are known for their attention to detail, and her recent monochromatic sporty outfit was no exception. To complete her look, the "An Action Hero" actress opted for ankle-length black boots with a sharp V-shaped edge. These boots not only added a contemporary edge to her ensemble but also contributed to its overall allure. The sharp V-shaped design of the boots created a striking contrast to the flared pants, adding an element of style and boldness to the look.
The fashion magic didn't stop there, as the incredible "Stree" actress took her outfit to the next level by carrying the Prada satin crystal re-edition 2005 shoulder bag. This choice of accessory added a touch of opulence and sophistication to her overall appearance. The Prada shoulder bag, adorned with satin and crystal detailing, perfectly complemented the sporty yet chic vibe of her ensemble. It highlighted her ability to blend high-end designer accessories with sporty attire, further cementing her reputation as a fashion maven.
Nora Fatehi's style is not just about what she wears but also how she meticulously selects every accessory to create a harmonious and fashionable look. Her attention to detail and her ability to effortlessly combine different elements of fashion make her a true style icon in the industry, leaving her fans and fashion enthusiasts alike in awe of her impeccable choices.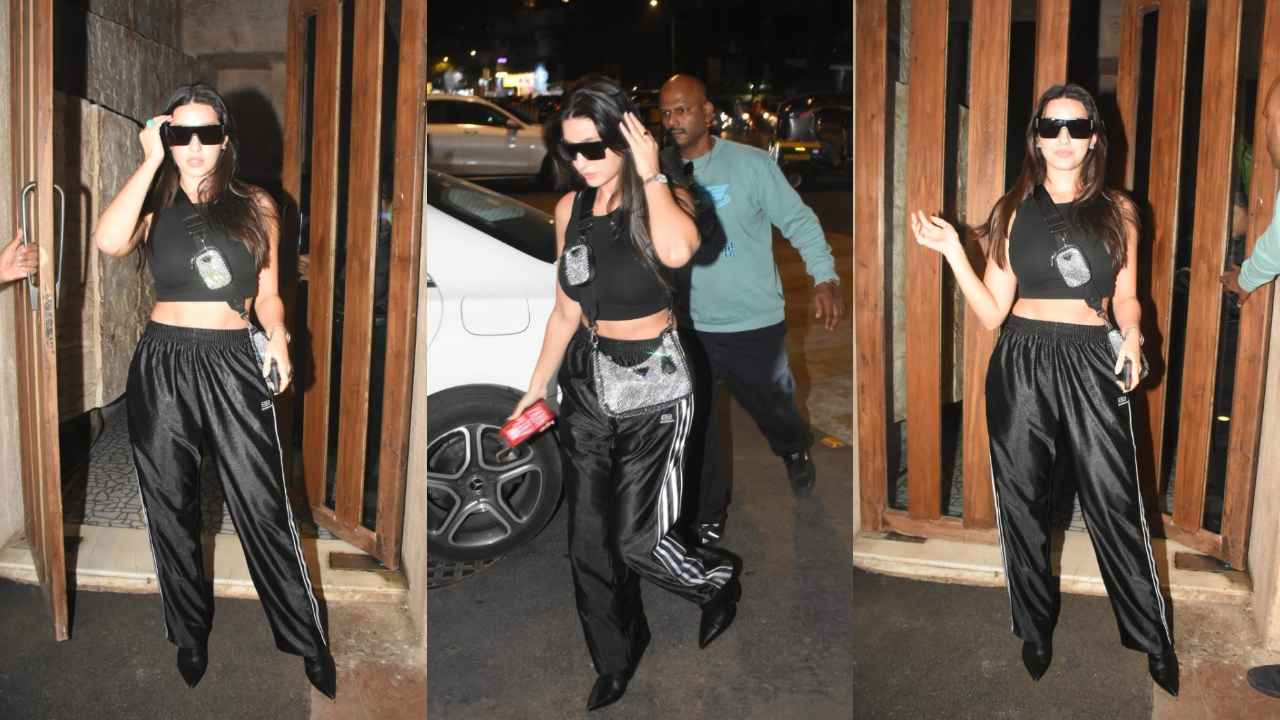 The Prada satin crystal re-edition 2005 shoulder bag chosen by Nora Fatehi is a true epitome of luxury and perfection. Crafted with meticulous attention to detail, this exquisite piece features crystal-embellished satin fabric and is complemented by silver hardware, giving it a glamorous and high-end appearance. The inclusion of a coin pouch adds both functionality and a chic element to its overall look, making it an ideal accessory for someone with a taste for elegance.
This versatile piece of fashion can be worn in various ways, allowing the wearer to adapt it to different outfits and occasions. Its extravagant price tag of approximately Rs. 2,55,544 reflects the exclusivity and luxury associated with high-end designer accessories like Prada.
To complete her classy look, the "Street Dancer 3D" actress made some well-considered choices in terms of accessories. She added a silver watch and a ring, which harmonized with the silver hardware of her Prada shoulder bag. Additionally, the inclusion of black-tinted sunglasses not only provided an element of sophistication but also tied the entire look together, showcasing her commitment to creating a fashionable and cohesive ensemble.
Nora Fatehi's choice of accessories, including the Prada shoulder bag, reflects her affinity for high fashion and her ability to select pieces that elevate her overall style. Her eye for luxurious details and her skill in combining various elements make her a standout fashion icon, leaving admirers in admiration of her impeccable taste and style.