Alia Bhatt rocks in cherry pink anarkali kurta set, proving traditional wear is love
Alia Bhatt, widely regarded as a Bollywood fashion icon, recently graced an event in a stunning velvet Anarkali kurta combo that left everyone in awe. Her impeccable sense of style was in the spotlight once again, as she effortlessly pulled off this regal ensemble that garnered attention for its flowing silhouettes and intricate embroidery. The Anarkali kurta set that she chose exuded an air of timeless beauty and elegance, and Alia Bhatt truly epitomized these qualities as she donned the outfit.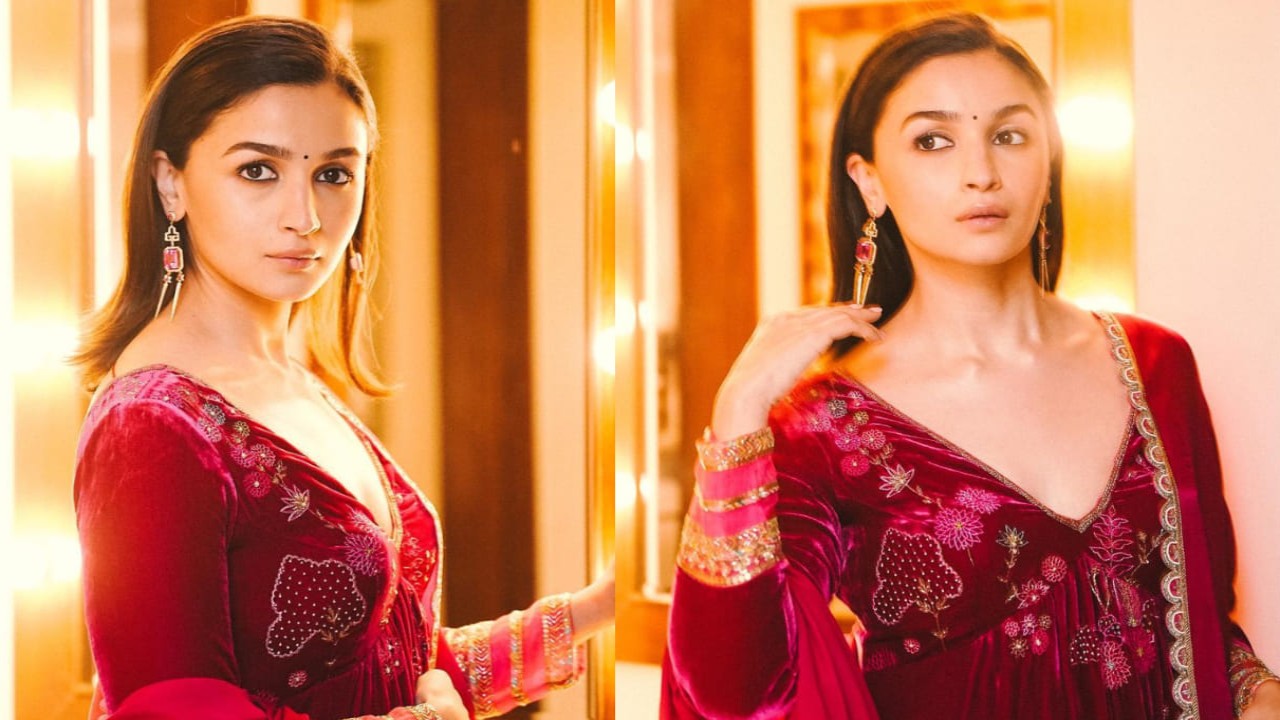 In this ensemble, Bhatt oozed sophistication and regal charm. Her graceful appearance captured the essence of classic Indian fashion and brought to life the rich history and cultural significance of the Anarkali kurta. With its graceful design and enduring allure, the Anarkali kurta set remains a popular choice for formal occasions, and Alia's appearance in this gorgeous outfit is a testament to its enduring appeal and the way it seamlessly marries tradition with contemporary style.
Alia Bhatt's choice of this trendy outfit once again affirmed her status as a trendsetter and fashion influencer. Her ability to turn heads and create a lasting impact in the fashion world is a testament to her innate style and her flair for making every outfit she wears a memorable fashion moment.
Alia Bhatt made a remarkable and sustainable fashion statement when she re-wore her wedding saree to the prestigious National Award ceremony, where she was honored as the Best Actress. Her choice to don her wedding saree for this magnificent occasion, which took place in the country's capital, was a memorable and bold move. By reusing her bridal attire for such a significant event, Alia Bhatt created a unique and eco-conscious fashion moment that celebrated the ethos of sustainable fashion. Her decision to wear her wedding saree demonstrated her commitment to responsible fashion choices and made a powerful statement about the importance of reusing and repurposing cherished garments.
However, Alia Bhatt didn't stop at just one fashion statement. At the dinner party that followed the award ceremony, she continued to dazzle the fashion world with her choice of attire. She opted for a velvet Anarkali kurta combo, which radiated an aura of regal elegance. The richness of the velvet fabric and the classic design of the Anarkali kurta perfectly complemented the grandeur of the event. By choosing this ensemble, she highlighted her versatility in fashion and her ability to seamlessly transition from one style to another, further solidifying her status as a style icon.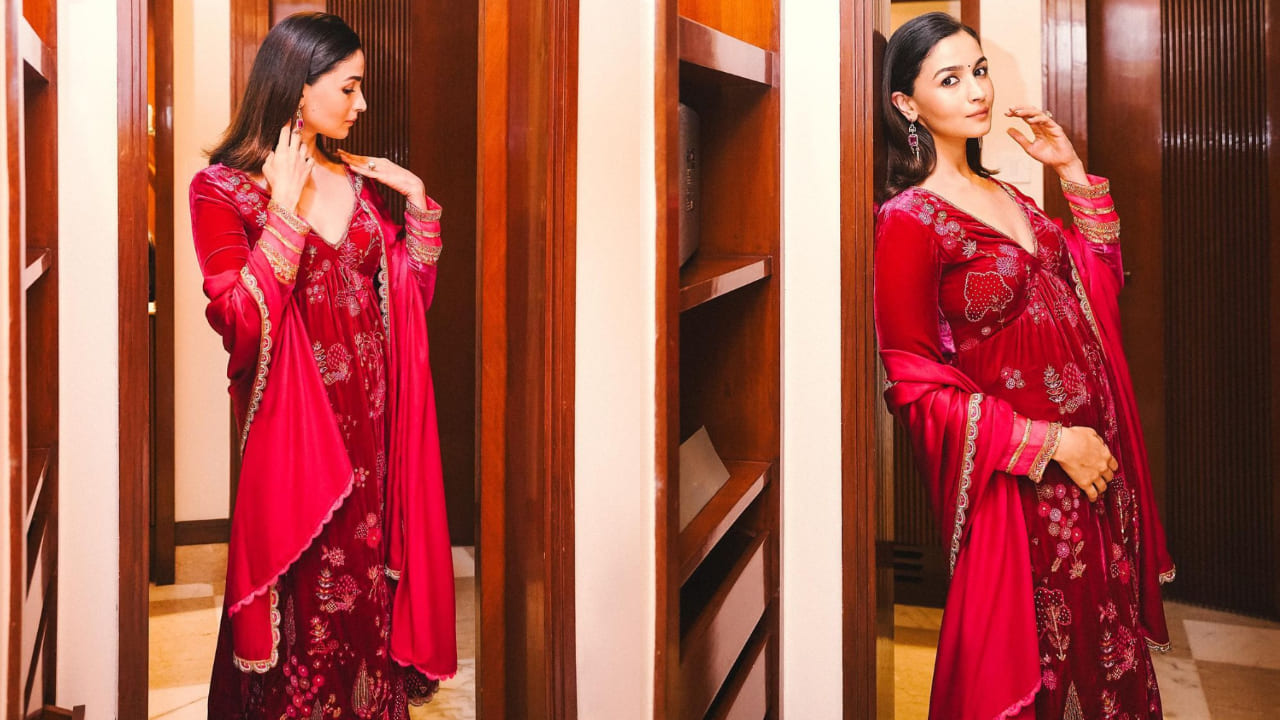 Alia Bhatt's fashion choices at the National Award ceremony and the subsequent dinner party exemplified her ability to make bold and meaningful statements through her outfits. Her commitment to sustainability and her impeccable sense of style continue to inspire and influence the world of fashion, showcasing her as a prominent figure in both the entertainment and fashion industries.
Alia Bhatt once again wowed the fashion world with her latest choice of attire, a stunning cherry-pink anarkali kurta combo. This ensemble featured a deep V-neckline that exuded a sense of elegance and sophistication. The choice of cherry-pink, a vibrant and eye-catching color, added a playful and youthful touch to her look, perfectly balanced by the timeless design of the anarkali kurta.
The addition of golden lace detailing to the outfit enhanced its overall attractiveness. The golden lace not only added a touch of luxury but also created a striking contrast against the cherry-pink fabric, highlighting the fine craftsmanship that went into creating this ensemble. The combination of vibrant color and exquisite detailing made this outfit a true fashion statement.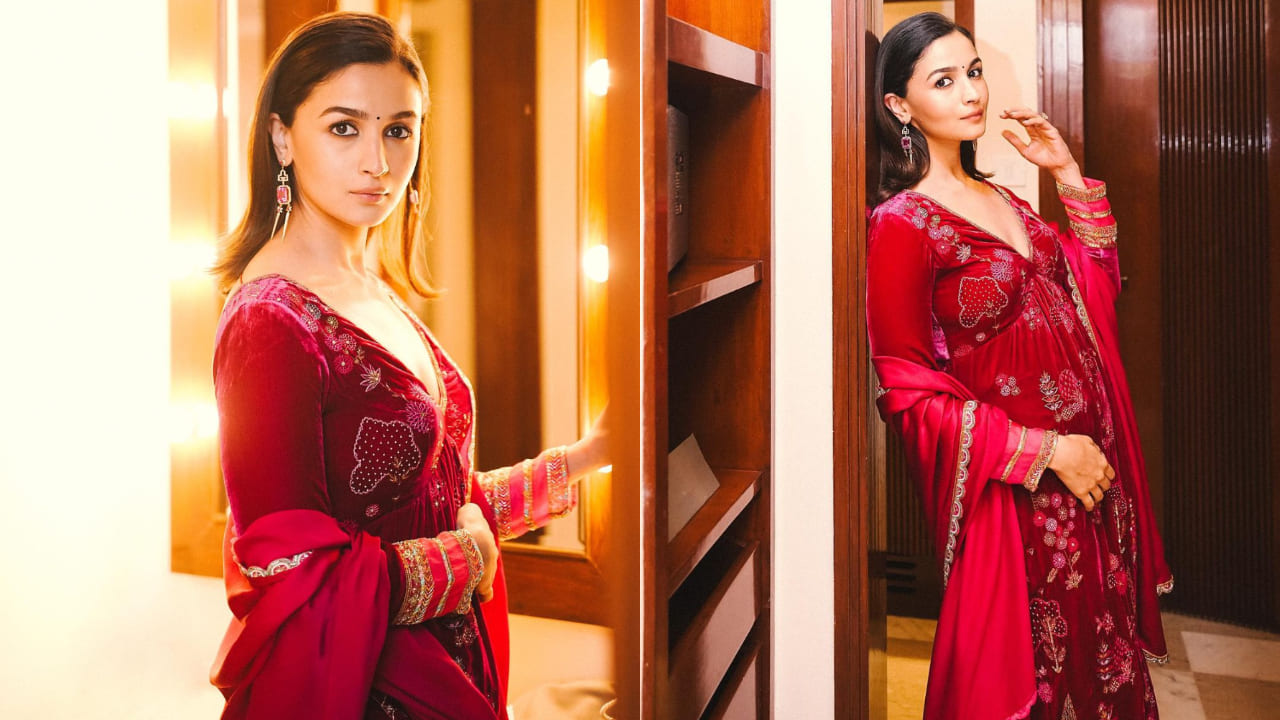 What truly captured the spotlight, though, was the floral paradise kurta set. Its beautiful embroidery, which adorned the anarkali kurta, turned this attire into a piece of art. The floral motifs, meticulously crafted on the fabric, showcased the intricate work of skilled artisans. Alia Bhatt's choice to wear this outfit once again reflected her appreciation for the rich tradition of Indian fashion and her ability to celebrate it with style and grace.
Alia Bhatt's fashion choices continue to inspire and set trends, and her latest cherry-pink anarkali kurta combo is no exception. With her impeccable taste and the way she effortlessly carries herself in every ensemble, she remains a prominent figure in the world of fashion, leaving her admirers captivated by her ever-evolving and sophisticated style.
Alia Bhatt has always had a knack for accessorizing to perfection, and her recent fashion choice was no exception. She adorned her ears with the exquisite Hanut Singh's Deco Ice Pink earrings, which added a touch of elegance and sophistication to her look. The choice of these earrings was a statement in itself, as they beautifully complemented the cherry-pink anarkali kurta combo, enhancing the overall allure of her attire.
What made Alia's fashion choice even more captivating was the fact that no additional accessories were required. Her outfit, with its luxurious velvet fabric and intricate detailing, exuded opulence on its own. This simplicity in her accessory selection showcased her ability to strike the perfect balance between fashion and understated elegance.
Alia Bhatt's confident and poised demeanor while carrying her costume further accentuated the overall impact of her fashion statement. Her ability to exude grace and assurance in every outfit has been a defining feature of her style, making her a role model for fashion enthusiasts. With her well-thought-out choice of accessories and her innate sense of style, she continues to set the bar high in the world of fashion, leaving us all in awe of her impeccable fashion choices.