Tara Sutaria's Rs. 24,875 handwoven red saree with Banarsi cutwork is perfect for Karva Chauth celebrations
A new generation of stylish and talented actresses is making its mark in Bollywood, and Tara Sutaria is certainly among the leaders of this Gen Z takeover. This young star epitomizes the fresh and contemporary approach that defines her generation, combining remarkable talent with a penchant for bold and unique fashion choices. At just 27 years old, Tara Sutaria is rapidly rising as one of the brightest new stars in the Indian film industry, and she's leaving an indelible mark on both the big screen and the fashion world.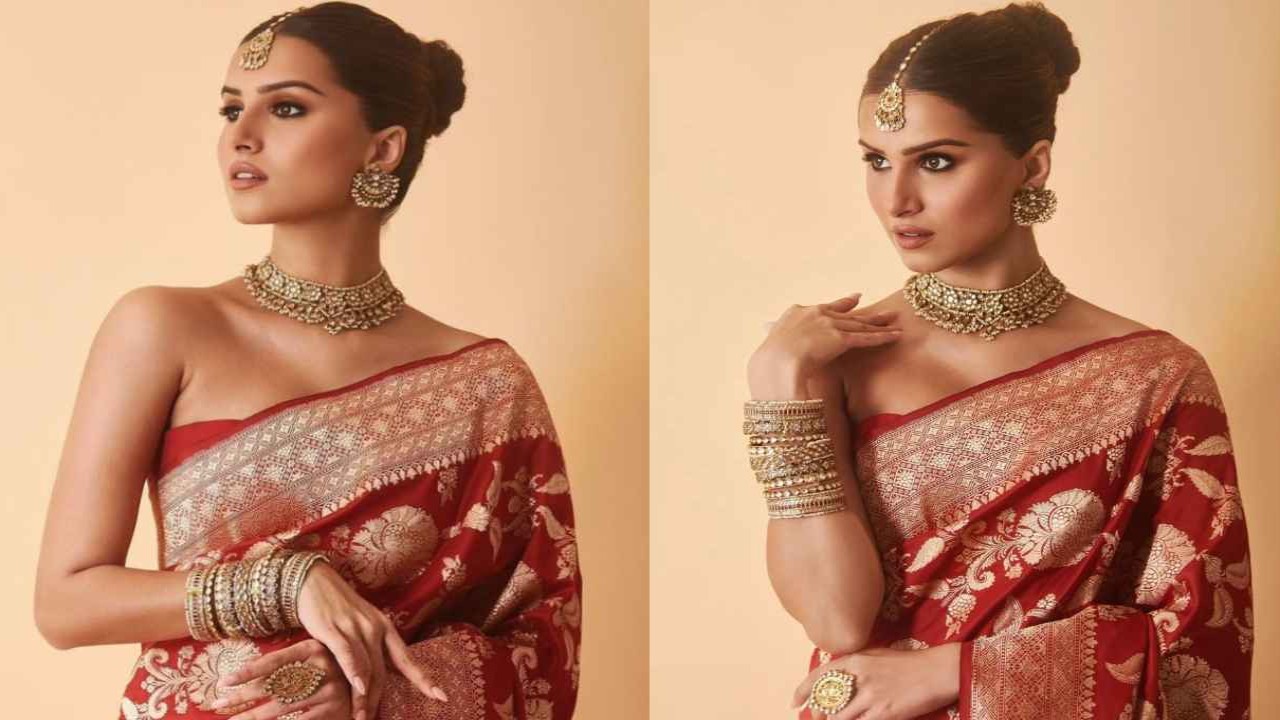 The gorgeous actress, known for her role in "Student of the Year 2," has a distinct ability to infuse a modern and edgy twist into her ensembles. Her fashion-forward choices are a testament to her fearless approach to style, and she's not afraid to experiment with different looks, making her a standout trendsetter among the younger generation of Bollywood celebrities.
Tara Sutaria's presence in the entertainment industry is indicative of the evolving landscape in Bollywood, where fresh talent is accompanied by a willingness to break the mold and embrace contemporary fashion choices. Her unique combination of talent and style sets her apart as a captivating and influential figure in this exciting new era of Indian cinema.
The stunning Tara Sutaria recently made a notable appearance at the iconic Red Fort in New Delhi, where she unveiled the poster for her upcoming thriller project, "Apurva." The talented actress effortlessly commanded attention as she graced the event in a vibrant and luxurious red saree from Ekaya Banaras. Priced at approximately Rs. 24,875, this saree was not only a visual delight but also a reflection of Tara's impeccable taste in fashion.
The way Tara elegantly draped the saree around her frame was truly exceptional, accentuating her toned body and showcasing her innate sense of style. The choice of red as the primary color added a bold and striking element to her look, symbolizing passion and confidence, which are traits often associated with the actress herself.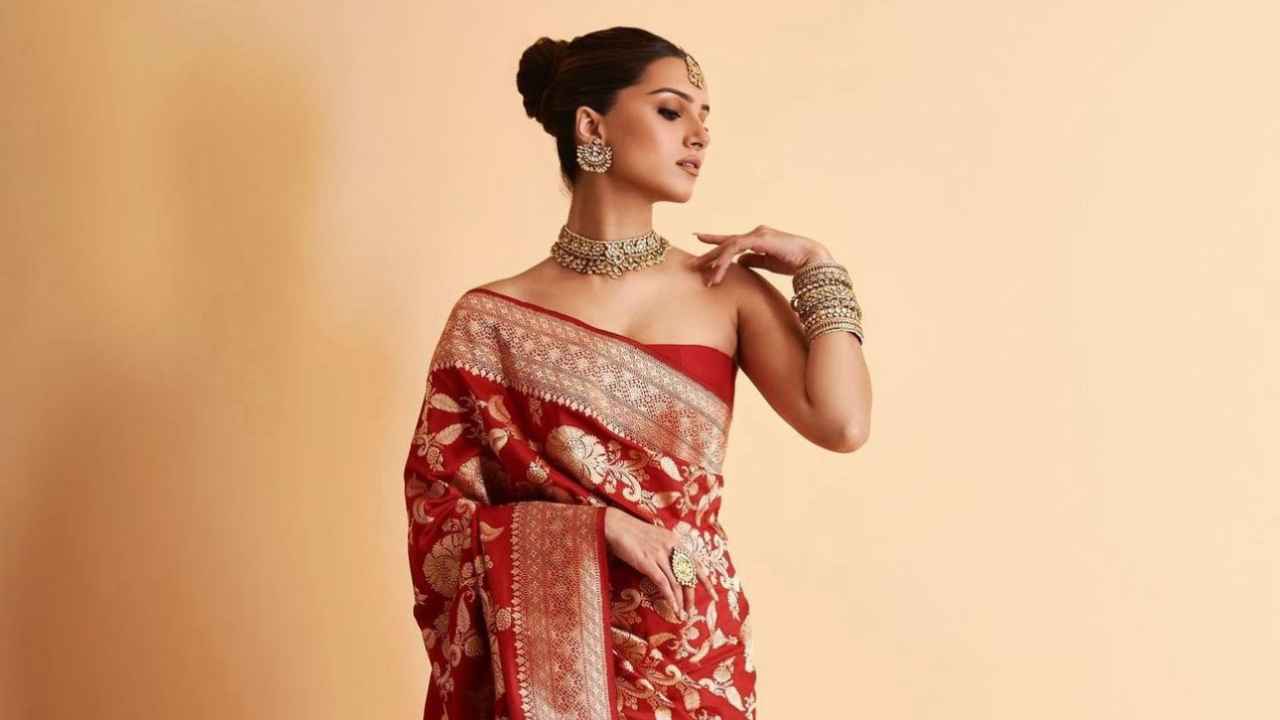 Tara Sutaria's fashion choices at the poster unveiling event highlighted her ability to seamlessly blend tradition and modernity, making her a style icon for many. Her flawless appearance in this fabulous Ekaya Banaras saree left a lasting impression, setting the stage for what's to come in her upcoming thriller project and further solidifying her status as a rising star in the Indian film industry.
Tara Sutaria's choice of attire at the Red Fort poster unveiling event was nothing short of ethereal. Her elegant saree from Ekaya Banaras was adorned with intricate gold floral Banarasi cutwork embroidery, which added a touch of opulence and traditional charm to the ensemble. The matching intricately embroidered gold border further contributed to the formal and regal appearance of the saree. This exquisite detailing showcased the rich craftsmanship and artistry that went into creating this beautiful garment.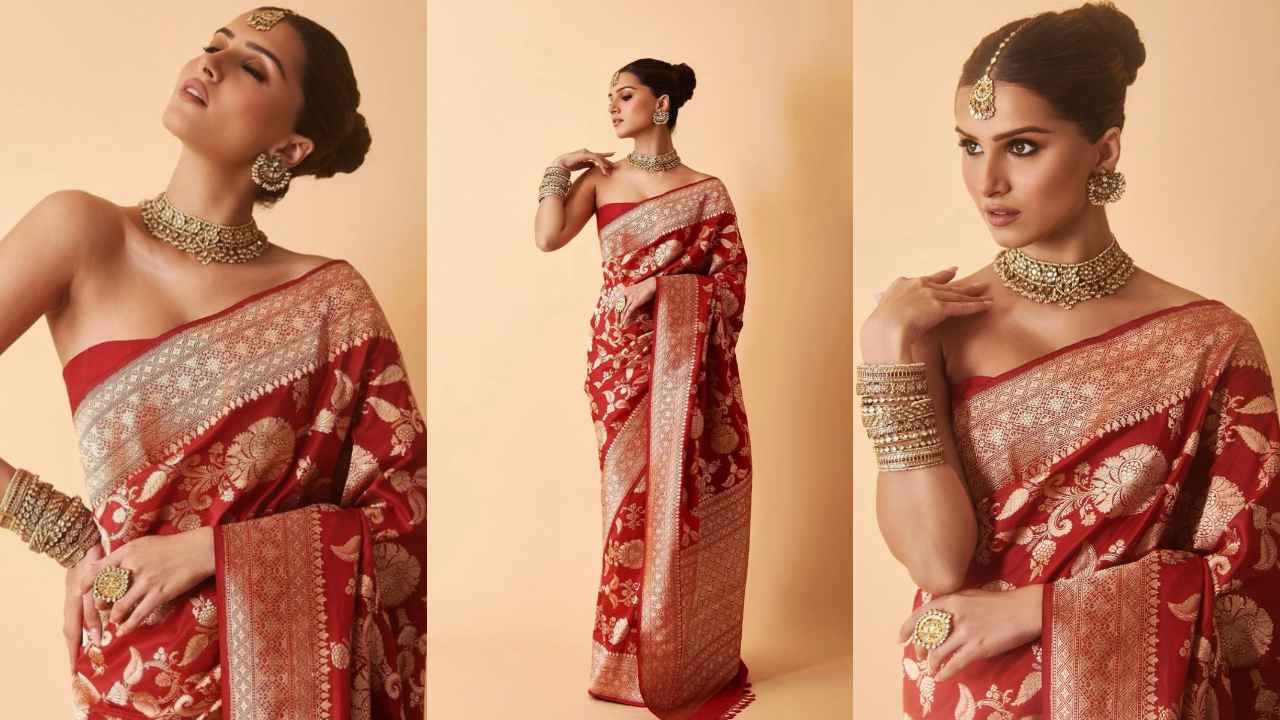 Adding a modern twist to her classic look, the talented actress opted for a matching sleeveless tube top-like blouse. This contemporary choice brought a breath of fresh air to the overall outfit, perfectly balancing the traditional elegance of the saree with a touch of modernity. Tara's ability to harmoniously blend the old and the new is a testament to her impeccable sense of style and her willingness to experiment with her fashion choices.
Tara Sutaria's outfit was a stunning fusion of timeless beauty and contemporary fashion. The choice of the exquisite saree, coupled with the modern blouse, created a captivating and memorable ensemble, which not only showcased her fashion-forward approach but also her ability to make a powerful style statement. Her look at the Red Fort event solidified her status as a fashion influencer, leaving fashion enthusiasts and admirers in awe of her impeccable fashion choices.
Tara Sutaria's attention to detail extended to her choice of accessories, completing her stylish outfit with a harmonious touch. She paired her elegant saree with matching gold sandals, which not only complemented her look but also added a touch of cohesion to her overall ensemble. The choice of gold sandals showcased her commitment to creating a polished and put-together appearance.
But that wasn't the end of her fashion finesse. The "Tadap" actress took her accessory game to the next level by opting for a range of exquisite pieces. Her choice of matching gold bangles, a choker-like traditional necklace adorned with Kundan work and delicate droplets, a matching maang tikka, and statement earrings with intricate gold work elevated her ensemble to a whole new level. Each accessory was thoughtfully selected to harmonize with the rich and traditional appeal of her saree while adding a touch of sophistication and luxury.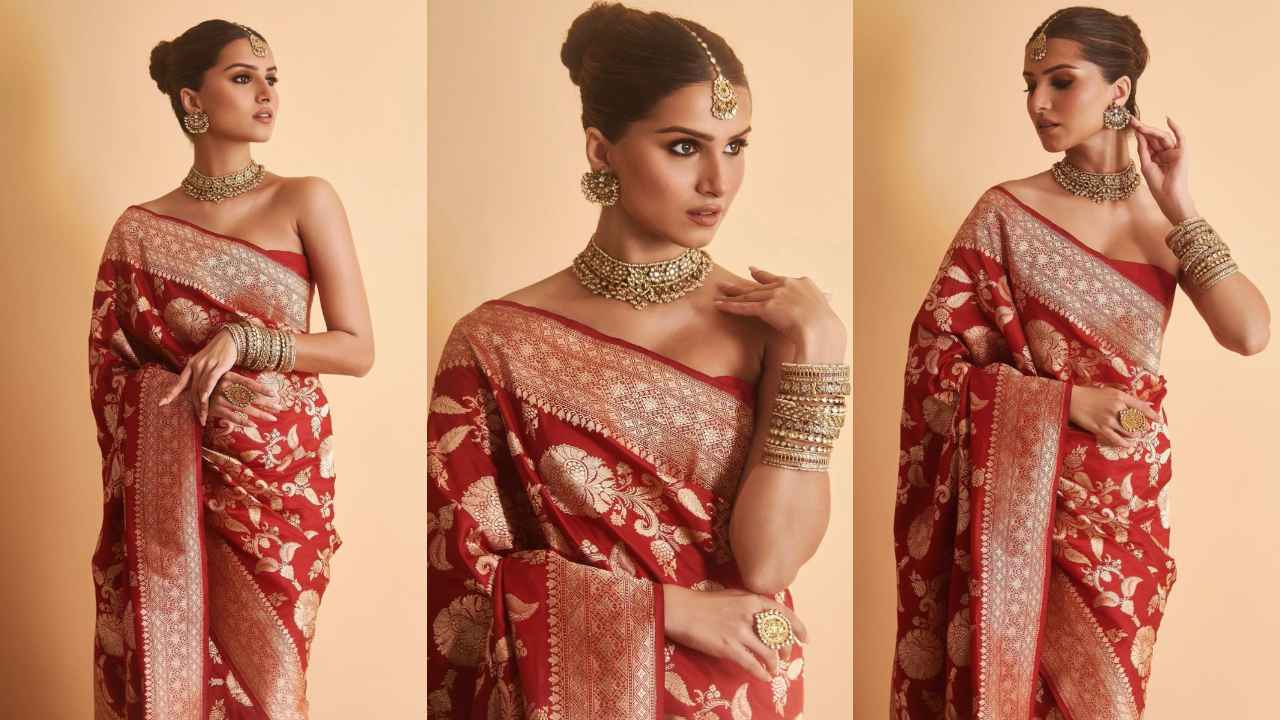 Tara Sutaria's meticulous approach to accessories not only showcased her commitment to creating a cohesive and well-rounded look but also demonstrated her passion for celebrating Indian craftsmanship and heritage through her fashion choices. Her exceptional sense of style, coupled with her careful selection of accessories, made her an iconic figure in the fashion world and left her admirers in awe of her fashion-forward and culturally rich appearance.
Tara Sutaria's attention to detail extended beyond her attire to her hair and makeup, elevating her entire look. She made a fabulous choice by pulling her hair up into a sleek bun with a center parting. This hairstyle not only contributed to the overall allure of her ethnic ensemble but also created the perfect base for her maang tikka, allowing it to take center stage. The sleek bun added a touch of sophistication and traditional elegance, showcasing her ability to pay attention to even the smallest details.
Her makeup game was equally impressive. The "Apurva" actress sported a glamorous makeup look that perfectly complemented her outfit. She had well-shaped eyebrows, bold brown eyeshadow, smokey eyeliner, mascara-laden eyelashes, and blushed and highlighted cheeks, which enhanced her natural features and added depth to her look. The choice of nude-colored lipstick was a brilliant one, as it allowed the focus to remain on her ensemble and accessories while maintaining a harmonious balance with her makeup.
Tara Sutaria's meticulous approach to her hair and makeup choices highlighted her commitment to achieving a polished and complete look. Her elegant bun and glamorous makeup perfectly elevated her overall appearance, making her a vision of grace and sophistication at the event. Her impeccable sense of style, attention to detail, and her ability to harmoniously blend different elements of fashion and beauty make her a revered figure in the world of fashion and Bollywood.