Sonam Kapoor Ahuja redefines airport elegance in white Anarkali suit, beige shawl, and Rs. 9,40,545 Hermes bag
In the world of Bollywood, there is no shortage of fashionable actresses who know how to turn heads with their stylish ensembles. However, when it comes to setting trends that others eventually follow, there is one OG fashionista who stands out, and that is Sonam Kapoor Ahuja. This classy actress has a unique talent for always being at the forefront of fashion, and she has the ability to not only follow trends but to make and break them with just a single appearance.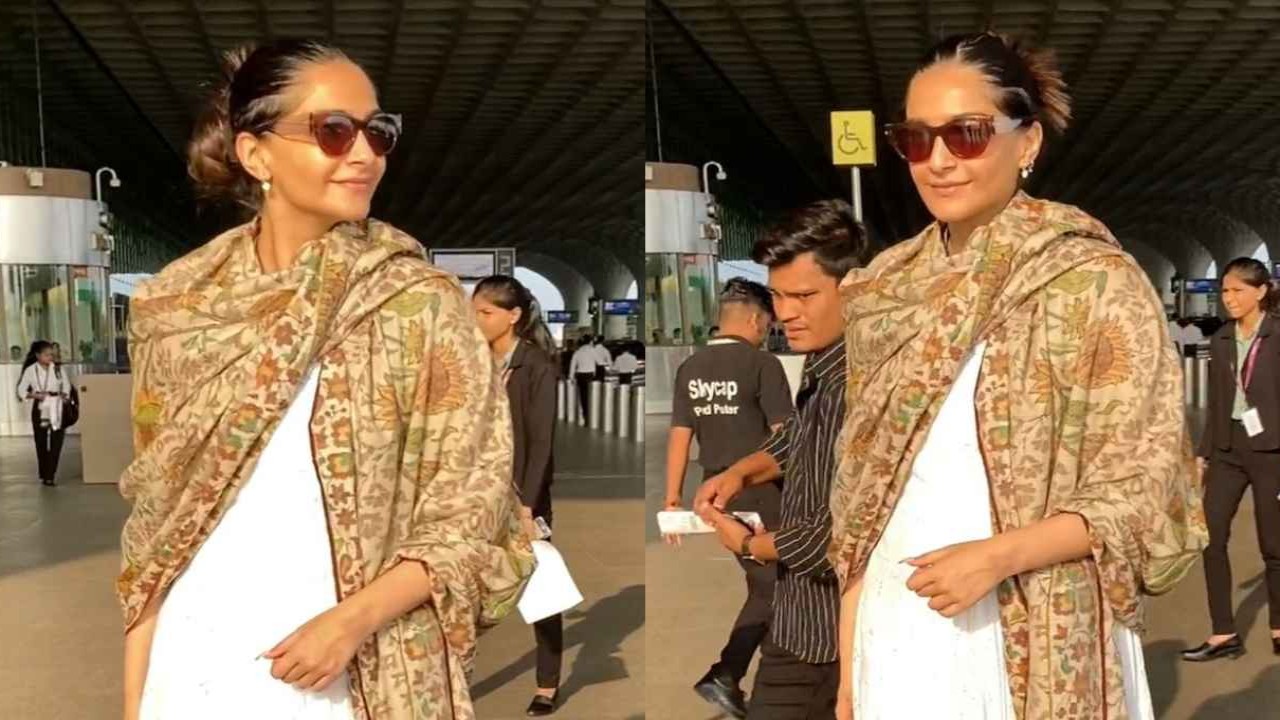 Whether it's a casual stroll at the airport or a high-profile industry event, the "Blind" actress's outfit, from her hair and makeup to her choice of shoes, is always impeccably on point. Sonam Kapoor Ahuja has a reputation for pushing the boundaries of fashion and showcasing her fearless approach to style. Her fashion choices have not only established her as a trendsetter but also as a true fashion icon in the world of Indian cinema.
Sonam Kapoor Ahuja's presence in the industry continues to inspire and influence fashion enthusiasts and her fellow actors alike. Her knack for staying ahead of the curve and her ability to turn even the most ordinary of occasions into a fashion spectacle have made her a dominant and iconic figure in the entertainment and fashion world.
Sonam Kapoor, the epitome of style and trendsetting fashion, was recently spotted donning a delicate and gorgeous ankle-length Anarkali suit in pristine white. The choice of a white Anarkali suit was not only a testament to her bold fashion choices but also showcased her innate ability to make a statement with simplicity. White exudes a sense of elegance and timelessness, and Sonam carried it off with grace.
The suit's loose and comfortable fit was a practical and stylish choice for comfortable travel. It allowed freedom of movement without compromising on style. In a world of fashion, where comfort and aesthetics often collide, Sonam Kapoor's choice to travel comfortably in this outfit while looking chic was a commendable one.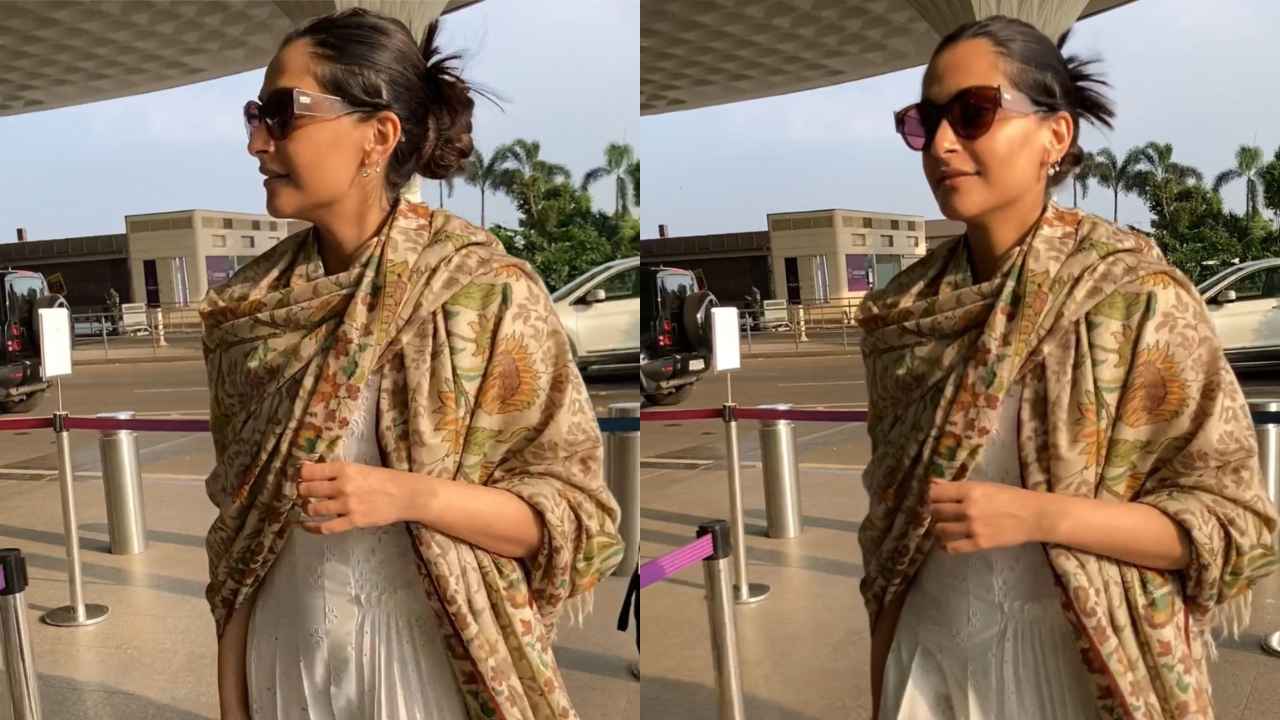 What set this Anarkali suit apart were the numerous pleats in the bottom half. These pleats not only added a delightful texture to the ensemble but also gave it a flowy and dynamic appeal. The interplay of the pleats with the pristine white fabric created a captivating and ethereal effect, adding a touch of movement to the outfit.
Sonam Kapoor's fashion choices have always been about pushing boundaries and creating unique looks. Her recent choice of a white Anarkali suit for travel was a clear illustration of her ability to make a simple outfit stand out and turn heads with her unmatched sense of style. This elegant and comfortable ensemble demonstrated her enduring impact as a fashion icon in Bollywood.
Sonam Kapoor, the incredible fashionista, paid meticulous attention to detail when completing her airport ensemble. To add a refined allure to her outfit, she chose to wear comfortable brown leather loafers. This footwear choice not only highlighted her commitment to comfort while traveling but also added a touch of sophistication to her overall look.
The brown leather loafers were a perfect complement to her pristine white Anarkali suit. Their classic and timeless design harmonized with the elegance of her outfit, showcasing her knack for creating a well-rounded and stylish appearance, even during a simple airport stroll.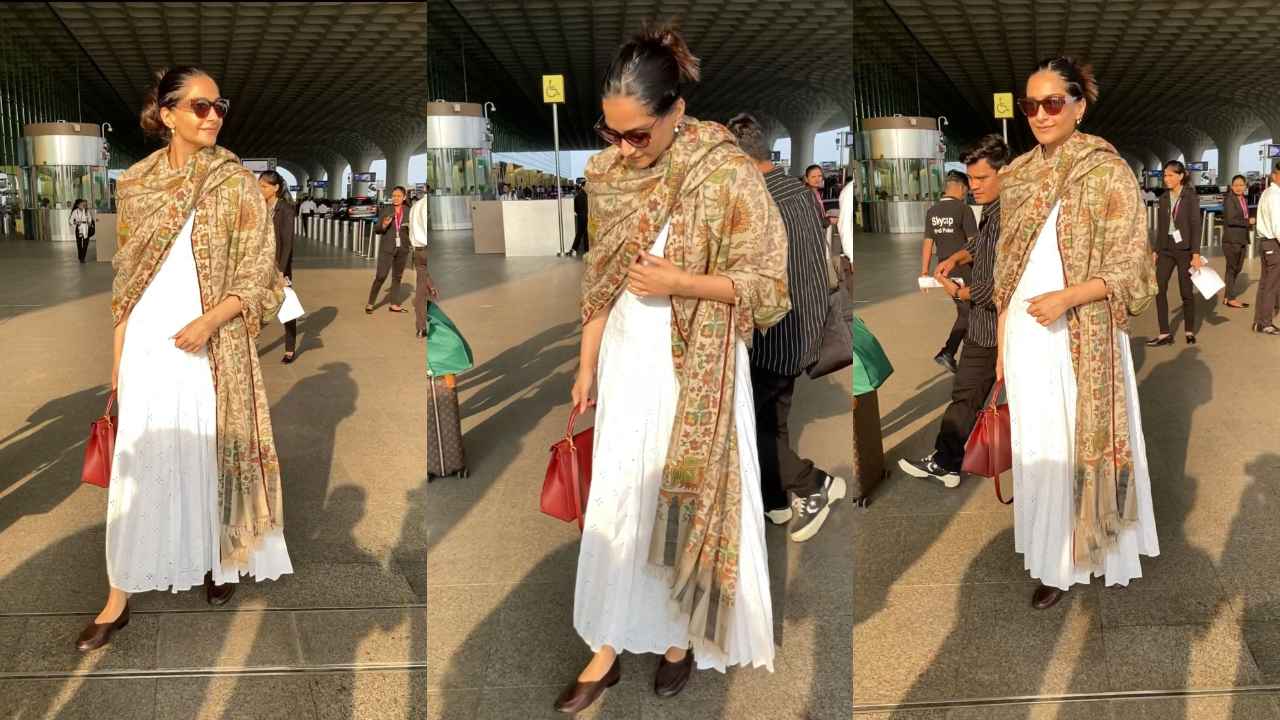 Sonam Kapoor's fashion choices are always a reflection of her impeccable taste and her ability to effortlessly blend comfort and style. Her choice of brown leather loafers was yet another example of her ability to elevate any ensemble and make it a fashion statement. It's this attention to even the smallest of details that has made her a revered and iconic figure in the world of fashion and Bollywood.
Sonam Kapoor, the talented fashionista, never shies away from adding a layer of panache to her outfits, and her airport ensemble was no exception. She chose to carry the iconic Hermès Kelly Sellier Epsom bag with gold hardware. This bag, known for its timeless appeal and versatile color, was a perfect addition to her look and demonstrated her penchant for luxury and high-end fashion.
The Hermès Kelly Sellier Epsom bag is an iconic women's accessory, renowned for its elegance and sophistication. This classic color is extremely versatile and can be worn throughout the year, making it a valuable addition to her collection. The bag's tonal stitching, two straps with a front toggle closure, a clochette with a lock and two keys, a single rolled handle, and a removable shoulder strap are all signature features of the Hermès Kelly bag that have made it a coveted fashion item.
Sonam Kapoor's choice to carry this iconic Hermès bag further emphasized her status as a fashion influencer who knows how to effortlessly blend luxury and style. Her attention to detail and her ability to select the perfect accessories have consistently set her apart as a trendsetter and fashion icon in the industry.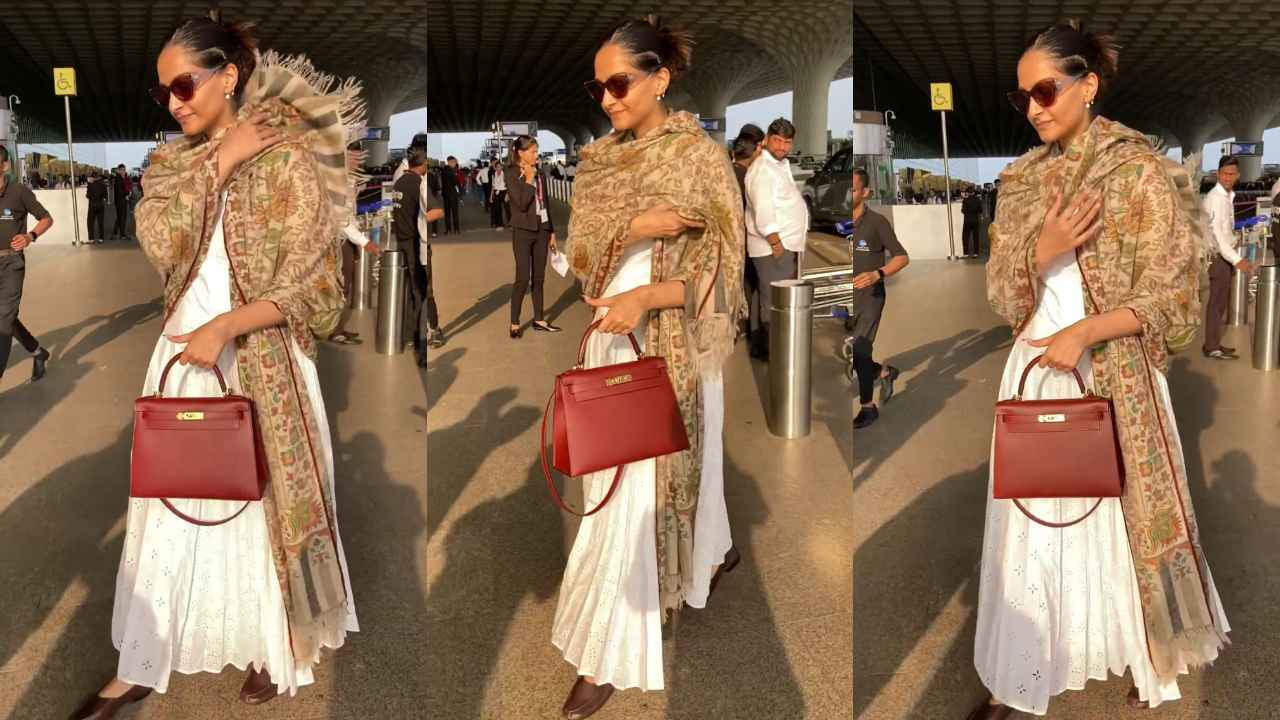 The interior of the iconic Hermès Kelly Sellier Epsom bag carried by Sonam Kapoor exudes luxury and practicality. It is meticulously lined with Rouge H chevre leather, a mark of exquisite craftsmanship and attention to detail. This choice of material not only adds to the bag's opulence but also enhances its durability, ensuring that it stands the test of time.
Inside the bag, you'll find a zip pocket with a branded engraved pull, adding an element of exclusivity and sophistication. This pocket provides a secure place to store small essentials. Additionally, there is an open pocket on the opposite side, enhancing the bag's functionality by offering quick access to items like your phone or a notebook.
With an investment value of approximately Rs. 9,40,545, the Hermès Kelly Sellier Epsom bag is more than just a fashion accessory; it's a practical and enduring investment. Its combination of luxury, functionality, and timelessness makes it a coveted item in the world of high-end fashion, and Sonam Kapoor's choice to carry this bag exemplifies her status as a fashion connoisseur who understands the value of both style and practicality
Sonam Kapoor, the talented actress, paid careful attention to her choice of accessories, adding further charm to her airport ensemble. She opted for minimalistic accessories, such as small pearl droplet earrings, which provided a subtle and elegant touch to her look. The choice of pearls added a classic and timeless element to her appearance, highlighting her ability to effortlessly balance simplicity and sophistication in her outfit.
To shield her eyes from the sun, Sonam selected rouge dark-tinted sunglasses, which not only served a practical purpose but also elevated the overall appeal of her ensemble. These sunglasses added a touch of modernity and glamour to her look, showcasing her flair for combining classic and contemporary elements in her fashion choices.
Her hairstyle was yet another testament to her attention to detail. Sonam Kapoor chose to tie her hair up and create an effortlessly pretty messy bun with a middle parting. This hairstyle was both practical and stylish, ensuring comfort during her travel while maintaining an elegant and put-together appearance. It's this meticulous approach to every aspect of her outfit, from accessories to hair, that consistently positions her as a prominent figure in the world of fashion and Bollywood.