Shehnaaz Gill rocks in cutout outfit with turtleneck and colorful abstract print
Shehnaaz Gill, a gifted actress, is currently in the spotlight as she enthusiastically promotes her highly-anticipated film, "Thank You For Coming." Beyond her acting prowess, she has also been captivating the public with her remarkable fashion sense throughout the promotional campaign. Shehnaaz has left no stone unturned when it comes to showcasing her diverse and exquisite taste in fashion.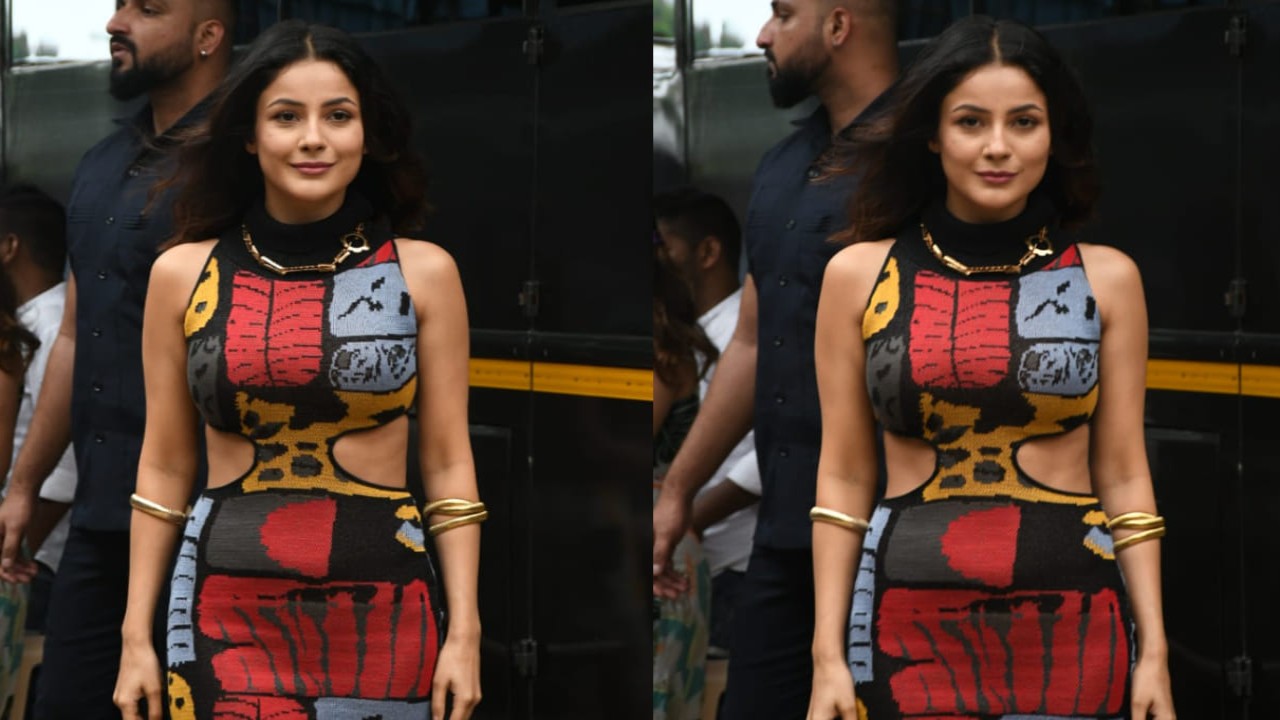 During this promotional journey, Shehnaaz Gill has effortlessly transitioned between various ensembles, leaving onlookers in awe of her style. One memorable look saw her donning a magnificent blue fringed dress, which not only accentuated her beauty but also emanated joyful and celebratory vibes. This ensemble, adorned with fringes, reflected her vibrant and lively personality, setting the tone for a captivating promotional experience.
In another fashion-forward choice, Shehnaaz opted for a chic and trendy floral denim co-ord set. This outfit perfectly blended modern aesthetics with a touch of elegance. The floral patterns added a playful and youthful element, while the denim material exuded a sense of casual sophistication. Her choice of this ensemble demonstrated her ability to effortlessly adapt to different styles and silhouettes, making her a true fashion icon.
With her impeccable fashion choices, Shehnaaz Gill has not only created a buzz in the entertainment world but has also left a lasting impression as a style icon. Her versatility in embracing diverse designs is a testament to her unique fashion sensibility and her ability to leave a mark wherever she goes. As she continues to promote "Thank You For Coming," her fashion statements are sure to keep audiences engaged and inspired.
Shehnaaz Gill undeniably slayed every single look she donned during the film's advertising campaign, leaving everyone astonished and impressed by her impeccable style choices. Her ability to select the perfect outfits for each occasion showcased her exceptional fashion sense and a keen eye for design.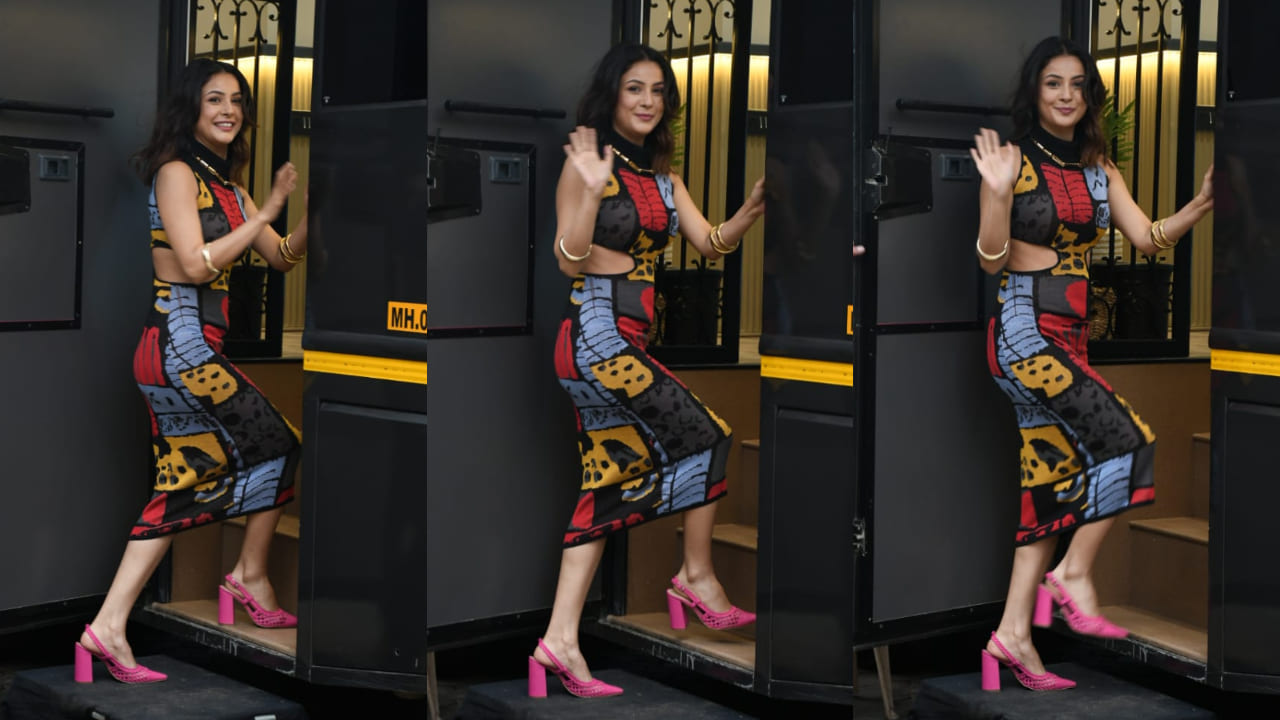 As fans eagerly anticipate the next stunning costume she will grace us with, Shehnaaz has undoubtedly set high expectations for herself. Her fashion choices have been nothing short of extraordinary, and it's this element of anticipation that keeps her fashion admirers eagerly following her every move.
With every new appearance, Shehnaaz continues to excite and captivate her fans. Her diverse wardrobe and her ability to effortlessly switch between various outfits demonstrate her fashion versatility and her innate ability to connect with her audience through her style. As the promotional campaign for the film unfolds, Shehnaaz's fashion journey promises to be a delightful spectacle that keeps fans on the edge of their seats, waiting to see what captivating ensemble she will unveil next.
Shehnaaz Gill made a striking impression when she appeared in a gorgeous black bodycon gown during the film's promotional campaign. This choice of attire not only accentuated her stunning figure but also highlighted her immaculate taste in fashion. The bodycon gown, known for its form-fitting silhouette, showcased her confidence and style, setting the stage for a memorable fashion moment.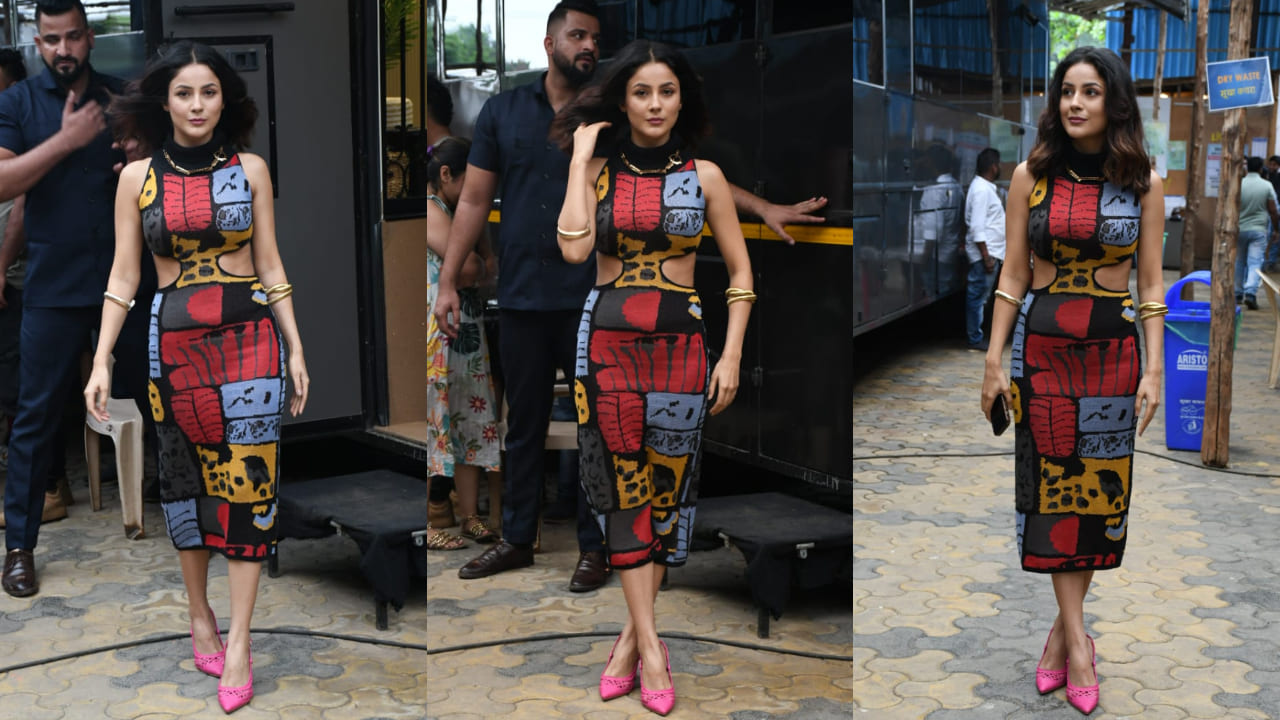 What truly set this look apart was the abstract design on the gown. The brilliant colors incorporated into the design, including shades of red, yellow, blue, and gray, added a lively and dynamic touch to the entire appearance. The combination of these vibrant colors against the backdrop of the sleek black gown created a visual masterpiece, making Shehnaaz stand out even more as a fashion trendsetter.
Shehnaaz's choice of this outfit was a testament to her ability to merge contemporary fashion with her own unique style, demonstrating her mastery in creating an unforgettable fashion statement. This ensemble not only wowed her fans and fashion enthusiasts but also solidified her status as a fashion icon with a flair for combining elegance and creativity in her wardrobe choices.
Within this striking ensemble, Shehnaaz Gill wore a simple black turtleneck that served as the perfect canvas to showcase the elaborate design. The black turtleneck complemented the intricate patterns and colors of the gown exceptionally well. Its understated elegance allowed the focal point to remain on the artistry of the outfit, proving that sometimes less can indeed be more when it comes to fashion.
The figure-hugging shape of the gown not only highlighted Shehnaaz's natural contours but also contributed to her effortless and timeless beauty. The gown's silhouette created a stunning visual harmony, where every curve and angle seemed perfectly aligned, enhancing her overall allure and grace.
To complete her look with finesse, Shehnaaz chose distinctive bracelets that she wore below the elbow. This unique choice added a touch of class and individuality to her appearance, setting her apart as a fashion-forward trendsetter. The bracelets, combined with the necklace, created a harmonious balance of opulence and style, showcasing her ability to strike the perfect balance between glamour and grace.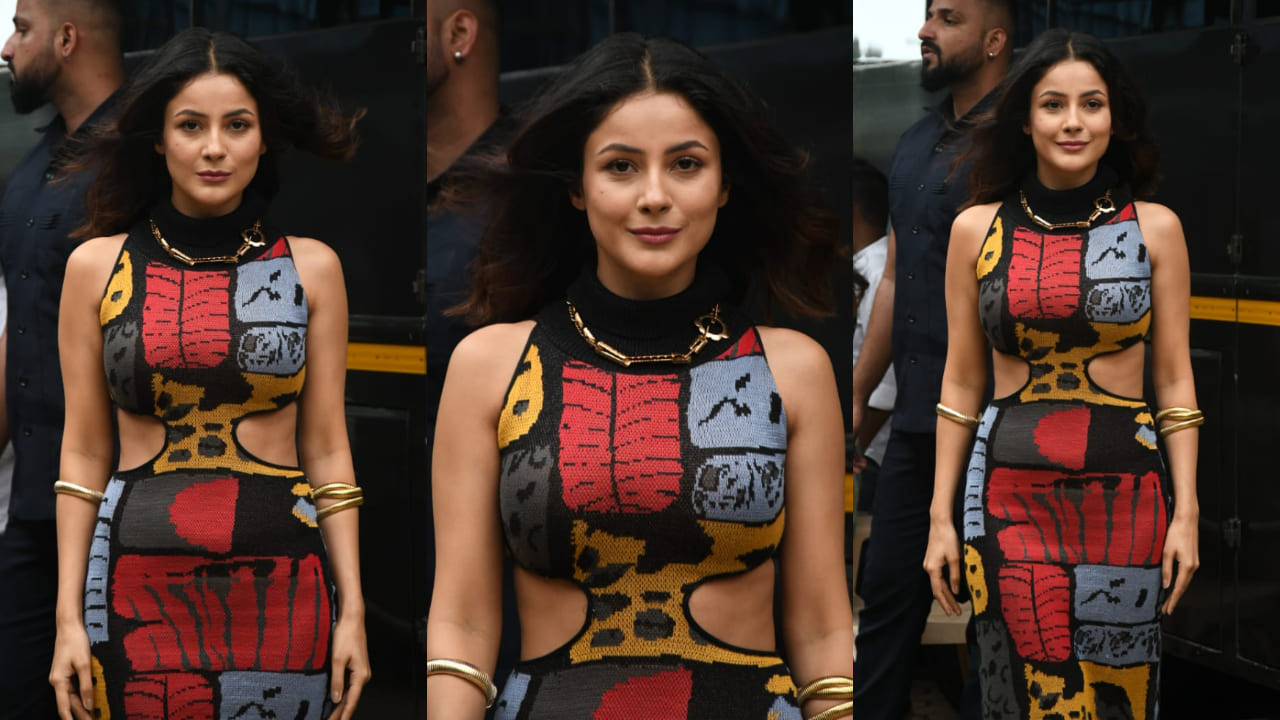 With her choice of gold jewelry, Shehnaaz Gill not only elevated her overall appearance but also demonstrated her keen sense of fashion by seamlessly blending accessories with her ensemble, making her an inspiration for those who appreciate the art of fashion.
While Shehnaaz Gill's fashion choices were generally on point, her decision to match the ensemble with pink pointed-toe heels, unfortunately, did not quite hit the mark. The rest of her clothing and jewelry were flawless, exuding elegance and sophistication, but the addition of these mismatched shoes appeared to clash with the overall look.
Shehnaaz Gill, the contestant, maintained an effortlessly stylish appearance with her signature loose waves hairdo, adding a touch of natural beauty to her overall look. Her choice of hairstyle exuded a sense of grace and simplicity, perfectly complementing her fashion choices. Her hair fell in lovely, soft waves that framed her face and conveyed an air of elegance and ease.
What was particularly striking about her hairdo was its ability to enhance her overall aesthetic without overshadowing her outfit or accessories. The loose waves added a touch of sophistication, highlighting her relaxed yet glamorous style.
Shehnaaz's makeup choices were equally understated and complementary. She opted for a minimalistic approach, allowing her natural features to shine through. Her subtle makeup routine emphasized her eyes, showcasing their attractiveness without overwhelming her face. A modest sweep of eyeliner enhanced her gaze, giving her a timeless and captivating look that perfectly harmonized with her loose waves and the elegance of her ensemble. This balanced combination of hair and makeup contributed to a look that was both chic and effortlessly chic.