Tara Sutaria's bewitching black maxi dress is made to satiate your Halloween needs
Tara Sutaria is undoubtedly a fashion icon in the world of Bollywood. Her impeccable sense of style and unique fashion choices set her apart from her peers in the industry. While she is frequently compared to other actors, Tara effortlessly carves out her own niche in the fashion scene with her distinctive dress sense.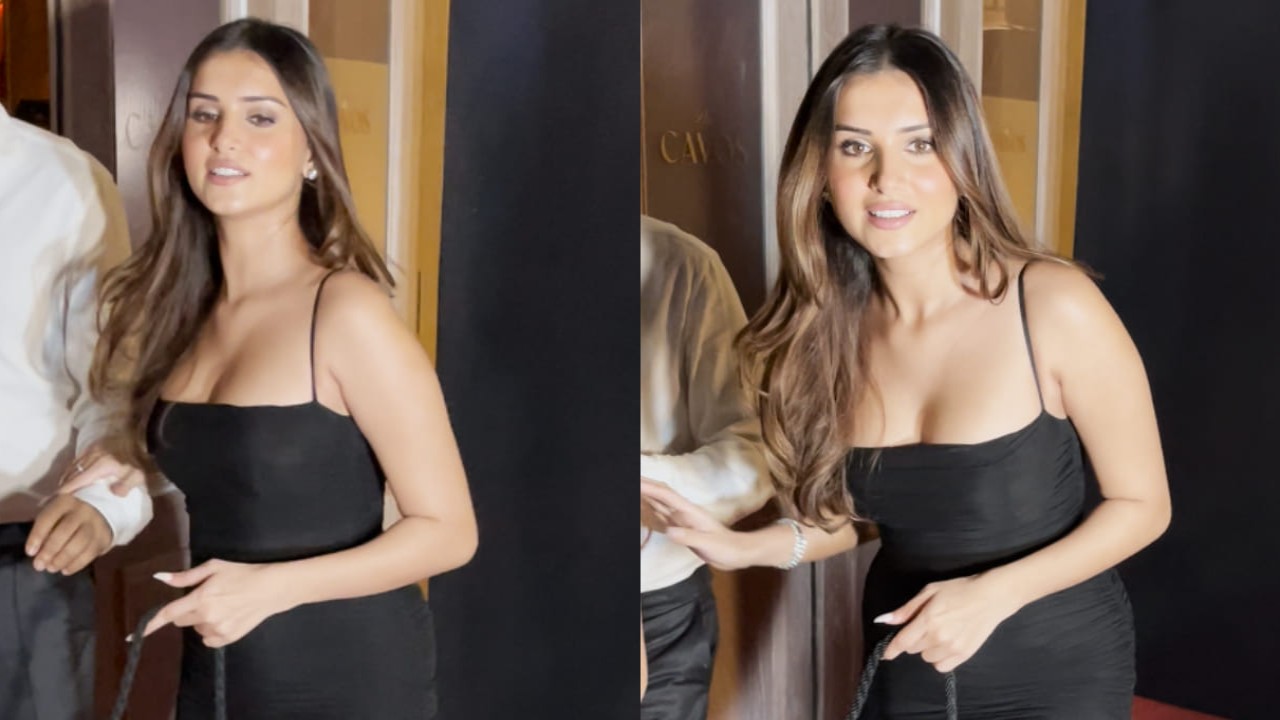 One of the standout features of Tara's fashion sense is her ability to blend elegance with a touch of edginess. Whether she's walking the red carpet or casually strolling down the streets, Tara manages to create a fashion statement that is both chic and individualistic. Her fashion choices consistently turn heads and leave a lasting impression on fashion enthusiasts.
Tara's wardrobe choices are a reflection of her versatile personality. She seamlessly transitions from classic, timeless outfits to daring and experimental ensembles. This ability to adapt to different styles and trends showcases her fashion prowess and willingness to take risks in the realm of fashion.
What truly sets Tara apart is her confidence in carrying off even the most unconventional outfits with grace and panache. Whether it's a glamorous gown, a retro-inspired look, or a contemporary street style outfit, she exudes confidence and authenticity, making every outfit uniquely her own.
In a world where comparisons among celebrities are inevitable, Tara Sutaria manages to stand out with her exceptional fashion sense. Her distinctive style choices continue to inspire and captivate fashion enthusiasts, cementing her status as a true fashion icon in the entertainment industry. Tara's fashion journey is a testament to her ability to redefine and elevate her personal style, ultimately setting her apart as a trendsetter and a fashionista with an unparalleled sense of individuality.
Her choice of black accessories further accentuates her love for this color. Whether it's a statement black belt, sleek black handbag, or bold black sunglasses, Tara demonstrates that black accessories can elevate any outfit. They can be used to create contrast, add a touch of drama, or simply tie the whole look together seamlessly.
Tara Sutaria once again left fashion enthusiasts in awe with her stunning black ensemble. The square neckline of this solid-colored suit adds an element of refinement and sophistication to the entire design. Tara's graceful form is beautifully accentuated by the perfect fit of the dress, and this natural elegance is further enhanced by the delicate spaghetti straps that rest gently on her shoulders.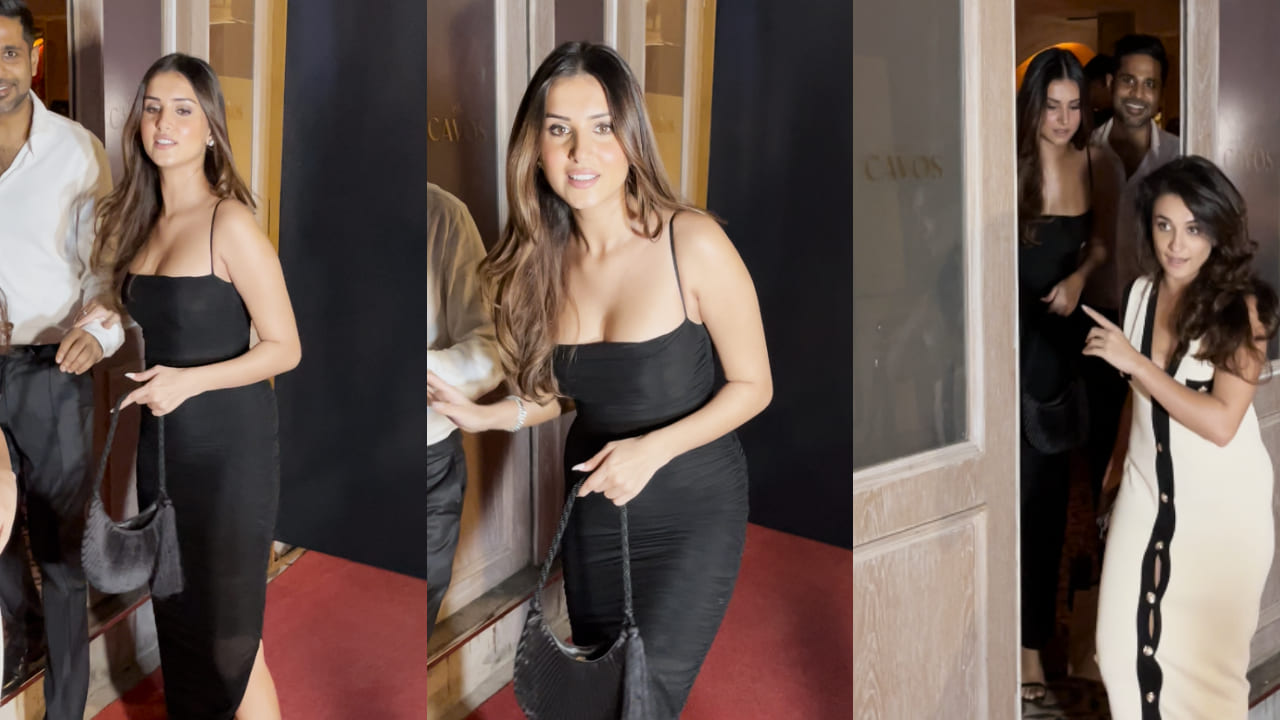 The square neckline is a timeless and elegant choice that exudes a sense of poise and class. It frames the décolletage perfectly, drawing attention to the collarbone and neck, while maintaining an understated charm. Tara's choice of this neckline showcases her understanding of fashion aesthetics and her ability to select designs that flatter her figure.
The form-fitting silhouette of the dress not only highlights Tara's natural beauty but also accentuates her curves in a tasteful manner. It's a testament to her keen sense of style, emphasizing that sometimes simplicity can be the most striking statement.
The figure-hugging maxi dress chosen by Tara Sutaria not only accentuates her enviable proportions but also incorporates a stylish side slit, adding a touch of appeal and movement to the overall ensemble. Tara effortlessly exudes confidence and elegance in this outfit, underscoring the fact that black is indeed the go-to color for making a bold and timeless fashion statement.
The figure-hugging silhouette of the maxi dress perfectly complements Tara's physique, showcasing her curves in a flattering and tasteful manner. It's a testament to her understanding of her body and her ability to select outfits that accentuate her best features. The dress's fit adds an element of sensuality and allure to the overall look.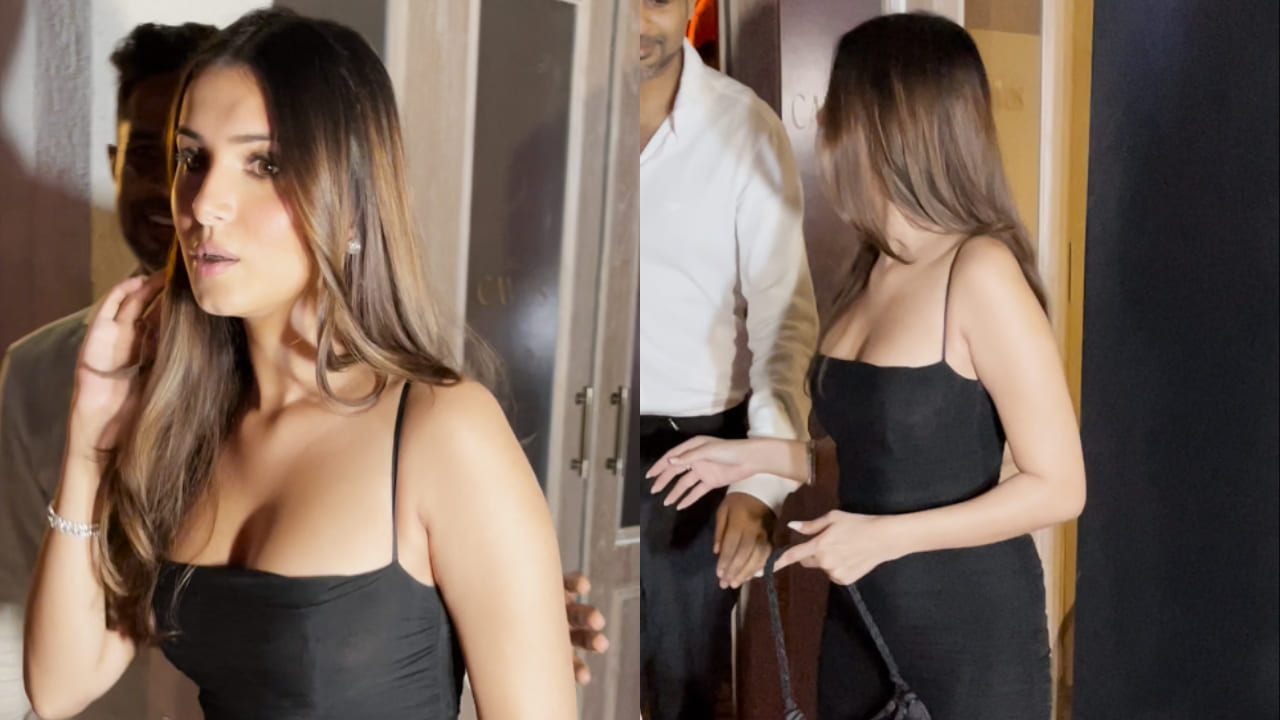 The addition of a side slit is a clever design choice that not only adds visual interest but also allows for ease of movement. It adds a touch of sophistication and allure to the outfit, revealing just the right amount of skin while maintaining an air of elegance. This subtle detail enhances the overall appeal of the dress, making it a versatile choice for various occasions.
Tara's confidence and elegance while wearing this black maxi dress are truly captivating. Her poised demeanor and impeccable style illustrate that black is a color that never fails to make a powerful fashion statement. It's a shade that exudes timeless charm, and Tara's ability to carry it with such grace and confidence further solidifies its status as a fashion classic.
In this stunning ensemble, Tara Sutaria continues to inspire fashion enthusiasts, showcasing how black can be the ultimate choice for those who want to make a statement with their style. Her figure-flattering maxi dress with a side slit exemplifies her fashion finesse and her knack for choosing outfits that not only look chic but also feel comfortable and easy to wear. Tara's fashion choices serve as a reminder that black is a color that transcends trends, always remaining a symbol of sophistication and elegance.
Tara Sutaria, the talented actress from "Tadap," elevated her already fashionable attire with a touch of glitz by pairing it with a stunning blingy silk purse. This accessory choice added a delightful and eye-catching element to her ensemble. The curled tasseled strap and pleated fabric on this unique handbag provided a distinctive touch to the overall design.
The choice of a blingy silk purse demonstrates Tara's flair for adding a dash of glamour to her outfits. It's the perfect accessory to complement her black ensemble, adding a touch of sparkle and extravagance to her look. The silk material not only exudes luxury but also contrasts beautifully with the matte finish of her dress, creating a visually appealing balance.
The most striking feature of this handbag is undoubtedly the large tassel tied to one side. It steals the show and serves as a focal point, making the bag a standout piece that demands attention. The tassel adds movement and drama to the ensemble, creating a sense of playfulness and extravagance that perfectly complements Tara's confident style.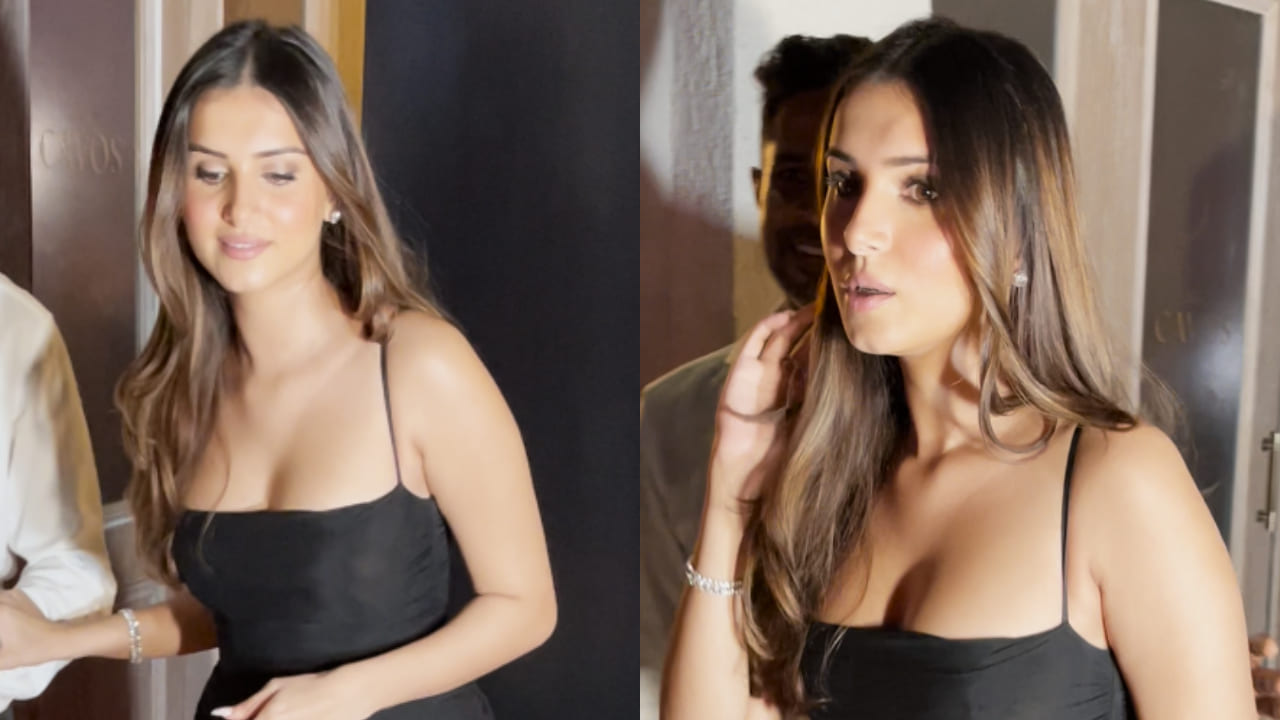 Tara's bold and graceful demeanor while carrying this statement handbag further underscores her status as a fashion icon. Her ability to effortlessly integrate such unique and eye-catching accessories into her look showcases her fashion versatility and her willingness to experiment with different elements.
Tara Sutaria's fashion acumen extends beyond just her clothing choices, as she demonstrated with her selection of basic black shoes to accent her accessories. In this instance, she skillfully allowed the blingy silk purse to take center stage, making it the star of the show. This strategic decision showcases Tara's exceptional fashion sense, underlining her attention to detail and her ability to harmoniously integrate various style elements.
The result is a fashion-forward and cohesive ensemble that showcases her impeccable style. Tara's ability to make considered choices, even down to the choice of footwear, sets her apart as a true fashion icon who understands the nuances of creating a memorable and impactful look.
In conclusion, Tara Sutaria's decision to pair basic black shoes with her attention-grabbing silk purse reflects her exceptional fashion sense and eye for detail. Her ability to strike the right balance in her outfit, allowing the purse to be the star of the show, highlights her mastery of fashion principles. Tara continues to inspire fashion enthusiasts with her thoughtfully curated looks, proving that it's not just about the individual pieces but how they come together to create a stylish and memorable ensemble.