Sonam Kapoor adds drama to her Valentino white kaftan dress with dangling rhinestone chandelier earrings
Sonam Kapoor, the Bollywood actress with an unparalleled sense of style, has indeed been a trailblazer in the world of fashion. Known for her bold and adventurous fashion choices, she has consistently pushed the boundaries of style since her debut in the industry. Her willingness to experiment with diverse and daring looks has earned her a special place in the hearts of fashion enthusiasts.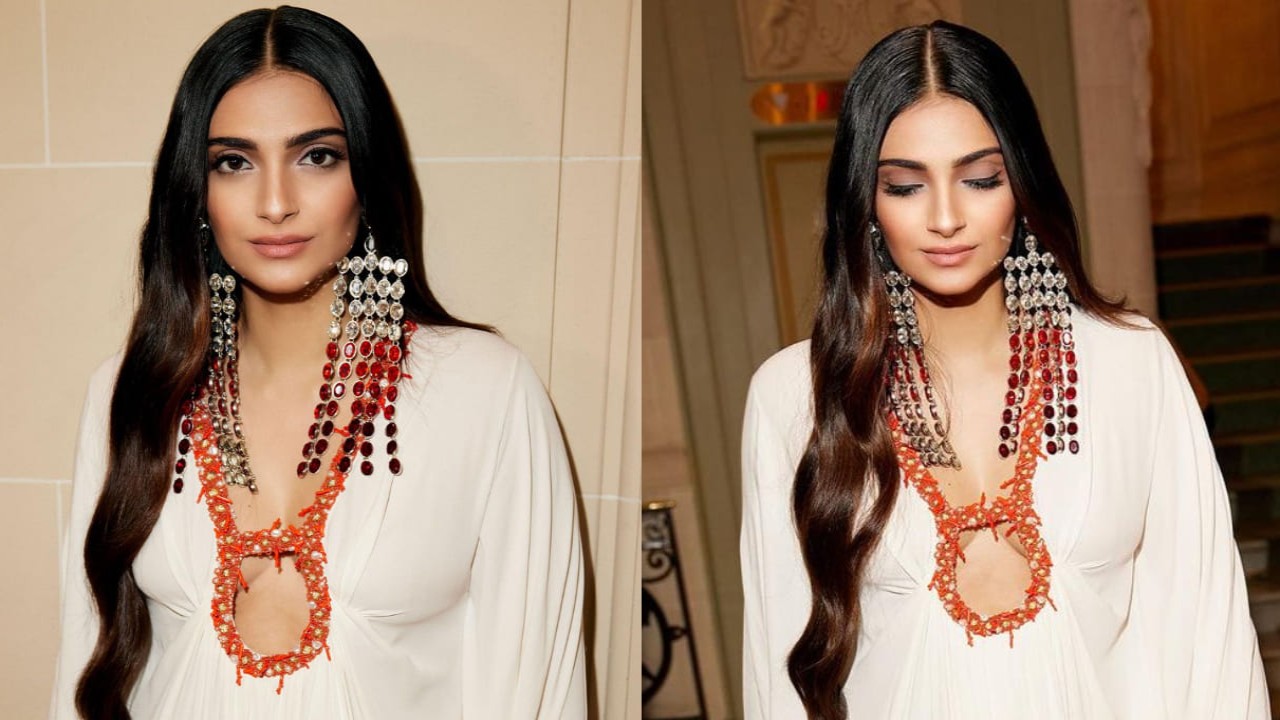 One platform where Sonam Kapoor truly shines is at the renowned Cannes Film Festival. Every time she graces the red carpet at this prestigious event, she delivers a fashion spectacle that leaves us in awe. Her Cannes appearances are nothing short of spectacular, showcasing her ability to embrace high fashion and make bold statements on an international stage.
Sonam Kapoor's fearless approach to fashion not only sets her apart but also inspires others to be more daring and creative in their own style choices. She has become an icon in the fashion world, leaving an indelible mark with her unique and ever-evolving sense of style. We look forward to her future fashion endeavors, knowing that she will continue to surprise and delight us with her exceptional looks and groundbreaking fashion moments.
Indeed, Sonam Kapoor's latest appearance at a Paris event was yet another testament to her ability to defy expectations and capture our imaginations with her unparalleled style. With each new outfit she dons, she manages to surprise and delight, consistently pushing the boundaries of fashion and setting trends in the process.
Her fashion choices are known for making headlines, and it's easy to see why. Sonam Kapoor has a knack for transforming any event into a fashion spectacle, where her outfits become a topic of discussion and admiration. Her fearless approach to fashion and her willingness to experiment with different styles and designers have made her a true trailblazer in the industry.
As she continues to make waves in the world of fashion, it's safe to say that Sonam Kapoor's unique sense of style will keep us eagerly awaiting her next appearance, always anticipating the unexpected and the remarkable in her fashion choices. She remains a source of inspiration for fashion enthusiasts, proving that style is not just about what you wear but how you wear it, and she wears it with unmatched grace and confidence.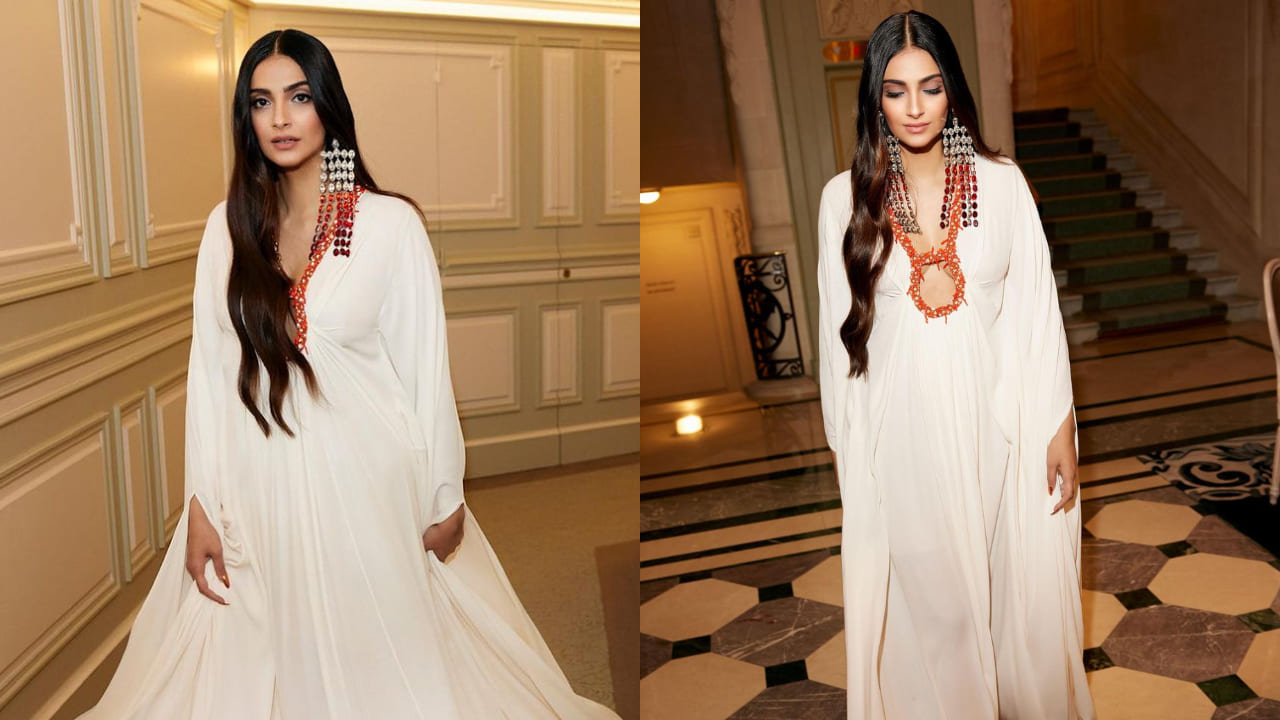 Sonam Kapoor, celebrated for her roles in movies like "Raanjhanaa," continues to make her mark on the red carpet, and her recent appearance was no exception. She graced the event in a stunning floor-length gown that left everyone in awe. However, what set her apart was her choice of a basic white dress that was anything but conventional.
In a world where red carpet attire often leans towards extravagance and opulence, Sonam Kapoor's decision to go for a more modest yet undeniably gorgeous look was refreshing. The white dress she wore exuded an understated elegance, highlighting her confidence and innate sense of style.
This choice not only showcased Sonam's ability to stand out while maintaining a graceful and subtle appearance but also emphasized her belief that simplicity can be just as impactful as extravagance. Her fashion choices continue to inspire and set trends, proving that true style transcends the need for excess and can shine in its purest form. Sonam Kapoor's red carpet appearances consistently remind us that she is a fashion icon who knows how to make a statement while staying true to her unique style sensibilities.
Sonam Kapoor's attire, adorned with exquisite decorations near the neckline, added a touch of refinement to her entire look. The intricate embellishments showcased her attention to detail and her penchant for incorporating artistic elements into her fashion choices.
The true star of her outfit, however, was the spectacular plunging neckline with a brilliant orange border. This daring and unique design element not only caught the eye but also highlighted Sonam's amazing fashion sense and her ability to effortlessly stand out on the red carpet. It was a bold choice that showcased her confidence and willingness to push the boundaries of fashion, a quality that has become synonymous with her style.
Sonam Kapoor's ability to incorporate unexpected design elements into her attire demonstrates her innate creativity and her knack for making a statement with her fashion choices. Her red carpet appearances continue to be memorable moments in the fashion world, and her recent outfit was yet another example of her status as a true fashion icon.
Sonam Kapoor, the talented actress known for her role in "Mausam," radiated beauty on the red carpet in a stunning Valentino gown. While her clothing certainly made a statement, it was her impeccable choice of accessories that truly caught everyone's attention.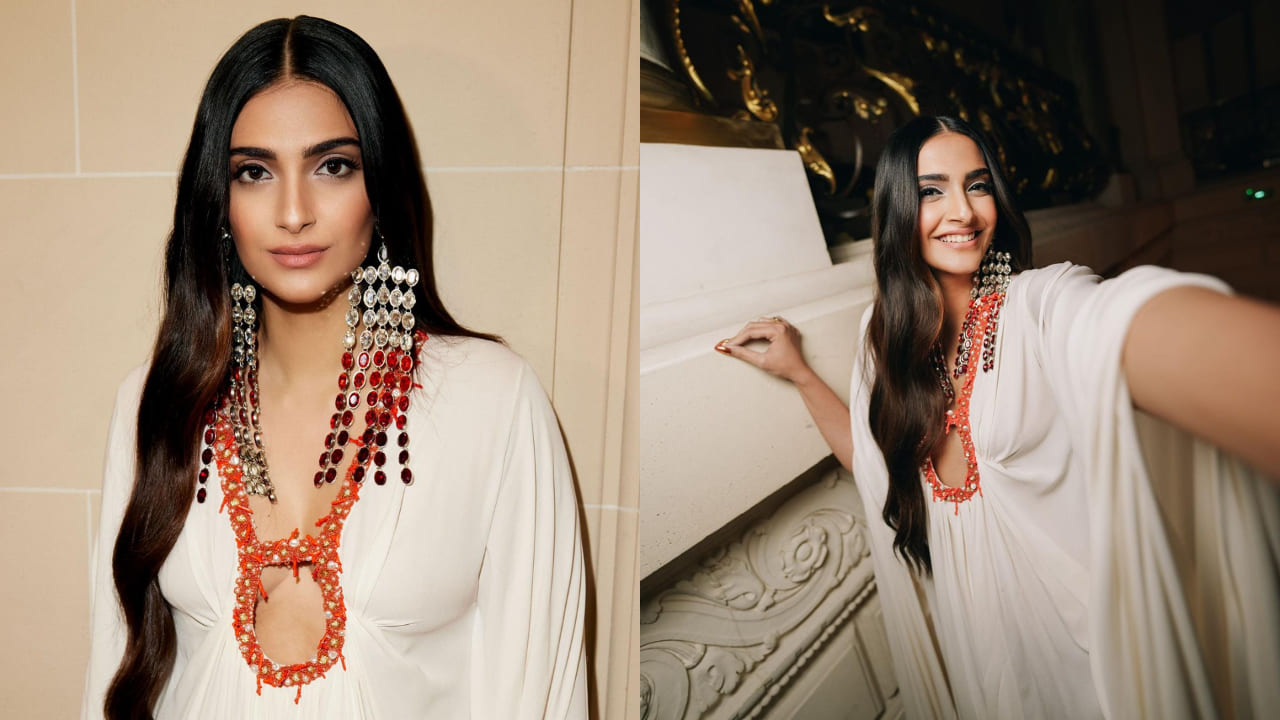 To glam up her look, Sonam adorned her ears with oval-shaped, dangling rhinestone chandelier earrings that hung gracefully beyond her shoulders. These earrings added a touch of extravagance and elegance to her appearance, perfectly complementing her red carpet attire. The choice of rhinestones added a sparkle that caught the light, enhancing her overall glow and making her outfit shine even brighter.
Sonam Kapoor's ability to pair the right accessories with her outfits is a testament to her fashion expertise. Her attention to detail and her flair for selecting the perfect pieces to enhance her overall aesthetic make her a standout in the world of red carpet fashion. Her recent appearance at the event was a reminder of her status as a true fashion icon, leaving admirers in awe of her impeccable style choices.
The eye-catching earrings that Sonam Kapoor wore were truly a work of art. Featuring silver, red, and brown rhinestones, they created a mesmerizing gradient effect that offered a delightful splash of color and drama to her ensemble. The carefully chosen color palette added depth and vibrancy to her look, making it even more captivating.
Sonam's decision to pair these spectacular earrings with her white ensemble was a masterstroke. The contrasting colors achieved the perfect blend of refinement and boldness, showcasing her ability to balance elegance with a touch of drama. The earrings served as a focal point, drawing attention to her face and adding an element of sophistication to her overall appearance.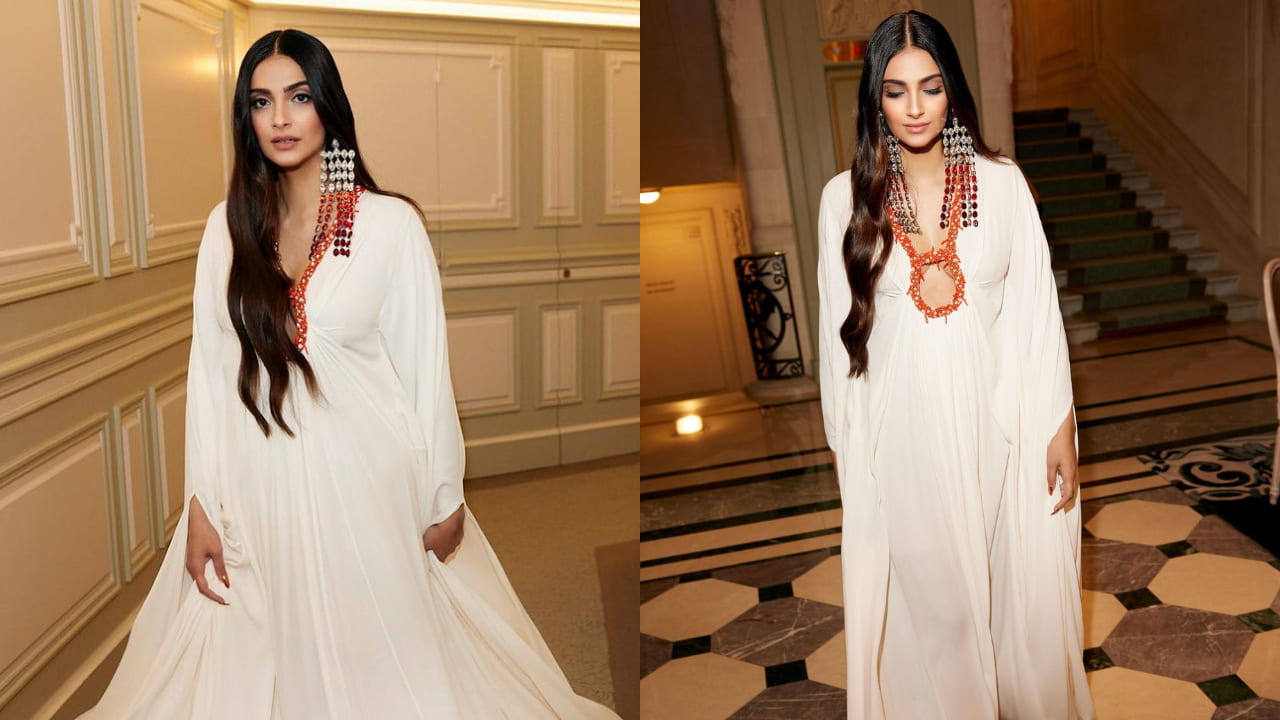 This harmonious combination of a white outfit and stunning earrings demonstrated Sonam Kapoor's fashion prowess, leaving fashion aficionados and onlookers in awe of her style sensibilities. Her attention to detail and her fearless approach to accessorizing further solidified her status as a true style icon, inspiring others to embrace the power of well-chosen accessories in enhancing their fashion statements.