Kriti Sanon pulls off winning look in Masaba's blush pink saree
Kriti Sanon is undoubtedly one of Bollywood's most beloved actresses, celebrated for her charm, beauty, talent, and, of course, her forward-thinking fashion choices. The multifaceted actress has consistently captured our hearts with her charismatic presence. Staying true to her trendsetting reputation, Kriti recently made a radiant appearance at Kalyan Jewellers' Navratri celebrations, and she did so in style, donning a stunning blush pink saree that left us in awe.
Kriti's choice of a blush pink saree showcased her impeccable fashion sense and her ability to exude an ethereal quality. The soft and delicate hue of the saree perfectly complemented her and added a touch of elegance and grace to her appearance. The choice of a saree for a festive occasion like Navratri was a brilliant one, emphasizing her connection to tradition while maintaining her modern and contemporary charm.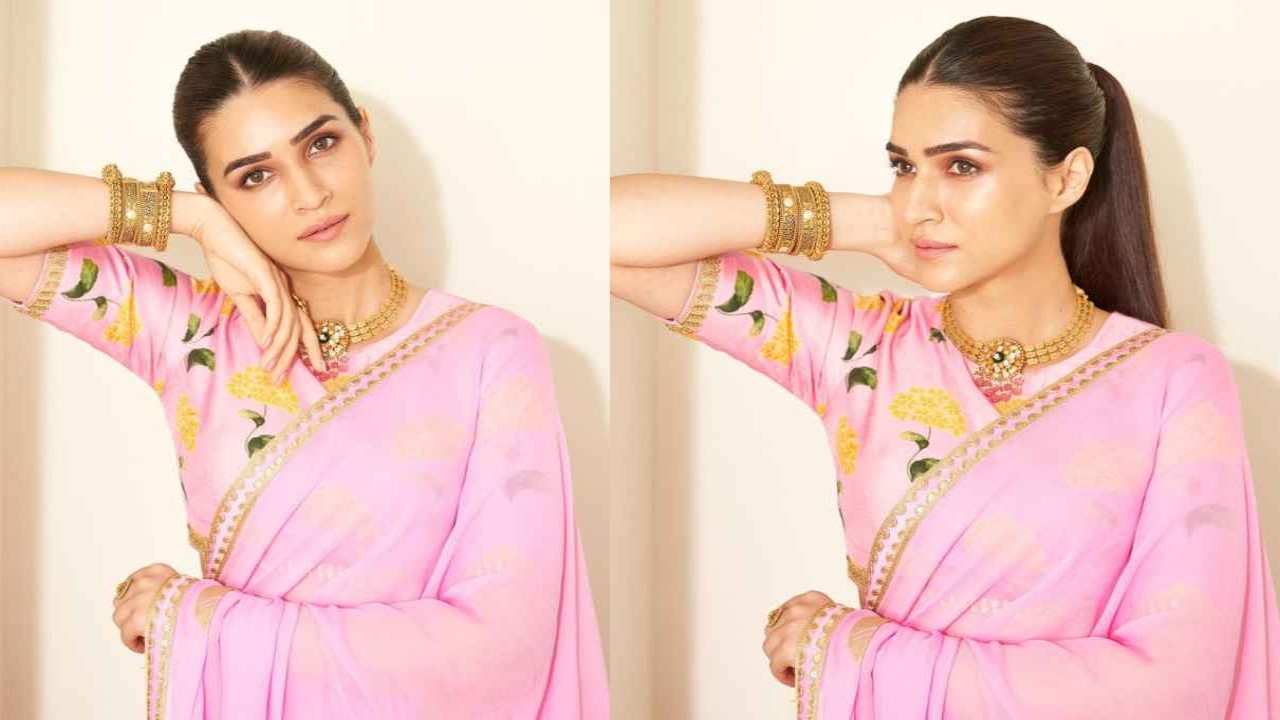 In sum, Kriti Sanon's appearance at Kalyan Jewellers' Navratri celebrations was another example of her status as a fashion icon. Her choice of the blush pink saree exuded sophistication and grace, highlighting her ability to effortlessly merge tradition with modernity. She continues to be an inspiration to many fashion enthusiasts, captivating us with her versatile talent and impeccable style.
Indeed, Kriti Sanon's ethnic ensemble at the Navratri celebrations seamlessly blended tradition with contemporary style. Her choice of attire was not just a fashion statement; it was a celebration of the rich heritage of Indian fashion while incorporating a modern twist. The outfit reflected her ability to harmoniously merge the best of both worlds, making her appearance all the more captivating.
This particular event marked a special collaboration between Kriti Sanon and the renowned designer Masaba Gupta. Their creative partnership set social media ablaze, generating immense buzz and excitement among fashion enthusiasts. The exquisite outfit designed by Masaba Gupta, donned by Kriti, was a true work of art, showcasing the magic that can happen when talent and style come together.
In essence, Kriti Sanon's fashion choices during this event symbolize the beauty of tradition meeting contemporary fashion. Her collaboration with Masaba Gupta was a successful fusion of creativity and style, resulting in an outfit that left a lasting impact and turned heads in the world of fashion. This dynamic pairing reaffirms Kriti's status as a trendsetter and a beloved fashion icon in the industry.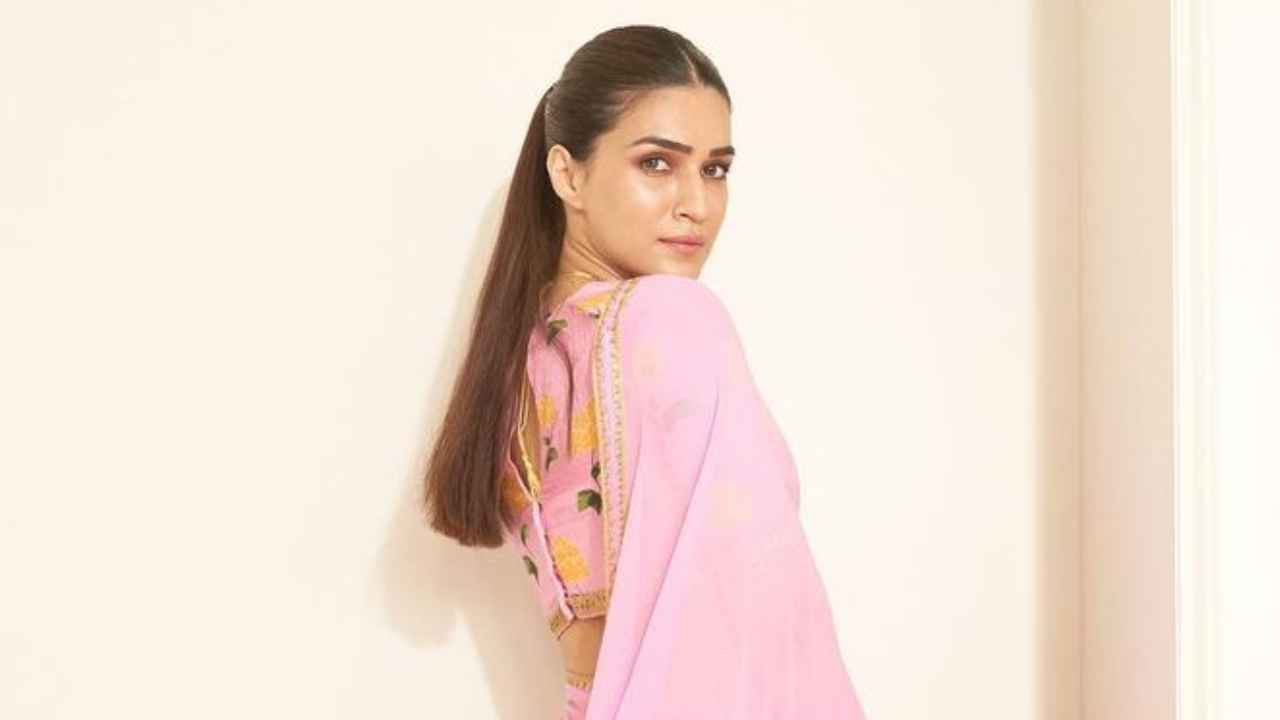 Kriti Sanon's choice of attire for the Kalyan Navratri celebration was a masterstroke in the realm of elegant ethnic fashion. Her outfit was a testament to her ability to strike the perfect balance between traditional and contemporary style, and she did so with finesse. The Mimi actress opted for a baby pink georgette saree that exuded grace and sophistication. The saree was adorned with small golden prints, offering a subtle yet elegant touch to the ensemble.
The intricate details, particularly the large golden lotus foil prints, lent a truly regal aura to Kriti Sanon's appearance. These ornate embellishments not only added a touch of grandeur to her ensemble but also celebrated the rich tapestry of Indian motifs and symbolism. It was a nod to the opulence and heritage associated with traditional Indian fashion.
What made this saree truly exceptional were the minimal lacy golden borders that delicately adorned the edges. These subtle yet elegant borders added a sense of sophistication and refinement to the overall look. They served as the perfect frame, highlighting the saree's beauty and allowing it to shine with understated elegance.
To complete the ensemble, Kriti chose a matching floral silk blouse. The blouse featured a multi-colored floral design, which was a beautiful contrast to the baby pink saree. This combination of traditional motifs and contemporary design elements further showcased her sartorial prowess and her ability to blend various fashion elements into a seamless and harmonious whole.
In summary, Kriti Sanon's choice of a regal saree with intricate details, minimal lacy borders, and a matching floral silk blouse was a masterclass in ethnic fashion. The outfit exuded a royal aura while maintaining a sense of sophistication and modernity. It's a clear example of how she effortlessly marries tradition with contemporary style, making her a revered fashion icon in the industry.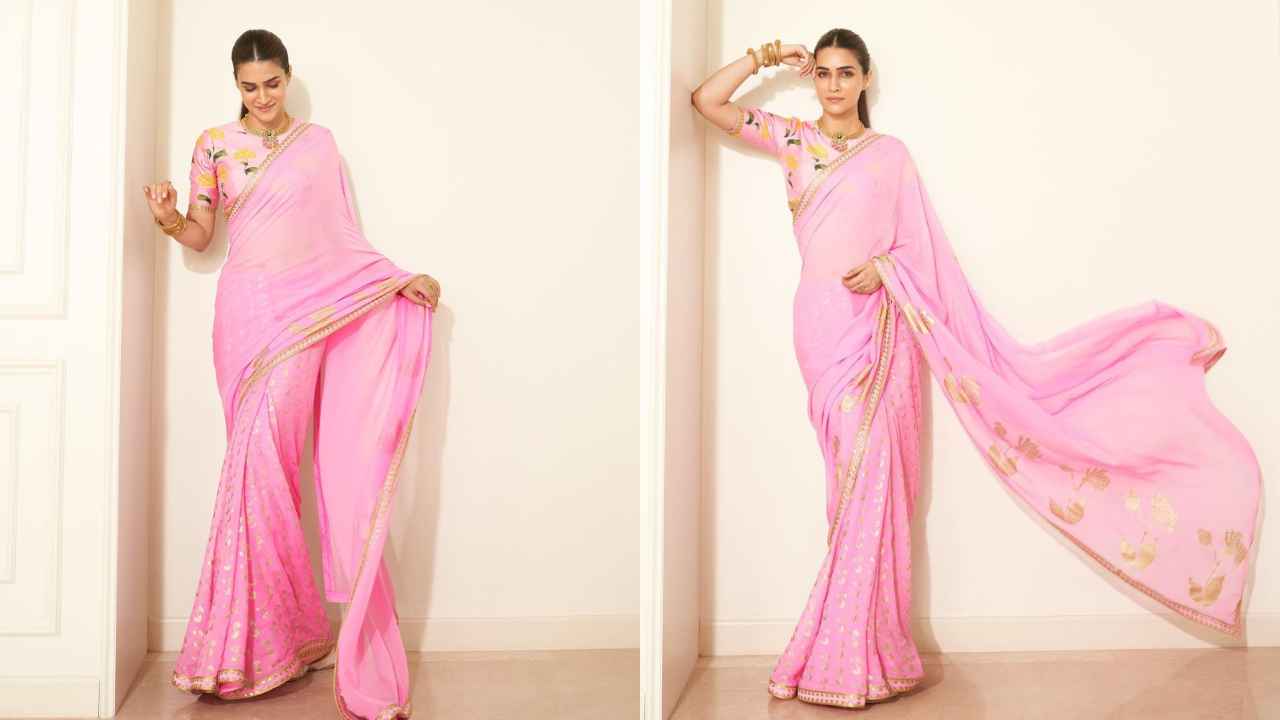 Kriti Sanon's choice of a matching floral silk blouse featured several elegant details that added to the overall allure of her attire. The cap sleeves, adorned with delicate gold lace at the edges, were a graceful addition. These cap sleeves not only provided a hint of vintage charm but also complemented the saree's overall design. The high scooped neckline added an element of modesty to the ensemble while retaining a touch of elegance.
The Bhediya actress's outfit was a splendid example of blending tradition with modernity. Her choice showcased her versatile style, where she seamlessly combined classic elements with contemporary sensibilities. The high scooped neckline and cap sleeves offered a nod to traditional Indian attire, while the overall design and detailing brought a fresh and modern perspective, making it a perfect representation of her fashion-forward approach.
In essence, Kriti Sanon's choice of outfit, with its cap sleeves, gold lace, and high scooped neckline, was a harmonious blend of classic and modern fashion. Her versatile style consistently captures the essence of timelessness and contemporary elegance, reinforcing her status as a revered fashion icon in the industry.
Kriti Sanon's choice of jewelry for the Kalyan Navratri celebration was nothing short of exquisite. She sported a traditional gold choker-like necklace, matching kadhas (bangles), and statement rings on her fingers, all courtesy of the iconic Kalyan Jewellers. This selection of jewelry not only enhanced her traditional look but also added a touch of regality to her otherwise minimalistic outfit.
The traditional gold choker-like necklace was a striking centerpiece that adorned her neck elegantly. It exuded an air of sophistication and celebrated the rich heritage of Indian jewelry design. The matching kadhas on her wrists added a symmetrical touch to her attire, symbolizing both tradition and beauty.
The statement rings on her fingers brought a touch of modernity to her traditional look, adding a contemporary edge. They served as the perfect accents, showcasing her ability to balance timeless elegance with a modern sensibility.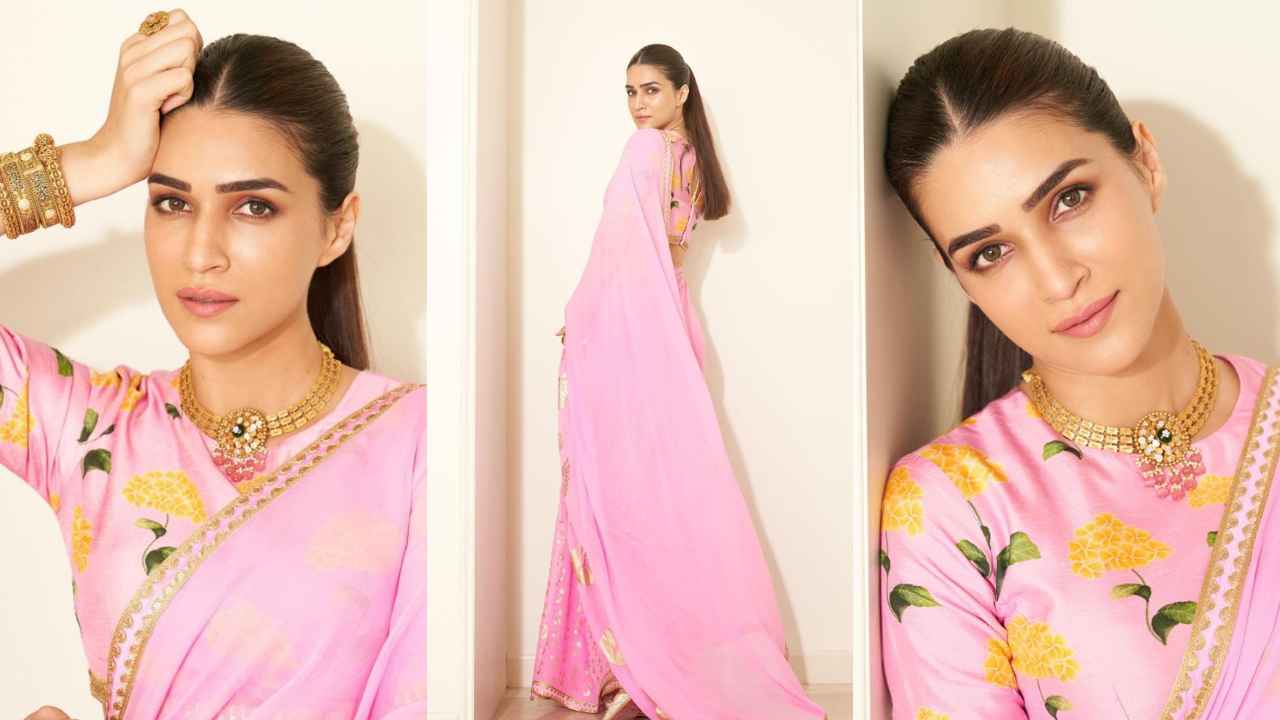 In essence, Kriti Sanon's hair and makeup choices showcased her talent and skill in creating a harmonious and elegant appearance. Her makeup emphasized her natural beauty, and the choice of lipstick demonstrated her attention to detail and her ability to bring together different elements for a flawless and timeless look.