Kriti Sanon serves modern regality in Rajesh Pratap Singh's pink and orange layered Anarkali with gold buttons
In a captivating display of modern regality, Kriti Sanon, one of Bollywood's beloved actresses, made a stunning appearance at the formal dinner following the 2023 national awards. Her presence exuded elegance, and she did so in a breathtaking ensemble that blended traditional and contemporary elements. The visionary designer behind this stunning creation was Rajesh Pratap Singh, known for his innovative approach to fashion.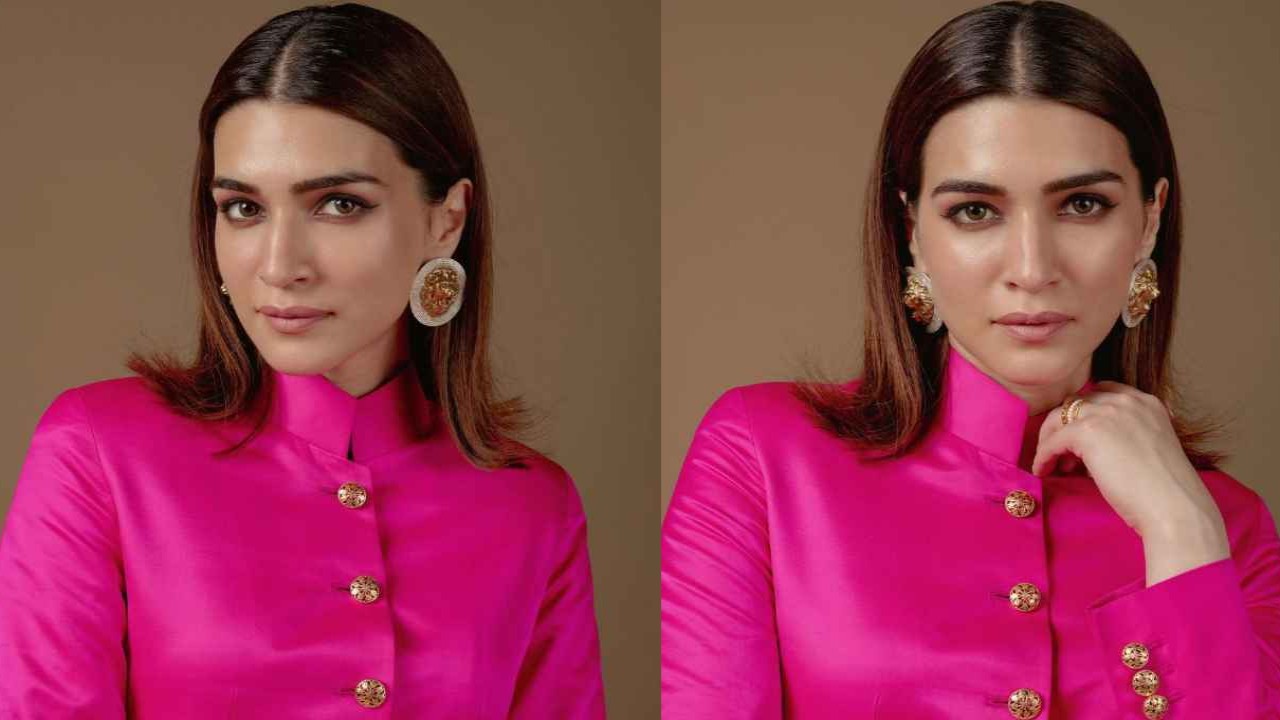 Kriti Sanon's outfit for the evening was a mesmerizing pink and orange layered modern ethnic creation. This ensemble revealed a floor-length Anarkali suit, which is a timeless and graceful choice that resonates with Indian traditions. The resplendent full sleeves with formal shoulder pads added a touch of regality to the outfit, enhancing Kriti's stature as she graced the event.
What truly set this outfit apart was its fusion of tradition and innovation, highlighted by the captivating twist it introduced to the Anarkali suit. The combination of pink and orange hues created a visually striking contrast, while the layered design added depth and texture to the outfit. This fusion of elements showcased Kriti Sanon's commitment to making bold and memorable fashion statements.
Kriti Sanon, the stunning actress renowned for her role in "Luka Chuppi," made a captivating appearance at the formal dinner following the 69th National Awards in 2023. Her choice of attire was a beautiful and modernized floor-length ethnic ensemble that captivated everyone in attendance. The standout piece was a stylish Anarkali suit with full sleeves adorned with formal shoulder pads, giving her an air of regality.
This remarkable ensemble featured a layered design, with a pink Anarkali suit as the primary layer. The closed and crisp Chinese collar added a touch of elegance to the outfit, setting it apart as a unique and contemporary choice. The cute gold buttons on the front of her chest and the edges of her sleeves added a charming and ornate element to the ensemble, elevating the overall look and showcasing the designer's attention to detail.
Kriti's outfit for the event exuded modernity and sophistication while paying homage to traditional Indian fashion. The fusion of classic Anarkali elements with innovative design touches demonstrated her ability to make bold fashion statements and left an indelible impression.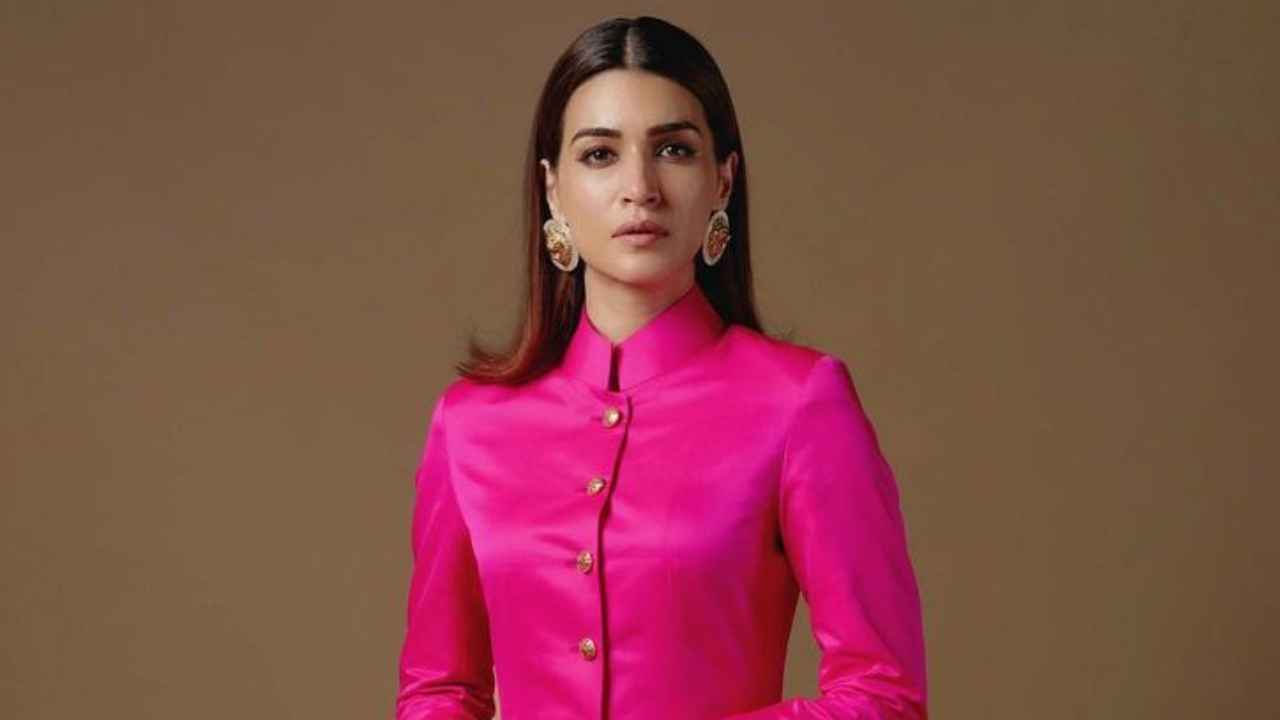 The charm of Kriti Sanon's outfit didn't stop at the initial layer; it extended to a classy second layer that added depth and dimension to the ensemble. This second layer consisted of an elegant orange skirt, which was visible due to the clever design of the top layer. The top layer featured a front slit, revealing the vibrant orange skirt underneath. This creative layering technique created a visually stunning and contemporary effect.
The ensemble, crafted by the visionary designer Rajesh Pratap Singh, was a testament to the fusion of traditional and modern fashion. The combination of pink and orange hues, along with the layered design, showcased Singh's ability to blend different elements seamlessly. It was a remarkable piece of art that looked beyond amazing, capturing the essence of contemporary elegance with a touch of tradition.
Kriti Sanon's fashion choices have consistently set her apart as a trendsetter in the industry. Her ability to select outfits that not only resonate with the audience but also make a bold statement is evident in this ensemble. The layered and modernized piece at the formal dinner after the 69th National Awards left a lasting impression and further solidified Kriti's status as a fashion icon.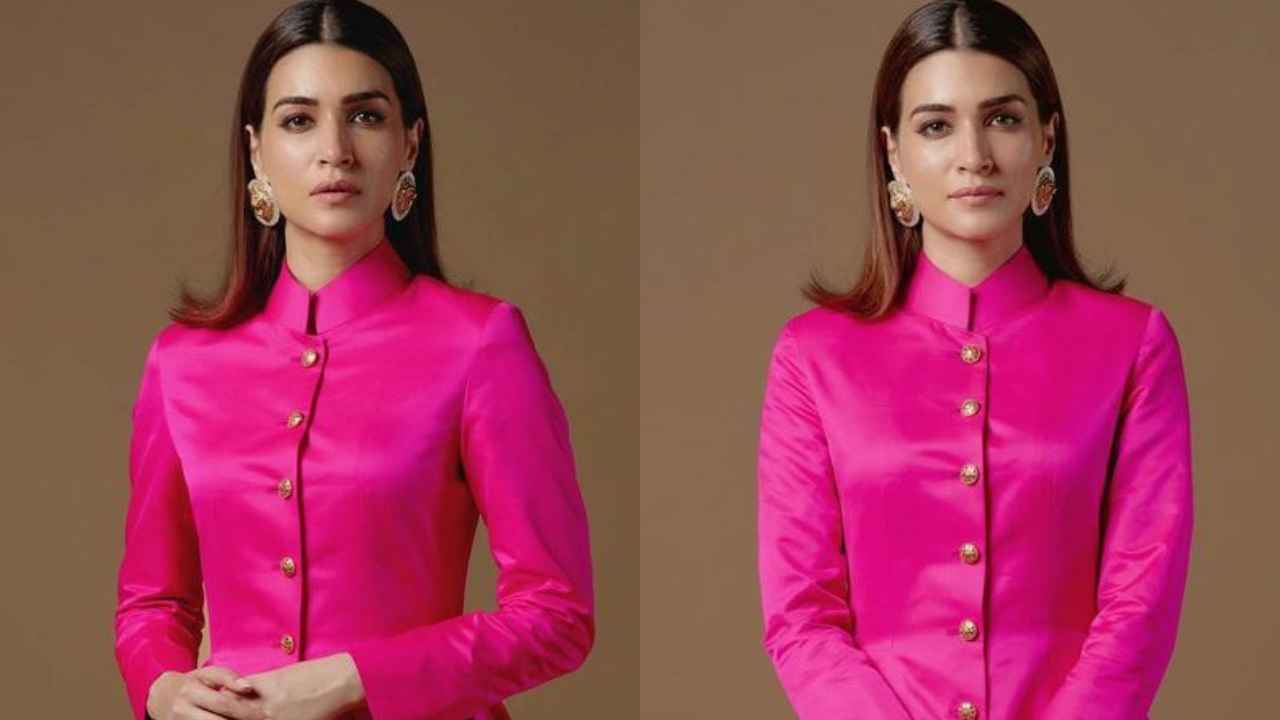 Kriti Sanon's attention to detail in her ensemble didn't stop at the outfit itself; she continued to make impeccable fashion choices with her accessories. To complete her ethnic and elegant look, she opted for a pair of ethnic juttis by Needledust, which not only added a touch of authenticity to her ensemble but also ensured comfort and style.
Her choice of accessories further showcased her discerning taste in fashion. Kriti adorned herself with gorgeous gold and silver heritage statement earrings from Apala by Sumit, a brand known for its Indian-centric masterpieces with a contemporary edge. These earrings not only added a hint of opulence but also complemented the overall look, accentuating the traditional elements of her outfit.
Adding to the elegance of her ensemble, Kriti wore a matching gold layered ring by Anāash, an iconic jewelry house. This choice brought a sense of cohesion to her look and highlighted her ability to curate accessories that seamlessly blend with her outfit.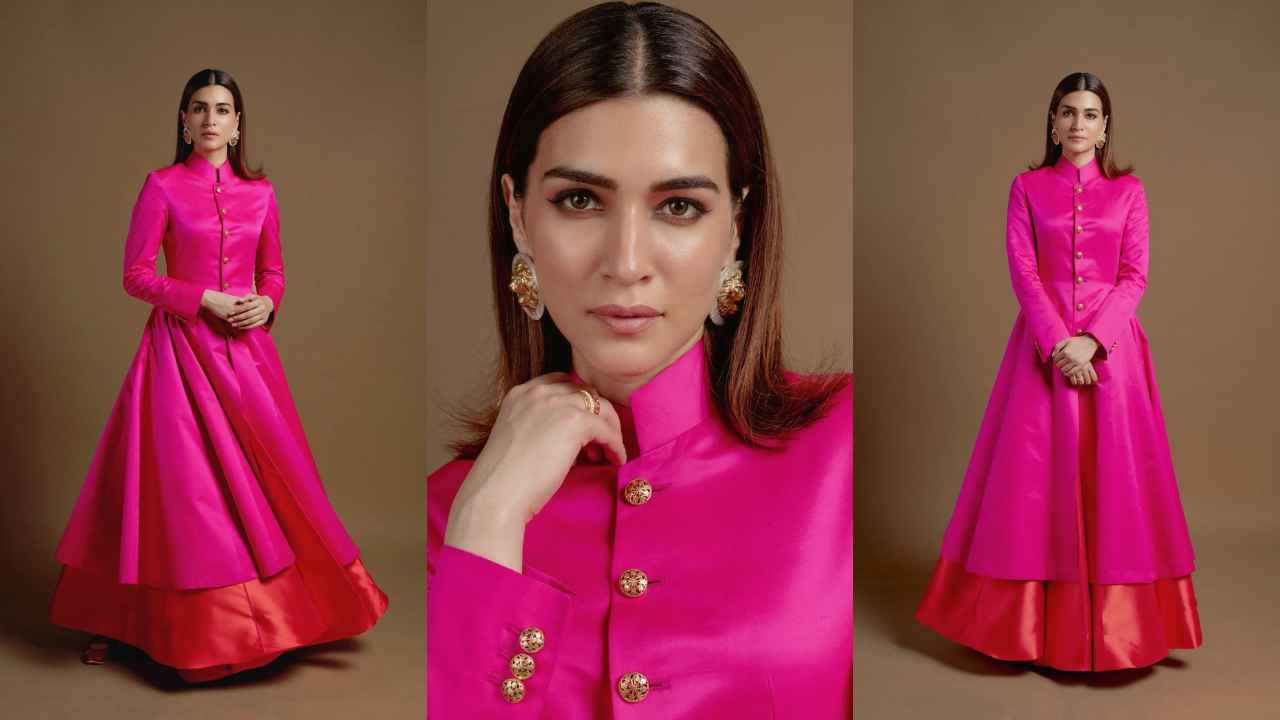 In conclusion, Kriti Sanon's choice of accessories, including the ethnic juttis, heritage statement earrings from Apala by Sumit, and the gold layered ring by Anāash, elevated her already stylish ensemble to a whole new level. Her attention to these details demonstrates her commitment to creating a harmonious and captivating overall look, cementing her position as a true fashion icon in the industry.