Mrunal Thakur goes for a comfortable denim-on-denim ensemble with Rs. 2,62,160 Gucci bag
Mrunal Thakur, the dazzling Bollywood sensation, recently graced the world of airport fashion with her mesmerizing denim-on-denim ensemble. Her choice of outfit perfectly embodied the essence of being both comfortable and classy, showcasing her innate sense of style and fashion-forward thinking. As an actress in the spotlight, Mrunal effortlessly redefined airport fashion with this ensemble, demonstrating that one can be both comfortable and stylish while traveling.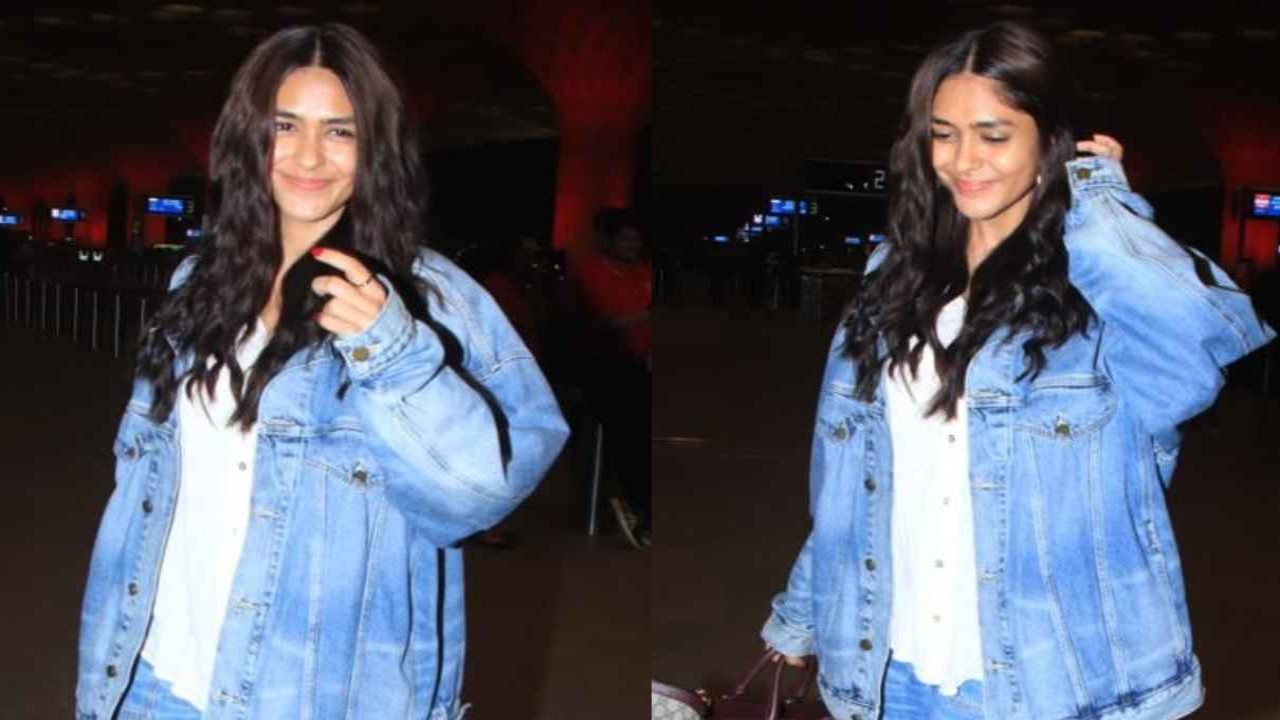 In a world where trends and fashion statements constantly evolve, Mrunal's airport look was a testament to the enduring charm of natural beauty. She didn't rely on elaborate accessories or excessive makeup to make an impact. Instead, she allowed her own innate beauty to shine through, proving that simplicity and elegance can be equally captivating.
Mrunal Thakur's ensemble was more than just a fashion statement; it was a captivating journey through the realms of fashion, elegance, and individuality. Her outfit conveyed a unique style that was reflective of her personality, further solidifying her status as a stylish diva who knows how to make a lasting impression.
Mrunal Thakur made a fashionable yet comfortable statement as she was recently spotted and snapped at the airport. Her ensemble showcased a blend of trendiness and ease, underlining her knack for balancing style with comfort. At the core of her outfit was a gorgeous and loose white button-up shirt, featuring a crisp collar. This classic and timeless piece served as the foundation for her stylish airport look.
To add a layer of modernity and a touch of warmth to her ensemble, Mrunal chose to layer the white shirt with a light blue full-sleeved denim jacket. What set this jacket apart was its oversized silhouette and long length, which contributed to the overall comfort of her outfit. This was a nod to the contemporary trend of embracing oversized and relaxed styles, while ensuring that she felt at ease during her travel.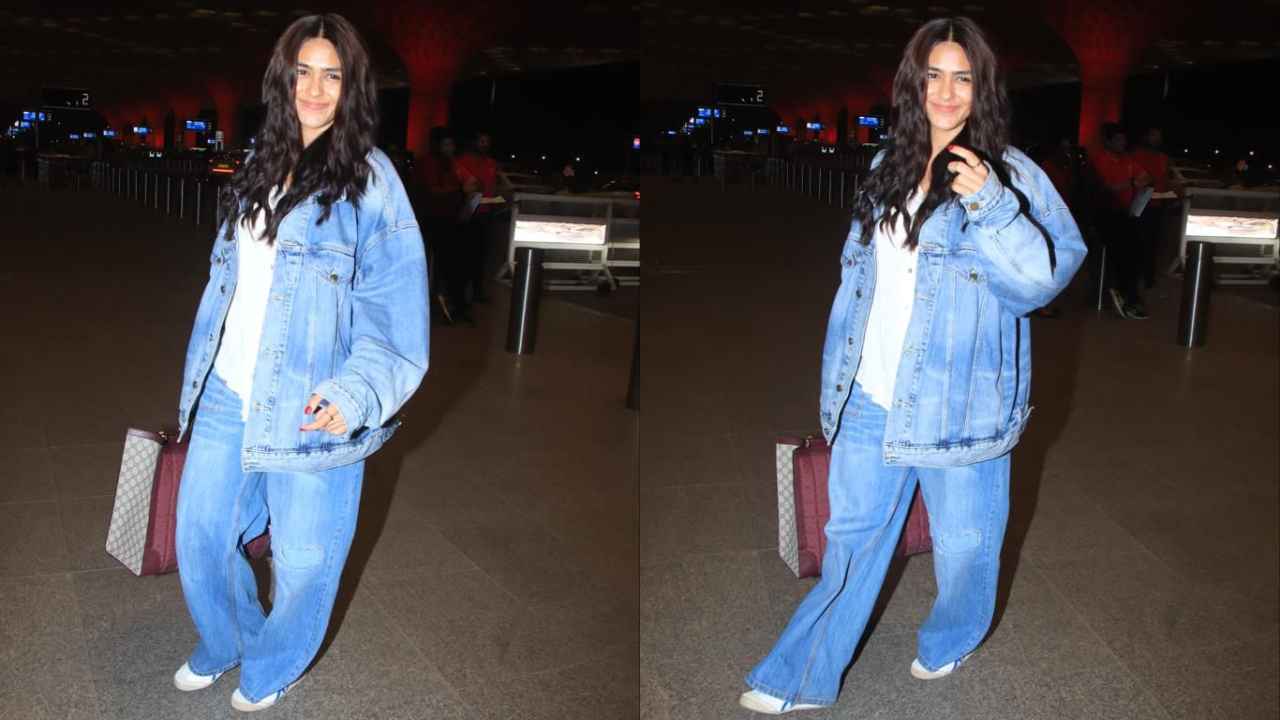 Mrunal Thakur's airport ensemble didn't stop at the stylish denim jacket; she further paired it with matching light blue denim jeans that featured a distinctive ripped aesthetic. These jeans added a trendy and edgy element to her overall look, demonstrating her ability to incorporate contemporary elements into her fashion choices.
What made these jeans even more striking was their rather oversized and wide-legged fitting. This relaxed and comfortable style added to her chic airport allure, as she effortlessly blended fashion with ease. The wide-legged jeans not only offered comfort during her travel but also contributed to the overall trendiness of her outfit.
Mrunal's choice to pair the light blue denim jacket with matching jeans showcased her knack for creating cohesive and well-thought-out ensembles. The ripped aesthetic and the oversized, wide-legged fit of the jeans exemplified her ability to embrace contemporary and comfortable styles while maintaining a fashionable and chic appearance.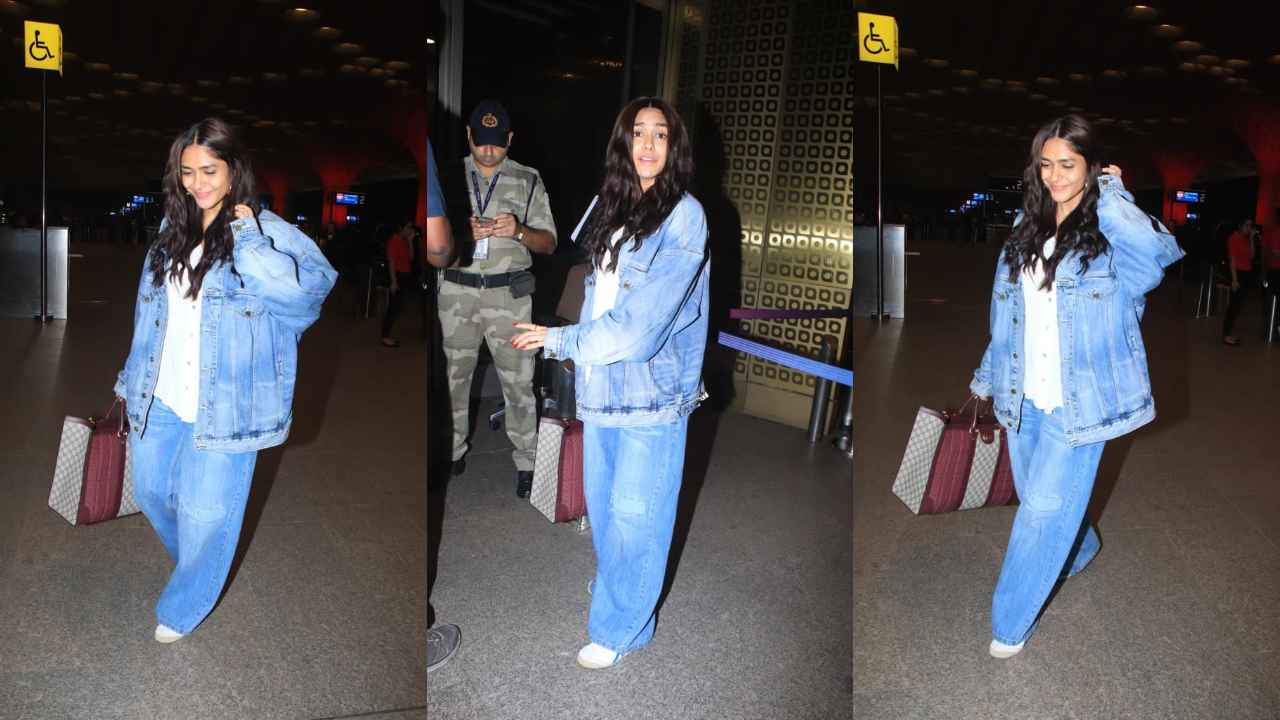 To round off her stylish airport ensemble, the diva chose to complete her look with a pair of white sneakers. This footwear choice not only added to the comfort of her outfit but also created a harmonious and well-coordinated look. White sneakers are known for their versatility and ability to complement a wide range of outfits, and in this case, they perfectly matched the relaxed and trendy aesthetic of her denim-on-denim ensemble.
Mrunal Thakur's decision to wear white sneakers as the finishing touch to her airport look emphasized her understanding of how accessories can play a crucial role in creating a cohesive and well-put-together outfit. These sneakers not only enhanced her comfort while traveling but also added a touch of contemporary flair, showcasing her ability to merge fashion and practicality seamlessly.
Mrunal Thakur's impeccable fashion sense extended to her choice of accessories, which added an elevated look to her already stylish ensemble. She opted for small gold Gen-Z-approved hoops, and these earrings complemented her outfit beautifully. The gold hoops added a touch of elegance and modernity to her look, emphasizing her attention to detail when it comes to accessorizing.
In addition to the elegant gold hoops, she also wore a matching ring that perfectly coordinated with her jewelry choices. This ring served as a fine detail that elevated her outfit, showcasing her commitment to creating a well-rounded and stylish appearance.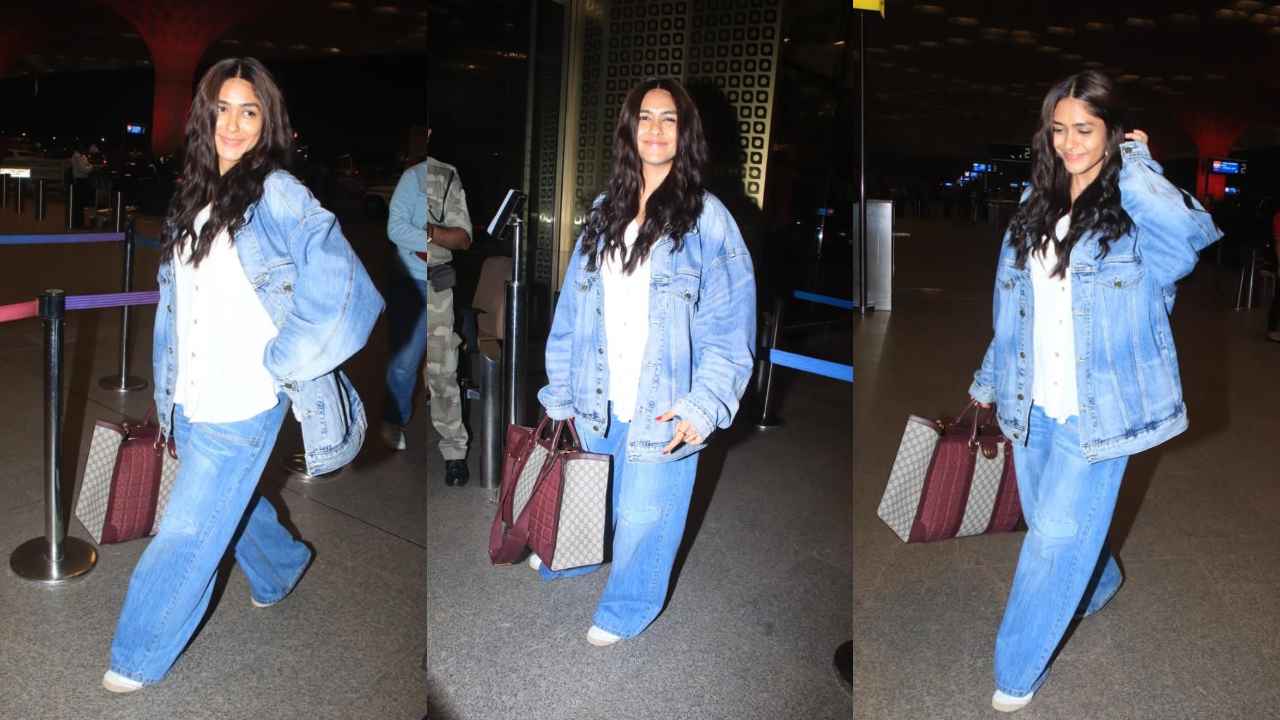 To complete her ensemble, Mrunal carried a Gucci mini GG canvas large tote bag with gold hardware. This choice added a luxury element to her overall look while providing practicality for her travel needs. The designer bag perfectly aligned with her outfit's color palette and demonstrated her ability to curate accessories that complemented her style.
In conclusion, Mrunal Thakur's choice of accessories, including the gold hoops, matching ring, and the Gucci tote bag with gold hardware, played a pivotal role in enhancing her outfit's elevated look. Her attention to detail in accessorizing and her knack for combining luxury with practicality highlighted her exceptional fashion sense, making her an inspiration to fashion enthusiasts and admirers alike.