Sara Ali Khan gives a masterclass on how to rock casual elegance in comfortable printed co-ord set!
Sara Ali Khan is a true expert in controlling the fashion game, especially when it comes to kurta sets and modest design. Her recent appearance at the airport was a testament to her impeccable style, where she effortlessly owned a lovely blue co-ord outfit. This ensemble not only reflected her great taste in fashion but also highlighted her preference for comfortable yet attractive clothing.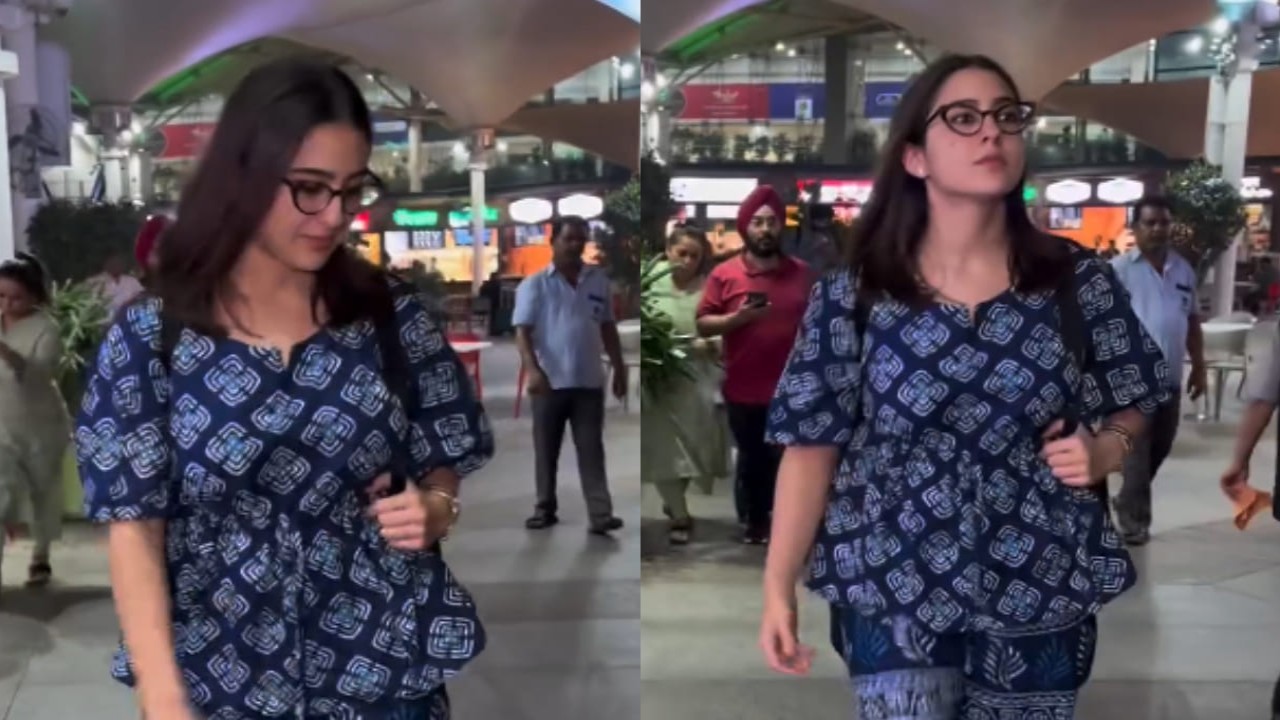 Kurta sets have become a staple in Sara's wardrobe, and she consistently demonstrates how to wear them with grace and panache. Her fashion choices are a blend of tradition and contemporary style, showcasing her ability to adapt traditional Indian clothing to modern contexts. The blue co-ord outfit she donned at the airport was another example of her ability to make a fashion statement while staying comfortable and chic.
Sara Ali Khan's knack for selecting comfortable yet stylish clothing aligns with her reputation as a fashion-forward celebrity. Her recent appearance in the blue co-ord outfit further solidified her status as a style icon who understands how to make the most of traditional Indian attire in a contemporary fashion landscape.
Sara Ali Khan undoubtedly nailed the airport style with her choice of a co-ord ensemble, fashionable accessories, and a positive mindset. Her fashion-forward approach turned heads and conveyed that modest dressing can indeed be fashionable and current when worn with distinctive confidence. Sara's ability to effortlessly blend comfort and elegance is incredibly inspirational, and she has garnered a devoted following of fashion admirers who look up to her for her impeccable style.
Her co-ord ensemble was a clear example of how to make a fashion statement while traveling, showcasing her knack for making every moment count, even at the airport. The combination of comfortable yet stylish clothing with fashionable accessories highlighted her awareness of the evolving fashion landscape, where modest and traditional designs continue to find new and modern interpretations.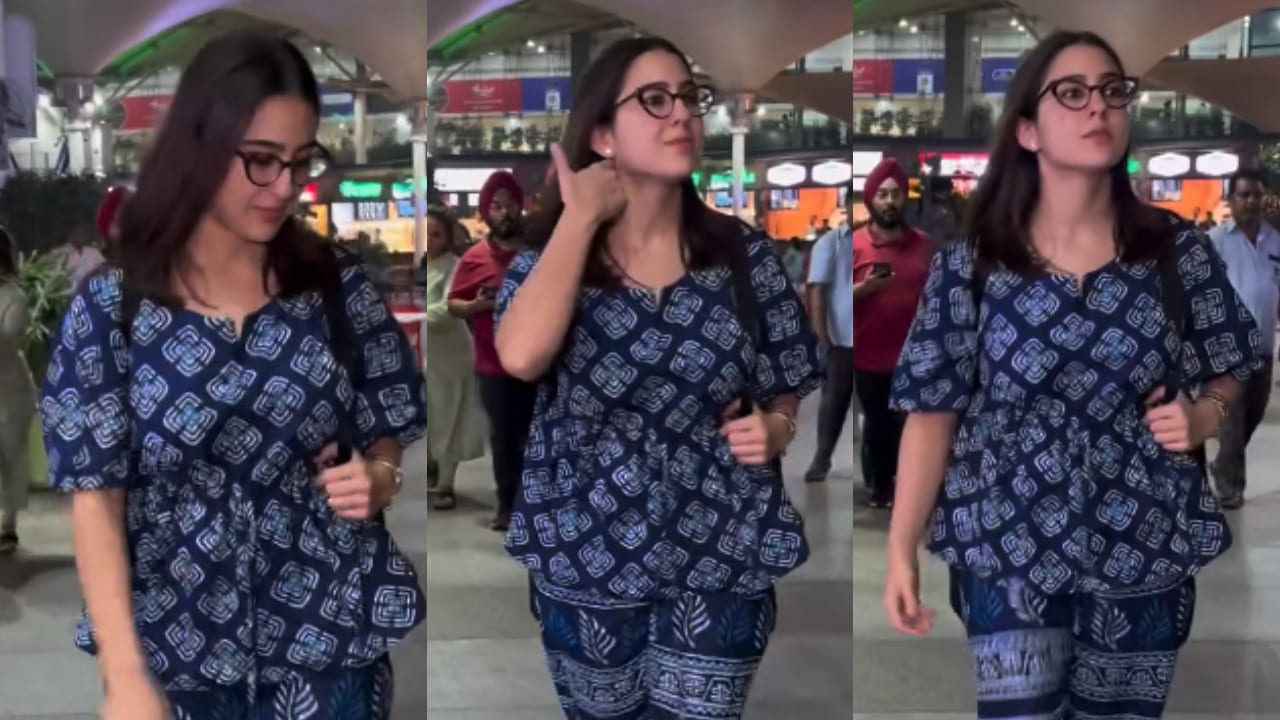 Sara Ali Khan's unique blend of confidence and fashion sensibility has made her a role model for many who seek to embrace modest dressing while staying current and chic. Her airport look was just another chapter in her style journey, leaving a lasting impression on fashion enthusiasts and admirers who appreciate the balance of comfort and elegance in their fashion choices.
Sara Ali Khan's recent fashion statement was truly attention-grabbing as she was spotted wearing a striking blue co-ord set that set new fashion standards. The top in the set was a fashionable kaftan top with a short length, which contributed to a sleek and comfortable appearance. The half sleeves of the top added a stylish touch, and the basic notched neckline provided a subtle yet attractive element to the overall design. This outfit demonstrated Sara's ability to effortlessly blend comfort and style, setting an example for modern fashion enthusiasts.
Sara Ali Khan's distinctive and eye-catching look was further accentuated by her choice to pair the kaftan top with flowery patterned pajamas. This creative combination showcased her ability to mix and match patterns with ease, creating a look that was both distinctive and fashion-forward. It radiated a sense of ease and comfort while also highlighting Sara's great sense of style.
Mixing and matching patterns can be a tricky endeavor, but Sara's outfit demonstrated how it can be done with finesse and creativity. Her fashion choices continue to inspire, and this ensemble was no exception. It underlined her standing as a style icon who knows how to turn heads while maintaining a sense of comfort and individuality.
Sara Ali Khan's style game was further elevated with her choice of accessories. She donned a pair of cat-eye glasses with a hint of vintage charm, instantly adding a unique touch to her ensemble. These glasses not only served a functional purpose but also contributed to her overall style, enhancing the fashion statement.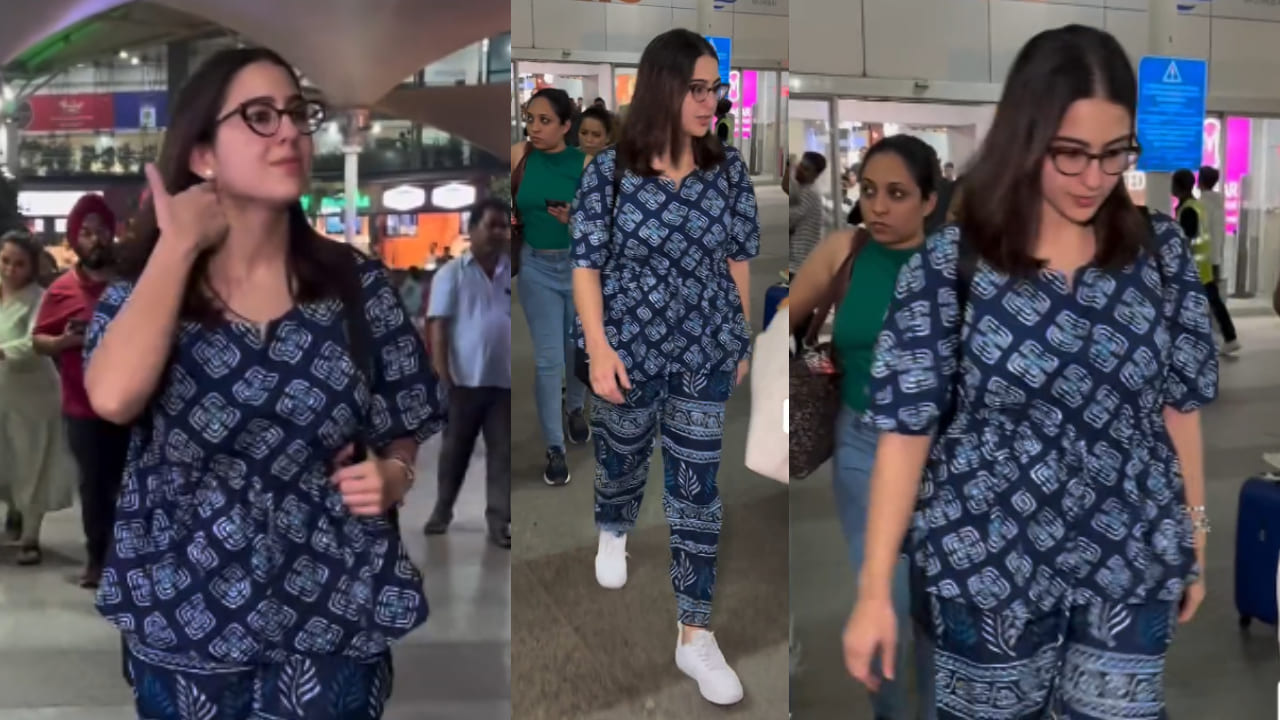 To keep things practical, Sara opted for a black rucksack, which seamlessly blended fashion and utility. This choice of bag highlighted her ability to make fashion work for her on the go, showing that style and practicality can go hand in hand.
Her hands were adorned with stacked golden bracelets, providing a subtle hint of sparkle to her entire look. These accessories added a touch of elegance to her attire, showcasing her attention to detail and her ability to harmonize various elements into a cohesive and sophisticated outfit. Sara's choice of accessories demonstrated her knack for enhancing her overall appearance with thoughtful and stylish details.
To complete her look, Sara Ali Khan made a traditional yet stylish choice by opting for white trainers. These classic footwear pieces not only offered her comfort but also added a touch of versatile style to her overall ensemble. Sara's ability to effortlessly combine comfort and fashion was once again evident in her choice of footwear, making it clear that practicality can coexist with style, even in everyday settings like an airport.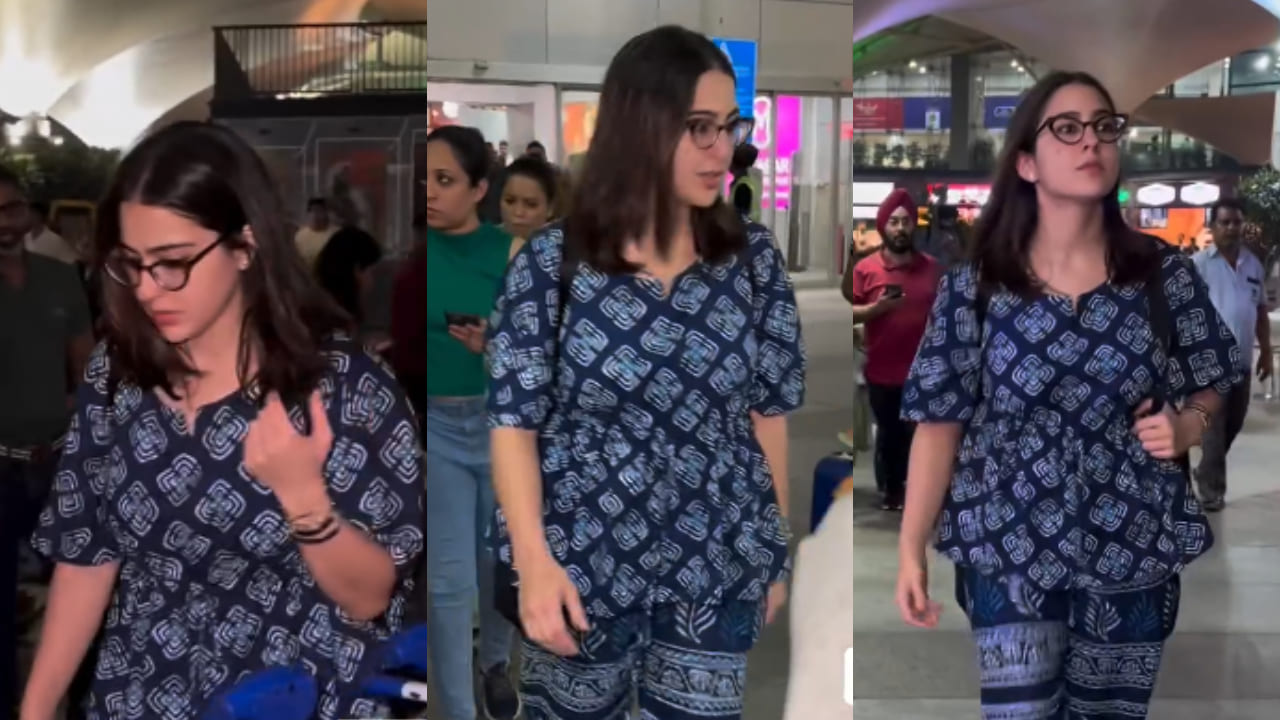 If you're ready to up your airport fashion game, take a cue from Sara Ali Khan and embrace the trend of Indian co-ords for a handsome and stylish look. This fashionista was recently spotted killing it in a blue co-ord outfit, setting an example that comfort and glamour can indeed coexist seamlessly. Sara's effortless combination of chic and comfort offers a valuable lesson in fashion, showing that you can make a statement without sacrificing ease and practicality. Whether you're traveling or simply stepping out, her approach to fashion provides inspiration for those who appreciate the balance of style and comfort in their clothing choices.