Katrina Kaif channels sunshine vibes in stunning yellow saree with U-neck blouse
Hello, fashionistas! As the holiday season rapidly approaches, we can't help but anticipate the jaw-dropping looks that one of our favorite Bollywood divas, Katrina Kaif, will undoubtedly showcase. When it comes to playing with traditional attire and setting fashion trends, few can do it better than her.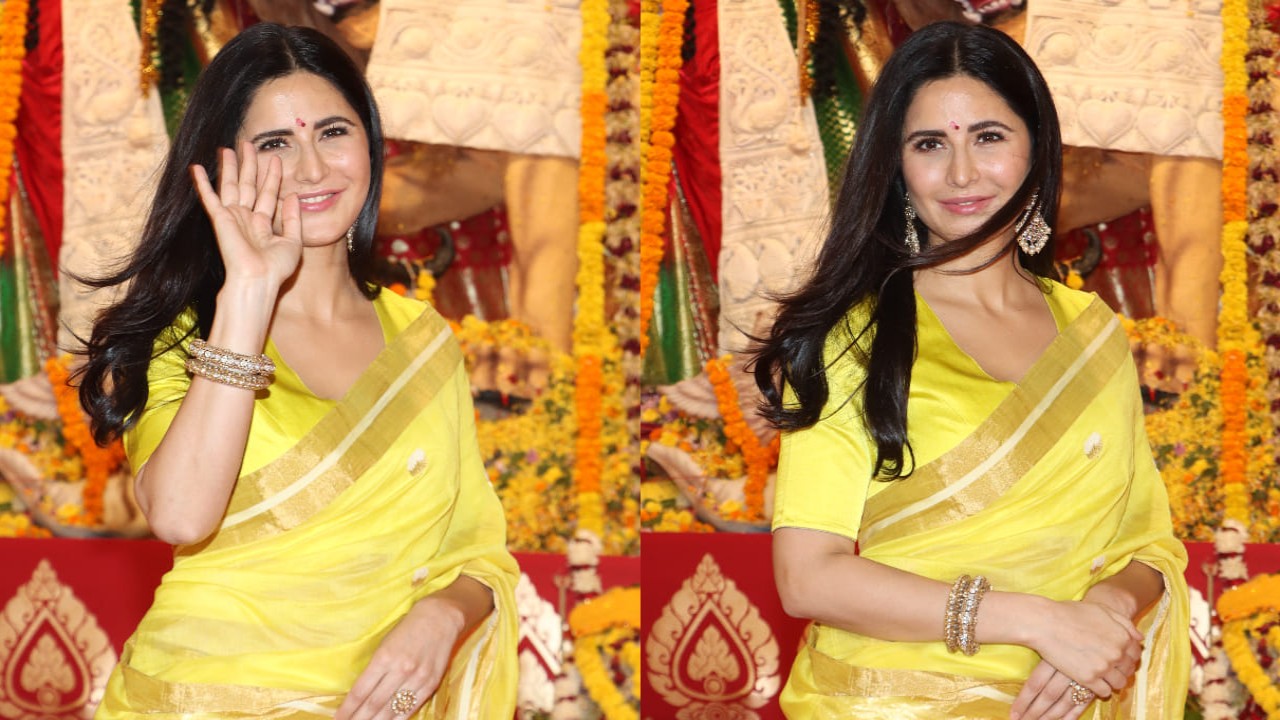 Katrina's impeccable style choices have consistently left us in awe, and each appearance is a testament to her versatility and fashion-forward sensibility. Whether it's a stunning saree that drapes elegantly or an exquisite lehenga that exudes grace, she has a unique ability to carry any fabric with utmost confidence and sophistication.
Her fashion statements never disappoint and always leave us yearning for more.
Quite recently, the Bollywood beauty queen, Katrina Kaif, made a dazzling appearance that had fashion enthusiasts and fans alike drooling. She looked absolutely lovely in a stunning yellow saree, reminding us all why she's considered one of the most elegant and charming stars in the industry.
Katrina effortlessly channeled those quintessential "desi-girl" vibes that we've all come to admire, with every stride she took in that gorgeous yellow saree. Her innate grace and poise were on full display, and it's clear that she can effortlessly embrace the traditions of Indian attire while adding her own modern and stylish twist.
 Her fashion choices are a true inspiration, and this latest appearance was no exception, leaving us in awe of her timeless beauty and style.
Katrina Kaif's appearance in a beautiful yellow saree during the auspicious festival of Durga Pooja was nothing short of stunning. She truly looked gorgeous, radiating grace and charm on this special occasion.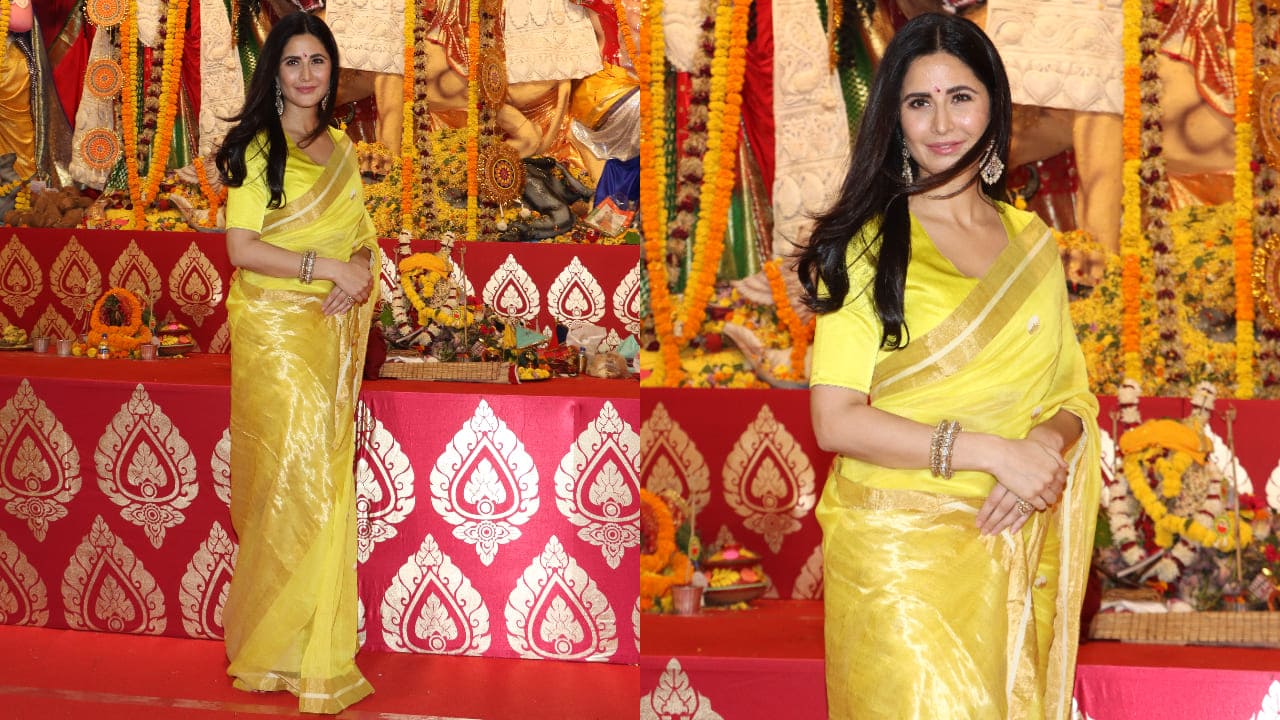 The highlight of her ensemble was undoubtedly the lovely yellow saree, which was not just a piece of clothing but a work of art. This saree had been meticulously woven using traditional handwoven techniques, showcasing the rich heritage and craftsmanship that goes into creating such attire. The use of these techniques added an authentic touch to her outfit, making it a perfect choice for the festivities of Durga Pooja.
Katrina's choice to wear this exquisite yellow saree demonstrated her respect for tradition and her ability to celebrate cultural occasions with elegance and style. Her appearance served as a reminder of the enduring beauty of traditional craftsmanship and its place in contemporary fashion.
In her stunning yellow saree ensemble, Katrina Kaif had paired it with a bright yellow blouse that complemented the look beautifully. The blouse featured an unusual U-neckline and half sleeves, which added a unique and contemporary twist to the classic attire. This innovative design brought a dash of modernism to the traditional outfit, creating a perfect blend of old and new.
Despite its simplicity, the basic blouse worked remarkably well when coupled with the intricately handwoven saree. It allowed the focus to remain on the saree's exquisite craftsmanship while adding a touch of freshness and individuality to the overall look. Katrina's fashion choices, as seen in this ensemble, showcase her ability to strike a harmonious balance between tradition and modernity, making her a true trendsetter in the world of fashion.
To complete her look, Katrina Kaif chose to accessorize her yellow saree with a pair of large, golden earrings that truly stood out. These exquisite earrings were a work of art in themselves, adorned with shimmering stones and even had pearls delicately linked to the lower section. These earrings added a touch of refinement and elegance to her overall appearance, enhancing the regal aura of her outfit.
But the adornment didn't stop with the earrings. Katrina had also chosen to wear identical stone-studded kadas on her wrists, and they added a touch of glitz and glamour to her entire ensemble. These kadas not only added a sparkling element to her look but also brought a sense of continuity and balance to her overall jewelry choices.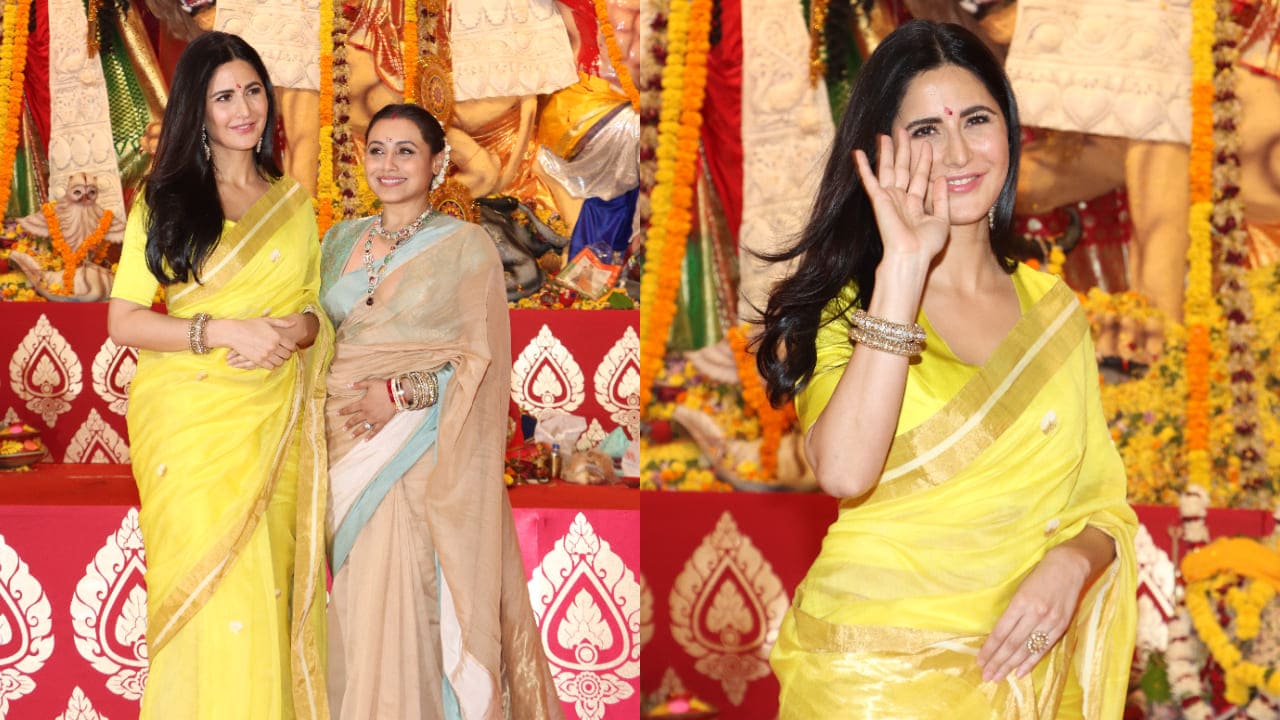 Katrina's choice of accessories exemplifies her keen eye for detail and her ability to enhance her attire with just the right amount of sparkle and sophistication. It's clear that every element of her look had been carefully considered, making her an enduring fashion inspiration for many.
To accentuate her eyes, she had used a subtle line of eyeliner that added depth and definition, enhancing the beauty of her eyes. The generous application of mascara had volumized her lashes, making them a striking feature of her makeup. Her eyes, with their enhanced definition and captivating lashes, became the focal point of her overall look, drawing attention and adding a touch of allure to her appearance.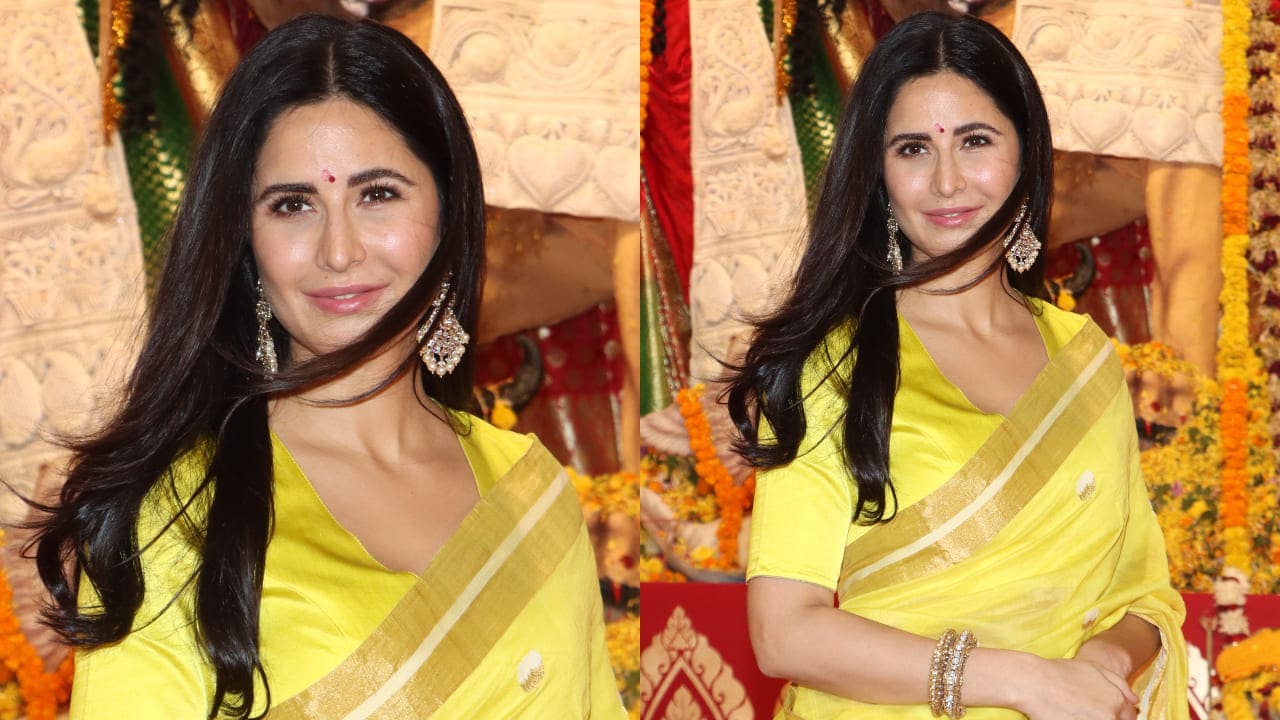 Katrina Kaif's beauty choices showcased her expertise in enhancing her natural features while keeping her makeup and hairstyle in harmony with her elegant attire. It was a lesson in how less can often be more when it comes to achieving a timeless and sophisticated look.