Enchanting Alia Bhatt Empowers in a Gucci Trench Coat, Celebrating Denim's Triumph in Style!
Alia Bhatt's recent head-to-toe Gucci ensemble showcased her mastery of fashion with a touch of chic sophistication. Her ability to effortlessly pull off this bold look from a prestigious brand left many in awe. From head to toe, Alia embraced the Gucci aesthetic with undeniable ease, radiating confidence and an air of coolness that only she can carry.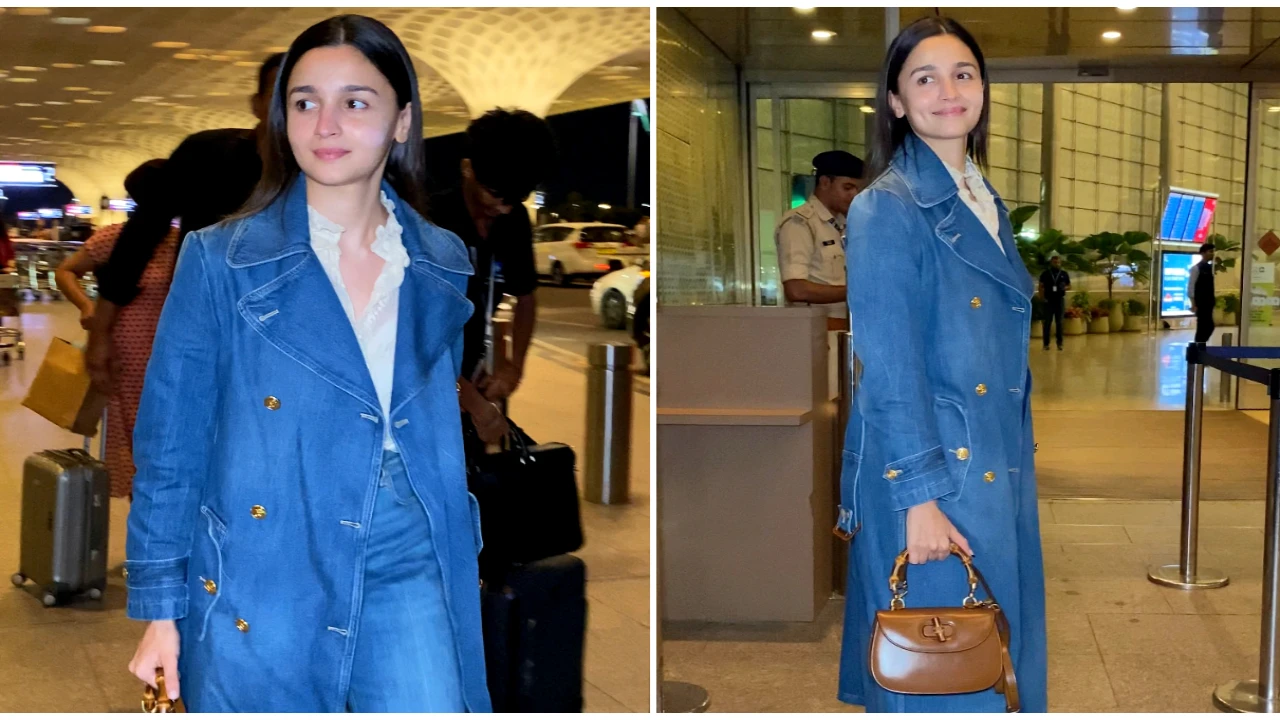 The centerpiece of her ensemble was a striking trench coat, a piece that might have initially caught many off guard. Yet, Alia showed that replicating this style for oneself, especially during travel to frigid destinations, is not as daunting as it might seem. Her outfit provided inspiration for anyone seeking a chic yet functional cold-weather outfit.
The trench coat, synonymous with timeless elegance, can be your go-to outerwear choice in colder climates. It not only shields you from the elements but also elevates your appearance with its sophisticated silhouette. Alia's Gucci twist added a high-fashion element, but the concept can easily be tailored to suit individual preferences and budgets.
Layering played a pivotal role in her ensemble's practicality. A warm sweater or turtleneck worn underneath the trench coat is a simple way to stay snug while showcasing your personal style. Coupled with tailored pants or jeans, this ensemble balances fashion and comfort seamlessly.
While the original look may have incorporated Gucci accessories, you can add your signature touch with scarves, beanies, and stylish boots. These additions not only keep you warm but also allow you to put your personal spin on the outfit.
Ultimately, Alia's confidence and poise were the real showstoppers. Her ability to make this high-fashion outfit appear effortless underscores the idea that fashion is a reflection of one's individuality and self-assuredness. The look she pulled off with such ease serves as a reminder that embracing unique styles and experimenting with renowned brands can result in a remarkable ensemble, perfect for turning heads in any chilly destination.
Alia Bhatt's fashion choices often make headlines, and her recent appearance was no exception. She donned a remarkable trench coat that came with a significant price tag of approximately Rs 5,67,937.62. The coat, crafted from cotton, featured intricate details that highlighted its luxurious appeal.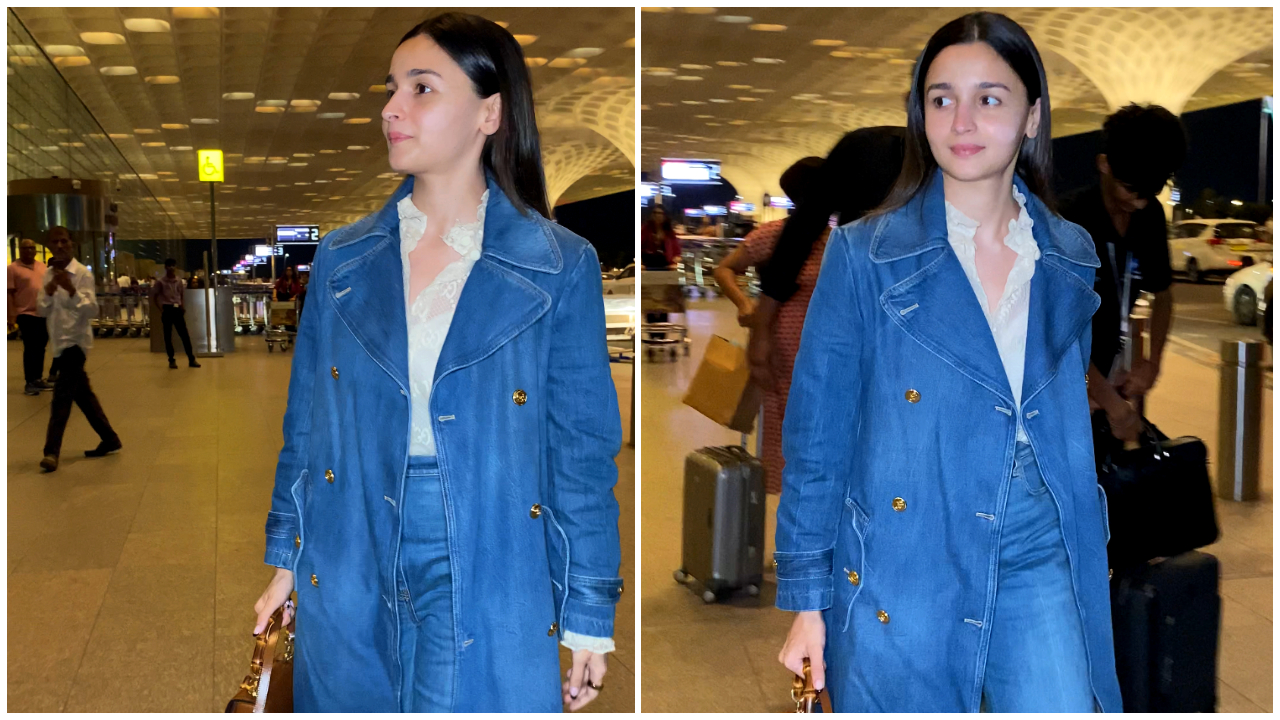 This blue trench coat was adorned with gold-tone Double G buttons, adding a touch of opulence and sophistication. The collar, reminiscent of blazers, gave the coat a unique twist that merged classic and contemporary styles. The shaped yoke, long sleeves, and buttoned cuffs contributed to the coat's tailored look, while the detachable broad belt provided versatility in styling. Notably, Alia chose to keep the belt unbuckled, showcasing her personal take on the outfit.
The trench coat's practicality was emphasized with the inclusion of pockets adorned with buttoned flaps. These details not only add functionality but also contribute to the overall design, ensuring a blend of fashion and utility.
Underneath the double-breasted coat, Alia layered a see-through lace shirt, further elevating the outfit's complexity. The lace shirt, valued at Rs 2,30,461.00, added an element of delicacy and romance to the ensemble, juxtaposed against the structured trench coat.
Alia Bhatt's fashion choices often spotlight her ability to curate unique ensembles that capture attention. Her recent trench coat and lace shirt combination not only reflected her individual style but also demonstrated her capacity to blend high-fashion pieces into a cohesive and visually striking outfit. This ensemble served as a reminder of the artistry and craftsmanship that go into creating luxury garments, as well as the influence that fashion can have on expressing one's personality and presence.
The luxurious ivory piece that Alia Bhatt wore was undoubtedly a statement in itself. This ensemble boasted intricate details that showcased its opulent nature. The piece came with a detachable camisole, providing versatility in styling while maintaining comfort and elegance.
A stand ruffle collar further elevated the look, adding a touch of drama and femininity. The ruffle collar is a detail that combines vintage elegance with modern flair, resulting in a design that's both classic and contemporary.
Two-tiered cuffs were another noteworthy feature, enhancing the visual appeal of the ensemble's sleeves. These cuffs add dimension and depth to the overall silhouette, contributing to the ensemble's overall design intricacy.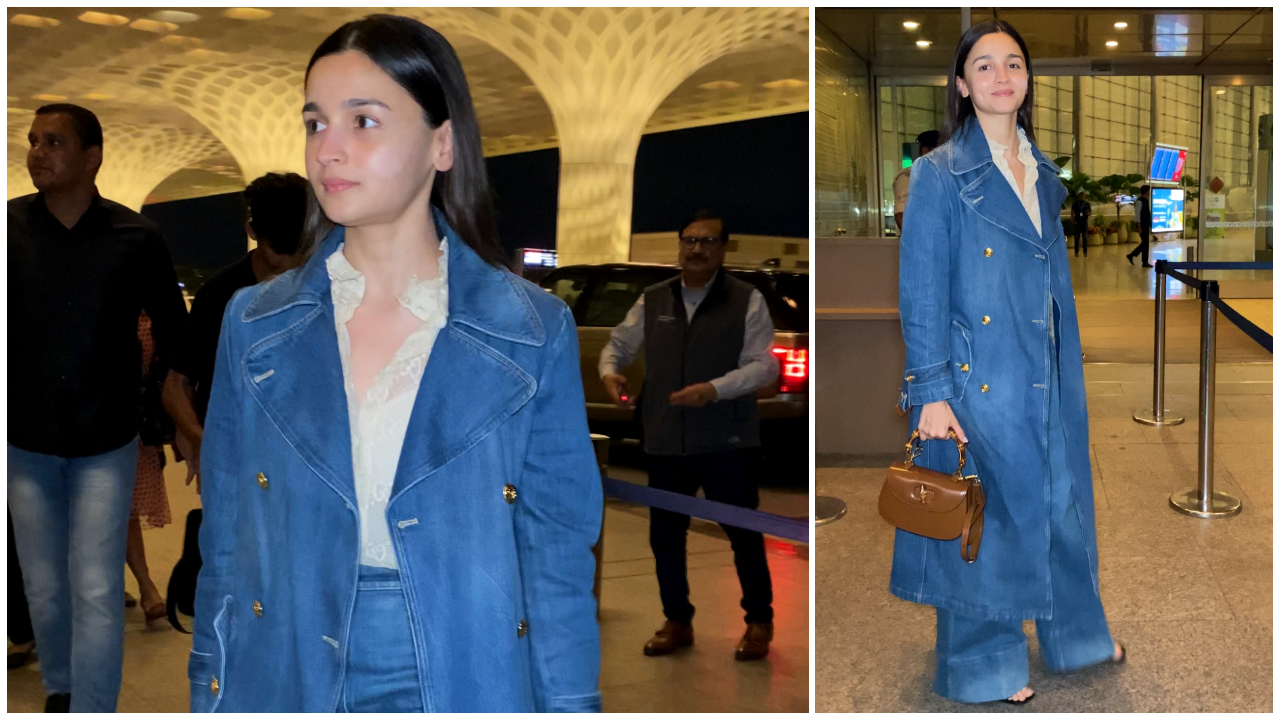 The ensemble's ivory hue exuded luxury and timelessness, making it a versatile choice for various occasions. Paired with wide-leg pants, the overall look maintained a sense of balance and proportion, allowing the top to shine while complementing the lower half of the outfit.
Alia Bhatt's attention to detail in styling her casual outfit is truly commendable. She effortlessly incorporated Gucci's iconic Bamboo 1947 handbag into her ensemble, adding a touch of luxury and sophistication. The handbag came in two sizes, with the small size priced at Rs 3,70,440.90 and the medium size at Rs 4,36,256.25. This accessory served as a focal point, accentuating her overall look.
The brown leather handbag featured a flattened C bamboo top handle, which is a distinctive and recognizable design element associated with Gucci's Bamboo collection. The antique gold-toned and bamboo hardware further echoed the brand's aesthetic, enhancing the accessory's elegance and charm.
Alia's hairstyle was kept simple and straight, allowing the outfit and accessories to take center stage. Leaving her hair untied added a casual yet polished vibe to her overall appearance, aligning with the theme of her ensemble.
Her makeup was characterized by a classic yet striking approach. The use of kohl on her waterlines accentuated her eyes, contributing to a smoky and alluring gaze. A pink lip color added a touch of vibrancy to her look, balancing the neutral tones of her outfit and accessories.
Alia Bhatt's styling choices once again demonstrated her ability to curate a cohesive and well-thought-out ensemble. By incorporating the Gucci Bamboo 1947 handbag, she showcased her appreciation for luxury accessories and her knack for integrating them seamlessly into her outfit. This attention to detail in both fashion and beauty elements reflects her fashion-forward sensibilities and her status as a style icon who consistently captivates with her choices.
Absolutely, adapting denim trench coats for humid weather requires some thoughtful considerations. Here's how you can incorporate them into your style while staying comfortable in warmer conditions:
Opt for a Loose Fit: Choosing a loose or oversized denim trench coat is key. This style provides better airflow and allows you to layer over lighter clothing without feeling constricted. The extra room ensures comfort and breathability even in humid weather.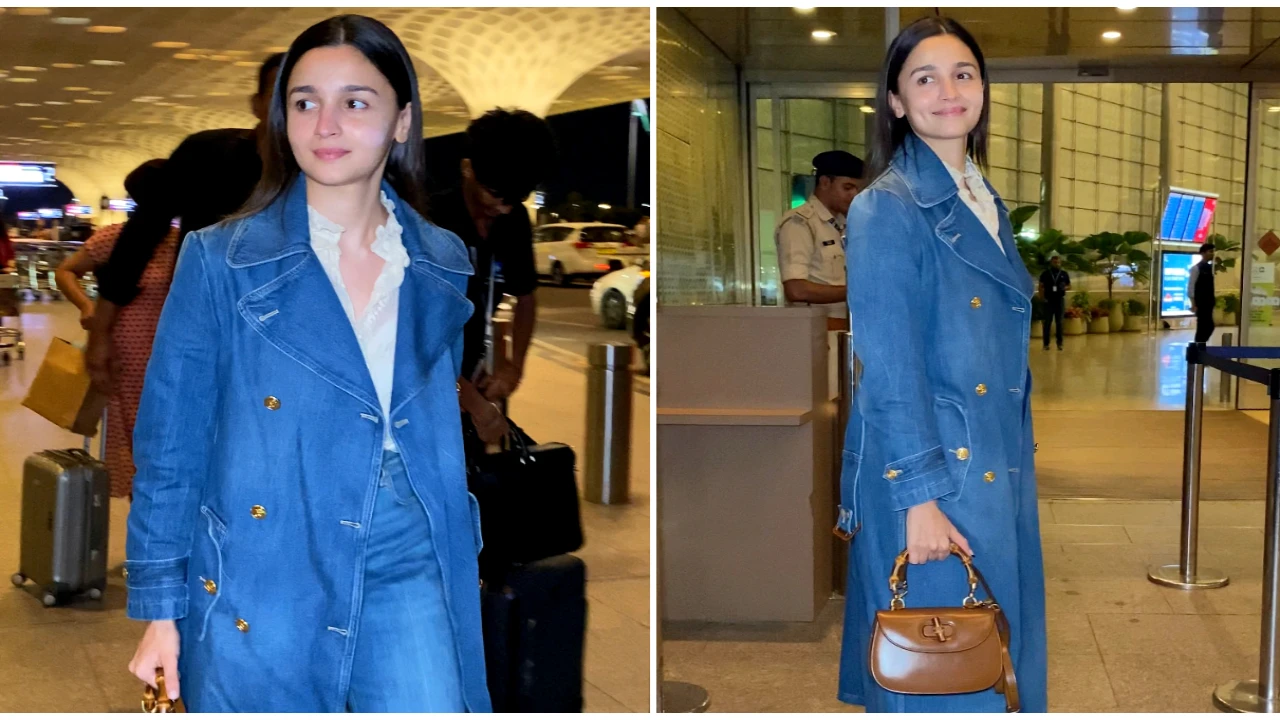 Lightweight Denim: Look for lightweight denim fabric. Lighter denim not only feels more comfortable in warmer temperatures but also offers greater flexibility and ease of movement.
Breathable Fabrics: If possible, consider denim trench coats with added breathable features, such as mesh lining or strategic vents. These details can help improve ventilation and prevent you from feeling overly hot and stifled.
Layer Wisely: Since you're likely layering over lighter clothing, be mindful of your outfit underneath. Opt for lightweight fabrics like cotton or linen for your tops, dresses, or bottoms to ensure you stay cool and comfortable.
Accessorize Smartly: Pair your denim trench coat with accessories like sunglasses, a wide-brimmed hat, or a scarf. These pieces not only add style but also provide extra protection from the sun.
Open or Belted: Experiment with wearing your trench coat open or belted. Wearing it open allows for better air circulation, while belting it can create a flattering silhouette without compromising on comfort.
Breathable Footwear: Complete your look with breathable footwear, like sandals, espadrilles, or lightweight sneakers. These options will complement your outfit and prevent your feet from getting too hot.
Time of Day: Consider wearing your denim trench coat during cooler parts of the day, like early morning or evening, to fully enjoy its style without feeling too warm.
Remember, adapting fashion for warmer weather is all about finding the right balance between style and comfort. By choosing the right fit, fabric, and color, you can confidently rock a denim trench coat while keeping cool in humid conditions.