Sara Ali Khan's Muksweta custom kurta suit exudes pink perfection and undeniable charm!
Sara ali khan is often seen donning ethnic wear, especially during promotional events and festive occasions. She has been spotted wearing beautiful sarees, lehengas, and anarkalis, often with intricate embroideries and embellishments. Sara's ethnic outfits are usually bright and colorful, reflecting her vivacious personality.
In casual wear, Sara ali khan often opts for chic and relaxed outfits. You may find her sporting crop tops, kurtas, palazzos, and jeans paired with stylish jackets or shrugs. Sara is known for experimenting with different patterns, prints, and colors, making her looks versatile and refreshing.
When it comes to accessories, Sara ali khan tends to keep it simple and elegant. She often pairs her outfits with statement earrings, bangles, and occasionally adds stylish handbags or clutches to complete her look.
One notable aspect of Sara Ali Khan's fashion sense is her ability to carry off both traditional and modern outfits with equal grace. She brings her charm and energy to everything she wears, making her a style icon for many young fans.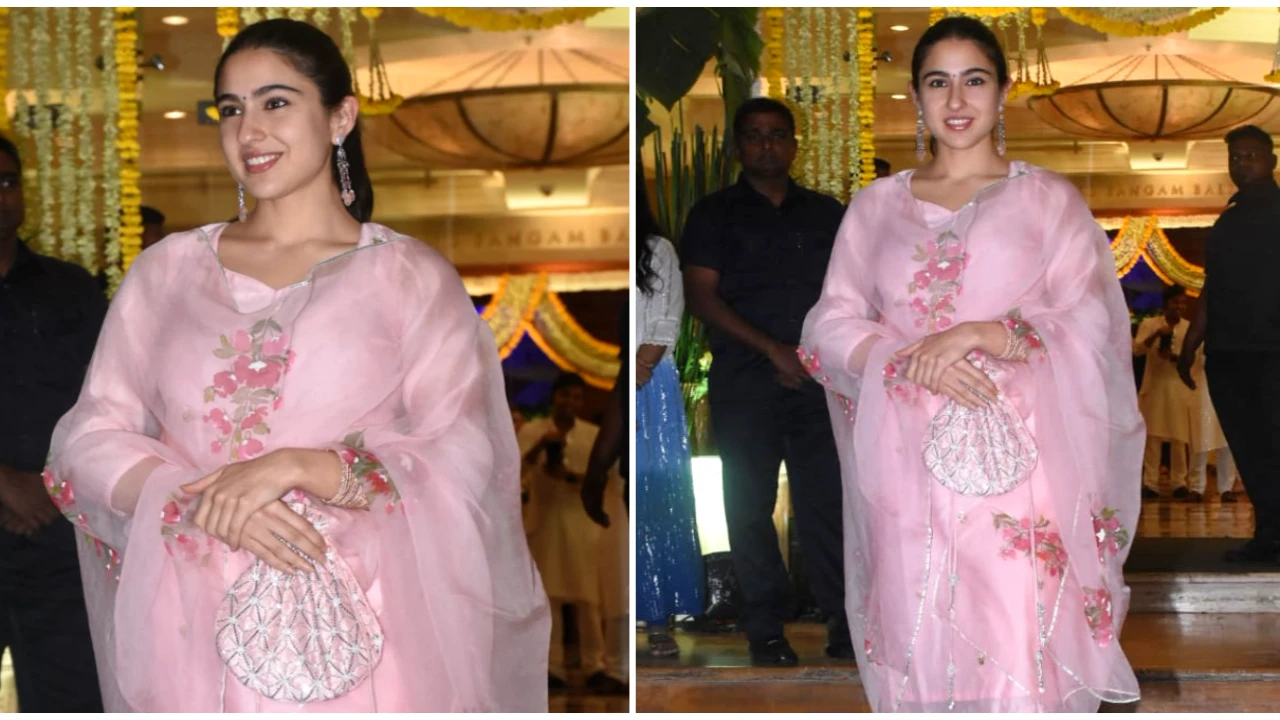 The shining star, Sara Ali Khan, looked absolutely stunning in a Muksweta by Mukund and Ms Shweta's three-piece suit creation. Her pastel and pretty ensemble exuded elegance and grace, making her a vision of timeless beauty.
The highlight of the outfit was the knee-length chanderi kurta, which featured a close neckline and three-quarter length sleeves. The delicate chanderi fabric added a touch of sophistication to the ensemble, while the intricate embroidered patterns on the kurta added a sense of artistry and craftsmanship.
Sara paired the kurta with straight-fit pants, which had mini slits to add a contemporary twist to the traditional silhouette. The straight-fit design allowed the kurta to take center stage while adding a modern and chic touch to the overall look.
The pastel hue of the ensemble further enhanced its elegance, creating a soft and feminine charm that perfectly complemented Sara's radiant personality.
Her choice of a three-piece suit added versatility to the outfit, allowing her to wear the pieces separately for different occasions, making it a practical and stylish investment.
To complete the look, Sara Ali Khan opted for minimalistic accessories, allowing the beauty of the outfit to shine through. Her understated jewelry and accessories showcased her understanding of balance and style, adding just the right amount of finesse to the ensemble.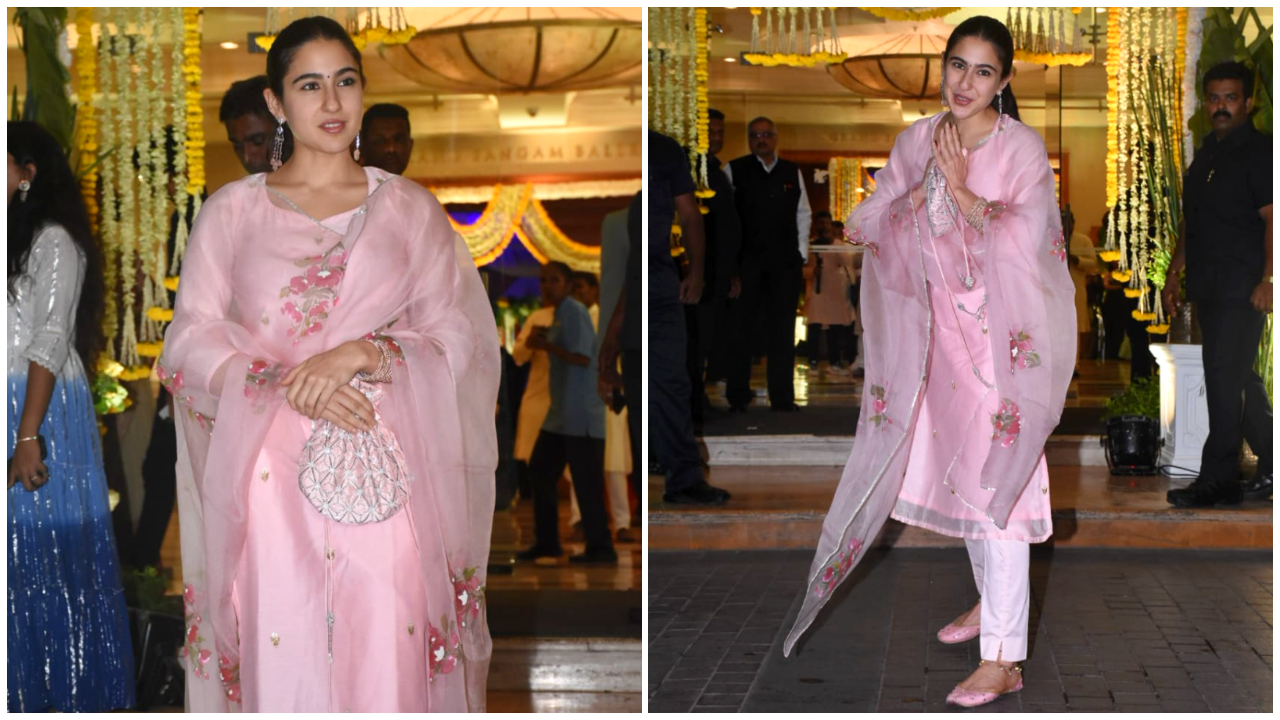 Sara's choice of the Muksweta by Mukund and Ms Shweta creation was a true testament to her impeccable fashion sense. The exquisite craftsmanship and attention to detail in the outfit perfectly complemented her natural beauty, creating a captivating fashion moment that left a lasting impression.
Chanderi fabric is known for its luxurious and radiant properties, often resembling satin in appearance. Chanderi fabric is a traditional handwoven textile from Chanderi, a town in Madhya Pradesh, India. It is highly prized for its lightweight, sheer, and glossy texture, which gives it a lustrous and radiant appearance.
The fabric is usually made from a blend of silk and cotton or sometimes pure silk, making it soft, comfortable, and breathable. The silk content in Chanderi gives it a natural sheen, akin to satin, which adds to its luxurious appeal.
Due to its inherent shine and translucence, Chanderi fabric is often chosen for special occasions and formal wear. It is a popular choice for Indian ethnic outfits like sarees, kurta suits, lehengas, and dupattas. The fabric drapes beautifully, making it a preferred choice for elegant and feminine ensembles.
The radiance-giving potential of Chanderi fabric adds a touch of opulence to any outfit, making it a favorite among designers and fashion enthusiasts. Its ability to catch and reflect light enhances the overall allure of the garment, making it an excellent choice for evening events and festivities.
Whether in a knee-length chanderi kurta, a flowing saree, or any other garment, Chanderi fabric's luxurious and radiant qualities make it a go-to choice for those seeking an elevated and sophisticated look.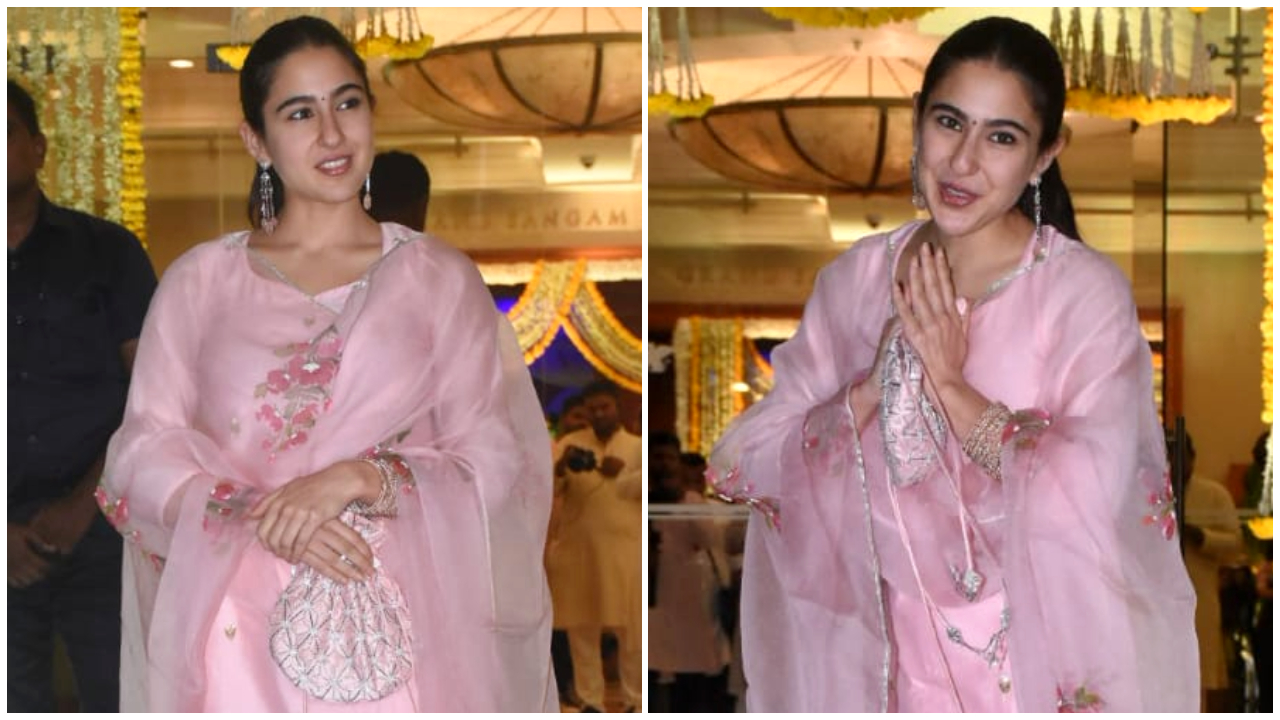 Sara Ali Khan's choice to wear Chanderi fabric in her Muksweta by Mukund and Ms Shweta ensemble further highlights her penchant for timeless elegance and her understanding of the beauty and allure of luxurious materials. The fabric's shine and radiance perfectly complemented her natural beauty, creating a memorable and captivating fashion moment.
The hand-painted organza dupatta with a floral print in pink and green adorned with mini white beads and silver gota work must have been a sight to behold. Such intricate detailing can truly make an outfit stand out and create an exquisite appearance.
Moreover, her fully accessorized getup adds a touch of elegance and charm. The drop earrings with tiers would have undoubtedly complemented her look, adding a hint of sophistication. The bangles would have added a touch of traditional beauty, and the embroidered potli bag would have been a practical yet stylish addition to complete her ensemble.
The anklets would have created a pleasant jingling sound as she walked, further enhancing the overall charm of her look. And of course, the juttis, traditional Indian footwear, would have not only been comfortable but also perfectly in sync with her outfit, completing the entire look.
It's evident that Sara's attention to detail in her outfit and accessories made her appearance enchanting and truly fabulous. Such a well-coordinated and adorned outfit would have surely left a lasting impression on everyone around her.
Styling your hair into a neat ponytail is indeed a timeless and versatile option, especially during Summer and Monsoon when the weather can affect your hair's appearance and manageability. A well-done ponytail can look chic, keep your hair off your face, and prevent it from getting too frizzy or messy due to humidity.
To achieve a polished ponytail look, follow these steps: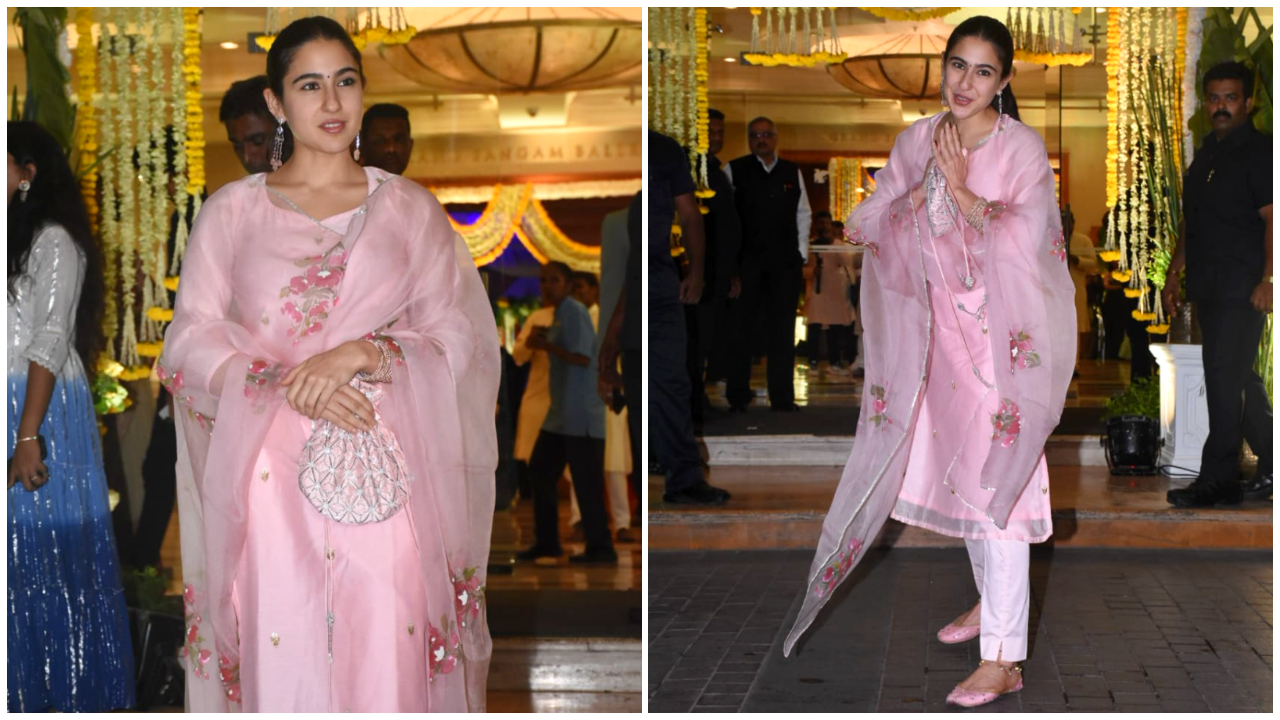 Start with clean and dry hair: Wash and condition your hair, and allow it to dry completely before styling.
Brush and detangle: Use a brush to remove any knots or tangles from your hair, ensuring it's smooth and ready for styling.
Choose your ponytail placement: Decide whether you want a high, mid, or low ponytail. You can also experiment with a sleek or slightly tousled look.
Secure the ponytail: Gather your hair at the desired height and use a hair tie or elastic to secure it. Make sure it's not too tight to avoid damaging your hair.
Conceal the hair tie (optional): You can take a small section of hair from the ponytail and wrap it around the hair tie to conceal it, securing it with a bobby pin.
Finishing touches: Apply a small amount of hair serum or oil to tame any flyaways and add shine to your ponytail.
Regarding Sara's makeup look, it sounds like she went for a classic and elegant style. Here's how you can achieve a similar makeup look:
Kohl: Apply kohl or kajal to your waterline and along your upper lash line to define your eyes and give them a smoldering look.
Bindi: If you like, you can apply a bindi at the center of your forehead, just above the eyebrows. This is a traditional Indian element that adds an element of grace and elegance to the overall look.
Brown lipstick: Choose a brown lipstick shade that complements your skin tone. Brown lipsticks can create a sophisticated and warm look. Top it off with a clear lip gloss to add a subtle shine.
Remember, everyone's hair and skin are unique, so feel free to adapt these styling tips and makeup choices to suit your preferences and features.