Alia Bhatt Empowers Formal Elegance: Elevating with a Crop Jacket and Flared Pants by Shantanu and Nikhil
In the ever-evolving world of fashion, the emergence of new trends and styles constantly delights fashion enthusiasts. Alia Bhatt, a symbol of grace and poise, recently redefined formal wear standards with her breathtaking appearance in a Shantanu and Nikhil ensemble. The outfit she adorned, designed by the celebrated duo, showcased a refreshing take on sophistication and modern elegance, further solidifying her status as a style icon.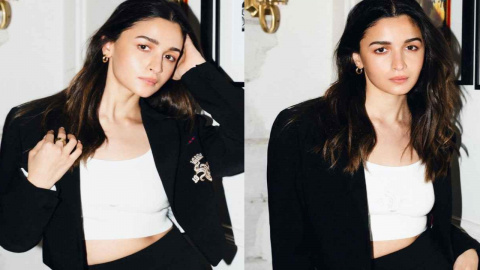 The ensemble worn by the Rocky Aur Rani Kii Prem Kahaani actress featured a chic crop jacket paired with wide-legged pants, capturing the essence of contemporary sophistication. This ensemble wasn't merely a clothing choice but a testament to Alia's ability to seamlessly integrate different elements to create a harmonious and impactful look.
The crop jacket, a focal point of the ensemble, encapsulated both power and style. Its tailored structure, along with its length that sat just above the waistline, exuded a sense of confidence and authority. Meanwhile, the wide-legged pants introduced a touch of fluidity and movement, striking a perfect balance between structure and ease.
The ensemble's modern allure was emphasized through the choice of silhouette and the use of minimalist yet impactful detailing. Shantanu and Nikhil's design masterfully combined clean lines, subtle embellishments, and a unique sense of proportion, resulting in an ensemble that was both visually striking and gracefully understated.
By donning this Shantanu and Nikhil creation, Alia Bhatt not only showcased her sartorial acumen but also set a new benchmark for formal wear. Her appearance radiated modern elegance and redefined the boundaries of sophistication. As a fashion influencer, she continues to inspire and push the envelope, reminding us that fashion is a canvas for self-expression, creativity, and the celebration of evolving trends.
Alia Bhatt has held a lasting influence in the fashion realm, renowned for effortlessly pulling off a wide spectrum of looks. Her recent appearance in a black and white ensemble designed by Shantanu and Nikhil further exemplifies her distinct approach to fashion. The outfit she elegantly sported is a testament to her knack for combining modern design with timeless sophistication, effectively making it a standout source of inspiration.
The ensemble she wore highlights a remarkable fusion of contemporary aesthetics and enduring grace, illustrating her impeccable fashion sense. At the core of her look is the Shantanu and Nikhil Cricket Club exclusive crop jacket, a statement piece that encapsulates her unique style.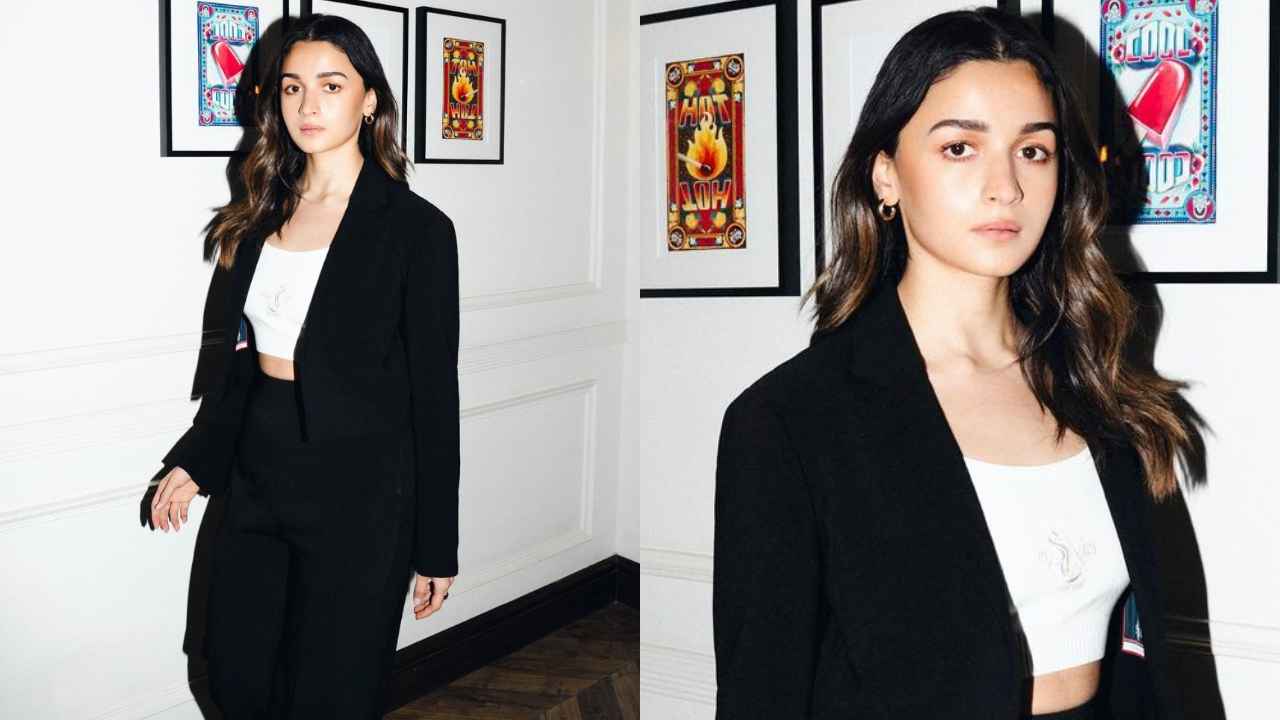 The choice of this ensemble showcases Bhatt's ability to effortlessly marry different elements to create a cohesive and striking ensemble. The black and white color palette adds a classic touch, while the modern design of the crop jacket injects a contemporary flair. It's this blend of traditional and current that lends the outfit its standout quality.
Alia Bhatt's choice of attire in this Shantanu and Nikhil creation demonstrates her status as a true fashion influencer. Her ability to confidently carry off diverse styles is evident once again in this ensemble, capturing the essence of her fashion-forward persona. By skillfully embracing this blend of contemporary and timeless, she not only sets trends but also serves as a source of inspiration for those who value both innovation and elegance in their wardrobe choices.
Meticulously crafted, the black masterpiece that is the Shantanu and Nikhil Cricket Club exclusive crop jacket serves as a remarkable testament to the label's dedication to creating stylish and innovative attire. Priced at Rs. 26,500, this cropped jacket seamlessly strikes the equilibrium between contemporary daily wear and a vibrant, youthful spirit. Its design embodies clean lines and flawless tailoring, effectively mirroring Alia Bhatt's innate fashion sensibility.
This cropped jacket is more than just a garment; it embodies a blend of modernity and timeless elegance, much like Alia herself. The attention to detail and precision in its construction stand as a testament to the label's commitment to delivering high-quality pieces that captivate and inspire.
The price tag reflects the jacket's unique craftsmanship and the careful thought that went into its creation. It's not just an article of clothing but a statement piece that resonates with those who appreciate the marriage of style, innovation, and excellence.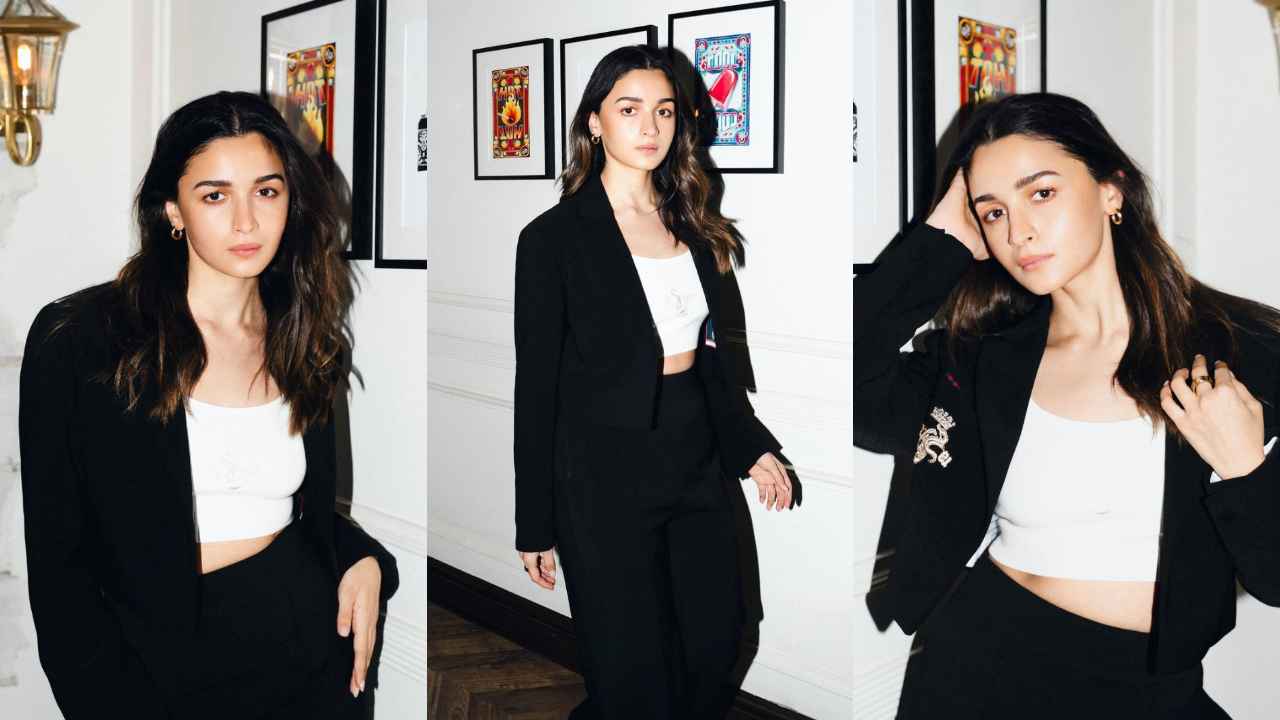 The clean lines of the jacket and its impeccable tailoring mirror Alia's personal style, showcasing her natural flair for fashion. Yet, it's more than just aesthetics – the jacket radiates a sense of confidence, aligning seamlessly with Alia Bhatt's own vibrant personality.
In essence, this Shantanu and Nikhil creation epitomizes the brand's dedication to producing distinctive and forward-thinking attire. By donning this jacket, Alia not only showcases her style prowess but also endorses the label's commitment to fashion that effortlessly encapsulates modernity, sophistication, and youthful exuberance.
Adding to the ensemble's allure are the black flared trousers, valued at Rs. 14,500. These wide-legged pants contribute a sense of sophistication while offering a canvas for Alia Bhatt to express her daring fashion preferences. The pants gracefully drape around her figure, harmoniously flowing with her every movement, thus accentuating her natural grace and charm.
Alia Bhatt's fashion choices are often characterized by an infusion of playful elements that inject vibrancy into her looks. In this ensemble, a white cropped top lies beneath the cropped jacket, strategically introducing a pop of color. This thoughtful addition deftly breaks away from the monochromatic scheme, introducing an element of contrast that enlivens the overall aesthetic.
The cropped top not only introduces color but also showcases Bhatt's ability to layer and combine pieces creatively. This layering technique adds dimension and depth to the outfit, contributing to its overall visual impact.
To harmonize with the ensemble's modern appeal, Alia selected minimalist gen-Z-approved hoop earrings, effortlessly enhancing her look. These earrings reflect her awareness of contemporary trends and her ability to incorporate them seamlessly into her style.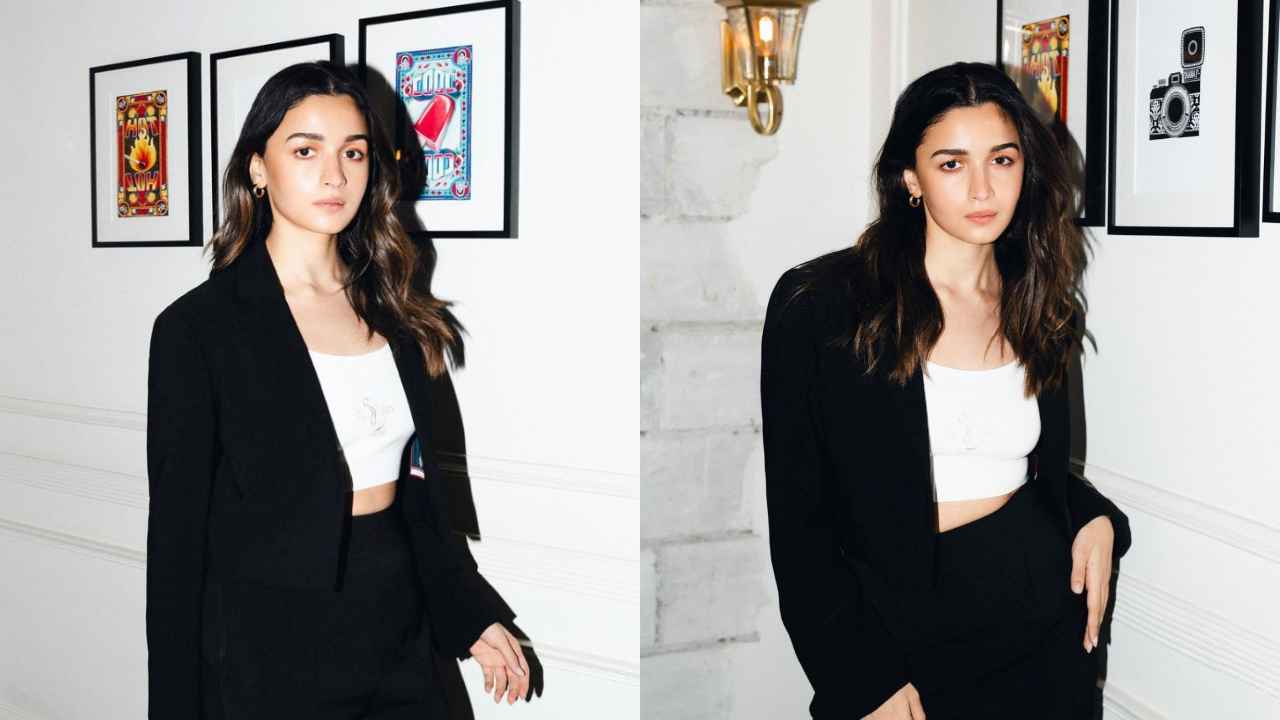 Completing the ensemble's accessory repertoire is a matching ring, perfectly encapsulating the minimalist aesthetic that defines the gen-Z fashion scene. These accessories contribute to the ensemble's overall cohesiveness, underscoring Alia Bhatt's ability to masterfully curate an outfit that combines elements of boldness, sophistication, and modernity.
In the ever-changing landscape of fashion, Alia Bhatt continues to excel as a trendsetter. By incorporating these distinctive elements into her ensemble, she not only showcases her understanding of fashion but also solidifies her status as a fashion icon who isn't afraid to experiment and evolve.
Maintaining harmony with the ensemble's simplicity and elegance, Alia Bhatt's makeup and hairstyle exuded understated yet significant impact. Her makeup was a study in subtle radiance, featuring a delicate touch of blush, luminous highlighter, and a soft baby peach lipstick. This makeup approach highlighted her natural beauty while adding a gentle glow that complemented the ensemble's overall aesthetic.
In line with the ensemble's effortless charm, her hair was styled into loose curls that cascaded gracefully down her shoulder. This hairstyle not only enhanced her overall allure but also provided a touch of romanticism that resonated with the ensemble's contemporary sophistication.
Alia Bhatt's innate ability to seamlessly blend contemporary elements with classic design elements shone through in this appearance. The way she curated her makeup and hairstyle demonstrated her astute understanding of how each facet of her appearance contributes to the overarching fashion narrative.
Once again, with this appearance, Alia Bhatt reaffirms her position as a bona fide fashion icon. Her ability to inspire fashion enthusiasts to embrace experimentation, individuality, and a redefined sense of elegance is a testament to her influence and creativity. Her ability to consistently redefine and evolve her style, while embracing both modern and timeless elements, serves as a guiding light for those who seek to express themselves through fashion.