Deepika Padukone Elevates the Glam Quotient with a Classic Monochrome Look and Louis Vuitton's Rs 2.35 Lakh Power Bag
Deepika Padukone's fashion journey has been nothing short of remarkable. From her early days in the industry to becoming a global icon, she has consistently displayed a keen eye for style and a penchant for pushing fashion boundaries. Her sartorial choices range from traditional Indian ensembles to contemporary couture, and she effortlessly carries each look with confidence and grace.
One of Deepika's standout features is her ability to experiment with different styles and silhouettes. Whether she's rocking a glamorous red carpet gown, a chic androgynous outfit, or a traditional saree, she always manages to make a statement. Her versatility in styling is reflective of her personality – bold, fearless, and unafraid to embrace new trends.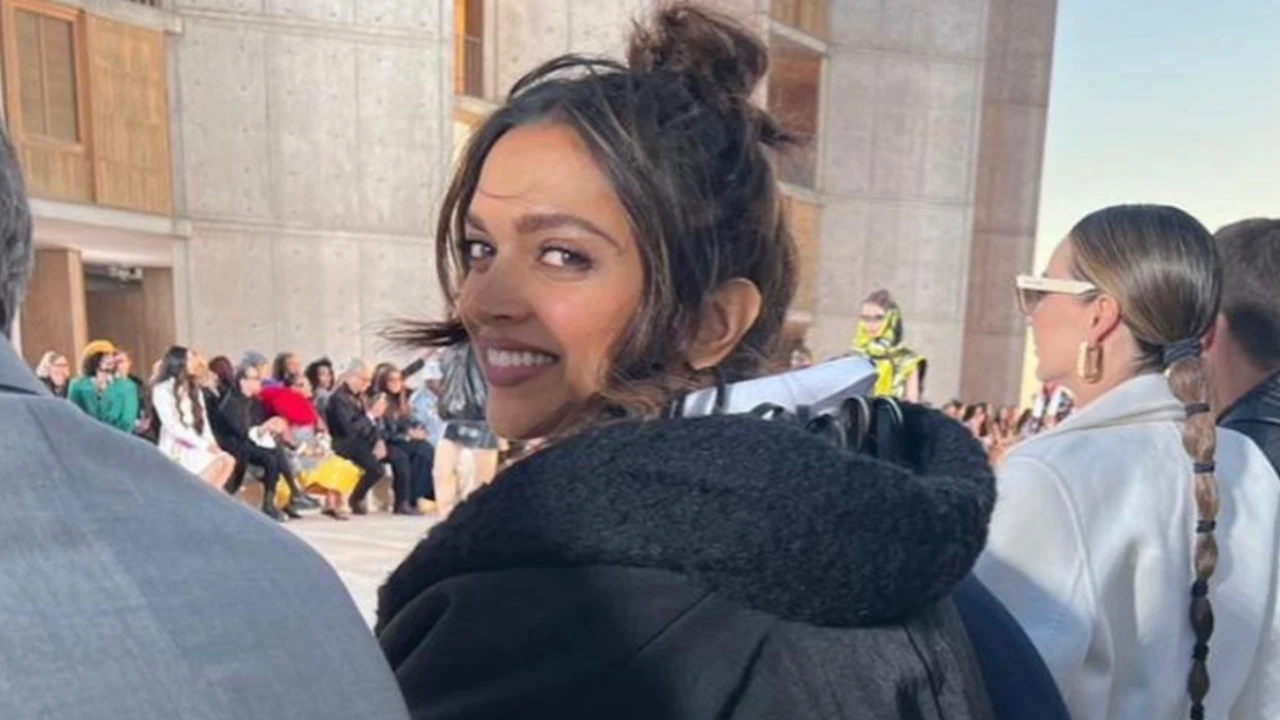 What sets Deepika apart as a fashion icon is not just the outfits she wears, but how she carries herself in them. Her poise, confidence, and charismatic presence elevate every ensemble she dons. Her collaboration with various designers and brands has resulted in iconic red carpet moments, cementing her status as a trendsetter.
Deepika's attention to detail is evident in her choice of accessories, hair, and makeup. Each element is carefully curated to complement and enhance her overall look. Her stunning appearances at international events like the Cannes Film Festival have garnered worldwide attention, solidifying her as a global fashion icon.
In addition to her public appearances, Deepika also uses her fashion influence for philanthropic and social causes. Her advocacy for mental health awareness, body positivity, and gender equality is often reflected in her fashion choices, sending powerful messages through her style.
Deepika Padukone's recent black and white ensemble is a testament to her timeless and sophisticated fashion sense. The outfit she chose effortlessly combines classic elements with a modern twist, showcasing her impeccable style.
For this particular look, Deepika opted for a white oversized shirt that exuded a sense of effortless chic. The crisp white shirt serves as the perfect canvas for the rest of the ensemble. The shirt's relaxed fit and slightly elongated length create an air of casual elegance, while its sharp collar adds a touch of refinement.
To balance the casual vibe of the shirt, Deepika paired it with tailored black trousers. The choice of black bottoms adds a polished and sleek touch to the overall look, creating a harmonious contrast with the white shirt. The tailored fit of the trousers accentuates her silhouette and adds a touch of sophistication.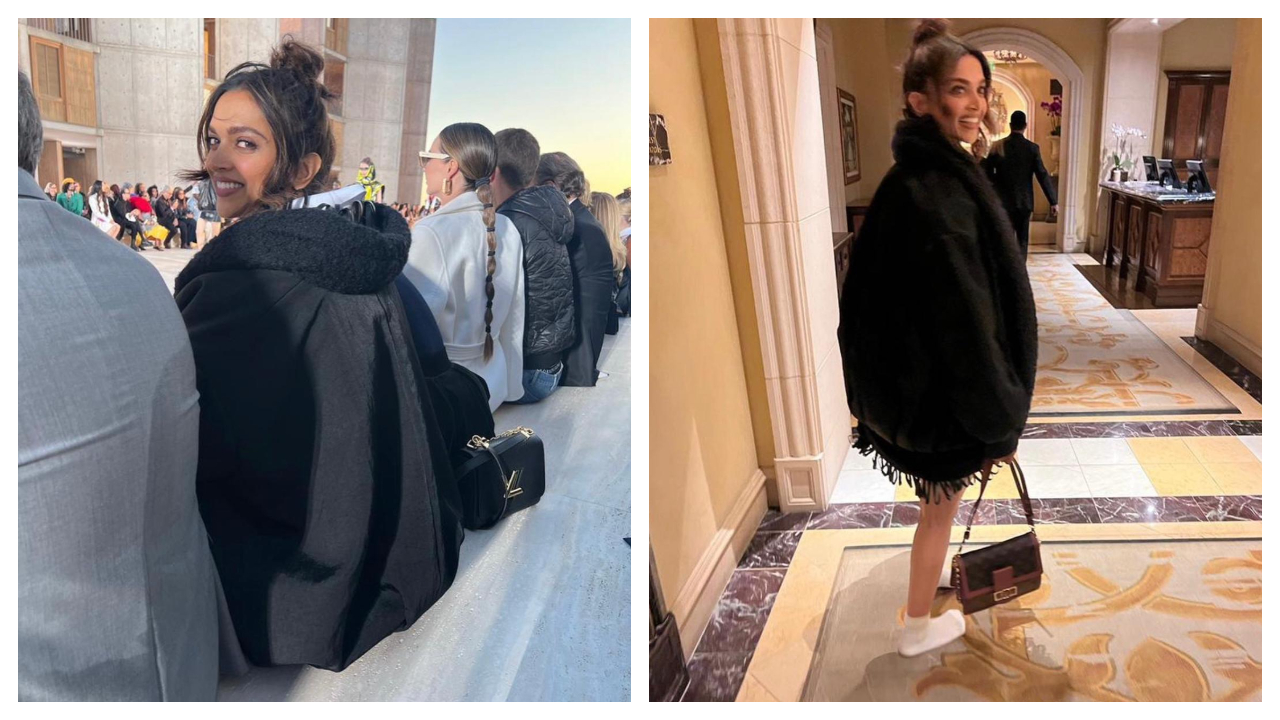 What truly elevates this ensemble is Deepika's choice of accessories. She accessorized the outfit with a stunning Louis Vuitton bag, which serves as a statement piece. The bag's design and structure add a touch of luxury and high fashion to the overall look. The interplay between the black and white elements of the outfit and the bag creates a visually striking and cohesive appearance.
Deepika's minimalistic approach to accessories and jewelry allows the outfit to take center stage. Her hair and makeup are equally understated, with a sleek low bun and a natural makeup look. This approach highlights her facial features and allows her outfit to be the focal point.
Deepika Padukone's choice to complement her ensemble with the Louis Vuitton Monogram Reverse Canvas MM Dauphine Bag speaks volumes about her understanding of luxury fashion and her ability to curate a complete and cohesive look.
The Louis Vuitton Monogram Reverse Canvas MM Dauphine Bag is not only a statement of opulence but also a symbol of timeless elegance. The iconic LV monogram pattern rendered in reverse canvas adds a contemporary twist to the classic design, making it a versatile accessory that can be effortlessly integrated into various styles.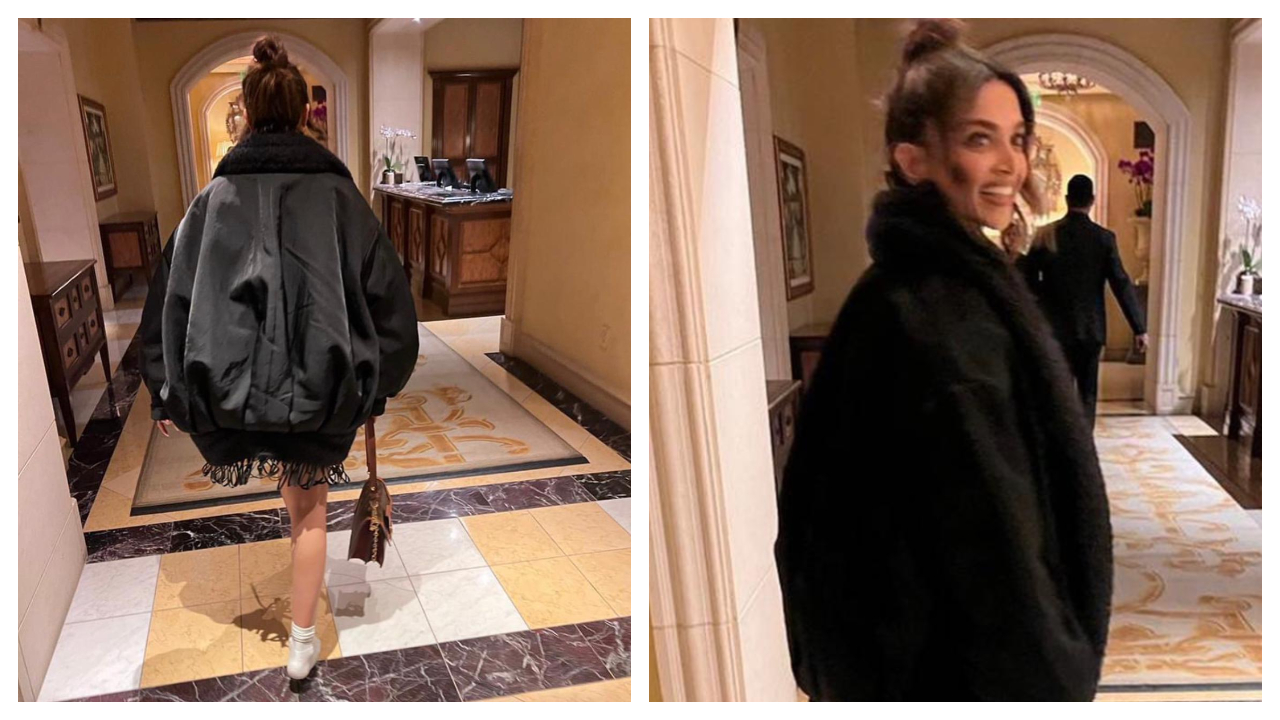 By selecting this exquisite Louis Vuitton bag, Deepika Padukone underscores her fashion acumen and appreciation for quality craftsmanship. The bag's intricate details, impeccable finishing, and premium materials align perfectly with her overall aesthetic.
In terms of makeup and hair, Deepika's choice of a subtle makeup look with nude lips complements the outfit's monochromatic palette and allows the ensemble to take center stage. The messy bun adds a touch of effortless chic and balances the formality of the coat with a relaxed yet polished vibe.
Deepika's ability to seamlessly integrate luxury accessories like the Louis Vuitton bag into her ensemble showcases her mastery of fashion curation. This look not only highlights her affinity for high-end fashion but also her knack for combining different elements to create a cohesive and visually appealing appearance.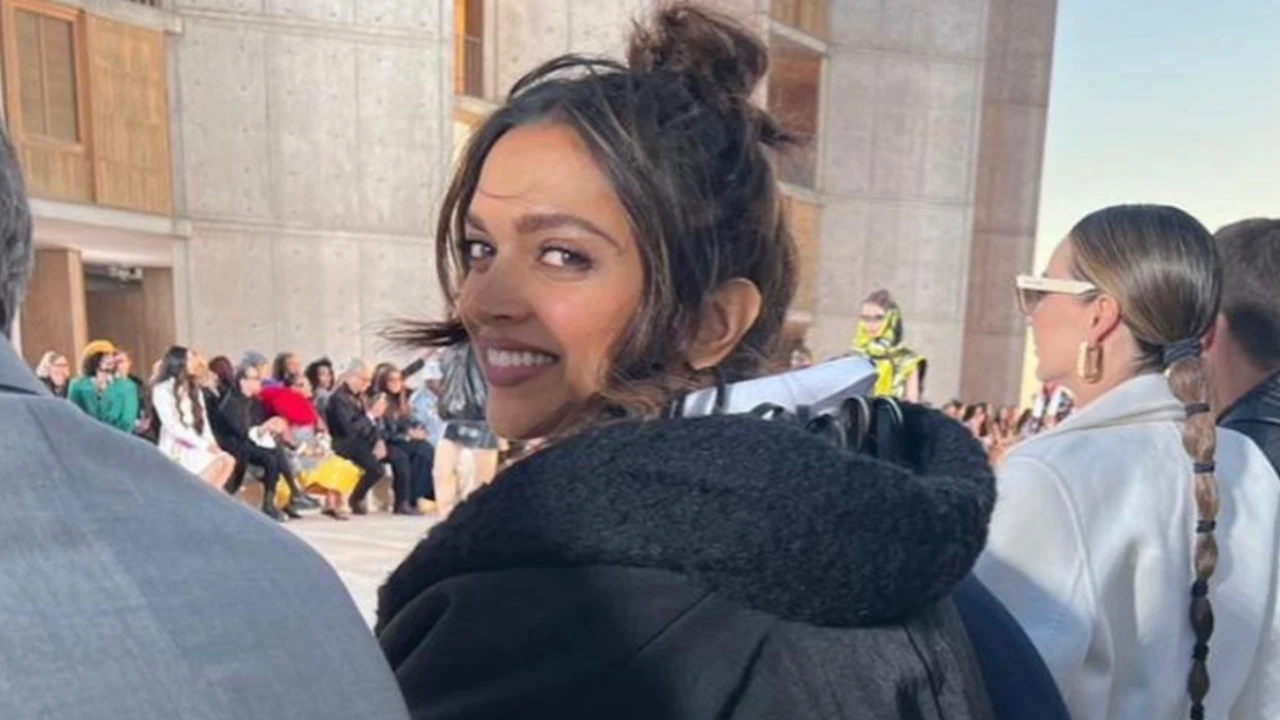 Absolutely, Deepika Padukone's style is indeed a source of inspiration and admiration for fashion enthusiasts around the world. Her ability to effortlessly blend elegance, sophistication, and trendiness in her outfits demonstrates her deep understanding of fashion and her keen sense of personal style.
Deepika's fashion choices go beyond just wearing clothes; they are a reflection of her personality and confidence. Whether she's on the red carpet, attending events, or simply spotted on the streets, she consistently manages to make a statement with her outfits.
Her versatility in experimenting with various styles, from traditional Indian attire to modern and edgy looks, showcases her adaptability and willingness to push fashion boundaries. Each outfit she wears tells a story and resonates with her audience, allowing her fans to connect with her on a deeper level.
Deepika's collaboration with luxury brands and her ability to seamlessly incorporate high-end pieces into her looks further solidify her status as a trendsetter. Her attention to detail, from accessories to makeup and hair, demonstrates her dedication to creating a complete and harmonious look.
Indeed, Deepika Padukone's influence on fashion extends beyond the surface; she has the ability to inspire individuals to embrace their own unique style and experiment with different fashion choices. Her impact on the industry is undeniable, and she continues to set new standards for elegance, creativity, and self-expression through fashion.