Priyanka Chopra Jonas channels her inner green goddess in Valentino's gown
The world of glitz and glamour is often governed by the ever-changing tides of fashion, and yet Priyanka Chopra Jonas, a name that resonates with grace, elegance, and unrelenting talent, constantly remains on the top. Priyanka's enduring influence in both the entertainment industry and the fashion world is a testament to her remarkable versatility and ability to adapt to the ever-evolving landscape of showbiz. She effortlessly embodies the spirit of a true global icon, captivating audiences around the world with her undeniable charisma and talent.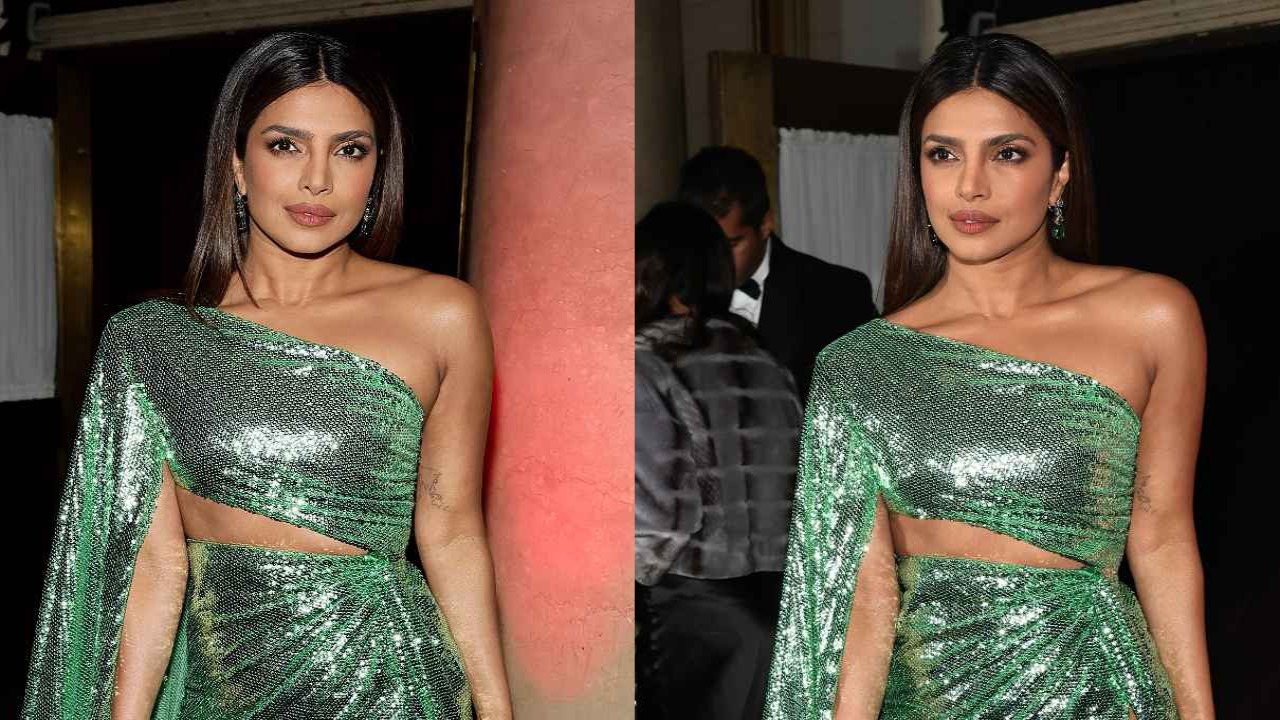 The fashion world witnessed an electrifying transformation as the global icon stepped onto the red carpet of the prestigious DKMS Gala 2023 in New York City. Priyanka Chopra Jonas has a unique ability to command attention and leave a lasting impact with her appearances, and this gala was no exception. Her presence was not just about a red carpet walk; it was a celebration of her remarkable journey from Bollywood to Hollywood, and a reflection of her position as a trailblazer in the entertainment and fashion industry.
The global icon, known for her versatility in both her acting skills and fashion game, left everyone in awe with her stunning appearance. Priyanka's red carpet choices are always highly anticipated, and she has an innate talent for choosing outfits that perfectly complement her beauty, confidence, and personality. Her appearance at the DKMS Gala 2023 once again solidified her status as a fashion and style trendsetter, and her influence continues to shine brightly in the worlds of both cinema and fashion.
Priyanka Chopra made a dazzling entrance at the DKMS Gala 2023. The talented "What's Your Raashee" actress' emerald-green sequin gown was nothing short of a definite showstopper. Priyanka's fashion choices are always eagerly awaited, and this gown did not disappoint. The stunning emerald-green hue, adorned with glistening sequins, created a mesmerizing effect that captivated all onlookers. The gown itself was a work of art, meticulously designed by the renowned fashion house, Valentino, showcasing the perfect marriage of timeless elegance and contemporary allure. Priyanka's choice of this gown highlighted her unerring sense of style and her ability to make a lasting impression in the world of fashion.
In a striking display of fashion innovation, the ensemble donned by the talented Citadel actress featured a bold and eye-catching one-shoulder cape. This dramatic cape elegantly cascaded down her back, creating a mesmerizing effect that left onlookers in awe. The flowing train of the cape added depth to her outfit, providing an element of theatricality and grandeur that perfectly suited the red carpet occasion.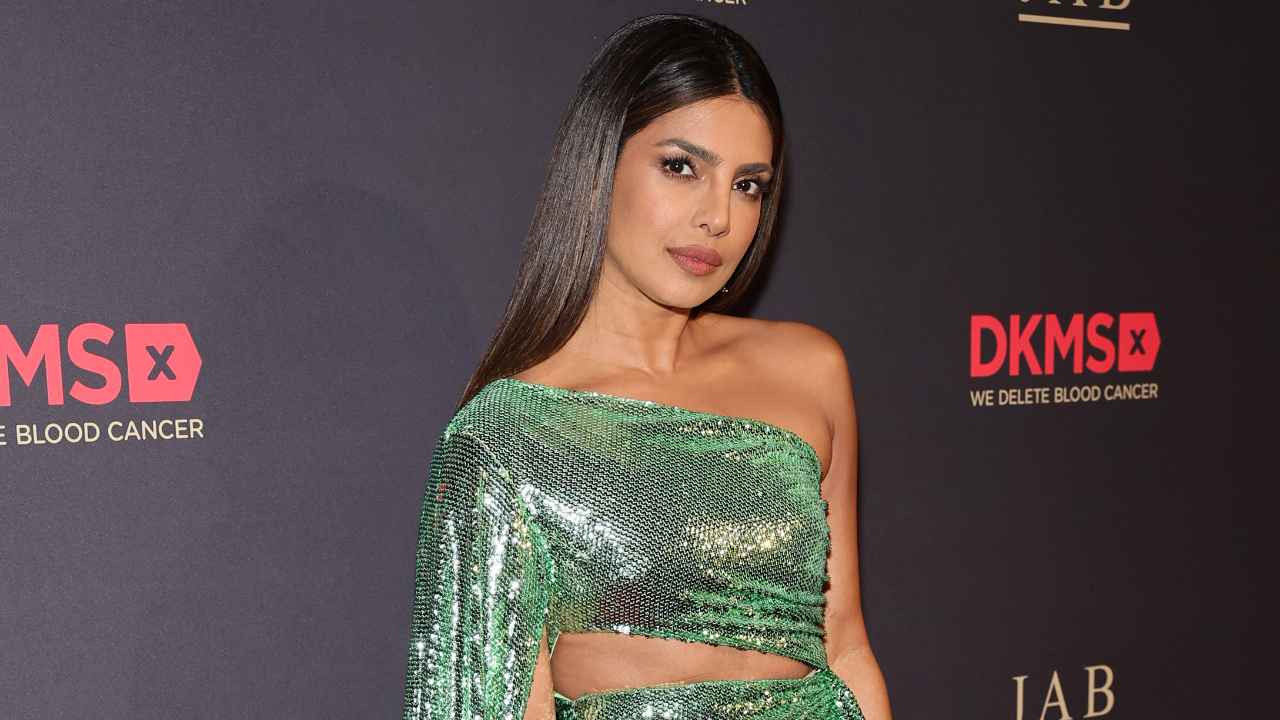 Not only did the one-shoulder cape captivate attention, but it also served to accentuate the actress's silhouette. As it gracefully flowed down her back, it drew the eye to her figure, enhancing her overall presence. The flowing lines of the cape worked in harmony with her body, resulting in a captivating synergy between fashion and form that was nothing short of mesmerizing.
What set this gown apart even further was its daring and unique design. A bold cutout at the chest, situated on one side, revealed a tantalizing glimpse of the talented actress's toned midriff. This unexpected element injected a sense of intrigue and sensuality into the ensemble, making a powerful statement about her confidence and fearless sense of style. It was a testament to her willingness to push boundaries and experiment with fashion, cementing her status as a true trendsetter on the red carpet.
In sum, this one-shoulder cape gown, with its cascading train and alluring cutout design, was a breathtaking testament to the actress's bold fashion choices and her innate confidence. It showcased her ability to seamlessly blend art and style, making her a captivating presence on any red carpet event.
Adding to the allure of the actress's outfit was a tastefully designed thigh-high slit that elegantly exposed her long and graceful legs. This subtle yet striking detail brought a touch of sensuality to the ensemble, balancing the overall sophistication with a hint of sultriness. It was a masterful choice that not only highlighted her impeccable fashion sense but also accentuated her natural beauty and grace.
The ensemble, as a whole, was a harmonious fusion of sophistication and seduction. With its one-shoulder cape, captivating train, daring chest cutout, and the enticing thigh-high slit, it managed to strike a perfect balance between refined elegance and sultry allure. This combination of elements showcased the White Tiger actress's ability to make a profound fashion statement that left a lasting impression on the red carpet.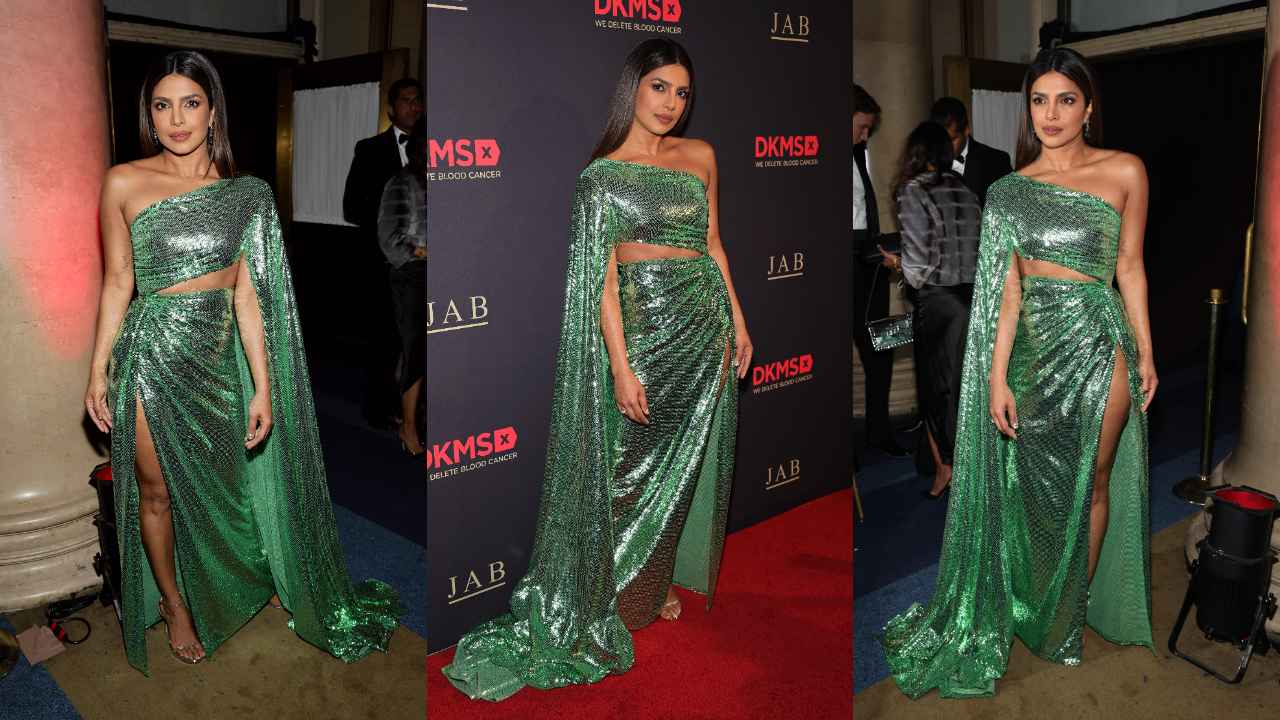 To say that we were obsessed with her outfit would indeed be an understatement. Her choice of attire was nothing short of a fashion masterpiece, a true work of art that exemplified her unique style and confident personality. It was a look that will undoubtedly be remembered and celebrated in the world of fashion and entertainment, a testament to her status as a style icon.
In a further display of her fashion supremacy, the Fashion actress showcased a minimalist approach to accessories that underscored her impeccable taste. She evidently understood that when the gown itself is a masterpiece, less is often more. This sartorial wisdom shone through in her accessory choices, demonstrating her confidence and understanding of the power of understated elegance.
To complement the already remarkable gown, the Barfi actress opted for a pair of silver sandals and dangly silver earrings. These accessories added a touch of sophistication to her outfit without overwhelming the overall look. The silver sandals provided an elegant yet unobtrusive foundation, allowing the gown to remain the central focus. The dangly silver earrings framed her face beautifully, adding a subtle touch of sparkle and grace that perfectly harmonized with the gown's aesthetic.
Her choice of a sparkly silver mani-pedi was yet another revelation in the art of fashion coordination. It was a small but significant detail that tied the entire ensemble together seamlessly. The silver accents on her nails not only echoed the metallic elements in her accessories but also added a touch of glamour and cohesiveness to the overall look. It was a demonstration of her meticulous attention to detail and a testament to her innate fashion sensibilities.
In summary, the actress's minimalist approach to accessories was a reflection of her fashion prowess. Her choice of silver sandals, dangly earrings, and a sparkly silver mani-pedi highlighted her ability to make thoughtful, refined decisions that enhanced her outfit without overshadowing its inherent brilliance. It was a masterclass in the art of fashion coordination, solidifying her reputation as a true style icon.
Anomaly's founder's hair and makeup game were nothing short of remarkable. The Krrish actress demonstrated a keen understanding of how to enhance her overall look with carefully chosen beauty elements. Her lip color, a matte terra-cotta shade, was a stroke of genius. It not only added warmth to the cool tones of her attire but also provided a striking contrast that drew attention to her lips, creating a captivating focal point in her makeup.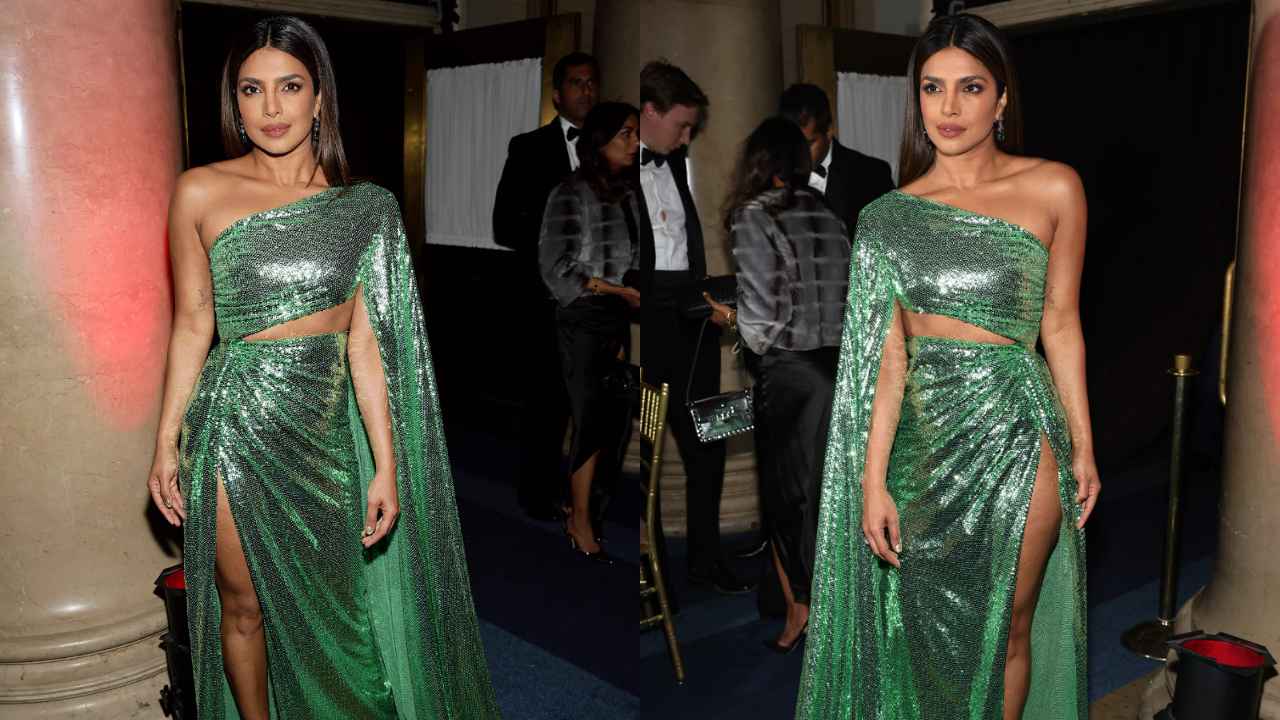 To further elevate her outfit, the actress opted for silver eyeshadow that enhanced the metallic elements of her gown. This choice brought a touch of glamour and cohesion to her overall look. Her rouged cheeks and highlighted cheekbones added a subtle glow to her complexion, imparting a healthy and radiant appearance that perfectly complemented her ensemble.
Turning to her hair, the Don 2 actress showcased a sleek and sophisticated hairstyle that was meticulously styled. The sorted and sleek look not only accentuated her facial features but also created a remarkable contrast to the dramatic and extravagant aesthetic of her glittery gown. This contrast served to balance her appearance, ensuring that her hair and makeup harmonized with the overall grandeur of her outfit.
In essence, the actress's hair and makeup choices were spot-on, adding an extra layer of refinement and allure to her look. The matte terra-cotta lip, silver eyeshadow, rouged cheeks, and highlighted cheekbones all worked in harmony to enhance her natural beauty and complement her gown. Coupled with her sleek hairstyle, it was a lesson in how attention to detail can truly make a red carpet appearance unforgettable.