Bookmark Suhana Khan's all-black fit with Rs. 2,56,376 Chanel bag for your day-night outing dilemmas
The entertainment industry is undeniably dynamic and ever-evolving, with fresh actors and actresses constantly emerging on the horizon, each vying to carve out their own unique space. Among these newcomers, many from the Gen-Z generation have been making a significant impact, effortlessly combining their talent with a strong sense of fashion, effectively capturing the hearts of their audiences.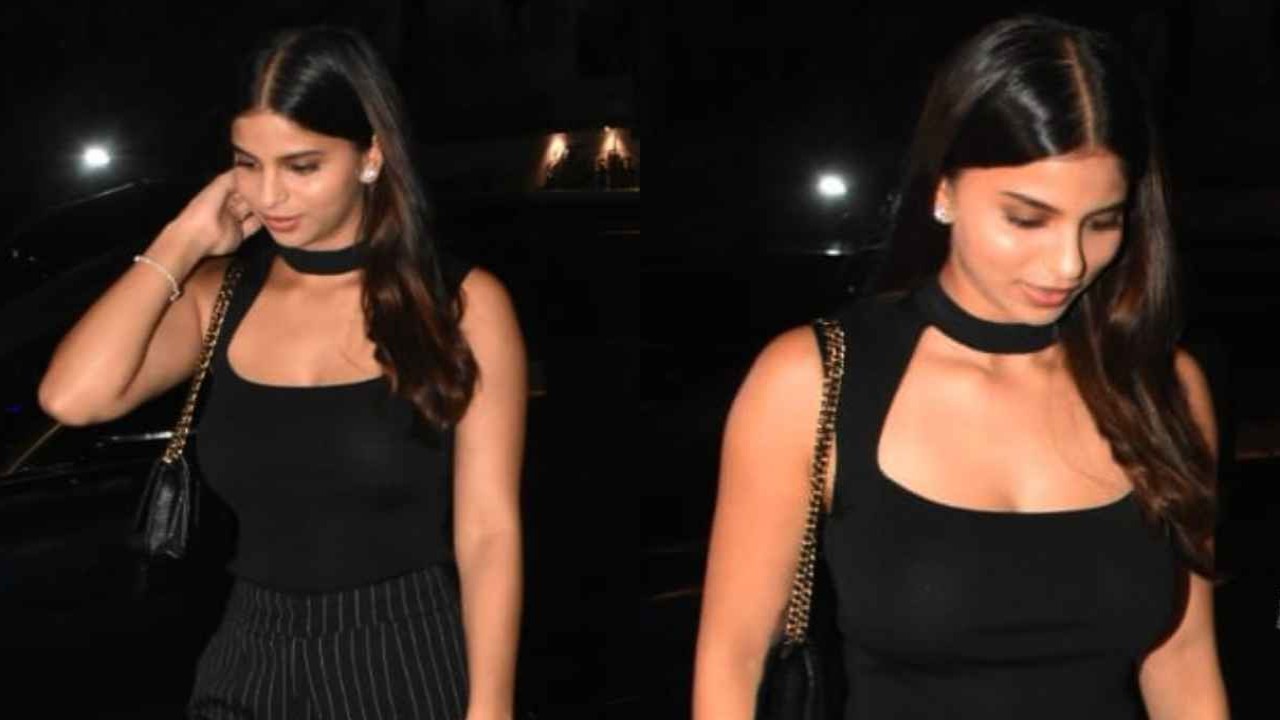 Amid this influx of emerging talents, it's clear that Suhana Khan stands out as a class apart. The talented actress known for her role in The Archies is slowly but surely making her mark as a style icon for the youth. Her fashion choices are not just noteworthy; they are nothing short of iconic. Her ability to blend sophistication with youthful exuberance sets her apart, making her a role model for her peers.
It's undeniable that Suhana Khan's fashion-forward choices have captured the attention and admiration of many. Her unique style sensibilities and her willingness to experiment with fashion trends show her exceptional taste and confidence. She is, without a doubt, an embodiment of the evolving landscape of style and talent in the entertainment industry, and her journey is one that's worth watching and celebrating. To say we are obsessed with her fashion-forward choices is an understatement; we are captivated by her ability to redefine contemporary style.
Suhana Khan recently garnered paparazzi attention when she was spotted right outside her father, King Khan's party. For the occasion, she made a fashion statement by donning ASTR's Justine ribbed knit cutout sleeveless top, which is priced at approximately Rs. 3,494. This stylish and classy ribbed knit top was not only affordable but also incredibly trendy.
The ASTR Justine top featured a striking front cutout right at the chest, adding a touch of boldness and allure to her outfit. What made this piece even more intriguing was its attached choker-like neckline, creating a fashionable and eye-catching detail. The stylish keyhole back further added to the top's charm, allowing Suhana to make a fashion statement from both the front and the back. Her choice of this top undoubtedly showcased her keen sense of style and her ability to effortlessly blend sophistication with contemporary fashion trends, making her a style icon to watch.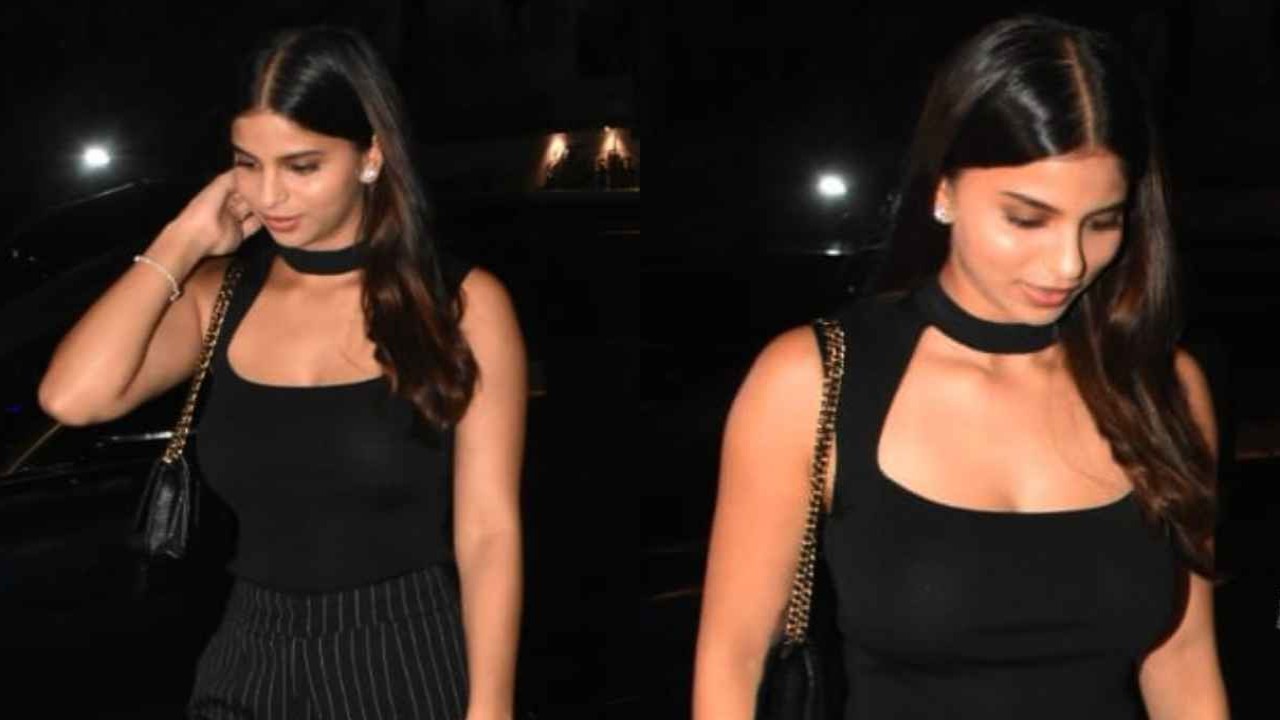 Suhana Khan effortlessly combined style and sophistication in her latest outfit, featuring the trendy Kittie pants from Tiger Mist, which are priced at approximately Rs. 4,730. These pants offer a striking pinstripe print that adds a touch of class to any ensemble. Crafted from a stretch woven fabric, they provide both comfort and style, making them a perfect choice for a fashion-forward look.
What makes these pants stand out is their unique design. They are tailored to fit snugly through the hips and thighs, accentuating your curves, and then gracefully flare out at the ankles. This flattering silhouette creates an elegant and elongated look, making them a versatile addition to any wardrobe.
One of the standout features of these pants is the thick asymmetrical waistband. It not only adds an element of bold fashion but also provides a comfortable and secure fit. The classy faux back pockets add to the overall aesthetic, elevating these pants from ordinary to extraordinary.
Suhana Khan's choice of the Kittie pants from Tiger Mist showcases her impeccable fashion sense, making a statement with the combination of style, comfort, and unique design. Whether you're dressing up for a special occasion or simply want to turn heads in your day-to-day attire, these pants are a fantastic choice to consider.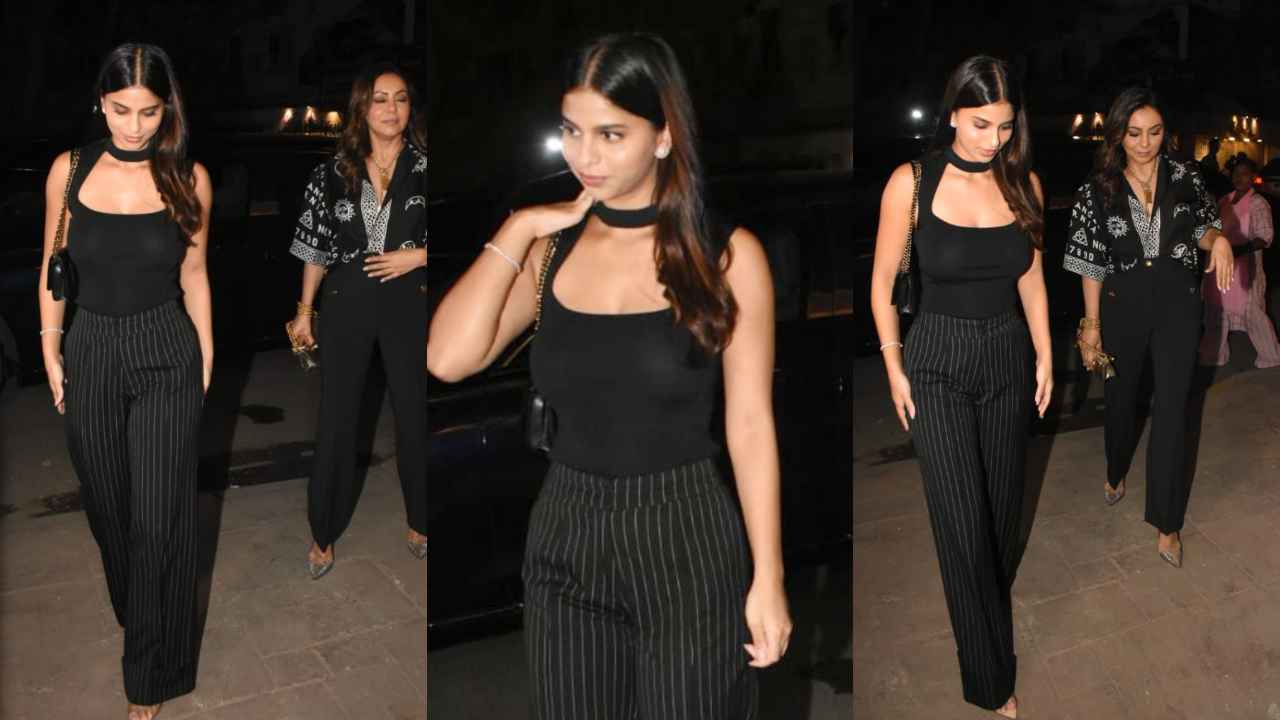 Suhana Khan's classy outfit doesn't stop at the elegant Kittie pants from Tiger Mist. To complete her sophisticated look, she opted for the Bree heels from Gianvito Rossi, which have an approximate price of Rs. 60,907. These high-end heels are a testament to timeless style and luxury.
The Bree heels feature a classic pointed-toe d'Orsay design, which is renowned for its elegance and versatility. This style is known for its unique cutout on one or both sides, creating a chic and open feel that adds a touch of modern flair to any outfit. Suhana's choice of the d'Orsay style speaks to her keen fashion sense and her ability to embrace classic elements while still staying on-trend.
These Italian-crafted heels are made from a soft and see-through plexi material, which adds a contemporary and sophisticated twist to the traditional d'Orsay design. The transparent elements create a striking visual effect, giving the illusion of longer legs and making them a perfect match for the Kittie pants, which flare out at the ankles.
Suhana Khan's choice to pair the Kittie pants with the Bree heels from Gianvito Rossi is a testament to her impeccable taste and her willingness to go the extra mile for a complete and stunning look. The combination of classic elegance and contemporary elements truly sets her outfit apart, making it a noteworthy ensemble for any fashion enthusiast.
Suhana Khan's impeccable sense of style extends to her choice of accessories, as she complements her outfit with the iconic Chanel Classic Wallet on the Chain bag. This particular version comes in a stunning silver-tone metal black color and is valued at approximately Rs. 2,56,376, reflecting the luxury and prestige associated with the Chanel brand.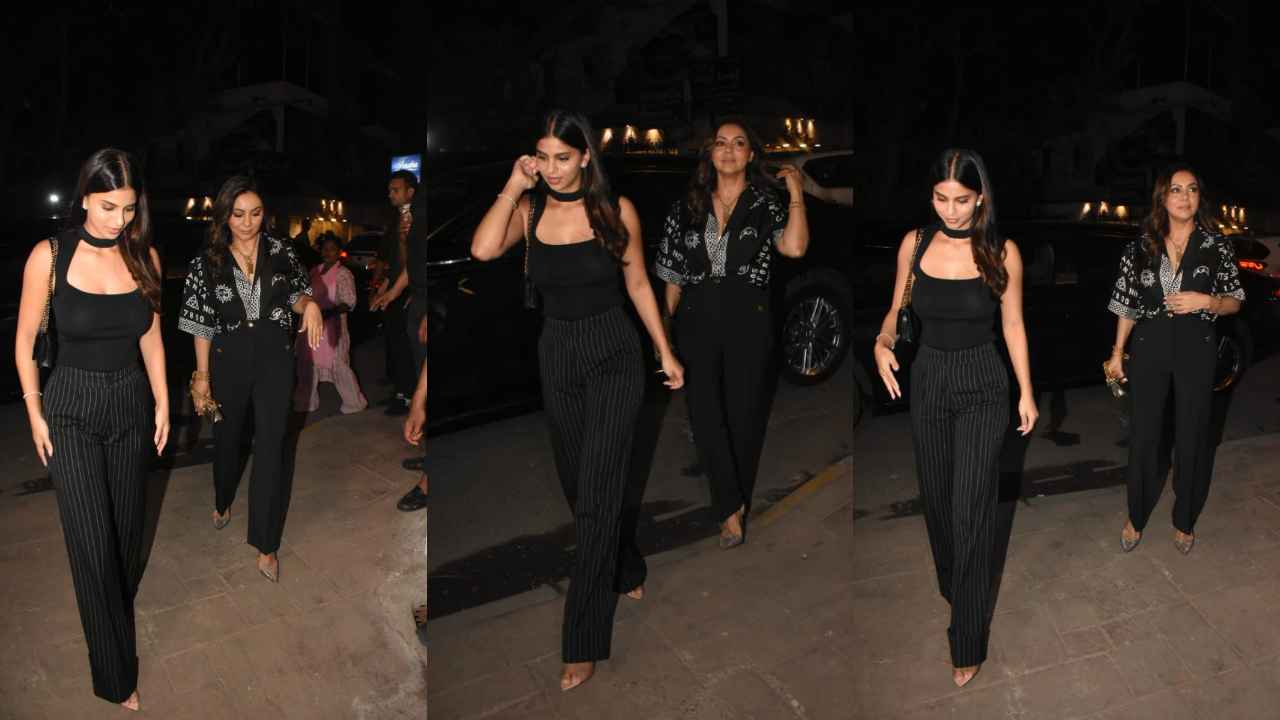 Handcrafted in Italy, this bag is a true work of art, showcasing the meticulous craftsmanship that goes into creating each Chanel piece. It features snap hardware and is adorned with a classy chain, allowing it to be effortlessly worn on the shoulder or carried as a clutch. The combination of the silver-tone metal and black color adds a touch of sophistication and versatility, making it a timeless addition to her ensemble.
To further enhance her elegant look, the talented actress opted for simple stud earrings and a matching bracelet. This choice demonstrates her commitment to maintaining a consistent and tasteful style, emphasizing that sometimes, less is more. Her choice of accessories not only complements her outfit but also elevates it to another level of sophistication.
Suhana Khan's fashion choices are nothing short of fabulous. Her attention to detail, from her clothing to her accessories, shows her appreciation for elegance and her ability to make fashion statements with refined subtlety. The Chanel Classic Wallet on the Chain bag, along with her choice of jewelry, completes her overall look, leaving us absolutely in love with her fashion choices.