Tamannaah Bhatia wears unconventional leather draped skirt with turtleneck bodysuit
Tamannaah Bhatia undoubtedly knows how to accentuate the allure of an all-black ensemble in an era where the color is often questioned for its captivating attributes. The talented actress has been on a roll with three consecutive major film roles, including her latest venture alongside Rajnikanth in "Jailer." It was during the celebration of the film's success that Tamannaah showcased her exceptional fashion sense. She exuded elegance and grace in a stunning black gown that left everyone in awe.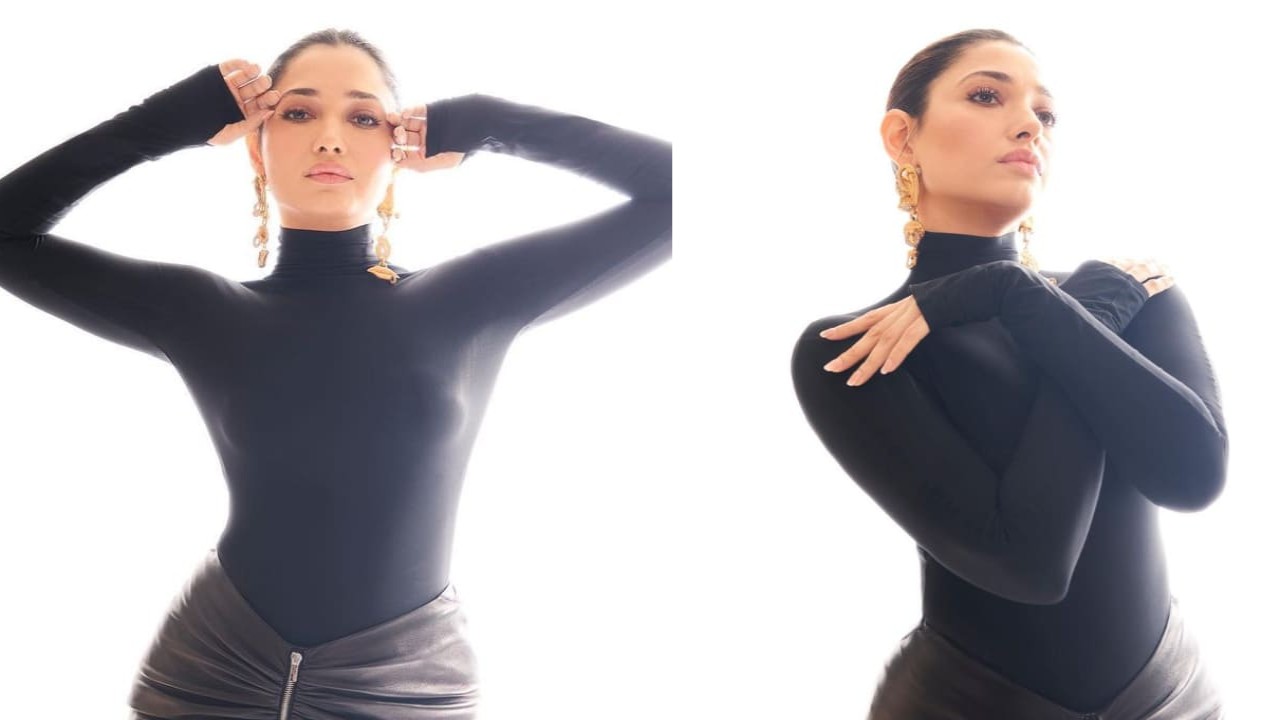 Tamannaah Bhatia effortlessly demonstrated the timeless allure of an all-black ensemble, seamlessly blending traditional and contemporary elements. Her beauty and innate charm were accentuated by the outfit's smart fusion of these features. The black ensemble paid homage to the eternal appeal of the color, reiterating that black remains a hue that will forever be in vogue.
Tamannaah Bhatia effortlessly embodied the essence of casual elegance in her latest fashion statement. She opted for a stunning two-piece ensemble that seamlessly transitioned into a cohesive black dress.
The first component of her ensemble was a stretch-tulle turtleneck bodysuit that left onlookers in awe. The bodysuit hugged her figure snugly, accentuating her silhouette and highlighting her impeccable sense of style. The turtleneck added a touch of sophistication while still maintaining a sense of comfort. Tamannaah's choice of this piece showcased her confidence and allure, as it perfectly complemented her body, leaving a lasting impression.
The transition from the bodysuit to the black dress was seamless, showcasing her fashion expertise. The cohesive look was a testament to her ability to effortlessly combine elements to create a truly elegant ensemble. The black dress, which followed the bodysuit, continued to accentuate her curves and exuded a sense of understated glamour.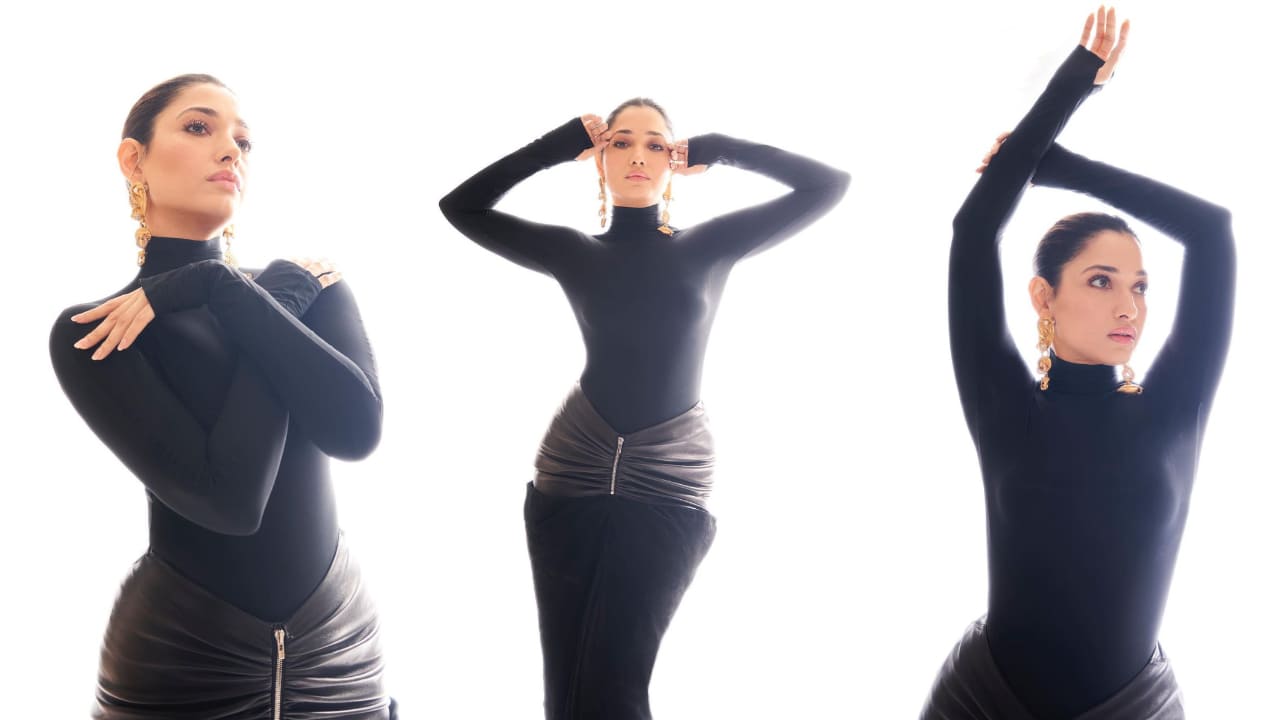 Overall, Tamannaah Bhatia's latest fashion statement was a masterclass in casual elegance. Her choice of a stretch-tulle turtleneck bodysuit and the transition into the black dress showcased her impeccable fashion sense, confidence, and allure, leaving fashion enthusiasts and admirers alike inspired by her style.
In addition to her stunning two-piece ensemble, Tamannaah Bhatia paired it with the ruched sculptural skirt from the prestigious brand Alaia. This choice added a touch of high-end luxury to her overall look and elevated her fashion statement to another level.
The ruched sculptural skirt from Alaia brought a sense of drama and artistry to her ensemble. Its unique design and intricate detailing created a sculptural look that added depth and dimension to her outfit. The combination of the snug-fitting bodysuit and the dramatic skirt showcased Tamannaah's ability to seamlessly mix separate items to create a coherent yet effortlessly stylish look.
Tamannaah's choice of the Alaia skirt not only added a wow factor to her ensemble but also demonstrated her keen eye for fashion and her willingness to experiment with different elements to create a memorable and captivating outfit.
Tamannaah Bhatia's pairing of the Alaia ruched sculptural skirt with her two-piece ensemble was a brilliant fashion decision that added drama and artistry to her look, highlighting her ability to effortlessly combine pieces from different brands to create a cohesive and stylish statement.
Tamannaah Bhatia's attention to detail and her commitment to making a bold fashion statement were evident in her choice of earrings. She opted for earrings by the legendary Elsa Schiaparelli, a name synonymous with timeless elegance and creativity in the world of fashion.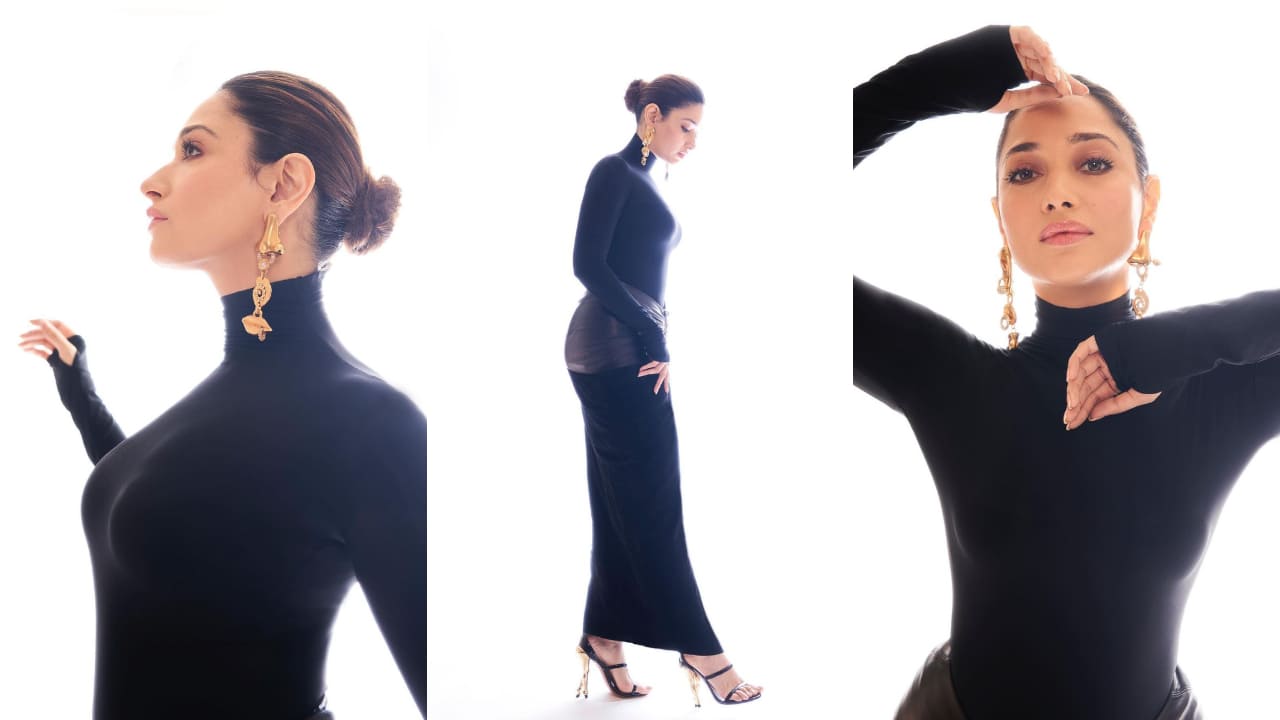 These magnificent earrings were nothing short of a work of art. Made from gilded brass, they featured an asymmetric design that added an element of intrigue and uniqueness to her overall look. Adorned with crystals and pearl bijoux, they sparkled and shimmered, catching the light and drawing attention to her face. The combination of crystals and pearls in the earrings created a captivating blend of components, showcasing both luxury and sophistication.
The fact that these stunning earrings were valued at 1,750 € (roughly Rs 1,55,285) speaks to their exquisite craftsmanship and design. Tamannaah's choice of these earrings was not just a fashion statement; it was a beautiful and daring one. It added a touch of opulence and glamour to her ensemble, proving that she is not afraid to make bold choices and embrace the world of high fashion.
Tamannaah Bhatia's selection of earrings by Elsa Schiaparelli, with their captivating blend of components and luxurious design, showcased her impeccable taste and willingness to make a daring fashion statement that elevated her overall look to a whole new level of elegance and sophistication.
Tamannaah Bhatia's attention to detail in her fashion choices continued with her selection of footwear. She looked stunning in a pair of black 'cabaret-heeled shoes from the renowned brand Alaia. These shoes were a perfect choice to complete her elegant ensemble.
The cabaret-heeled shoes were made of shiny leather, which added a touch of sophistication and glamour to her overall look. The choice of black color was not only classic but also perfectly matched her black dress, creating a cohesive and harmonious appearance. The heel design added a sense of refinement and appeal to her outfit, elevating it to a whole new level of style.
Tamannaah's decision to flaunt minimal makeup further emphasized her natural beauty and allowed her ensemble to take center stage. Her swept-back bun hairdo added a sense of chic simplicity, drawing attention to her earrings, neckline, and the overall elegance of her outfit.
Tamannaah Bhatia's choice of black 'cabaret-heeled shoes from Alaia, along with her minimal makeup and swept-back bun hairdo, perfectly complemented her elegant ensemble. Her attention to detail in every aspect of her look showcased her fashion finesse and made her a standout presence at the event.
Indeed, Tamannaah Bhatia's flawless hairstyle was a key element in completing her exquisite style. The credit for her stunning hairdo goes to the excellent hairstylist Florian Hurel, who played a pivotal role in helping her achieve her effortless elegance.
Florian Hurel's expertise in hairstyling contributed significantly to Tamannaah's overall look. Her swept-back bun, done to perfection, added a touch of sophistication and chic simplicity to her appearance. The hairstyle not only showcased her facial features but also allowed her accessories, like the earrings and neckline, to shine.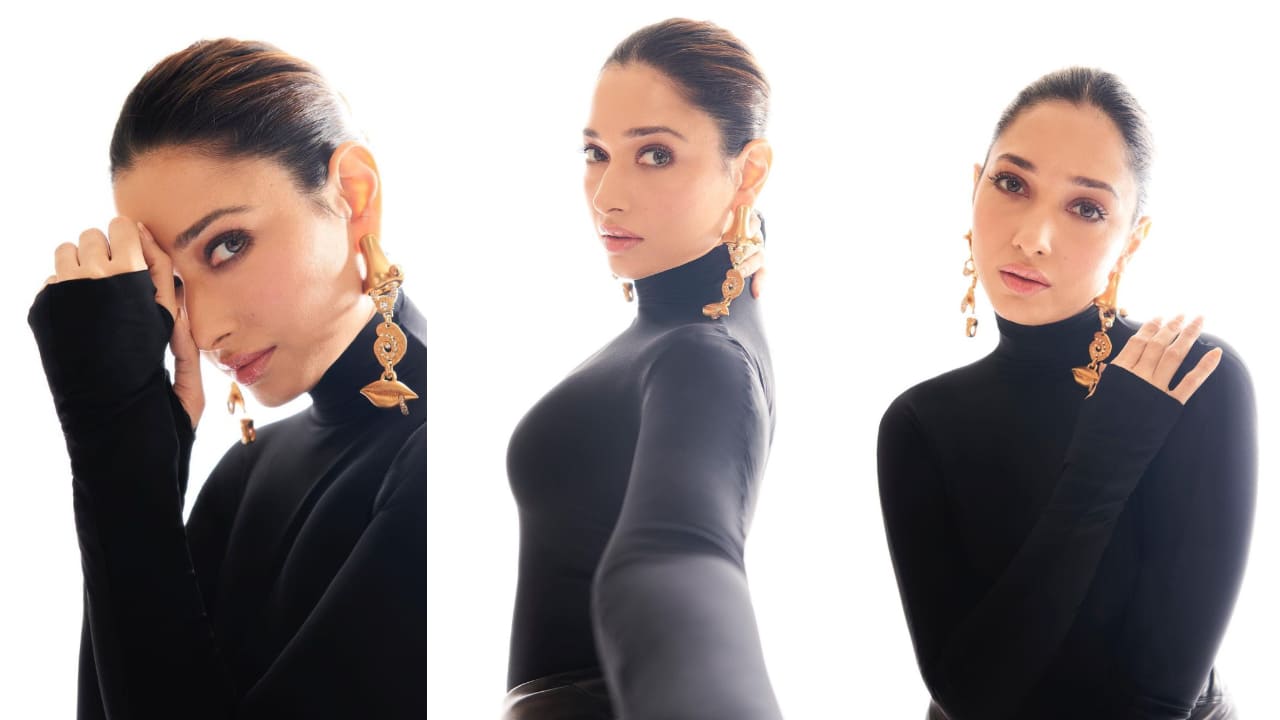 Tamannaah Bhatia's mesmerizing sandals, her flawlessly done hair, and her impeccable fashion choices all came together to create a striking fashion statement worth remembering. Her ability to effortlessly embody easy elegance and attention to every detail in her ensemble made her a standout and left a lasting impression at the event. Florian Hurel's hairstyling skills played a crucial role in enhancing her overall look, contributing to her stunning appearance and fashion excellence.