Tamannaah Bhatia REPEATS her Rs. 2.27 lakh sequin top on New Year's Eve celebration with Vijay Varma
Tamannaah Bhatia has indeed evolved into a prominent fashionista, consistently impressing fashion enthusiasts and critics alike with her diverse and chic style choices. Her ability to effortlessly switch between statement pieces and minimalistic ensembles has made her a favorite in the world of fashion.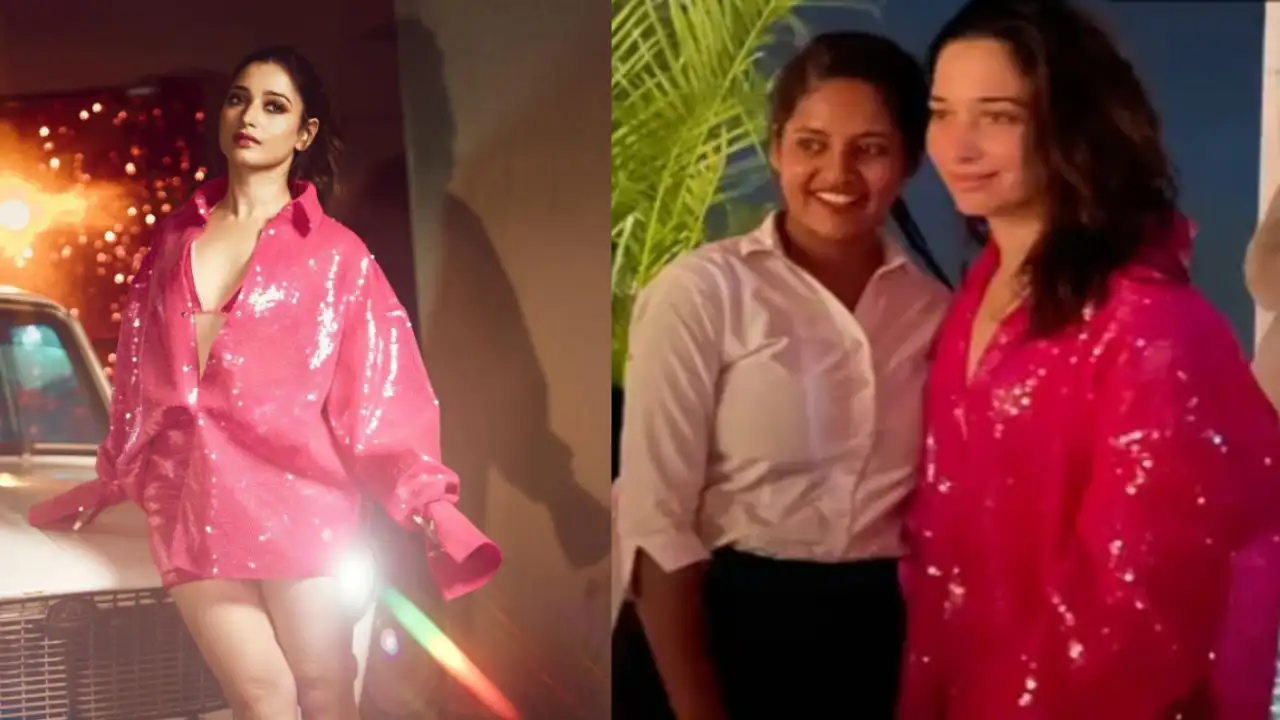 As she continues to make her mark in the fashion scene, Tamannaah has garnered significant attention for her style statements over the past few months. One such standout look that grabbed the spotlight was her sequin co-ord set, which she donned at Karan Johar's 50th birthday party. Sequins are known for their ability to add glamour and sparkle to any outfit, and Tamannaah's choice undoubtedly made her the center of attention at the event.
Her fashion journey showcases her versatility and flair for experimentation, allowing her to stand out as an emerging face of fashion in the industry. With each appearance, Tamannaah continues to inspire and captivate with her style choices, solidifying her status as a trendsetter and fashion icon.
Tamannaah Bhatia's penchant for experimenting with her fashion choices truly shines through in her unique and eye-catching outfits. Her ability to combine the unusual with the eye-catching is a testament to her fashion-forward approach.
In the case of her neon pink sequin attire, she undoubtedly made a bold and chic statement. Neon colors are known for their vibrancy and ability to draw attention, and when combined with sequins, they create a dazzling and attention-grabbing effect. The result is a perfect blend of boldness and chicness, showcasing her confidence and fashion sensibility.
Tamannaah's choice to flaunt her toned legs in this outfit adds an extra layer of glamour and allure to her look. It's a bold and confident style move that resonates with her fearless approach to fashion, making her a trendsetter and a source of inspiration for those looking to push the boundaries with their style choices.
Tamannaah Bhatia's choice of a neon shirt for her outfit is undeniably a show-stopper. The sheer tulle fabric, covered in light-catching sequins, creates a mesmerizing, liquid-like shine that's perfect for a party number. Sequins have a way of adding that extra bit of sparkle and glamour to any ensemble, making it ideal for standing out on special occasions.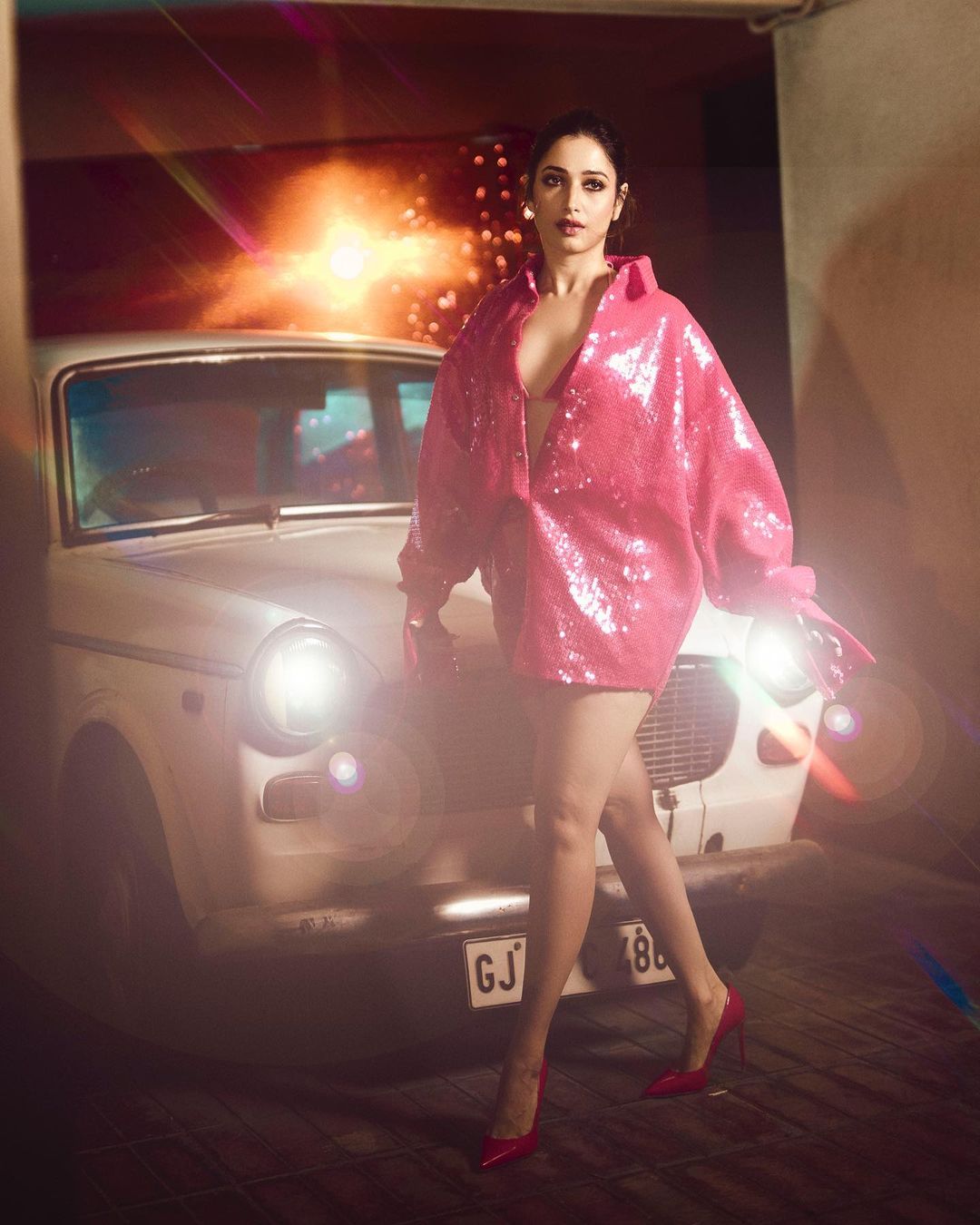 The design details of the shirt, including the dropped shoulders and cuff sleeves, add a dramatic and fashion-forward touch to her overall look. These elements elevate the outfit, giving it an edgy and contemporary vibe.
Pairing the oversized top with a triangle sequin bra underneath is a bold and stylish choice. It not only adds a layer of interest to the outfit but also accentuates her fashion-forward approach. Tamannaah's ensemble showcases her ability to play with textures, colors, and styles to create a memorable and impactful fashion statement, especially for a party or any event where she wants to command attention and turn heads.
Tamannaah Bhatia's fashion-forward and oh-so-sexy look continued to impress with her choice of a hot pink mini skirt embellished with sequins that glistened in the light. The combination of neon and sequins creates a bold and dazzling effect that is perfect for making a statement at any event.
The entire outfit, totaling a worth of Rs. 2,27,830, showcases her willingness to invest in high-fashion pieces that are both stylish and impactful. This look from David Koma's collection is a testament to her commitment to fashion and her ability to curate unique and striking ensembles.
Tamannaah's outfit exudes confidence and boldness, making her a standout presence wherever she goes. Her fashion choices continue to inspire and demonstrate her prowess as a trendsetter in the world of style and glamour.
Tamannaah Bhatia's choice to cap her look with smokey eye makeup and a pink lip tint demonstrates her willingness to experiment with makeup and color. While bold makeup choices can be striking and memorable, it's also essential to strike the right balance to ensure the overall look is harmonious.
In this case, it seems like the combination of the neon pink sequin outfit and the makeup may not have worked as expected. Too much pink can indeed be overwhelming, and it's crucial to allow the pop of color to stand out without causing discomfort to the eyes.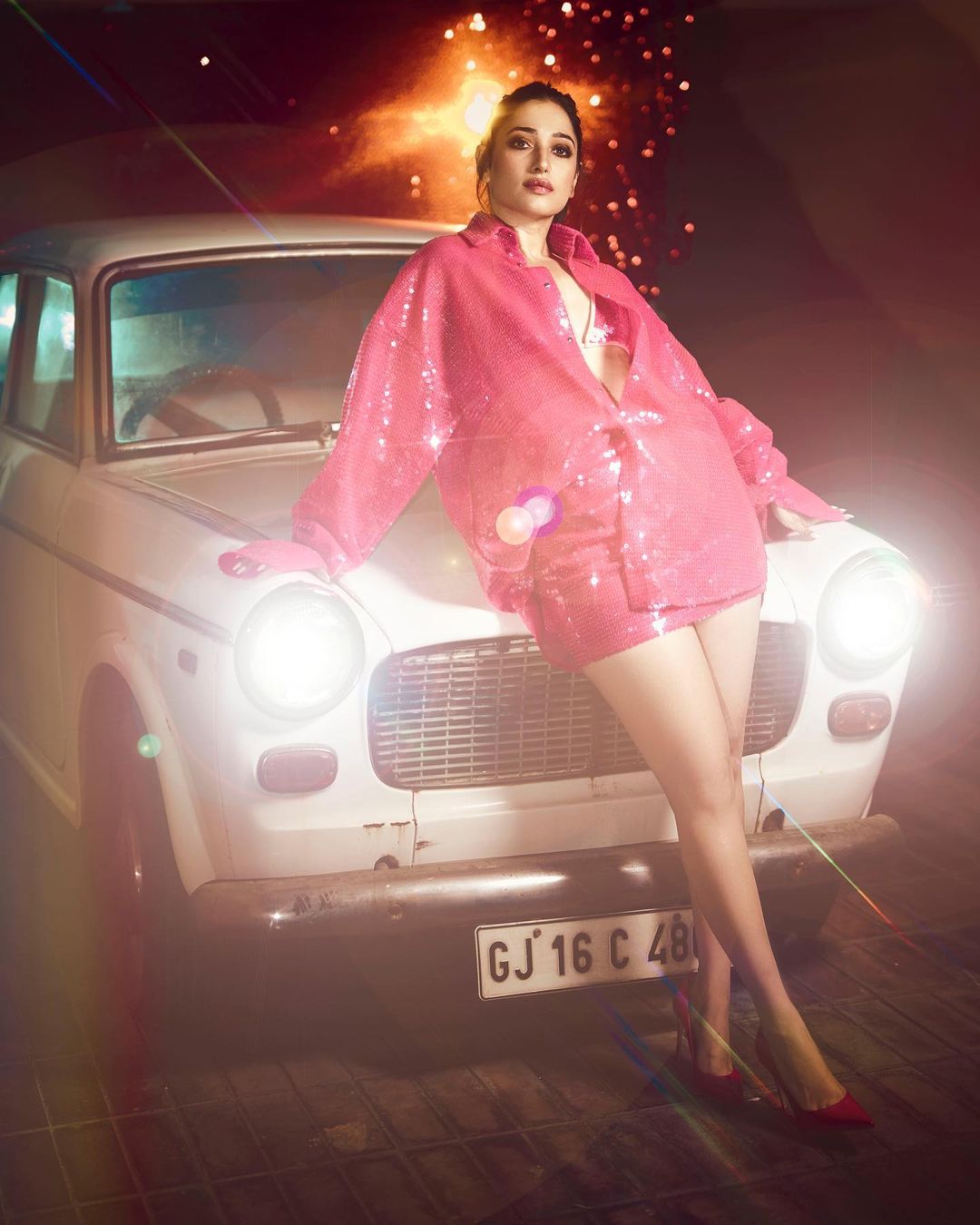 Shaleena Nathani, who is known for her styling work with various celebrities, including Deepika Padukone, has played a role in creating this look. Fashion and makeup are subjective, and sometimes unconventional choices may not resonate with everyone. The key is to continue experimenting and evolving one's style while learning from each experience to refine and perfect future looks. Tamannaah's willingness to push the boundaries of fashion and makeup shows her dedication to exploring new horizons in the world of style.
It's indeed interesting to see how celebrities like Tamannaah are breaking the traditional norms of the fashion industry by repeating their outfits. In the past, it was often considered a taboo for celebrities to wear the same outfit more than once, as they were expected to constantly showcase new and designer clothing. However, in recent years, there has been a shift towards sustainability and a more conscious approach to fashion.
Celebrities like Samantha Ruth Prabhu and Deepika Padukone, by repeating their outfits, are setting a positive example for their fans and followers. This trend encourages people to make more sustainable choices and re-wear their clothing rather than constantly buying new pieces, which can contribute to environmental issues and excessive consumption.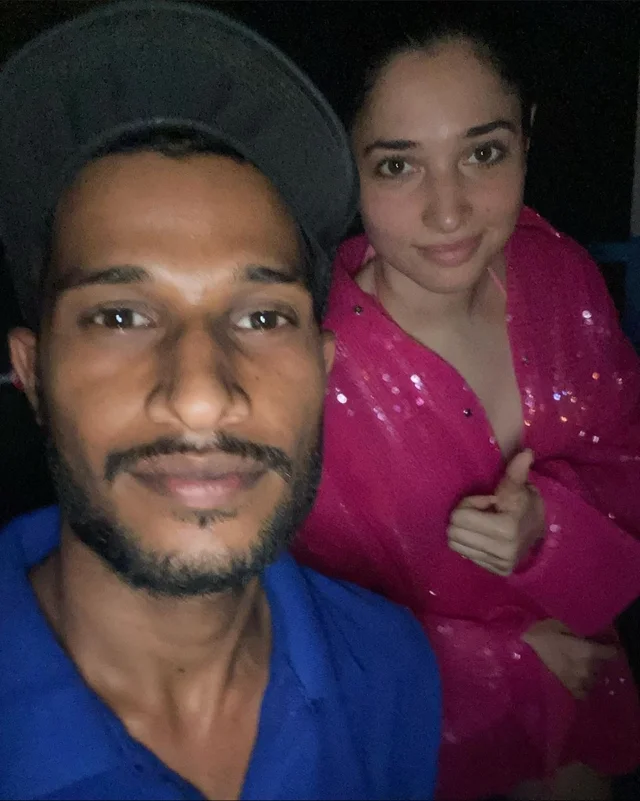 Additionally, it sends a message that fashion should not be about constantly following trends and buying new items but about expressing one's personal style and making conscious choices that benefit both the individual and the environment. It's a great step towards promoting sustainability and reducing the pressure to always wear something new in the world of fashion.