Nora Fatehi's classy ensemble with belted shirt dress and the iconic Lady Dior bag is PERFECT for night outs
Nora Fatehi's presence in the world of fashion is nothing short of dazzling. In this realm where elegance converges with opulence, she stands as a true luminary, effortlessly marrying style and sophistication. As a multifaceted artist encompassing dance, acting, and modeling, Nora consistently captivates our attention with her impeccable fashion sense. Her choices are nothing short of mesmerizing, always leaving us breathless in admiration.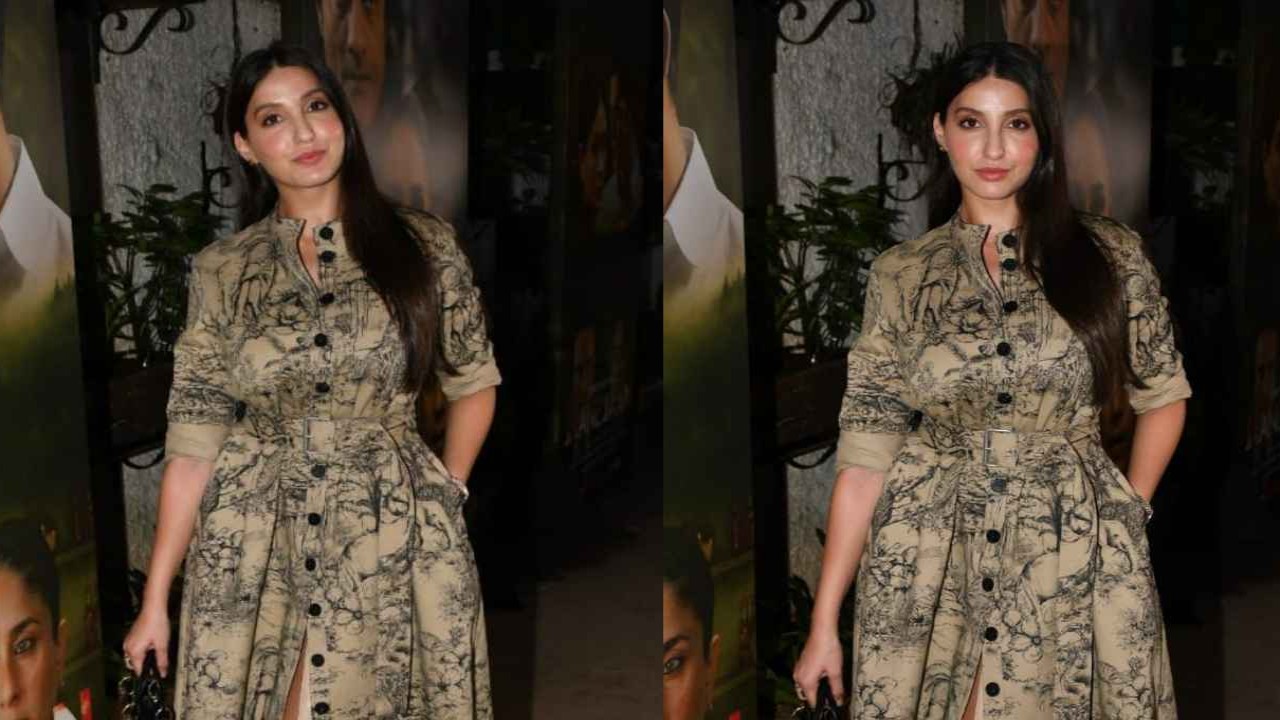 Her recent appearance at the Jaane Jaan screening, adorned in a spellbinding Dior ensemble, served as yet another testament to her fashion prowess. Nora Fatehi's fashion journey continues to be a source of inspiration and awe for fashion enthusiasts, reminding us of the extraordinary allure and charisma she brings to the world of style.
As Nora Fatehi gracefully stepped into the spotlight, she instantly became the luminous focal point of the night, showcasing her undeniable authority in the realm of fashion. Her ensemble at the Jaane Jaan screening served as a compelling reminder that she reigns supreme when it comes to making a sartorial statement. In every sense, Nora's fashion choices never fail to command attention and admiration, and on this particular occasion, she did so with unparalleled finesse.
Now, let's embark on a journey to dissect and celebrate every exquisite detail of the diva's extraordinary ensemble. From the choice of designer to the intricate elements of her outfit, there's much to unravel and appreciate in Nora Fatehi's iconic fashion moment.
The foundation of Nora's ensemble was undoubtedly her choice of Dior, a brand synonymous with luxury and sophistication. This selection immediately set the tone for the night, signaling that this was no ordinary appearance but a fashion spectacle to remember. Dior's timeless allure blended seamlessly with Nora's own innate elegance, creating a harmonious synergy that was nothing short of spectacular.
One cannot help but be captivated by the intricate details that adorned her outfit. Every element, from the carefully crafted embroidery to the exquisite fabric choice, bore the hallmark of true couture craftsmanship. Nora Fatehi's ensemble exuded a sense of opulence and refinement that befits a star of her caliber, making it clear that every aspect of her look had been meticulously curated to perfection.
In a world where fashion reigns supreme, Nora Fatehi reigns supreme in fashion. Her choice of this Dior ensemble for the Jaane Jaan screening was a testament to her unwavering commitment to pushing the boundaries of style and sophistication. It's a look that will undoubtedly leave a lasting imprint in the annals of fashion history, a reminder that Nora Fatehi is not just a star but a fashion icon in her own right. As we celebrate and dissect every exquisite detail of her extraordinary ensemble, we are reminded that Nora Fatehi's presence in the fashion world is nothing short of legendary.
Nora Fatehi's recent fashion choice showcased her impeccable taste, as she donned the exquisite Dior belted shirt dress. This dress is not just a garment; it's a work of art. Adorned with Pietro Ruffo's Toile de Jouy Voyage motif, it skillfully weaves together Mr. Dior's iconic pattern with the rich tapestry of Indian flora and fauna. The result is a breathtaking fusion of cultures and design inspirations.
Crafted from beige cotton gabardine, this dress exudes both comfort and luxury. The choice of fabric not only ensures a comfortable fit but also adds a touch of elegance to the overall look. The dress features a row of black buttons in the front, creating a visually striking contrast against the soft beige backdrop. This front-button design adds a contemporary twist to the classic shirt dress silhouette.
The flared silhouette of the dress enhances its timeless charm, providing a sense of movement and grace as Nora wears it. The officer collar adds a touch of authority and sophistication to the ensemble, giving it a commanding presence. The tonal belt, cinched at the waist, not only accentuates Nora Fatehi's enviable figure but also serves as a statement accessory that ties the entire look together.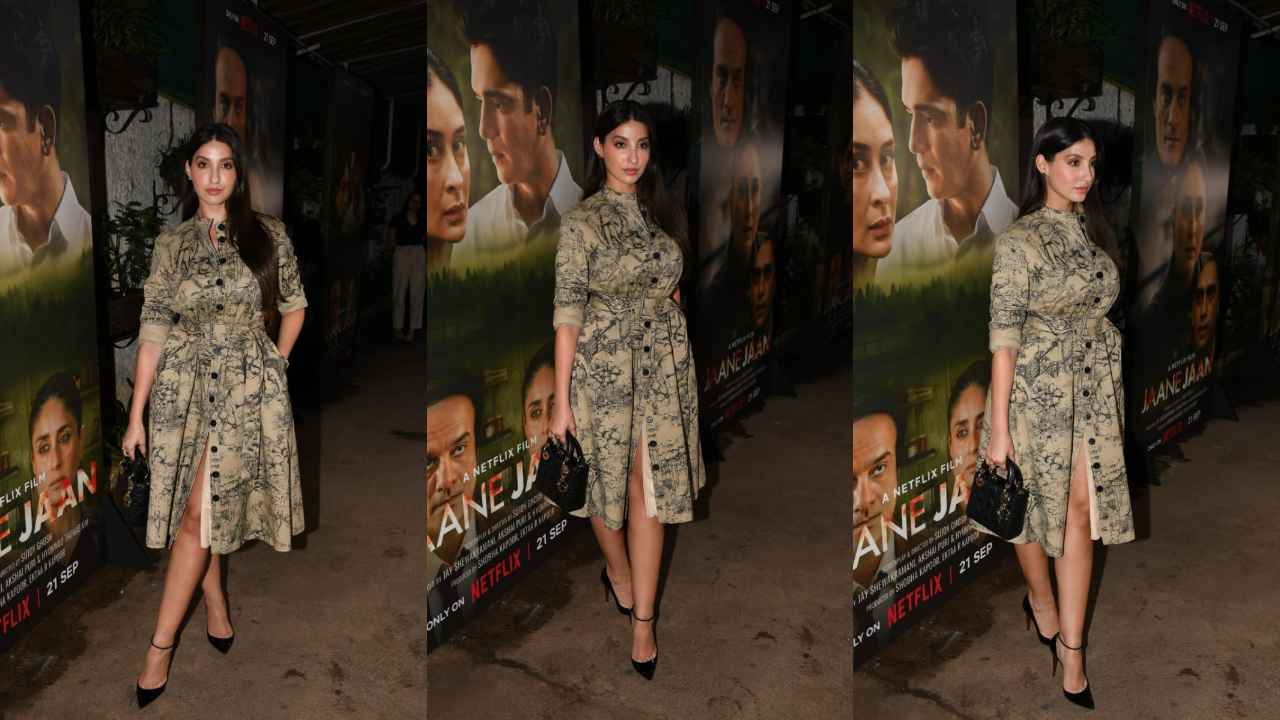 Nora's choice of the Dior belted shirt dress reflects her ability to seamlessly blend international high fashion with a touch of Indian elegance. This dress is more than just a piece of clothing; it's a symbol of cross-cultural creativity and sartorial excellence. It's a testament to the enduring allure of Dior's iconic patterns and the artistry of designers like Pietro Ruffo. Nora Fatehi's fashion sensibility continues to captivate and inspire, setting the bar high for sartorial excellence on the global stage.
Nora Fatehi's choice of the Dior belted shirt dress was not only a fashion statement but also a symbol of luxury. The tonal belt, featuring a metallic buckle, skillfully cinched at the waist, allowed the diva to flaunt her impeccably toned figure with confidence. However, elegance often comes with a price, and this stunning dress commanded a hefty tag of Rs. 3,11,730, underlining its exclusivity and couture craftsmanship.
To complete her impeccable look, the talented actress opted for Christian Louboutin Uptown 100 black leather pumps. These shoes exude timeless sophistication with their seamless stiletto heels, narrow adjustable ankle straps, and pointed toes. The footwear choice added a touch of refinement and complemented the dress perfectly. These exquisite Louboutin pumps are approximately worth Rs. 70,392, further affirming Nora's penchant for luxury and high-end fashion.
To complete her ensemble, the talented diva made a statement by adding the iconic small Lady Dior bag. This choice not only displayed her fashion acumen but also showcased her appreciation for timeless elegance and beauty. The Lady Dior bag is a symbol of the House's vision, and its inclusion in Nora's outfit emphasized her dedication to embracing the finest aspects of high fashion.
Nora Fatehi's ability to balance minimalistic accessories with iconic designer pieces showcases her keen sense of style and her ability to create a harmonious and elegant overall look. Her fashion choices consistently embody the perfect blend of simplicity and sophistication, further cementing her status as a fashion icon.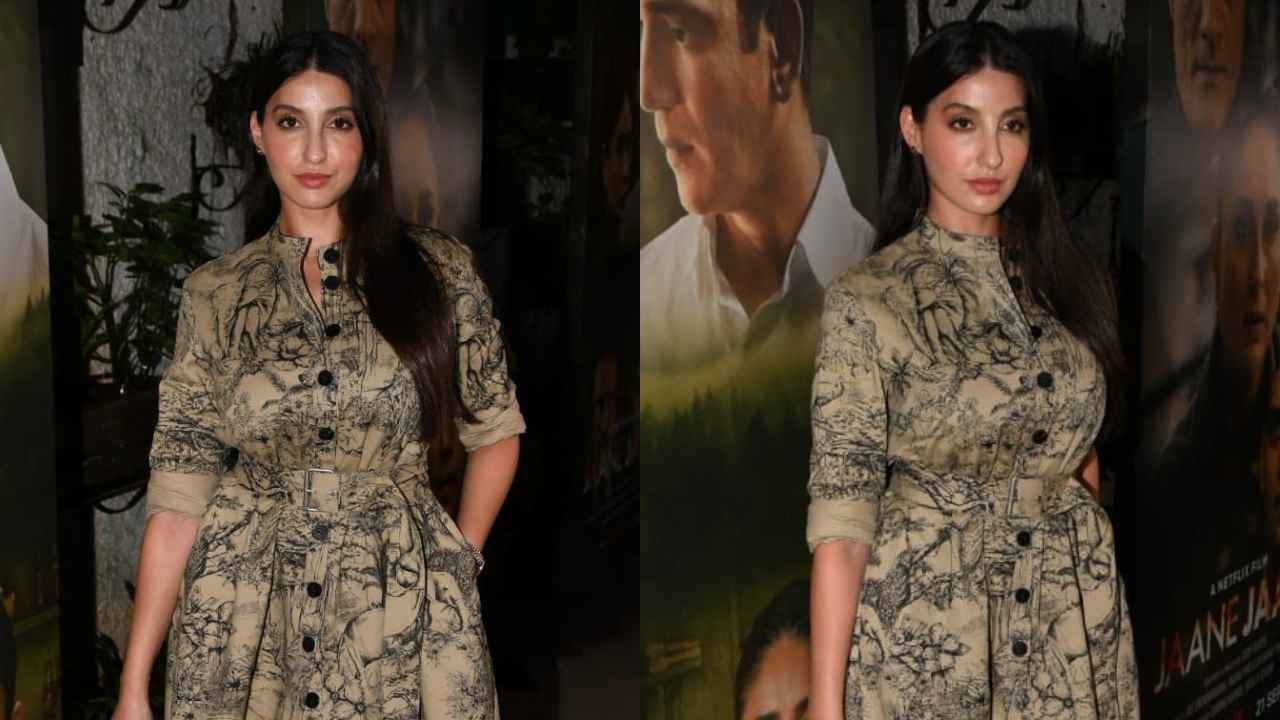 Indeed, the Lady Dior bag is renowned for its sleek and refined timeless style. Crafted in patent calfskin with the distinctive Cannage stitching, which creates the iconic quilted texture, it is a true symbol of luxury and elegance. The pale gold-finish metal D.I.O.R. charms adorning the bag add an extra layer of opulence and illuminate its silhouette, making it instantly recognizable and highly coveted among fashion enthusiasts.
With such meticulous craftsmanship and high-end materials, it's no surprise that the Lady Dior bag comes with a price tag that reflects its extravagance. At Rs. 4,58,158, this iconic accessory is a statement of not just fashion but also a symbol of luxury and prestige. While it may be considered seriously extravagant by some, for those who appreciate the artistry and heritage of luxury fashion, it represents an investment in a piece of timeless elegance and a status symbol in the world of high fashion.
Nora's meticulous attention to hairstyling and makeup highlights her commitment to presenting a polished and cohesive appearance on the red carpet. Her choices showcase her understanding of how even the smallest details can significantly impact the overall impression of a fashion ensemble, further solidifying her status as a fashion icon.
Absolutely, Nora Fatehi's entire ensemble, from her Dior belted shirt dress to her choice of accessories, hairstyling, and makeup, is a testament to her impeccable fashion sense. Her ability to seamlessly combine luxury, elegance, and minimalism is truly remarkable and sets her apart as a style icon in the world of fashion and entertainment.
This look exemplifies how she can effortlessly strike a balance between opulence and understated sophistication, making it a perfect choice not only for night outs but also for high-profile events where she consistently commands attention and admiration. Nora Fatehi's fashion choices continue to be a source of inspiration for those who appreciate the artistry of couture and the power of personal style.