Nora Fatehi's Prada co-ord skirt set is the chic calling we need!
The spirit of monochrome wholesomeness is indeed a timeless and elegant style choice. Nora Fatehi's dream ensemble, tastefully and royally Prada, epitomizes the essence of monochrome chic. Her two-piece combo exudes sophistication and class, showcasing how a coordinated monochrome look can be both stylish and versatile.
What's remarkable about this ensemble is its ability to bring a touch of summer-ish appeal to the winter season. It's a reminder that fashion knows no strict rules, and experimenting with your style can be a refreshing and liberating experience. Nora's outfit encourages us to embrace the idea that life is too short to not try something sexy and daring with our fashion choices.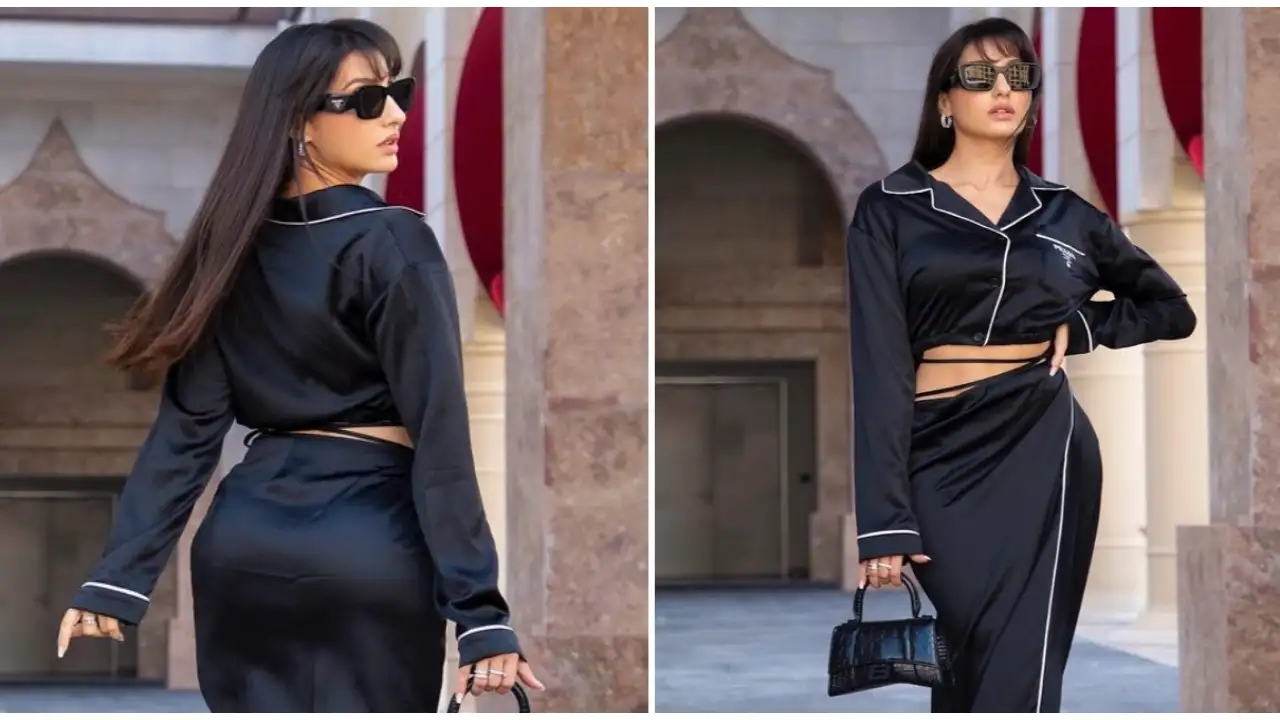 Long shirts often come with their own set of styling challenges, but Nora Fatehi's ensemble demonstrates how a well-designed two-piece combo can provide a modishly stylish alternative. It's a celebration of creativity and individuality in fashion, encouraging us to explore new horizons and push the boundaries of our personal style.
Nora Fatehi's twill cropped shirt, priced at Rs. 1,19,766.94, is a standout piece that exudes retro charm. It features a retro-style collar, long sleeves, a pocket, a printed logo, and an elasticated hem. This shirt not only adds a touch of nostalgia to the ensemble but also showcases the enduring appeal of classic design elements.
Pairing the cropped shirt with a matching midi wrap-style skirt that includes a tie-up detail adds cohesiveness to the outfit. The wrap-style skirt is not only fashionable but also offers comfort and ease of movement. Together, this twill cropped shirt and midi wrap-style skirt create a coordinated look that's both stylish and practical.
Nora Fatehi's choice of this ensemble serves as a source of inspiration for those looking to experiment with their fashion choices and embrace retro vibes in a modern context. It's a reminder that fashion is about self-expression and having fun with your style, and this outfit is a perfect example of that spirit.
The feeling of discovering a new and ready-to-replicate look is truly exhilarating! Nora Fatehi's OOTD, accessorized with a Balenciaga hourglass handbag, adds a touch of extravagance and sophistication to her ensemble. This Made in Italy handbag, priced at Rs. 2,56,473.85, features croc-effect leather and a prominent 'B' logo, creating a luxurious and upscale appearance.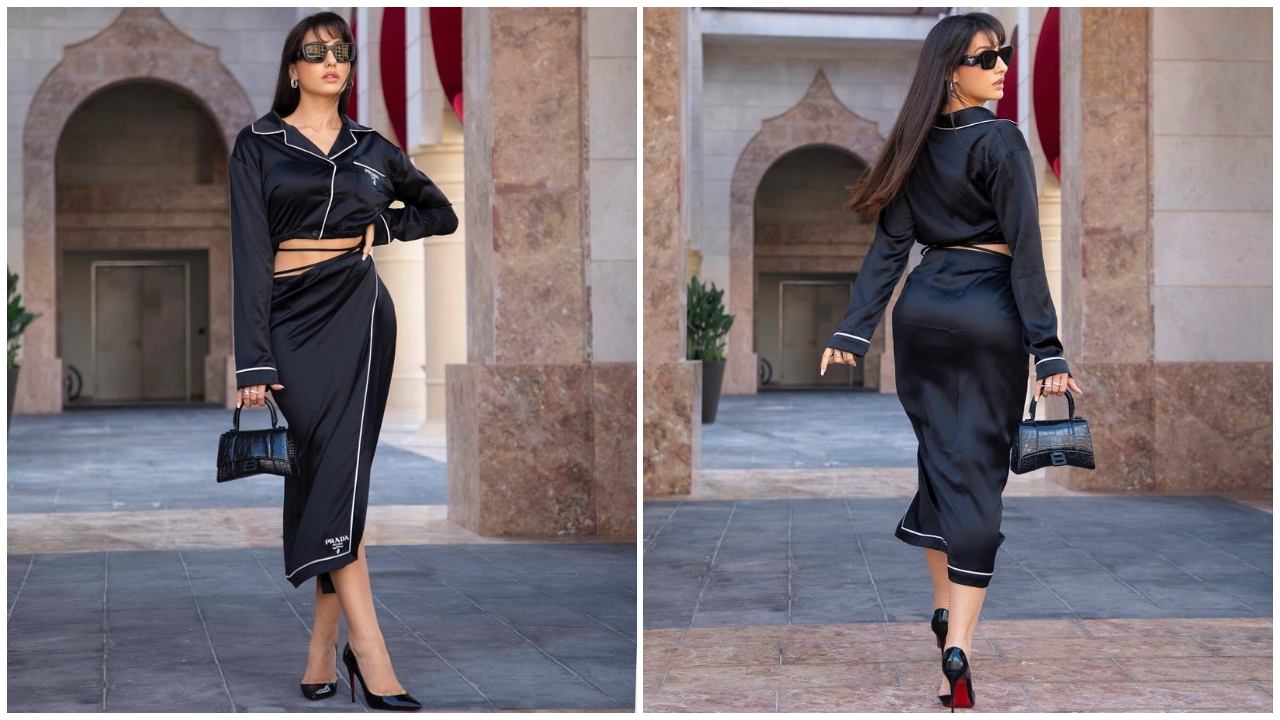 A black bag like this one never disappoints when it comes to elevating a party look. It's a versatile and timeless accessory that can complement a wide range of outfits and occasions. Whether you're attending a glamorous party or a casual gathering, a black bag can effortlessly enhance your style and add a touch of elegance.
The last time a black bag visited a party with you may have been just last night or perhaps many nights before. Its ability to adapt to different settings and its enduring appeal make it a staple accessory in every fashion-savvy individual's wardrobe. Nora Fatehi's choice of the Balenciaga hourglass handbag serves as a chic and stylish example of how a well-selected accessory can complete a look with finesse.
To rock Nora Fatehi's chic ensemble like a fashion pro, consider pairing it with pointed-toe pumps and oversized sunglasses. These accessories add a touch of sophistication and glamour to the overall look.
Since the outfit features white detailing, white accessories can complement it beautifully. White pumps or a white clutch bag can create a cohesive and visually appealing ensemble.
To take your style up a notch, layer your look with more jewelry. Consider adding hoop earrings, rings, or even a statement necklace to enhance the outfit's elegance and make a bold fashion statement. Jewelry can be a powerful tool for personalizing your look and expressing your unique style.
Nora Fatehi's ensemble serves as a fantastic source of inspiration for those looking to create a stylish and coordinated look. It's a reminder that fashion is all about creativity and self-expression, and the right accessories can elevate your outfit to the next level of chic and sophistication.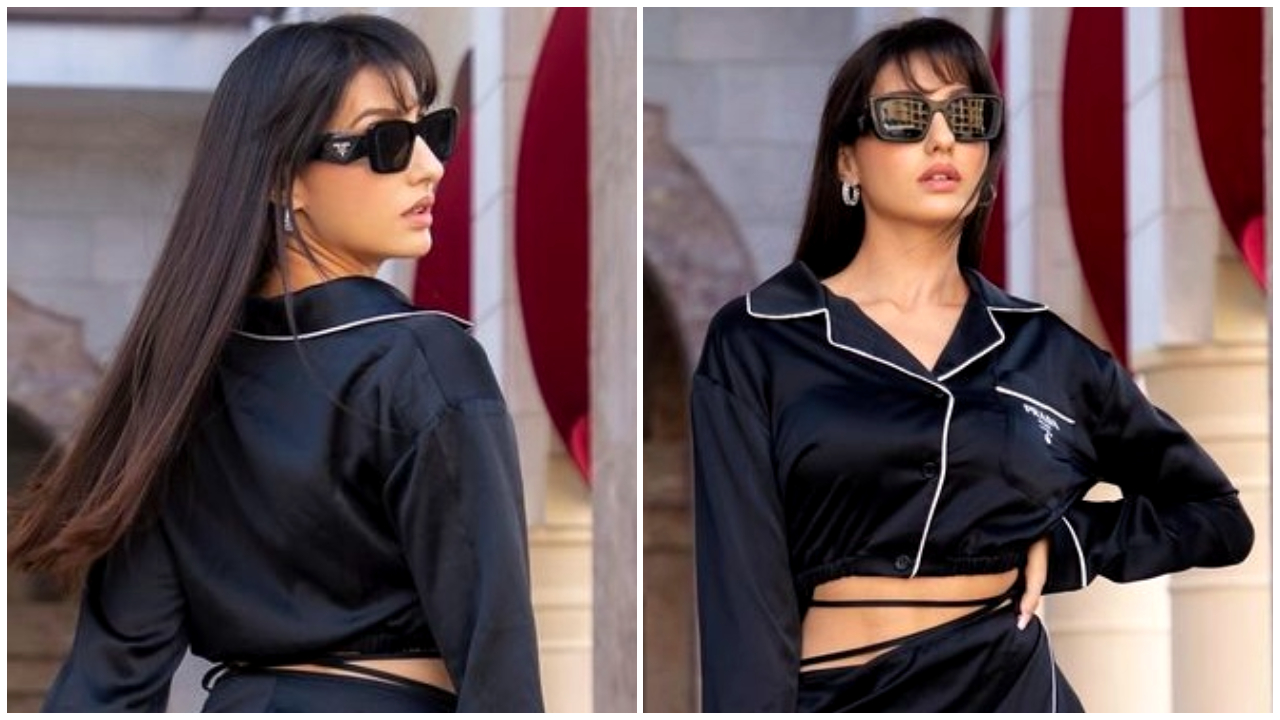 Nora Fatehi's sleek hairdo with bangs adds a modern and edgy touch to her overall look. It's a hairstyle that exudes confidence and complements her outfit beautifully.
To complete the makeup look inspired by Nora's style, opt for a matte lipstick in nude or pink shades. These colors can provide a natural and polished appearance, enhancing your lips without overpowering the overall look.
Don't forget to apply blush to add a healthy flush of color to your cheeks. Blush can help brighten your complexion and give you a youthful and radiant appearance.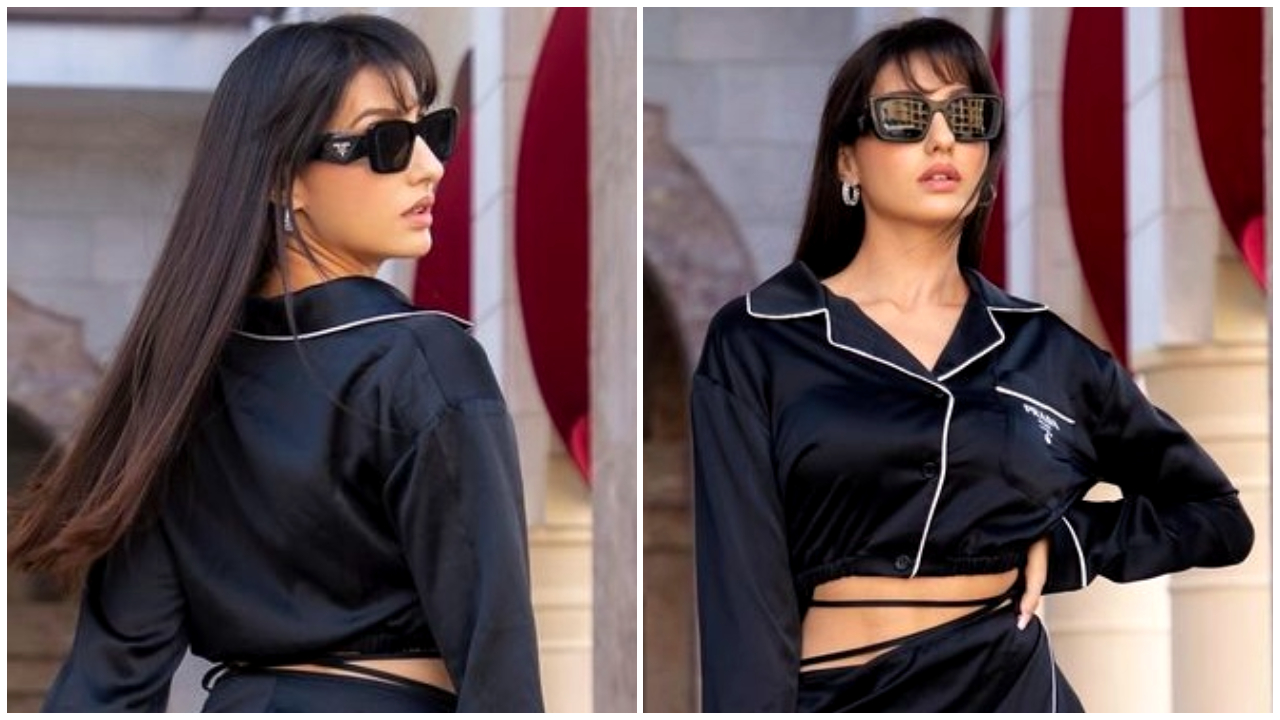 Nora Fatehi's combination of sleek hair with bangs, matte lips, and blush showcases a harmonious and well-coordinated makeup and hairstyle that enhances her overall style. It's a versatile look that can work for various occasions, from casual outings to glamorous parties.