Nora Fatehi in a Dolce & Gabbana co-ord skirt set was the birthday beauty we loved to bits
Nora Fatehi certainly made a fashionable and fabulous statement on her birthday celebration yesterday as she partied with her friends on a luxurious yacht in Dubai. The Jehda Nasha dancer's choice of attire has already had a significant impact on the fashion preferences of 2023, particularly leaning towards spring and summer florals. Her stunning outfit served as a source of inspiration for those looking to update their wardrobes with the latest trends.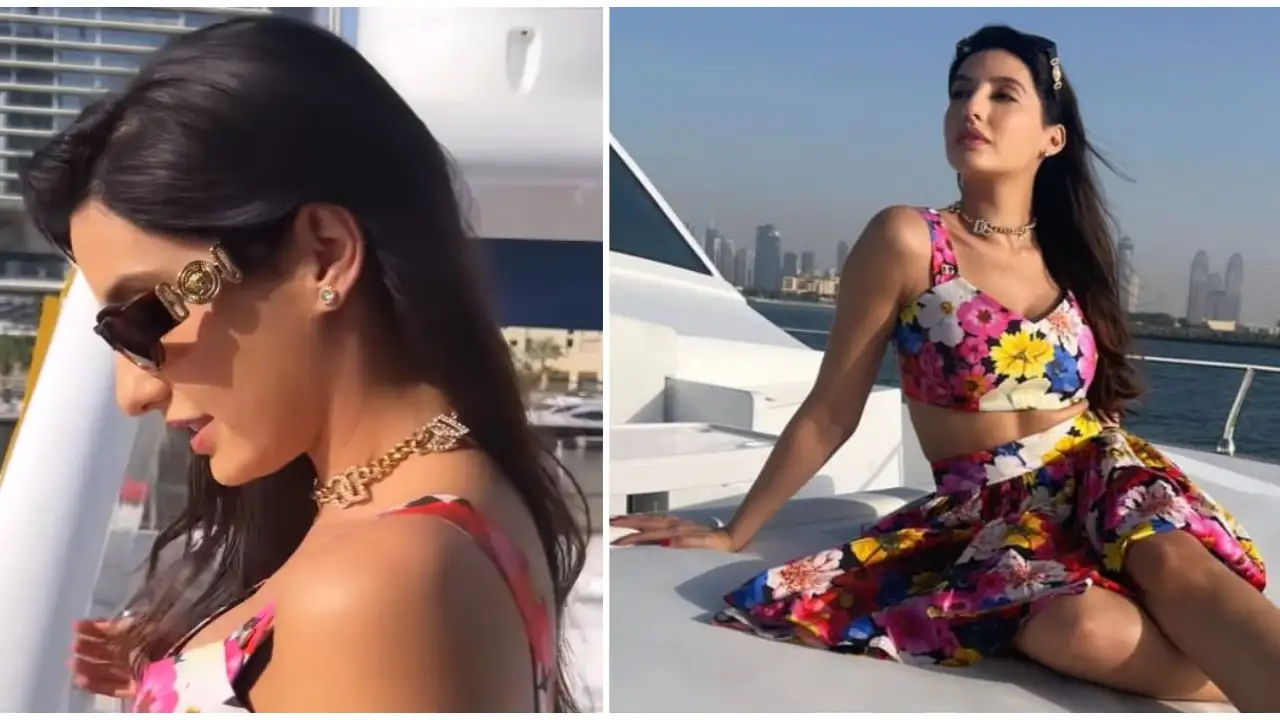 As we navigate the transition from winter to spring, many of us find ourselves trying to make the most of our existing wardrobe staples and winter outfits. However, Nora Fatehi's birthday look brought a breath of fresh air to the fashion scene in February. Her coordinated ensemble is nothing short of a gem, and it promises to be a versatile addition to anyone's closet. This outfit is perfect for a range of occasions, especially those romantic dates that call for a touch of elegance and style. Nora Fatehi's fashion choices are a testament to her impeccable sense of style and her ability to set trends that captivate fashion enthusiasts everywhere.
Nora Fatehi's outfit is a delightful combination of floral prints, glamour, and sweetness, showing meticulous curation. This ensemble is one that's always in demand, as the flower print effortlessly garners compliments and exudes charm wherever you go. Nora's fashion choices continue to showcase her impeccable style, and she sets trends that keep fashion enthusiasts inspired.
With Nora's reference featuring a vibrant Dolce & Gabbana ensemble, it's clear that she made her big day count by stepping into what can only be described as a dream outfit. She managed to strike a balance between looking chic and cute, highlighting her ability to effortlessly blend different fashion elements. Some fashionistas have a timeless appeal, and Nora Fatehi certainly falls into that category. Her recent look is a testament to her enduring fashion prowess, and her outfit is undeniably a perfect fit for any Valentine's Day celebration.
Elevate your fashion game and get ready to make plans with this stylish crop top. Designed with care, it features broad double straps that not only provide a trendy look but also offer comfortable support. This sleeveless top is crafted from soft and breathable cotton, ensuring you stay cool and comfortable during any occasion.
The deep V neckline adds a touch of allure to your outfit, while the straight hem provides a clean and modern finish. To add a touch of luxury and sophistication, the brand logo is tastefully incorporated into the design in the form of gold hardware detail. This not only adds a subtle yet eye-catching element but also speaks volumes about your attention to detail and refined taste in fashion.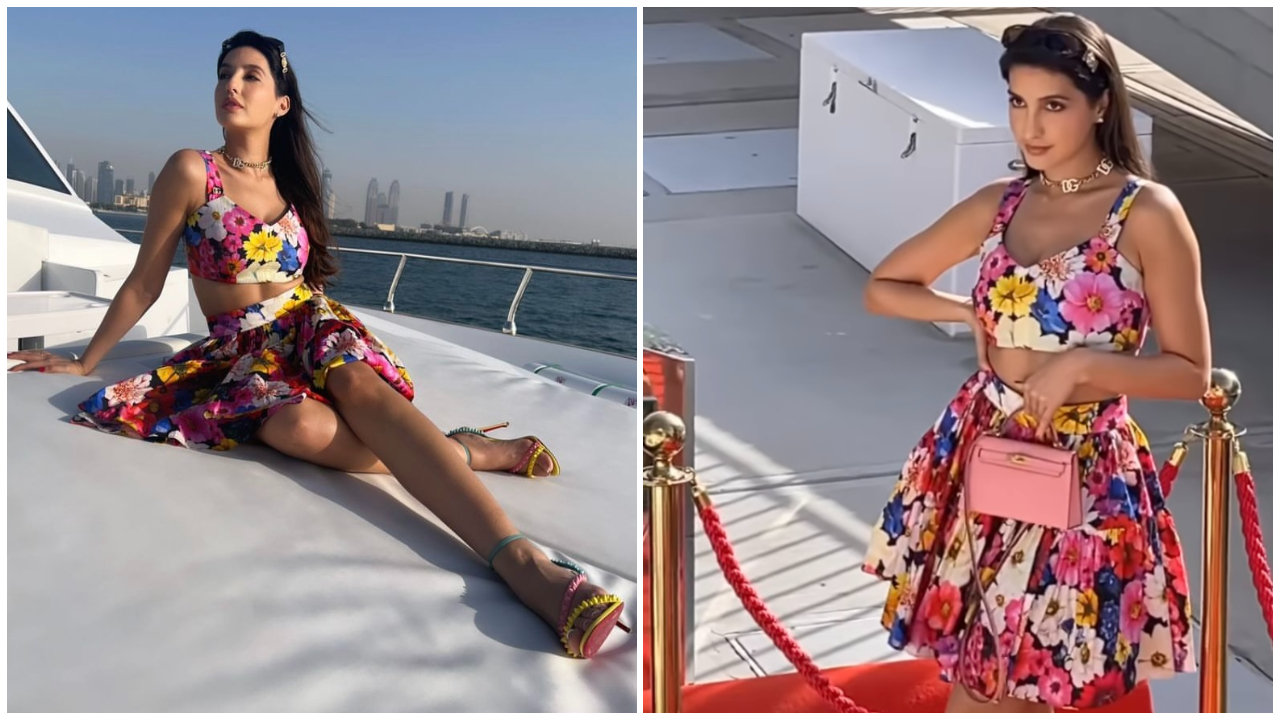 Whether you're heading out for a casual day with friends or a special event, this crop top is the perfect choice to pretty up your look. Its versatile design allows you to pair it with a variety of bottoms, making it a valuable addition to your wardrobe for creating stylish and chic outfits. So, go ahead, make plans, and step out in confidence with this stunning crop top that effortlessly combines style, comfort, and sophistication.
For a fashion-forward ensemble that's both stylish and versatile, consider pairing the crop top with a matching pleated skirt. The total cost for this chic combination comes to Rs. 28,040.72, offering you a coordinated look in one easy step. This matching set is perfect for those who appreciate the simplicity of putting together a fashionable outfit effortlessly.
If you're looking to add more variety to your wardrobe, you can also explore the option of a vibrant mini skirt priced at approximately Rs. 36,312.76. This skirt brings a pop of color and excitement to your style, and if you're someone who enjoys experimenting with different looks, this outfit is a must-have.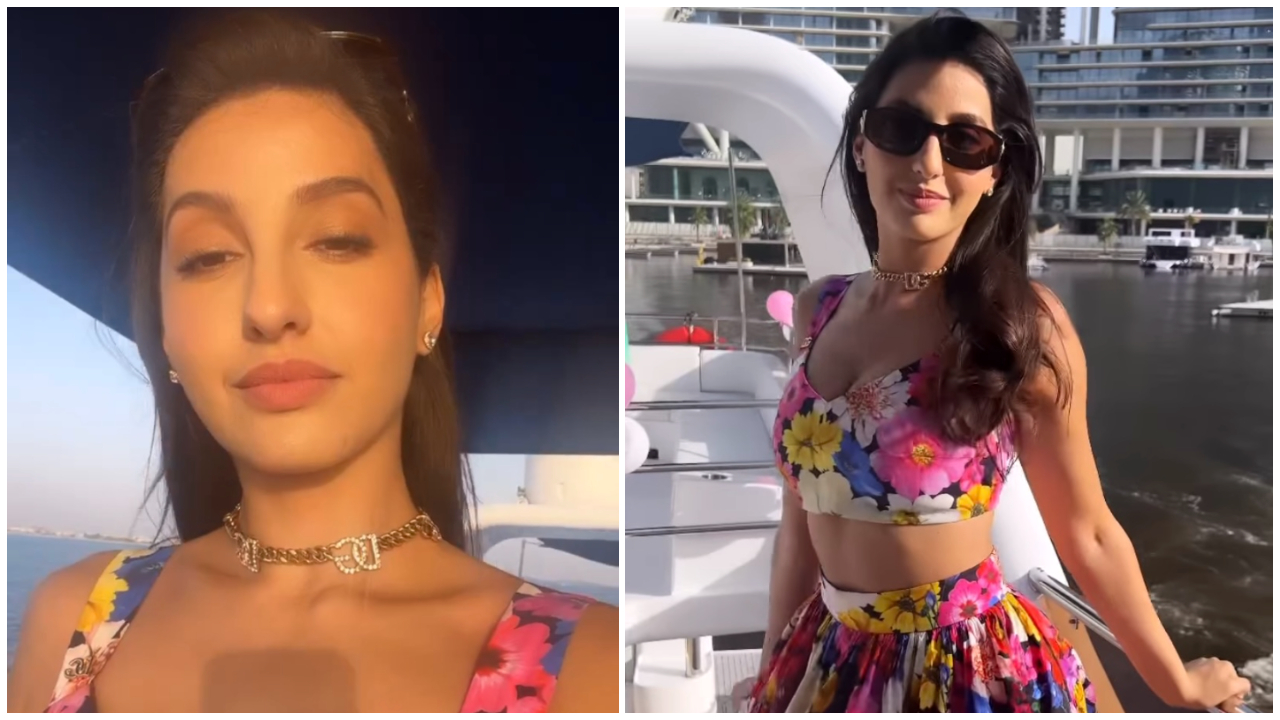 For the fashion-savvy individual who loves mixing and matching, the crop top can be paired with denim pants or shorts, creating a cool and trendy combination that's perfect for various casual occasions. This adaptability allows you to get more mileage out of your wardrobe staples.
Furthermore, if you're planning a beach day or brunch outing, you'll have a win-win situation with the pleated skirt. It effortlessly complements white crop tops, giving you an easy and stylish outfit choice for these relaxed and sunny occasions. With these outfit options, you'll be well-prepared to express your personal style and make a statement in any setting.
Drawing compliments from Nora Fatehi's elegant ensemble and accessories is easily achievable with a few style tips:
Elegant Earrings: Nora's choice of simple earrings adds a touch of sophistication to her look. Opt for understated earrings that complement your outfit without overpowering it. Classic studs or small hoops in a matching or contrasting color can work wonders.
Gorgeous Chain-Link Necklace: The chain-link necklace adds a dash of glamour to her outfit. Look for a similar statement piece that suits your style. It doesn't have to be overly flashy, but it should stand out and enhance your overall look.
Studded Necklace: Nora's studded necklace enhances the luxury factor. Consider investing in a quality studded necklace that can elevate your ensemble, especially if it matches the theme and colors of your outfit.
Designer Accessories: Nora Fatehi's accessories are from an Italian luxury fashion house. While designer pieces can be expensive, investing in key accessories from high-end brands can add a touch of luxury to your look. However, you can also find stylish alternatives that capture the essence of luxury without the hefty price tag.
Handbag Choice: Nora's pink Hermès handbag is eye-catching. When choosing a handbag, pick one that complements your outfit in terms of color and style. A statement handbag can be an excellent conversation starter and a source of compliments.
Footwear: Nora's colorful and embellished heels are a showstopper. A pair of eye-catching shoes can be a focal point of your outfit. Consider wearing stylish, well-matched heels or footwear that adds personality to your look.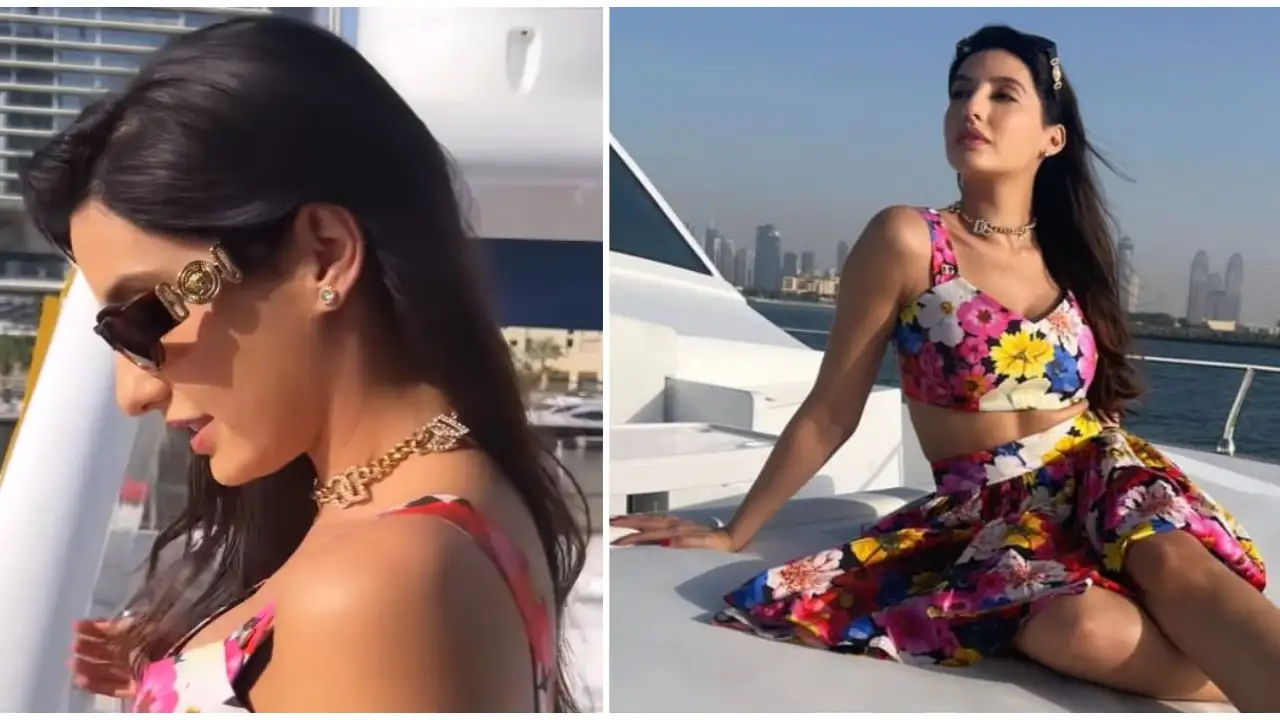 Makeup and Hair: Nora's full-fledged makeup with mascara, kohl, lipstick, and more enhances her overall appearance. When doing your makeup, focus on accentuating your best features while keeping it suitable for the occasion. As for your hair, a sleek, straight look like Nora's can be elegant and timeless.
By incorporating these style elements and paying attention to the details of your outfit, accessories, makeup, and hair, you can capture the essence of Nora Fatehi's fashion choices and draw compliments wherever you go.