Suhana Khan is obsessed with delicate lace-laden white sundresses
Suhana Khan, the daughter of Bollywood superstar Shah Rukh Khan, has indeed made a name for herself as a fashion-forward individual with her unique sense of style. Her preference for delicate lace-laden white sundresses has become somewhat of a signature look for her, and she has been seen wearing them on various occasions.
Lace-laden white sundresses are a classic and timeless choice in fashion, known for their elegance and versatility. Suhana Khan's affinity for these dresses suggests her inclination towards a more bohemian and feminine aesthetic. White dresses, especially those with lace details, exude a sense of purity and sophistication, making them suitable for a wide range of events and settings.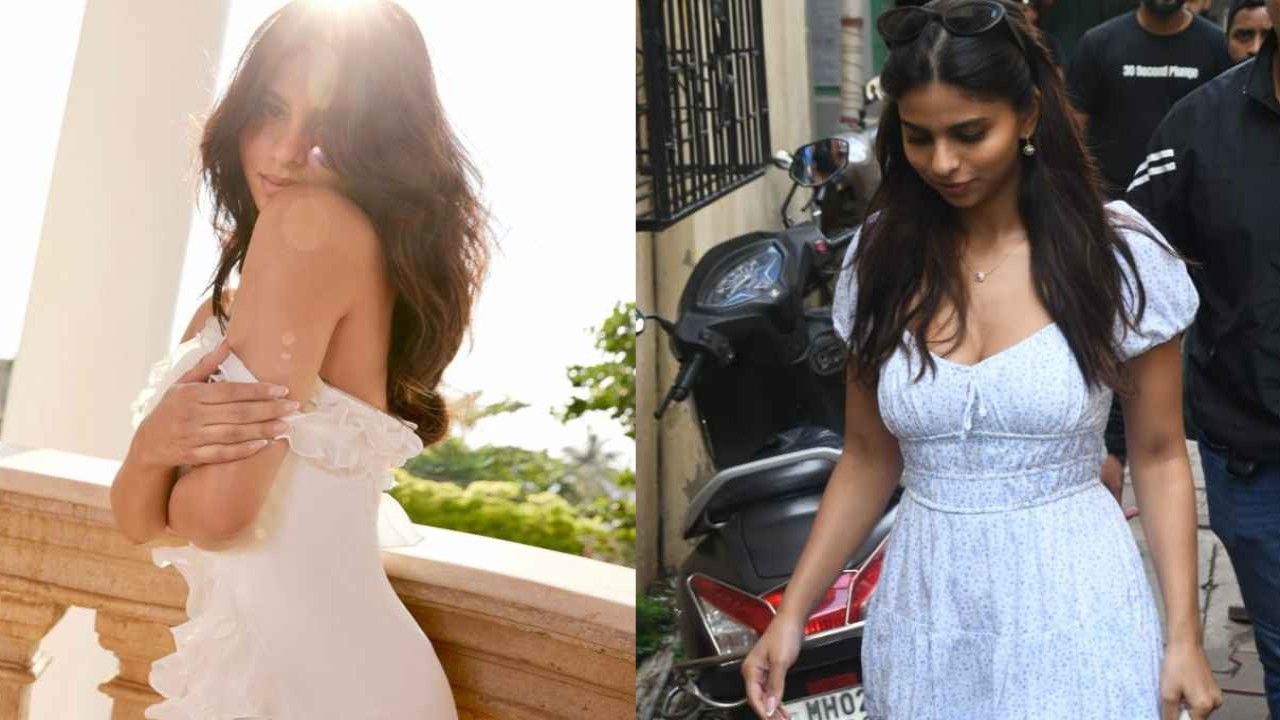 Suhana Khan's ability to consistently pull off this style showcases her confidence and fashion sense. It's clear that she knows what works for her and is comfortable in her own style choices. Fashion is a form of self-expression, and Suhana Khan's love for delicate lace-laden white sundresses is a testament to her unique and ethereal fashion identity.
Suhana Khan made quite the fashion statement with her recent white mini-dress ensemble. Let's break down the key elements of her outfit:
White Mini-Dress: The white mini-dress is a bold choice, known for its ability to showcase confidence and style. The plunging sweetheart neckline with a bow detail adds a touch of elegance and femininity to the look. This neckline choice draws attention to the wearer's neck and décolletage.
Ruffled Shoulder Sleeves: Short ruffled shoulder sleeves are a playful and trendy addition to the dress, bringing an element of whimsy and charm. Ruffles can create volume and movement in an outfit, making it visually interesting.
Cinched Waist: The dress is cinched at the waist with elastic, which not only defines the waistline but also adds comfort and flexibility. A cinched waist is often flattering and creates an hourglass silhouette.
Layered Skirt: The layered skirt that stops just above the knee adds a sense of flirtiness and fun to the outfit. It allows for ease of movement while maintaining a stylish and youthful look.
Accessories: Suhana Khan's choice of black sandals and a matching luxurious bag is a classic and sophisticated pairing. Black complements the white dress beautifully and adds a touch of contrast. The matching bag likely adds a coordinated and polished finishing touch to the ensemble.
The white maxi-dress with a sweetheart neckline showcases Suhana's sophistication and sense of style. This choice reflects her fashion-forward approach to formal occasions, proving that she knows how to stand out in a crowd. The delicate floral pattern on the dress likely added a touch of femininity and grace to the overall look.
It's worth noting that the dress's price, valued at Rs. 5,440, demonstrates that Suhana Khan can effortlessly mix high fashion with affordability, making her fashion choices relatable and accessible to a wider audience.
Suhana Khan's ability to make a statement with her fashion choices in formal settings underscores her fashion prowess and her knack for leaving a lasting impression no matter the occasion. Her choice of the white maxi-dress with a sweetheart neckline is a testament to her understanding of fashion's power to convey confidence and elegance.
Suhana Khan's white Kiss The Sky Floral Maxi Dress from Nelly certainly had some stylish and noteworthy details. Here's a breakdown of its features and how she styled it:
Front Tie-Up Detail: The dress featured a stylish front tie-up that not only added visual interest but also created a corset-like silhouette. This detail can emphasize the waist, enhancing the overall shape of the dress and the wearer's figure.
Ruched Sleeves: Ruched sleeves are a chic and trendy addition that can add texture and dimension to a dress. They create a sense of movement and playfulness.
Flowy Skirt: A flowy skirt adds an element of grace and elegance to the dress. It allows for comfort and ease of movement while maintaining a polished look.
Suhana Khan is known for effortlessly exuding grace and sophistication, and one particular outfit that captured the hearts of her fans was a stunning white figure-hugging sundress. This dress can be described as a masterpiece of meticulous attention to detail, showcasing her feminine energy and natural beauty in a remarkable way.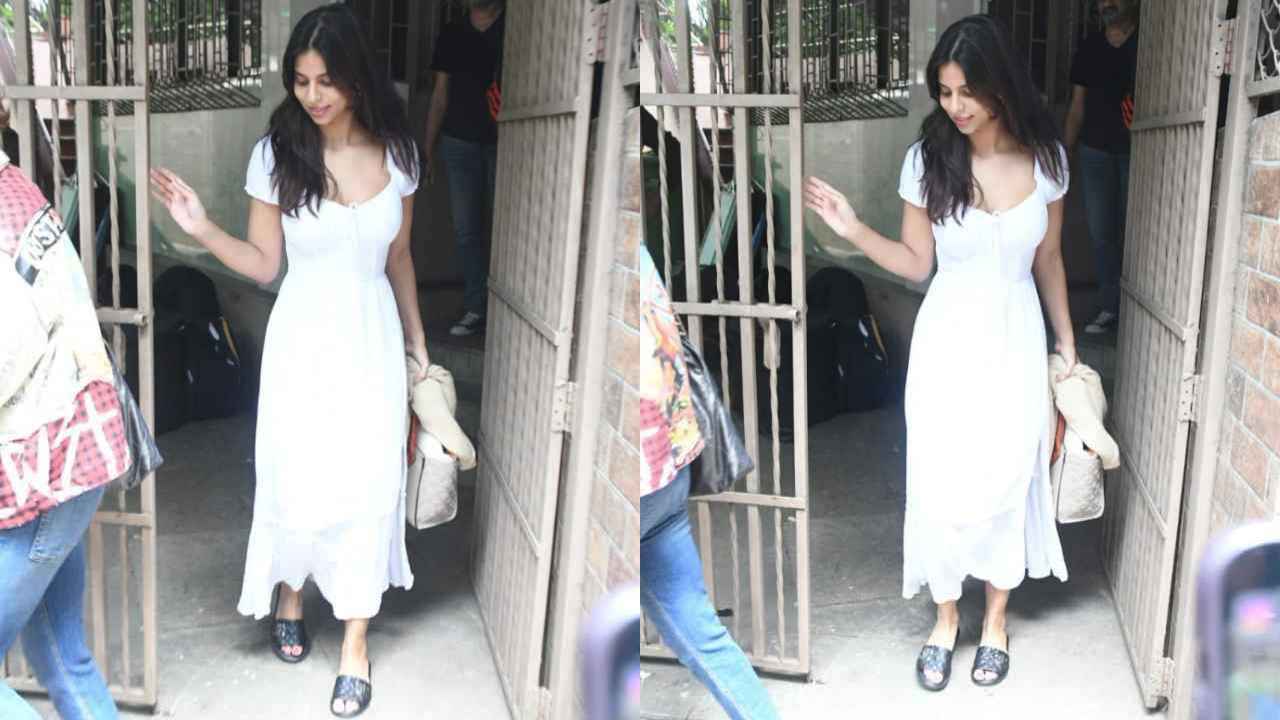 The white sundress, chosen by Suhana, is a testament to her impeccable fashion sense. Its figure-hugging silhouette accentuates her curves, highlighting her natural beauty and grace. White is a color often associated with purity and elegance, and in this dress, it serves as the perfect canvas for her to shine.
One of the standout features of this dress may have been its ruffles. Ruffles add a sense of whimsy and playfulness to an outfit while maintaining an air of sophistication. They can create texture and movement, making the dress visually interesting and flattering.
Additionally, the presence of a slit in the dress could have added a touch of allure and sensuality to the overall look. A well-placed slit can be a statement element, allowing the wearer to showcase their confidence and style.
The off-shoulder style of the dress, adorned with incredibly attractive ruffles, was a striking choice. Off-shoulder necklines often showcase a hint of skin and collarbone, creating a delicate and alluring effect. The addition of ruffles further accentuated the romantic and feminine elements of the dress, adding a touch of whimsy and charm.
Suhana Khan's fashion sensibility extends beyond elaborate ensembles, as she proves with her recent choice of a simple yet striking white cotton halter-neck dress. In this understated look, she once again demonstrates her ability to make a lasting impression through her impeccable style.
The delicate white halter-neck dress, worn by Suhana, speaks volumes about the power of simplicity. This dress, made from comfortable cotton fabric, is a testament to how even uncomplicated outfits can leave a significant impact when styled with finesse. The halter-neck style draws attention to the shoulders and neck, enhancing the overall grace of the look.
The dress featured a plunging neckline with stylish tie-ups in the front, adding a touch of sophistication and flirtatiousness to the ensemble. The tie-up detail allows for customization, letting the wearer adjust the fit and style according to their preference.
A subtle cut-out design at the chest further elevates the dress's appeal. Cut-outs are known for their ability to create visual interest in an outfit, and in this case, they likely added a hint of intrigue to the otherwise simple silhouette.
The glossy pink lip shade added a pop of color to her look, contrasting beautifully with the white dress. Pink lips can convey a sense of youthfulness and playfulness, and the glossy finish likely added a touch of sophistication.
Her rouged cheekbones provided a healthy and radiant glow to her complexion. Blushed cheeks can create a youthful and fresh appearance, complementing her overall aesthetic.
The winged eyeliner was a bold and classic choice, adding definition and drama to her eyes. This makeup technique can make the eyes appear larger and more alluring, contributing to her glamorous look.
Overall, Suhana Khan's makeup and styling choices complemented her delicate, classy, and utterly jaw-dropping outfit. It's clear that she pays meticulous attention to every aspect of her appearance, resulting in a stunning and polished look that's impossible not to fall in love with. Her ability to combine fashion and makeup to create a cohesive and captivating ensemble showcases her fashion-forward mindset and her knack for turning heads wherever she goes.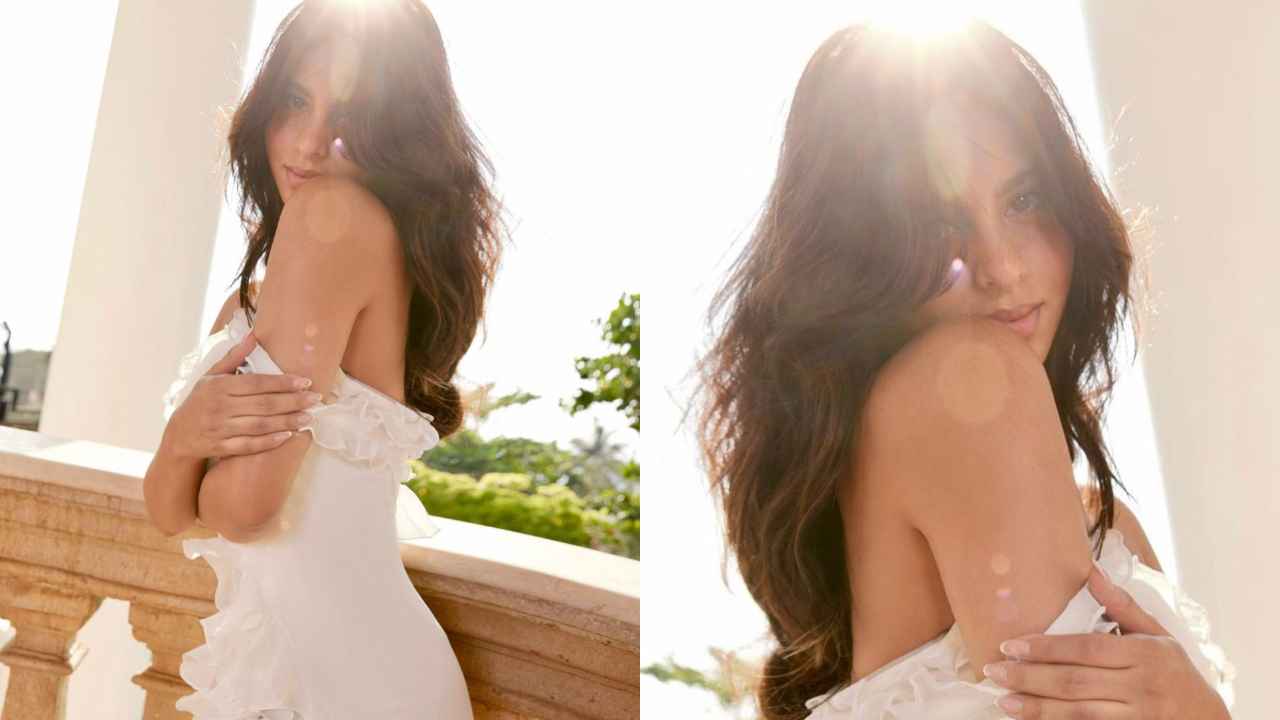 Suhana Khan's ability to effortlessly turn heads and set fashion trends has not only earned her a dedicated fan following but also solidified her status as a true fashion icon to watch out for. Her impeccable fashion sense and confident choices make her a force to be reckoned with in the world of fashion, and her influence is sure to continue shaping trends in the years to come.