Suhana Khan's Enchantingly Beautiful Black Co-ord Set: A Perfect and Essential Wardrobe Power Piece
Suhana Khan, even before her official Bollywood debut, has made a name for herself in the fashion world due to her impeccable sense of style and distinctive individuality. Her fashion choices seamlessly combine comfort with a touch of flair, positioning her as a prominent Gen-Z influencer. Suhana's ability to effortlessly balance comfort and glamour allows her to create statements that resonate across various fashion settings, whether it's her casual street style, glamorous red carpet appearances, or even her laid-back airport ensembles.
Her laid-back street style reflects her effortless approach to fashion. Suhana often exudes a casual yet chic vibe, making her relatable and aspirational to her followers. By mastering the art of combining comfortable pieces with trendy accents, she proves that fashion can be approachable yet impactful.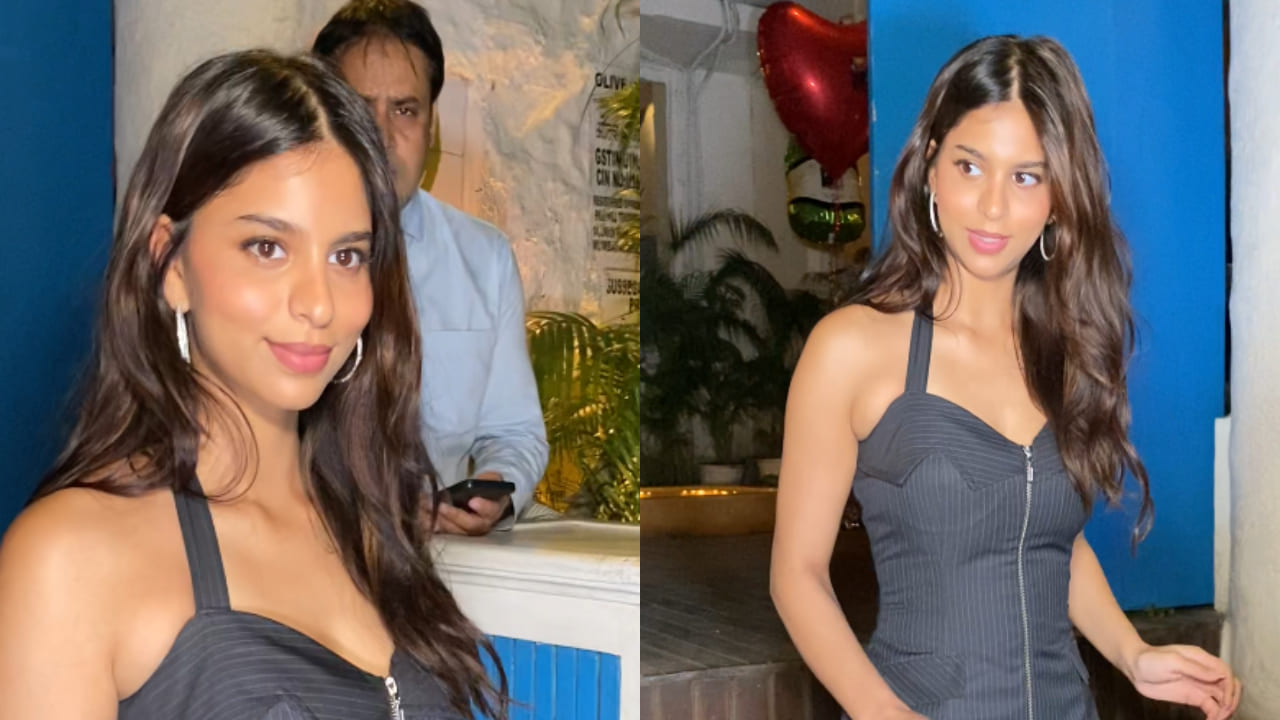 On the red carpet, Suhana Khan consistently shines with her glitzy ensembles. Her choices showcase a penchant for luxurious fabrics, elegant silhouettes, and eye-catching embellishments. Suhana's red carpet appearances exemplify her transformation into a style icon who can carry off sophisticated and high-fashion looks with grace and confidence.
Her airport looks, though casual, are far from ordinary. Suhana's ability to turn airport lounges into fashion runways is a testament to her innate sense of style. She manages to make even the simplest of outfits look chic and put-together, providing fashion inspiration for travelers everywhere.
Suhana's fashion sense goes beyond just the outfits; her choices in makeup, hairstyles, and accessories further contribute to her fashion-forward image. Whether it's her natural makeup for a casual day out or a more dramatic look for a special event, Suhana's makeup choices enhance her overall appearance without overshadowing her natural beauty.
Suhana Khan's rise as a fashion influencer demonstrates her knack for making a statement in any setting. Her ability to seamlessly transition between various fashion moods while staying true to her personal style is a hallmark of a true fashion icon. As she continues to evolve in the fashion world, she is undoubtedly leaving her mark on the industry and inspiring a generation of style enthusiasts.
Suhana Khan's emergence as a rising fashion star is marked by her fearless attitude towards experimenting with vibrant colors, sheath dresses, and statement hoop earrings. Her willingness to embrace bold and unconventional fashion choices sets her apart and contributes to her unique style identity. This audacious approach to fashion resonates with the Gen-Z audience and positions her as a trendsetter.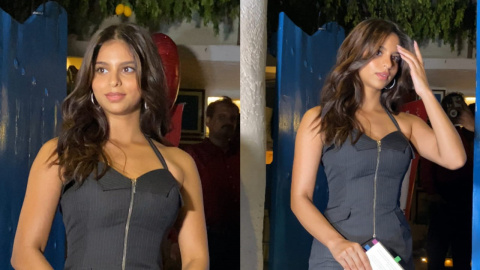 Her affinity for bright colors showcases her fearlessness in making daring choices. Experimenting with vibrant hues requires confidence and an understanding of how to balance and accessorize them. Suhana's ability to pull off such bold colors illustrates her fashion acumen and her inclination to challenge norms.
Sheath dresses are known for their sleek and form-fitting silhouette, and Suhana's affinity for them demonstrates her appreciation for both elegance and modernity. By incorporating sheath dresses into her style repertoire, she showcases her understanding of how to flatter her figure while maintaining an edgy and contemporary vibe.
Hoop earrings are statement accessories that can elevate any look, and Suhana's fondness for them adds an element of flair to her outfits. These earrings can be both classic and trendy, and her choice to wear them highlights her versatility in embracing different accessory styles.
Suhana Khan's self-assurance and ease in wearing various styles further contribute to her status as a rising fashion star. Confidence is a key component of pulling off any look, and her ability to exude confidence while experimenting with fashion choices is one of her most notable traits.
Her intrinsic sense of style, youthfulness, and individualism make her stand out in the Gen-Z fashion scene. Suhana's fashion journey is not just about following trends but about crafting a distinctive style identity that resonates with her personality. Her fashion choices communicate authenticity, a trait that resonates strongly with her generation.
Suhana Khan's fashion evolution continues to captivate attention, and her recent choice to deviate from her trademark sheath dresses and shift dresses by opting for a black co-ord top and skirt ensemble is yet another example of her versatility and ability to make bold fashion statements.
The black co-ord ensemble showcases Suhana's willingness to step out of her comfort zone and explore different styles. Co-ord sets are known for their coordination and harmonious appearance, and her choice demonstrates her ability to adapt her style while maintaining a polished and put-together look.
The eye-catching black top with delicate straps on both sides adds an element of sophistication and modernity to the ensemble. The wide front of the top brings a unique twist to the classic silhouette, creating a focal point that draws attention. This intricate design showcases Suhana's attention to detail and her affinity for pieces that have a distinctive edge.
The decision to move away from her usual sheath dresses and shift dresses is a testament to Suhana's desire to experiment with different silhouettes and explore new facets of her style. This willingness to explore and evolve is characteristic of a fashion-forward mindset.
Suhana's ability to carry off a diverse range of styles while maintaining her signature confidence contributes to her status as a rising fashion star. Her choice of the black co-ord ensemble reinforces her position as a trendsetter who is unafraid to take fashion risks.
The addition of collar-like flaps that adorn the entire neckline of the top adds a unique touch to Suhana Khan's ensemble, elevating its overall appearance and introducing a touch of flair. These collar-like flaps create a visual interest and intricate detailing that contributes to the ensemble's uniqueness and individuality. This design element showcases Suhana's penchant for pieces that have distinctive features, and it adds a layer of sophistication to the look.
The way Suhana pairs the top with a matching skirt demonstrates her ability to effortlessly emanate an aura of easy sophistication. The coordination between the top and skirt creates a cohesive and well-rounded ensemble that speaks to her understanding of fashion and her skill in creating polished outfits.
The individual style that Suhana exudes is a key factor in her ability to carry off any outfit with confidence. Her innate sense of style shines through, even when she ventures into new fashion territories. This combination of personal style and sartorial experimentation showcases her capacity to make fashion choices that resonate with her personality and preferences.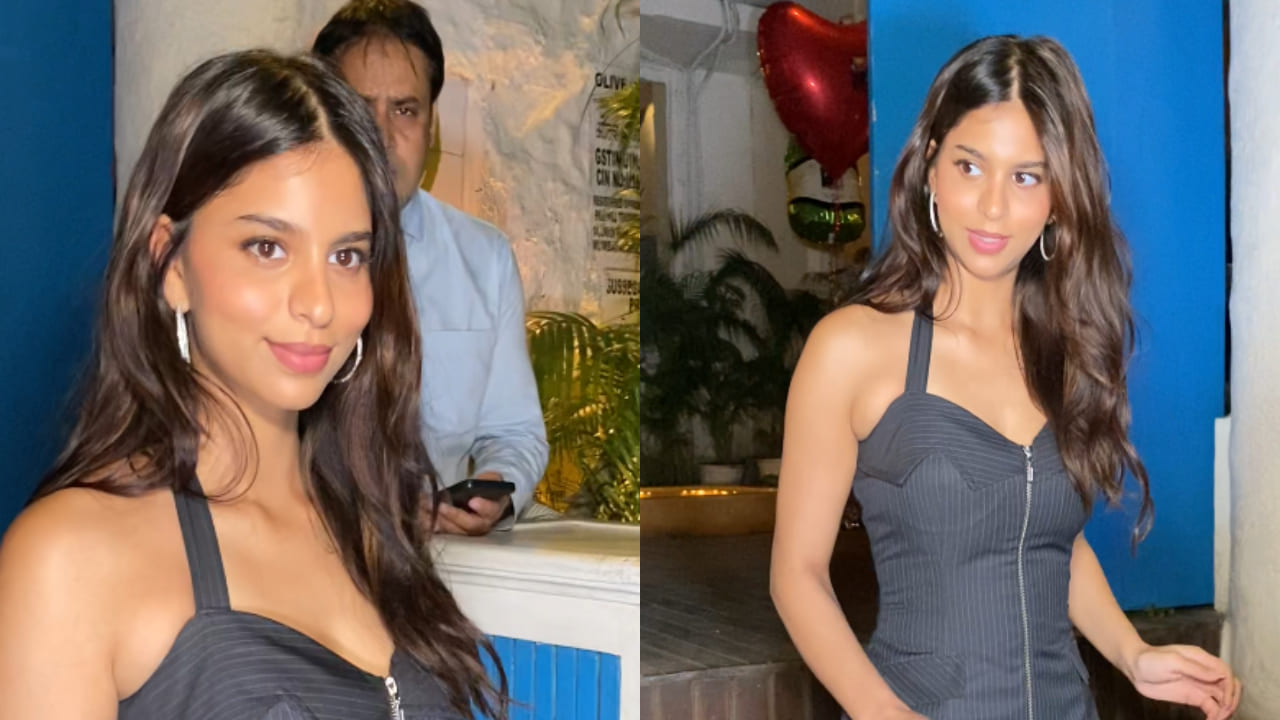 Suhana Khan's effortlessly unruly hair adds a touch of casual charm to her overall appearance while still exuding sophistication. This juxtaposition between casualness and sophistication is a hallmark of her style, demonstrating her ability to strike a balance between different elements.
Switching things up by styling her hair with a center part showcases Suhana's adaptability and willingness to experiment with her look. This small change can make a significant impact, demonstrating how a simple alteration can add a new dimension to her style. This adaptability reflects her understanding of the power of hair as a versatile accessory.
Suhana's choice of a makeup palette that enhances her inherent beauty while staying true to her unique style is noteworthy. Makeup serves to accentuate her features rather than overpower them, allowing her natural beauty to shine through. This approach aligns well with her overall fashion philosophy, which emphasizes authenticity and a genuine representation of self.
Her ability to pair her distinct makeup style with different outfits showcases her versatility as a fashion influencer. Suhana's makeup choices complement her outfits without overpowering them, creating a cohesive and well-rounded look.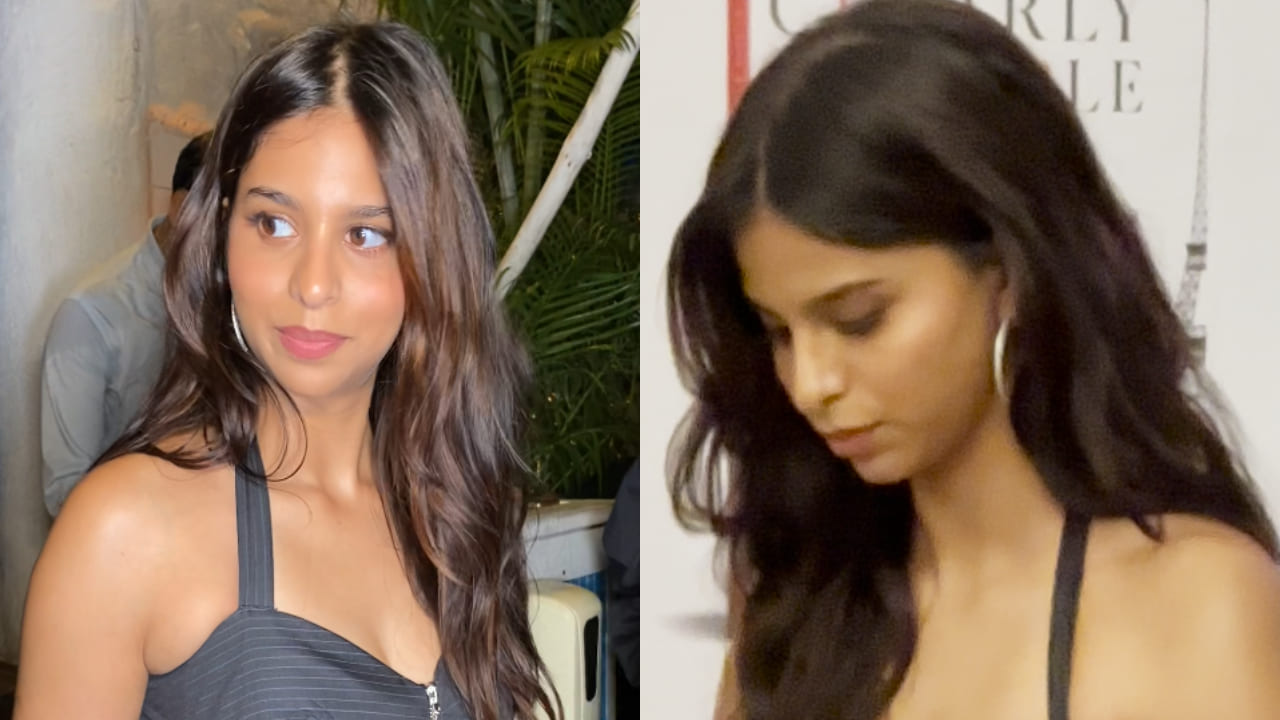 In conclusion, Suhana Khan's effortlessly unruly hair, versatile hair styling choices, and understated makeup palette all contribute to her sophisticated yet relatable appearance. Her ability to adapt her hair and makeup styles to different looks showcases her versatility as a fashion icon, further solidifying her status as a rising star in the fashion world.