Shanaya Kapoor serves regal with side of sexy in red backless top, but her Valentino bag is the real crown
The fashion landscape is undeniably evolving, and the emergence of Generation Z has brought with it a fresh wave of style that is turning heads and shaking up the fashion industry. This dynamic and trendsetting generation is at the forefront of a fashion revolution, and among its rising stars is none other than Shanaya Kapoor, a name that has been making waves in the fashion world.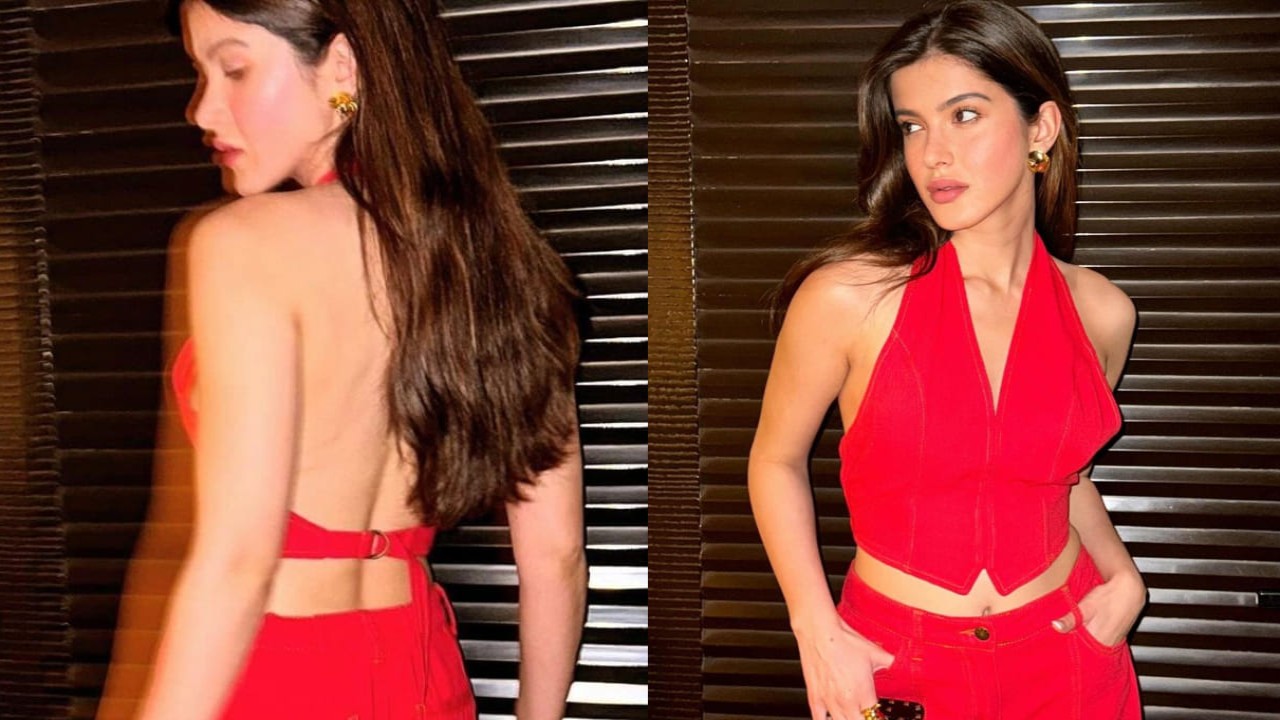 Shanaya Kapoor is rapidly gaining recognition as a fashionable wonder and a trendsetter in her own right. As a member of the new generation of style influencers, she is redefining fashion norms and pushing boundaries with her bold and innovative choices. Her ability to effortlessly fuse contemporary and traditional elements in her outfits reflects the fashion-forward mindset of Generation Z. Shanaya's influence goes beyond her individual style; she is a symbol of the evolving fashion landscape that thrives on diversity, inclusivity, and fearless experimentation.
With fresh faces and celebrity offspring joining the fashion scene, it's clear that the fashion world is in for an exciting journey. Shanaya Kapoor is leading this group, making her presence felt as a rising star who is redefining fashion with her unique and captivating style. As Generation Z continues to drive the fashion narrative, Shanaya's fashion-forward approach is just the beginning of what promises to be a wild and exhilarating ride in the world of style and trends.
Shanaya Kapoor, the rising superstar, has undoubtedly been a sight to behold with her impeccable fashion choices. She consistently dons the newest styles and effortlessly owns every outfit she wears, leaving a trail of admirers in her wake. Her ability to flawlessly carry off a diverse range of fashion ensembles is a testament to her fashion-forward approach and innate style sensibility.
What sets Shanaya apart is her bold and fearless attitude when it comes to fashion. She fearlessly experiments with her looks, pushing the boundaries of conventional fashion and introducing fresh and innovative ideas. Her knack for making standout fashion decisions is creating a lasting impression on the fashion landscape, and she is becoming a trendsetter in her own right.
As a representative of Generation Z, Shanaya Kapoor is proving that this generation is not just here to stay but is ready to take the fashion world by storm. With her unique style and fearless approach, she's setting the stage for a dynamic and exciting future in the world of fashion. Get ready because Shanaya Kapoor is poised to make her mark and take over the fashion world in style.
When it comes to the fashion game, the trio of Khushi Kapoor, Suhana Khan, and Shanaya Kapoor is undeniably a force to be reckoned with. These best friends share not only a deep bond but also an impeccable sense of style that never fails to impress. Their collective fashion choices are always on point, setting trends and turning heads wherever they go. However, let's now shine the spotlight on Shanaya Kapoor and a recent stunning event dress that perfectly encapsulated her fashion prowess.
Shanaya Kapoor, the fashionable wonder, knows how to make a lasting impression with her outfit choices. Her recent event dress was a showstopper, a testament to her unique style and elegance. Whether it's a high-profile event or a casual gathering, Shanaya consistently demonstrates her knack for selecting the right attire that accentuates her beauty and makes her stand out in the crowd.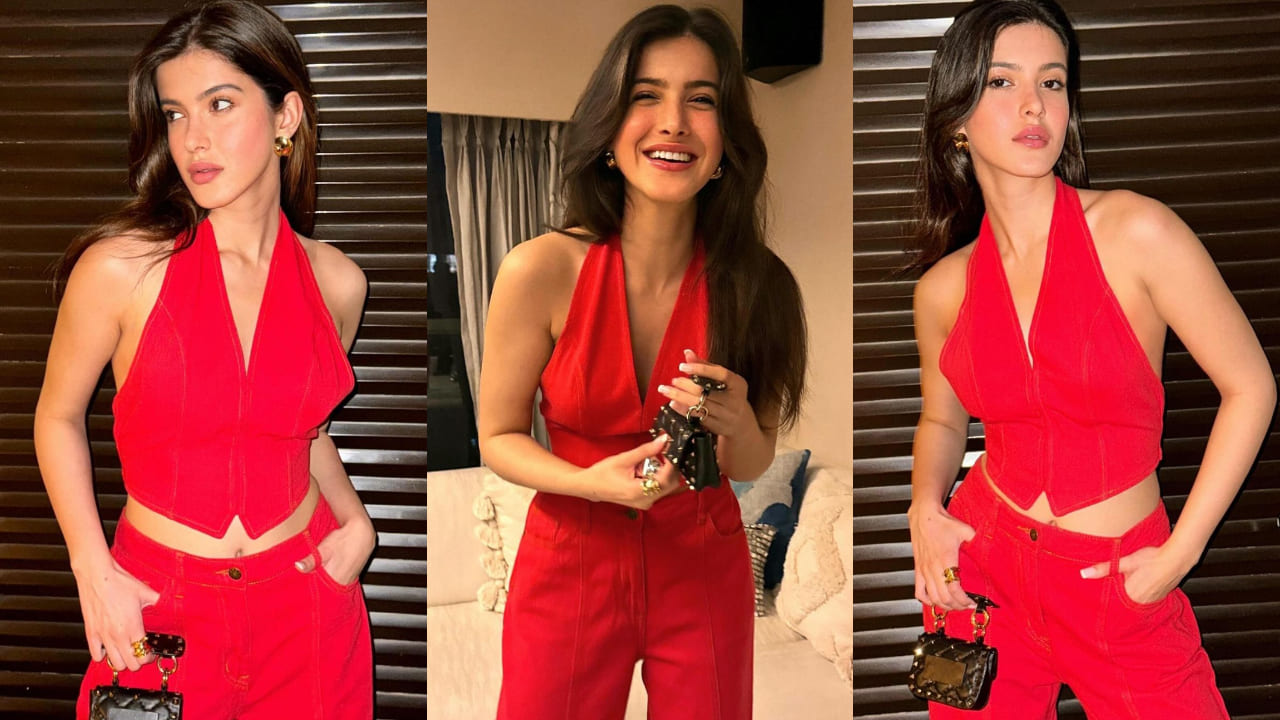 Not just content with her red carpet appearance, Shanaya continued to make a statement at the after-party. Her impeccable fashion choices extended beyond her initial entrance, and she maintained her reign as a fashion icon throughout the evening. Her ability to maintain her poise and elegance throughout the event was a testament to her confidence and style prowess, proving that she is a true fashion-forward trendsetter.
As we dissect Shanaya Kapoor's style, it's evident that her fashion selections serve as a source of inspiration for many. Her ability to experiment with bold and innovative outfits while exuding confidence and grace is truly remarkable. Shanaya Kapoor continues to captivate the fashion world with her impeccable taste, leaving us all eager to take inspiration from her fashion-forward choices and to see what she will bring to the fashion scene next.
Once again, Shanaya Kapoor proved her fashion mettle by stealing the show with her stunning outfit choice at the occasion. This time, she opted for a striking crimson two-piece ensemble that oozed elegance and sophistication. Her choice of attire highlighted her fashion-forward mindset and her innate ability to make bold fashion statements.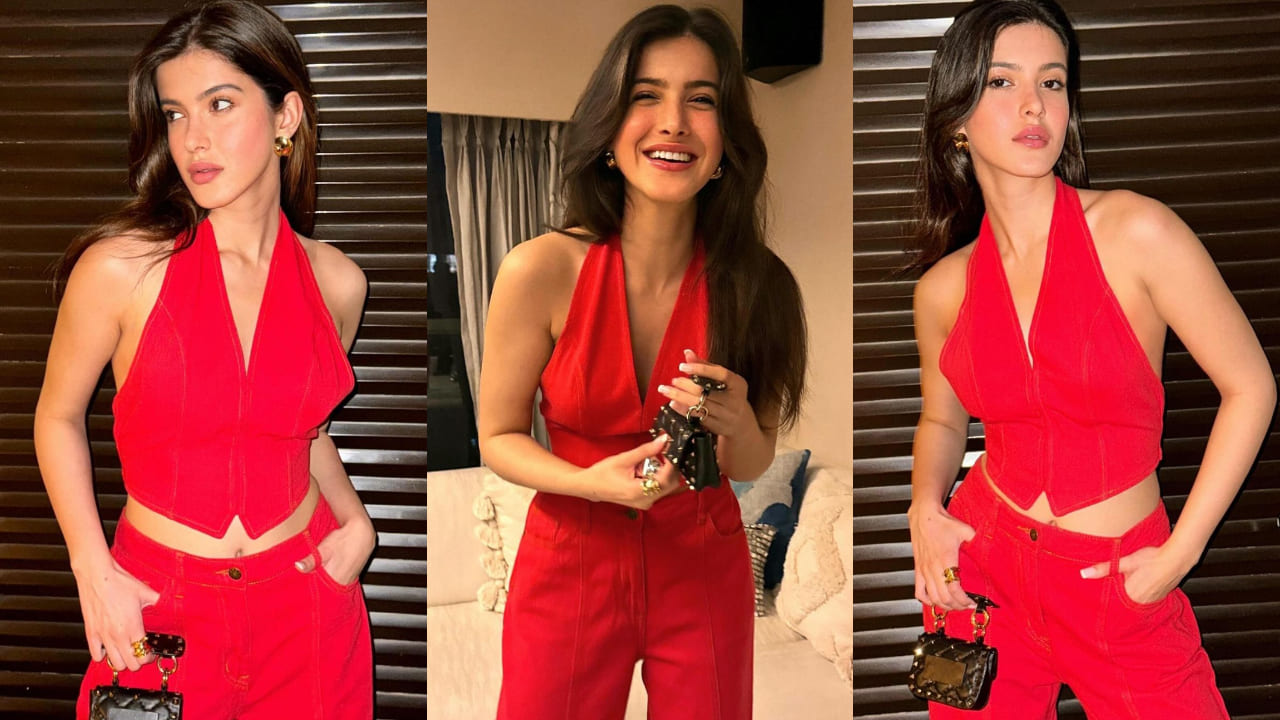 The top of Shanaya's ensemble was a showstopper in its own right. The halter neck design not only accentuated her elegant neckline but also added a touch of glamour and class to her overall look. It's clear that she understands how to select outfits that perfectly match her body and style, and the crimson top was no exception.
What set Shanaya's outfit apart was the exposed back, which added a touch of allure and intrigue to her overall appearance. It demonstrated her confidence in embracing unique design elements and proved that she's not afraid to push the fashion boundaries. Shanaya's outfit showcased her ability to combine elegance with a hint of allure, making her a true style maven who leaves a lasting impression on the fashion landscape.
Shanaya Kapoor's fashion choices often stand out, and her outfit at the occasion was no exception. She donned a gorgeous halter neck shirt paired with Dawson denim crimson leggings, creating a stunning combination that blended style and functionality. The high-waisted trousers not only added a touch of refinement to her look but also featured practical pockets, making them both fashionable and functional.
What's particularly impressive is the affordability of her outfit. The Je Suis Halter Crimson top, priced at Rs. 4,900, and the crimson trousers at Rs. 8,220, both from Lioness Fashion, prove that great style doesn't have to come with a hefty price tag. Lioness Fashion is a fantastic brand known for its contemporary and budget-friendly designs, and Shanaya's choice to wear their creations at the event highlights her relatability and connection to her audience.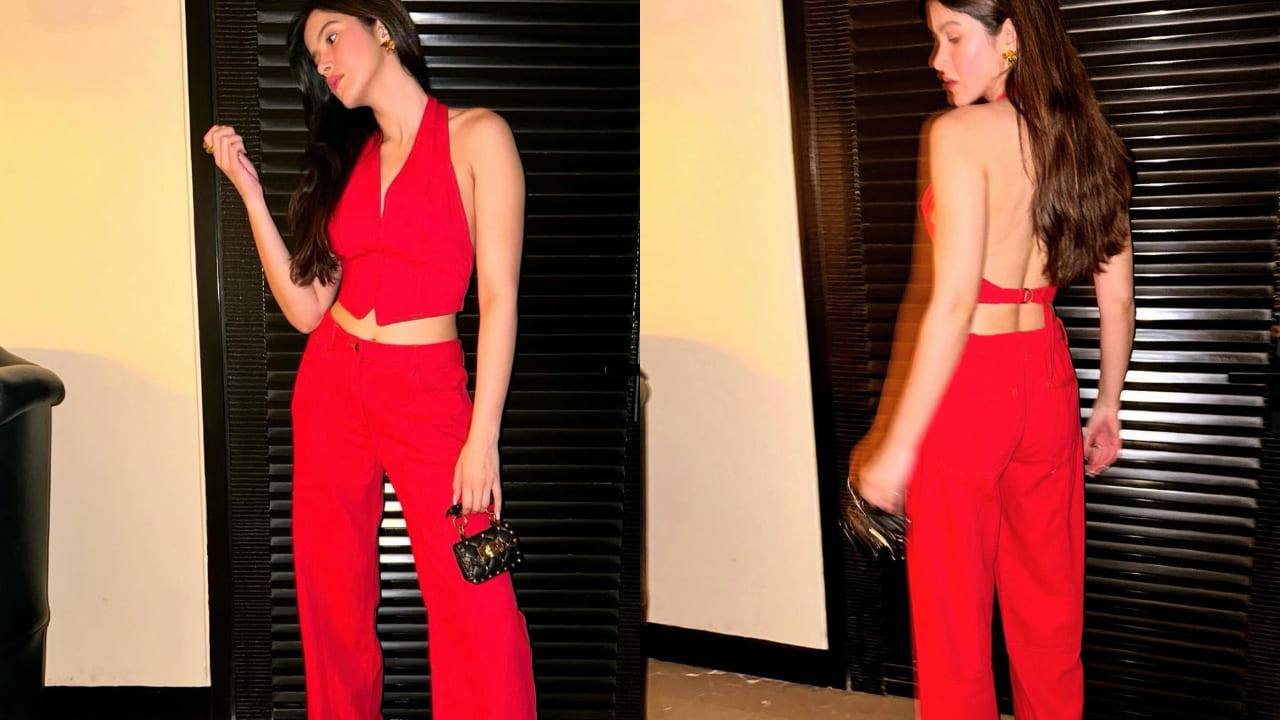 Shanaya Kapoor truly stole the stage in this gorgeous co-ord ensemble, not only for her impeccable style but also for her ability to make accessible and fashionable choices. Her outfit exemplified her practical yet chic approach to fashion, and it's no wonder that she continues to be a fashion inspiration for many who appreciate a blend of style and affordability.