Suhana Khan Empowers as the New Desi Girl with Her Beyond-Exquisite Power Sarees!
Indeed, Suhana Khan's innate fashion sense and style have made her a true trendsetter in the world of fashion. Beyond her lineage as the daughter of Bollywood superstar Shah Rukh Khan, she has carved a unique identity for herself as a prominent figure in the fashion industry.
One aspect of her fashion choices that has captured the attention of many is her love for traditional Indian attire, especially sarees. Sarees are an iconic and timeless piece of clothing in Indian culture, and Suhana's fondness for them showcases her appreciation for her cultural heritage.
Her saree looks have garnered significant media attention and praise from fashion enthusiasts worldwide. Whether it's the choice of fabric, color, draping style, or embellishments, Suhana Khan has consistently demonstrated her flair for selecting sarees that suit her personal style and enhance her beauty.
By embracing traditional Indian attire, she has not only become a fashion inspiration for her fans but also celebrated the richness and diversity of Indian fashion on the global stage.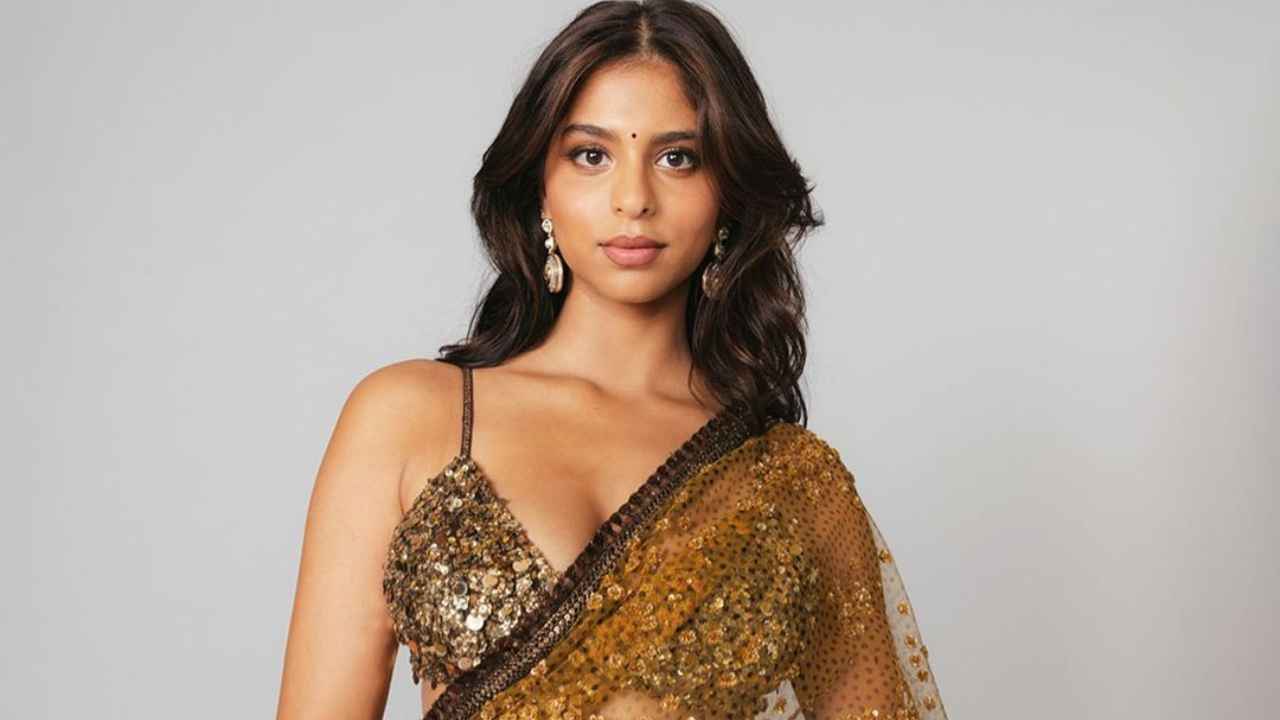 Suhana's bold and experimental fashion choices outside of traditional wear have also earned her acclaim. She has been spotted in chic western outfits that reflect her youthful and fashion-forward approach. Her confidence and poise in carrying diverse styles have made her a sought-after fashion icon for many.
As a young fashion influencer, Suhana Khan's impact goes beyond just Bollywood; she has become a prominent figure in the fashion world, inspiring her fans and followers to explore and embrace their own unique style.
Suhana Khan's recent Instagram post showcasing her love for neutral colors through a stunning Sabyasachi saree ensemble sounds absolutely mesmerizing. Sabyasachi Mukherjee is renowned for his exquisite craftsmanship and timeless designs, and Suhana's choice of his creation undoubtedly adds to the allure of her look.
The neutral color palette of the saree is a classic and sophisticated choice, reflecting Suhana's refined taste in fashion. Neutral colors have a timeless appeal and can create an elegant and understated yet captivating look.
The intricately embellished blouse with brilliant hues of gold is a beautiful complement to the neutral saree. Gold embellishments add a touch of opulence and vivacity to the ensemble, elevating the overall look and making it a perfect choice for a special occasion or event.
Suhana's impeccable pairing of the saree with the embellished blouse showcases her understanding of how to create a cohesive and harmonious outfit that exudes elegance and grace.
Sabyasachi's designs are known for celebrating traditional Indian aesthetics with a modern touch, and Suhana's choice of his creation allows her to embrace her cultural heritage while also making a contemporary fashion statement.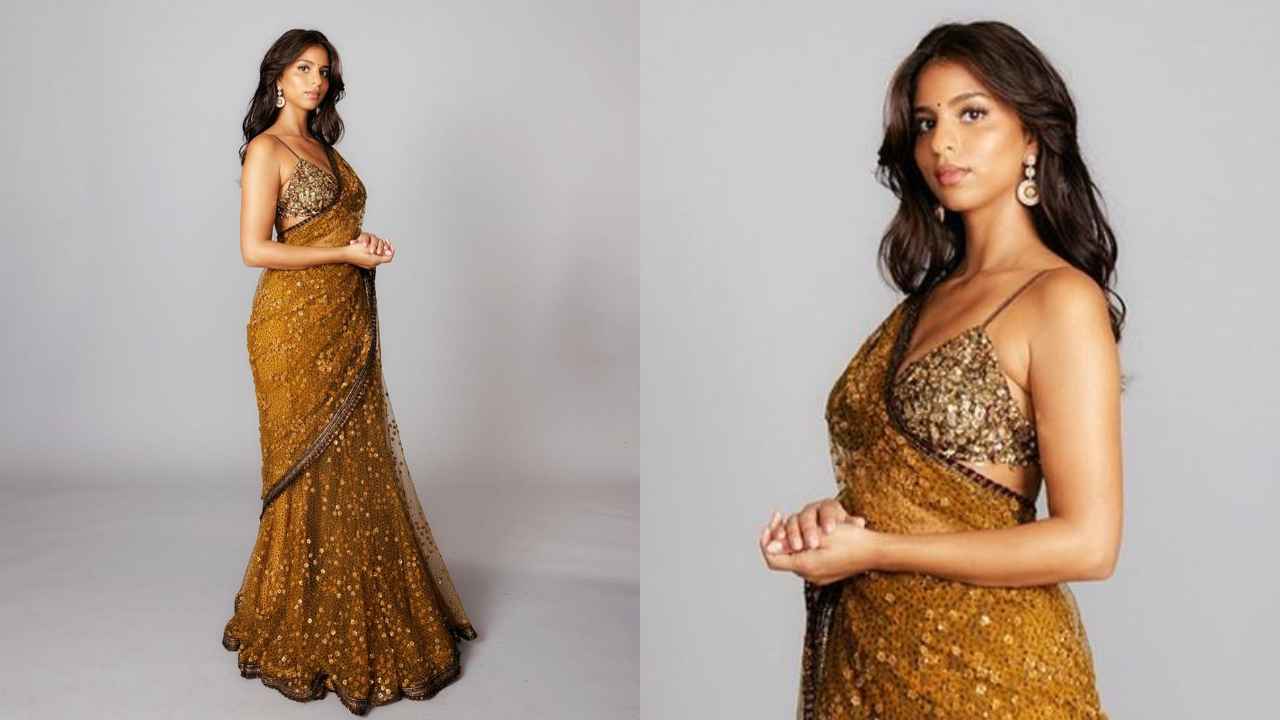 Her love for neutral colors and her tasteful selection of the saree ensemble demonstrate her appreciation for classic and versatile styles that stand the test of time.
Suhana Khan's choice to step out in a sensational saree by Falguni Shane Peacock is a celebration of traditional elegance and showcases her appreciation for timeless fashion.
The pristine white saree with delicate golden borders is a classic and sophisticated choice that exudes grace and charm. The combination of white with gold is a timeless pairing that has been cherished in the wardrobes of Indian women for generations, making it a symbol of traditional beauty and elegance.
By donning this exquisite saree, Suhana pays homage to the rich cultural heritage of Indian fashion while also making a stunning fashion statement.
The way she gracefully drapes the saree reflects her poise and confidence, making her look like a vision of grace and sophistication.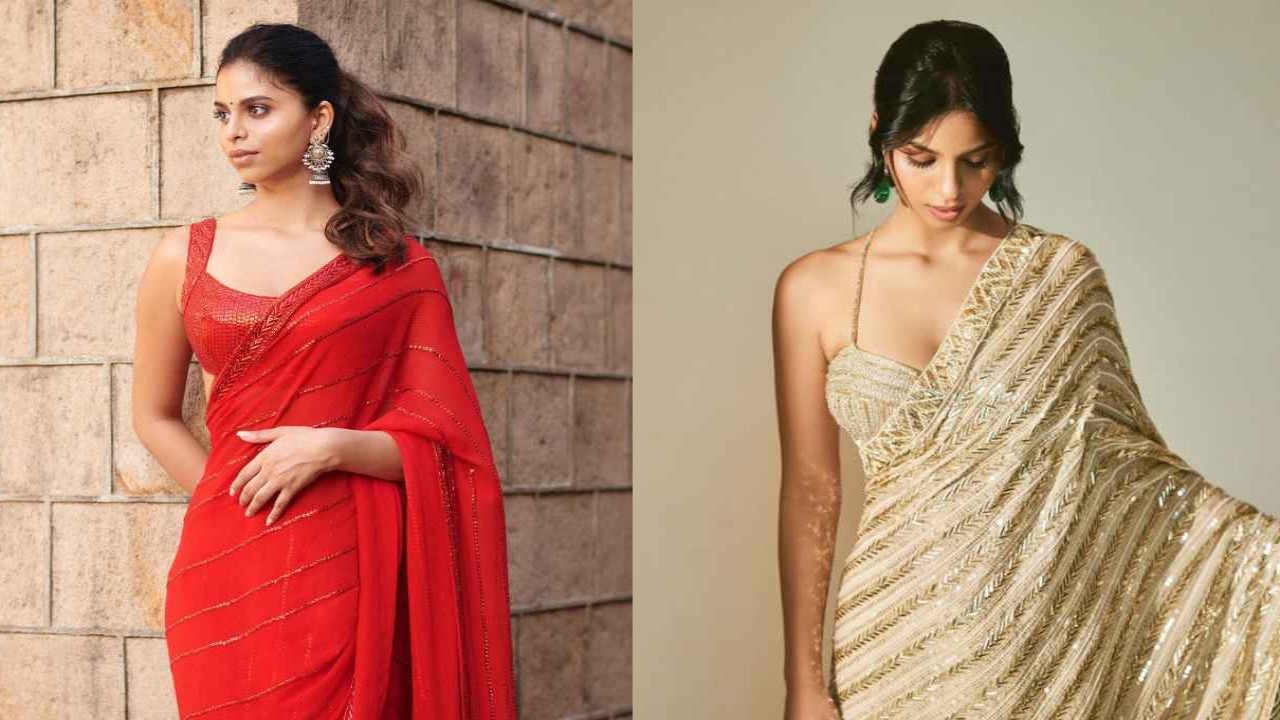 Falguni Shane Peacock's designs are known for their intricate craftsmanship and attention to detail, and Suhana's choice of their creation further adds to the allure of the ensemble.
The combination of traditional elegance with a modern touch in this Falguni Shane Peacock saree reflects Suhana's fashion-forward approach, making her a prominent figure in the world of Bollywood and fashion.
Suhana Khan's choice to adorn a fusion saree created by Manish Malhotra showcases her ability to strike a perfect blend of traditional and contemporary fashion, making her appearance both captivating and inspiring.
Manish Malhotra is renowned for his ability to merge traditional Indian elements with contemporary aesthetics, creating stunning ensembles that resonate with modern sensibilities.
Suhana's fusion saree, designed by Manish Malhotra, likely features a unique combination of fabrics, colors, and embellishments that reflect her fashion-forward approach.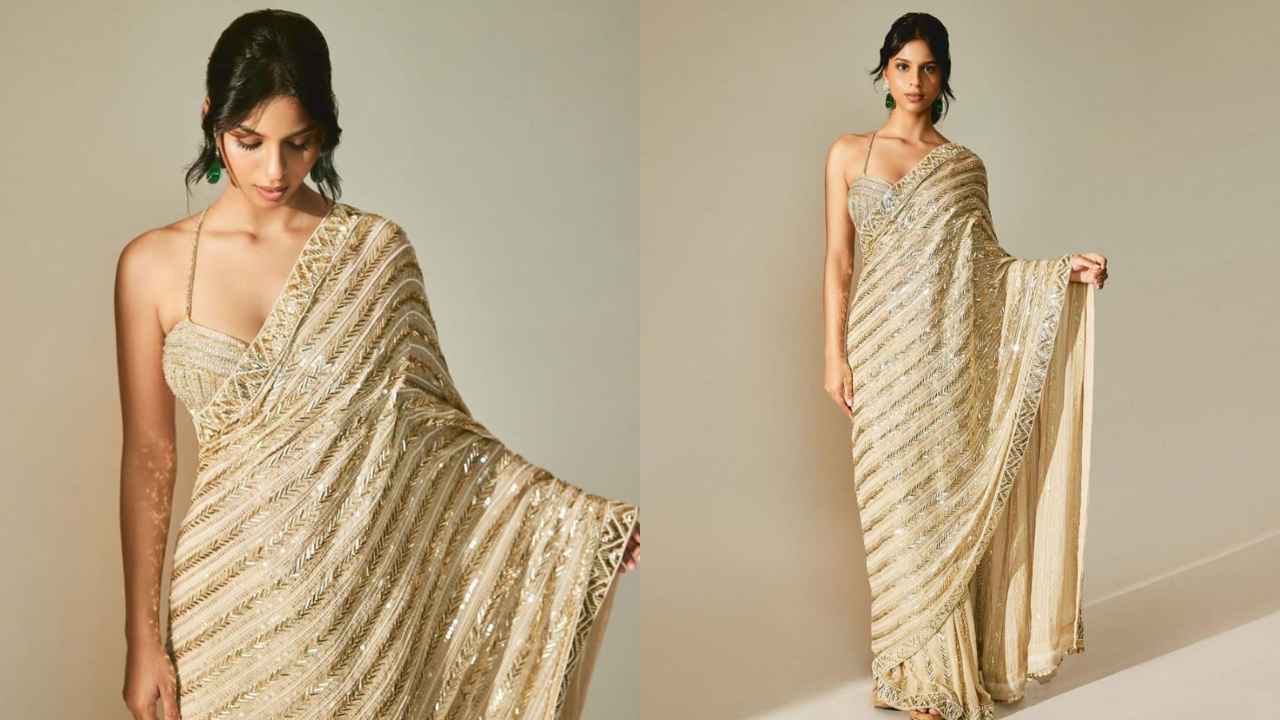 The fusion saree's design might incorporate traditional Indian motifs and embroidery, combined with modern cuts and silhouettes that flatter her figure and add a touch of sophistication.
The choice of a fusion saree allows Suhana to celebrate her cultural heritage while embracing her individual style and preferences.
Her appearance in the Manish Malhotra fusion saree captures attention and admiration alike, as she embodies the perfect balance of traditional elegance and contemporary flair.
Suhana's fashion choices, particularly in fusion wear, showcase her versatility and ability to experiment with diverse styles, making her a trendsetter in the world of fashion.
Suhana Khan's choice of an unconventional, thoroughly embellished saree with a stylishly draped pallu is a testament to her daring and innovative approach to fashion. By opting for a saree with a unique and unconventional design, she showcases her confidence in experimenting with her style and making bold fashion statements.
The saree's intricate embellishments likely add a touch of opulence and grandeur to her overall look, elevating the ensemble to a stunning and eye-catching piece of art.
The stylishly draped pallu further emphasizes her fashion-forward approach, as the pallu is an essential element of a saree that allows for various draping styles to create different effects.
Suhana's daring and innovative approach to fashion is evident in her choice of this distinctive saree, which demonstrates her willingness to step outside of traditional norms and embrace her individuality.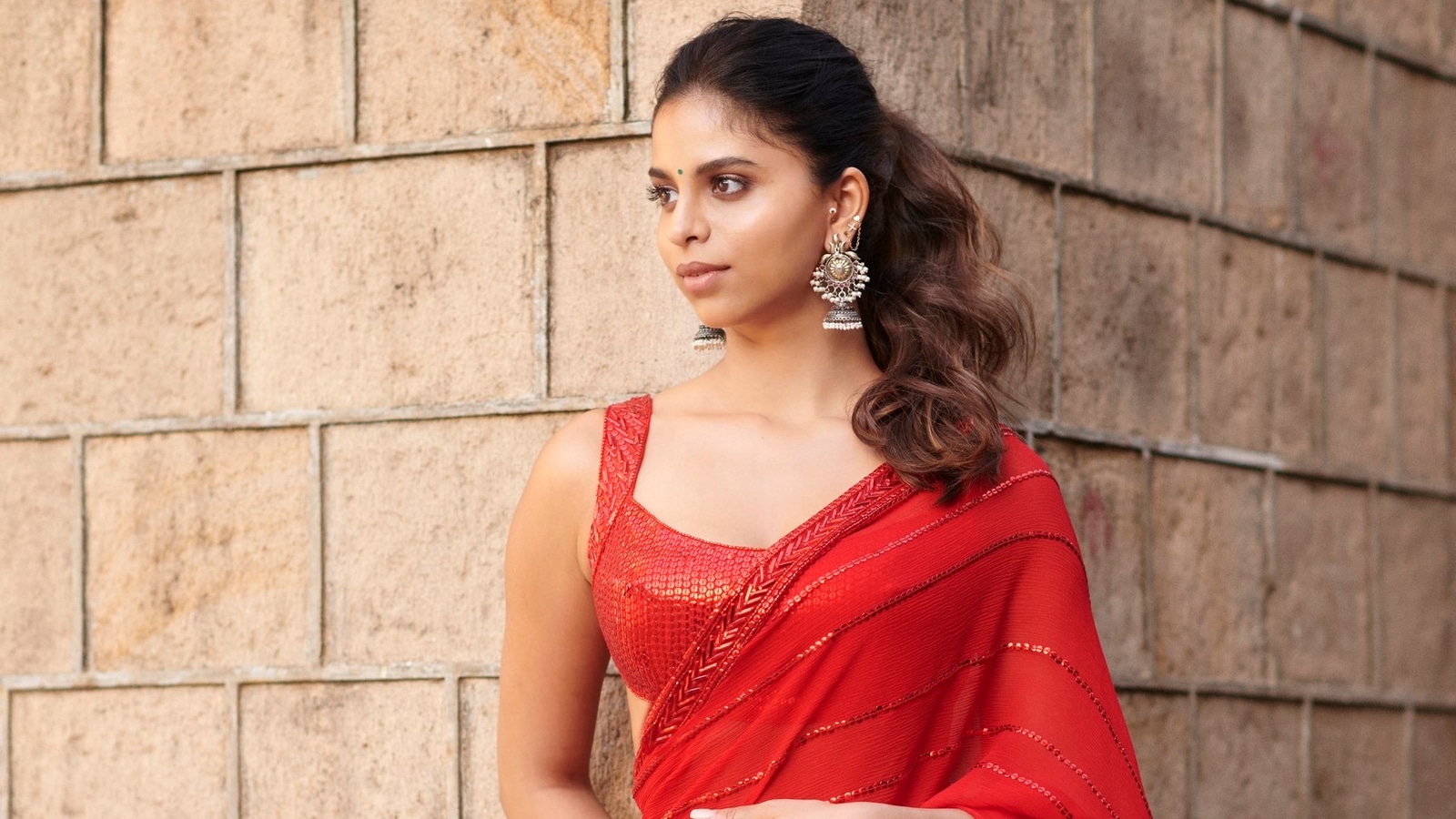 By wearing such an unconventional saree with confidence and grace, she becomes a trendsetter, inspiring others to explore their own unique style and experiment with unconventional designs.
Her appearance in this saree captures attention and admiration, as it reflects her fearlessness in embracing new and innovative fashion trends.
Suhana Khan's appearances at high-profile events are indeed highly anticipated, as she has established herself as a style icon in the world of Bollywood. Her choice of a glamorous bold red saree, designed by the renowned Manish Malhotra, is sure to have left onlookers in awe.
Red is a timeless and captivating color often associated with passion and confidence. Suhana's decision to wear a bold red saree exudes elegance and makes a striking statement, showcasing her daring and fashionable side.
Being created by Manish Malhotra, the saree is likely to be a masterpiece of craftsmanship, with attention to detail and unique design elements. His signature touch often includes intricate embellishments and embroidery, adding a touch of opulence and glamour to any outfit.
The saree's drape and silhouette would have been tailored to flatter Suhana's figure, creating a stunning and alluring look that befits a star-studded affair.
With such a glamorous ensemble, Suhana Khan undoubtedly became the center of attention and admiration at the event, solidifying her status as a prominent fashion influencer in the industry.
Her confident presence in the bold red saree designed by Manish Malhotra further cements her position as a trendsetter and style icon in the world of Bollywood and fashion.
Overall, Suhana Khan's appearance in the glamorous bold red saree at a star-studded affair showcases her impeccable fashion sense and her ability to make a statement with her fashion choices. Her presence undoubtedly left a lasting impression on onlookers, inspiring them with her confident and elegant style.