Karisma Kapoor's Stunning Red and Royal Abraham and Thakore Kurta Set Radiates Elegance and Power
As the sun's warmth becomes more pronounced, it's evident that the weather is shifting towards hotter days. And in response to this change, our fashion preferences are naturally gravitating towards breezy and lightweight fabrics that provide comfort without compromising style. This season, the focus is on comfortable and staple pieces that keep us feeling cool and stylish, and Karisma Kapoor's recent ethnic ensemble perfectly captures this trend.
Karisma Kapoor's choice of a two-piece kurta combo with vibrant embroidery and striking colors is a brilliant addition to anyone's wardrobe. This coordinated set includes a kurta top and matching bottoms, making it incredibly convenient to put together a well-coordinated look. The two-piece ensemble not only saves time but also ensures that your outfit looks harmonious and put-together.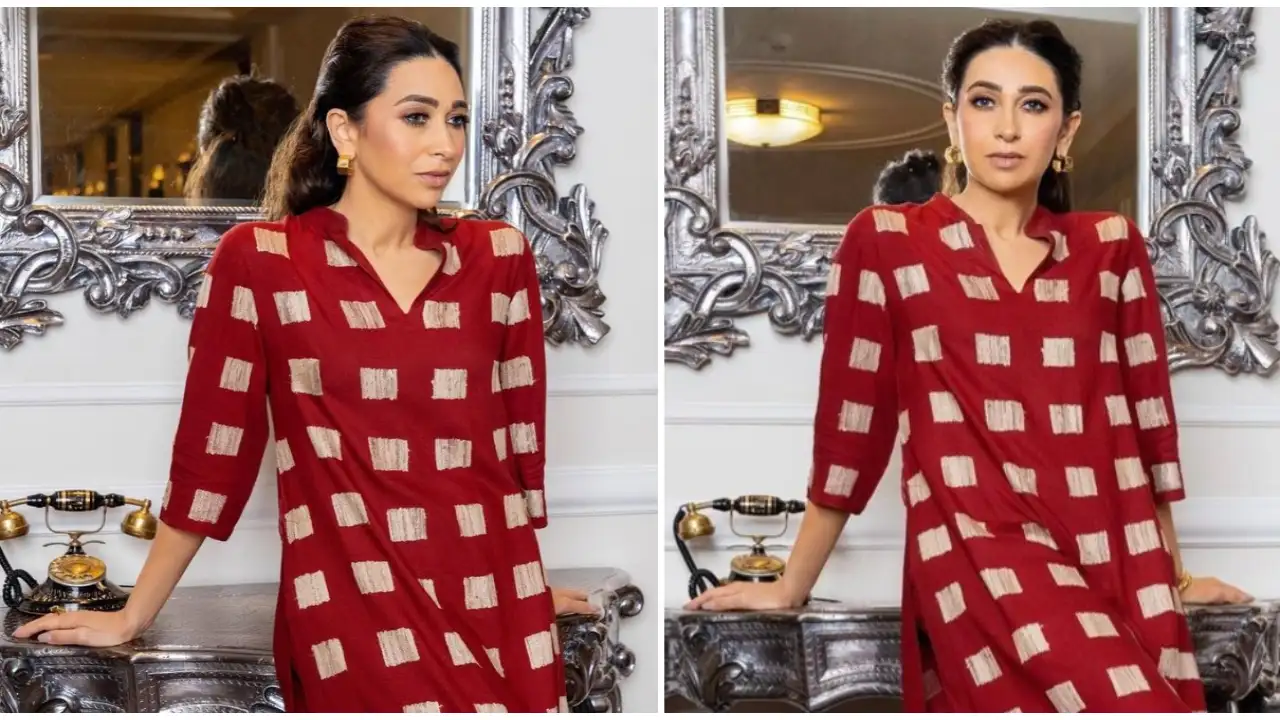 What stands out in this ensemble is the intricate and powerful embroidery that adorns the kurta. Embroidery has a timeless charm in ethnic wear, and the strong patterns and designs used here add depth and dimension to the outfit. This intricate detailing brings an element of traditional elegance to the contemporary ensemble, making it suitable for a range of occasions.
The vibrant colors chosen for the ensemble exude a sense of celebration and joy. Bright and lively hues are particularly fitting for festive events like pujas or weddings, where you want your outfit to radiate positivity and enthusiasm. These colors not only make a statement but also align with the spirit of the occasion.
Incorporating Karisma Kapoor's ethnic attire into your style repertoire adds a touch of vibrancy and elegance to your wardrobe. It's a reflection of the ongoing trend of embracing lightweight fabrics and strong embroidery during the warmer months. As the season unfolds, this ensemble serves as a stylish reminder that comfort and style can go hand in hand, making it an excellent choice for various celebrations and gatherings.
Kurtas, no matter the fashion landscape, always manage to maintain their visibility and significance. The ensemble curated by Karisma Kapoor serves as a prime example of this enduring trend. This ready-to-wear kurta set, brought to life by Lolo herself, showcases the versatile nature of kurtas, making them adaptable for various occasions and style choices.
The beauty of this kurta set lies in its inherent flexibility. While Karisma Kapoor's styling of the ensemble exudes elegance and grace, the kurta itself provides a canvas for personalization. This is where your style creativity comes into play. The ensemble is like a blank slate waiting to be transformed by your unique fashion sensibilities.
To maximize your style productivity, consider the many occasions where this ensemble could shine. From festive gatherings and family celebrations to cultural events and even work-related functions, the kurta set can be easily adapted to suit the dress code and ambiance. Additionally, the ensemble's recycling capacity is a testament to its timelessness. With minor tweaks and accessory changes, you can create entirely new looks with the same foundational piece.
So, armed with this fashionable inspiration, start making mental notes of where you can confidently flaunt this outfit. Let your creative instincts guide you in accessorizing and styling the kurta set to suit the vibe of each event. Karisma Kapoor's kurta ensemble not only celebrates the enduring appeal of kurtas but also encourages you to explore your personal style and make it your own.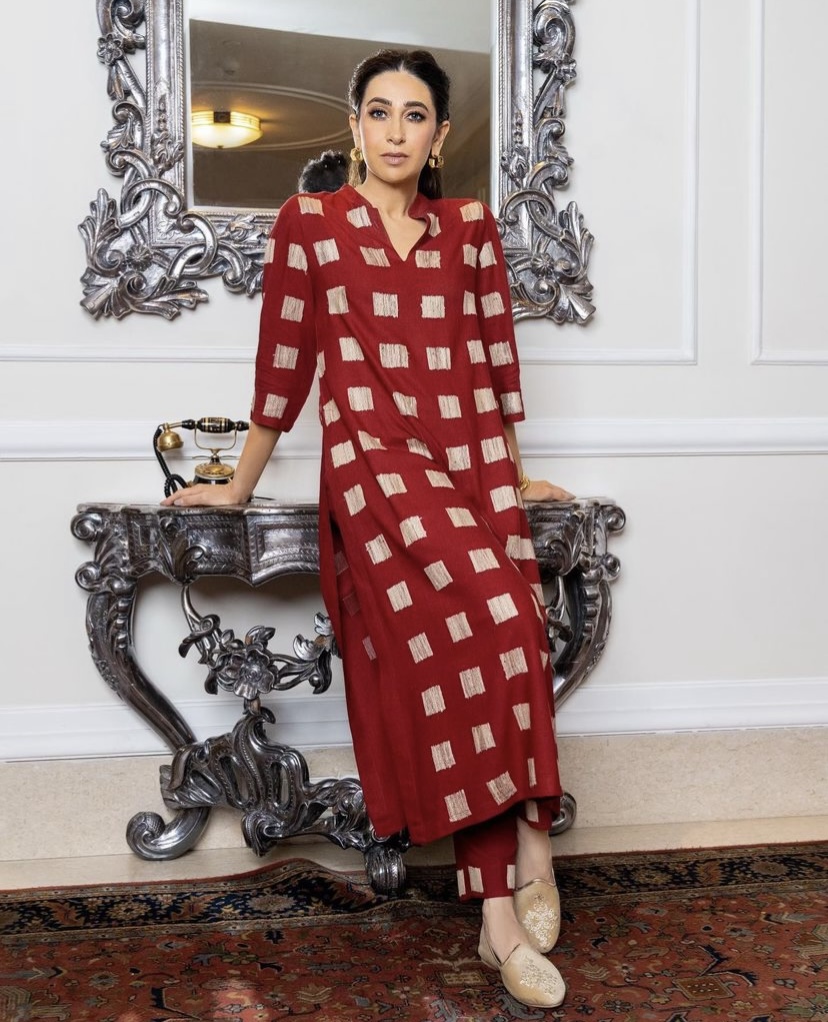 The kurta set, crafted by renowned designers Abraham and Thakore, is a testament to the power of simplicity and understated luxury. Karisma Kapoor's choice to don this ensemble highlights her ability to merge traditional elements with contemporary aesthetics seamlessly. The co-ordinated set, consisting of a kurta and pants, showcases a refined color palette and a timeless design, making it a versatile addition to any wardrobe.
One can't help but notice the impeccable fit of the kurta and pants, underscoring the importance of well-tailored clothing. The right fit enhances the wearer's confidence and brings out the best in the ensemble's design. Karisma Kapoor's choice to opt for a co-ordinated set further enhances the ensemble's impact, showcasing her sartorial expertise in effortlessly putting together a complete look.
Karisma Kapoor's recent appearance at an event, where she was styled by the talented Esha L Amin, exemplified her impeccable fashion choices once again. The ensemble she wore, consisting of a midi kurta and straight-fit pants, not only showcased her style prowess but also echoed the prevailing trend of coordinated outfits. As we delve into the details of this outfit, we uncover the thoughtful design elements and intricate craftsmanship that contributed to its charm.
One of the standout features of this ensemble is its composition. Crafted from an Ecovero-cotton blend, the outfit not only exudes elegance but also reflects a conscious effort towards sustainability and eco-friendly fashion. This choice aligns with the growing movement towards responsible fashion consumption and showcases Karisma's commitment to making impactful fashion choices.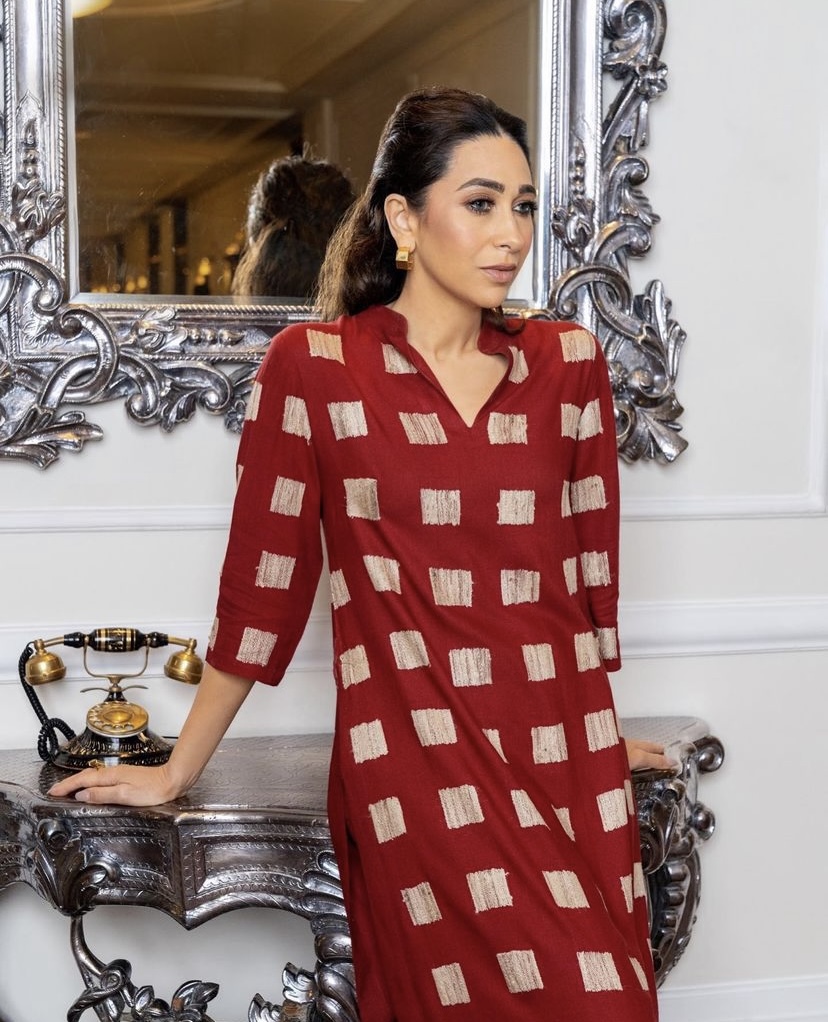 The real showstopper, however, lies in the meticulously handcrafted embroidery. The square patterns embroidered using tussar-silk yarn stand out as intricate works of art. What makes this embroidery even more noteworthy is the fact that it was created by skilled Karigars, who dedicated 310 hours to bring this design to life. This not only adds a layer of exclusivity to the outfit but also honors the rich heritage of craftsmanship that Indian fashion is known for.
In an era where fashion choices hold the power to inspire change, Karisma Kapoor's curated appearance stands as a beacon of elegance and conscious fashion. It encourages us to seek out outfits that resonate with our values, celebrate craftsmanship, and embrace the dialogue between tradition and modernity. Just as Karisma effortlessly carries this outfit, let us also embark on our fashion journeys with confidence and a commitment to making impactful choices.
Karisma Kapoor's ensemble truly encapsulates the essence of contemporary ethnic wear, and as we delve deeper into its details, the charm and thoughtfulness behind her look come to the forefront. The kurta, priced at Rs. 14,900, is a masterpiece of design, featuring short sleeves, a Mandarin collar, and a tasteful V-neck. This combination of features adds a touch of modernity to the traditional silhouette, allowing Karisma to effortlessly bridge the gap between classic and contemporary styles.
The coordinated outfit, with the kurta paired with matching pants, speaks to the trend of monochromatic ensembles that are both chic and versatile. This choice ensures a seamless and sophisticated look that is perfect for a range of occasions, from formal events to casual gatherings.
Karisma Kapoor's attention to detail extends to her choice of accessories. The embroidered mojaris add a traditional touch to the ensemble, enhancing the overall ethnic appeal. These mojaris not only complement the outfit's color palette but also serve as a nod to traditional craftsmanship and footwear styles.
The 'Cayla' chunky 18kt gold polished hoops from Bblingg by Meghana are a brilliant addition to the look. These statement earrings bring a touch of glamour and modernity, effortlessly elevating the outfit. The pairing of traditional elements with contemporary accessories showcases Karisma's mastery in creating a balanced and well-curated ensemble.
When it comes to beauty, Karisma Kapoor's approach is as refined as her outfit. The matte makeup, featuring mascara, kohl, highlighter, and lipstick, adds a touch of elegance and polish to her appearance. The pulled-back and clipped hairdo complements the outfit's neckline, allowing her features to shine and the ensemble to take center stage.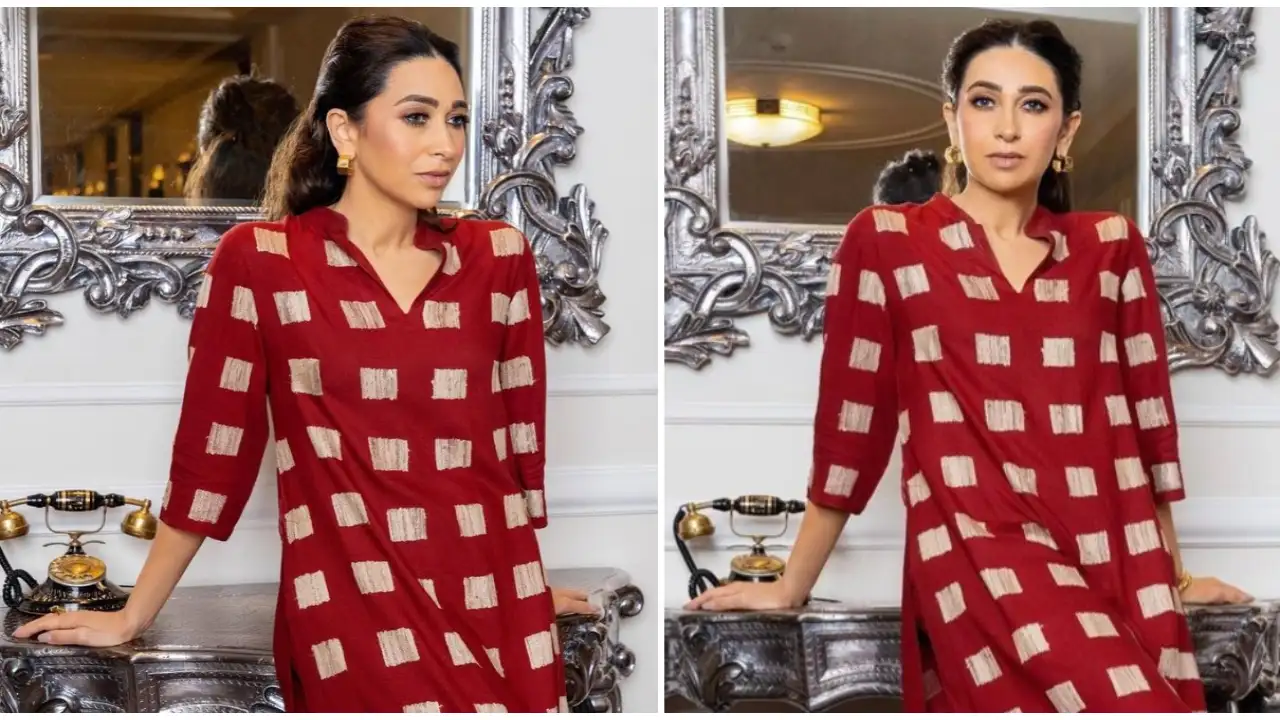 As Karisma Kapoor gracefully carries this ensemble, she inspires us to explore the delicate balance between modernity and tradition in our own fashion choices. Her outfit reminds us that style is a canvas for self-expression, where each element—from the silhouette to the accessories—has a role to play in creating a cohesive and impactful look.