Keerthy Suresh's striped saree look is a masterclass in fuss-free styling
Black and white stripes are indeed a timeless and versatile fashion pattern that can be incorporated into various styles, including traditional wear. Keerthy Suresh's choice to wear a black and white striped saree is a great example of how this classic design can be adapted to create an attractive and traditional look.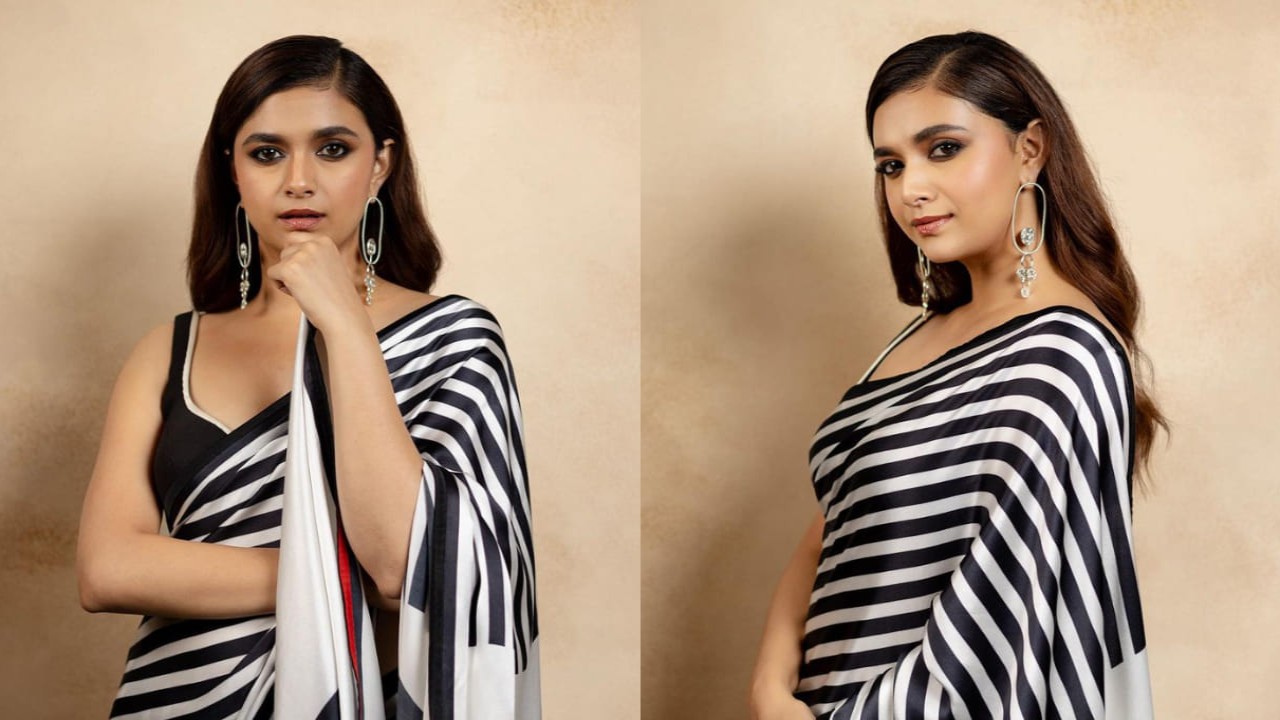 The saree, a quintessential Indian garment, can be draped in countless ways to suit different occasions and styles. Keerthy Suresh's decision to opt for a black and white striped saree showcases her fashion-forward approach and the ability to blend contemporary design with traditional attire.
The use of stripes in a saree adds a sense of modernity and visual interest to the traditional silhouette. It's a way to infuse new life into traditional wear, making it suitable for a wide range of events, from formal gatherings to casual outings.
Keerthy Suresh's choice to wear this saree demonstrates her fashion sensibility and her ability to inspire others to experiment with patterns and designs in traditional Indian attire. Fashion is all about creativity and personal expression, and her appearance in this ensemble is a testament to that philosophy.
Keerthy Suresh's choice of a black and white striped silk satin crepe saree by Kshitij Jalori is a testament to her exquisite taste in fashion. The description of the saree as an elegant sculpture that oozes beauty and grace highlights its intricate design and rich texture.
The price of Rs 27,800 reflects the quality of the silk satin crepe fabric, the craftsmanship involved in creating the saree, and the designer's expertise in fashion. Luxury sarees often come with a premium price tag, especially when they feature unique designs and high-quality materials.
Keerthy Suresh's choice to wear this saree not only showcases her fashion-forward sensibilities but also supports the idea that investing in high-quality traditional attire is a way to preserve and appreciate the artistry and craftsmanship of Indian textiles and design.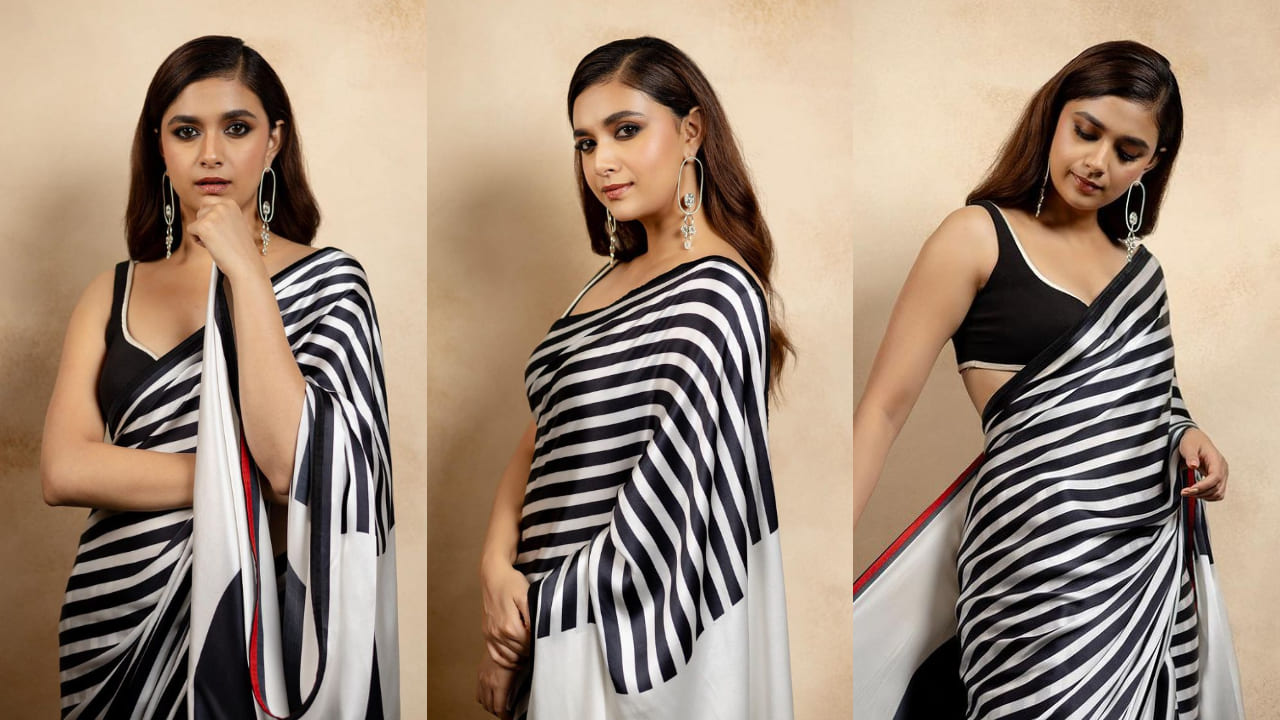 Fashion enthusiasts often appreciate the value of such pieces, recognizing that they are not just clothing but also works of art that can be treasured and passed down through generations. Keerthy Suresh's appearance in this saree likely left a lasting impression, emphasizing her status as a style icon in the South Indian film industry.
Keerthy Suresh's ability to don the black and white striped saree with ease and combine it with a plunging neckline top with large straps showcases her fashion-forward approach and confidence in experimenting with different styles.
The combination of the saree with a modern blouse design featuring a plunging neckline and large straps creates a striking contrast between traditional and contemporary elements. This fusion of styles is a testament to the versatility of the saree as a garment that can be adapted to suit various occasions and personal preferences.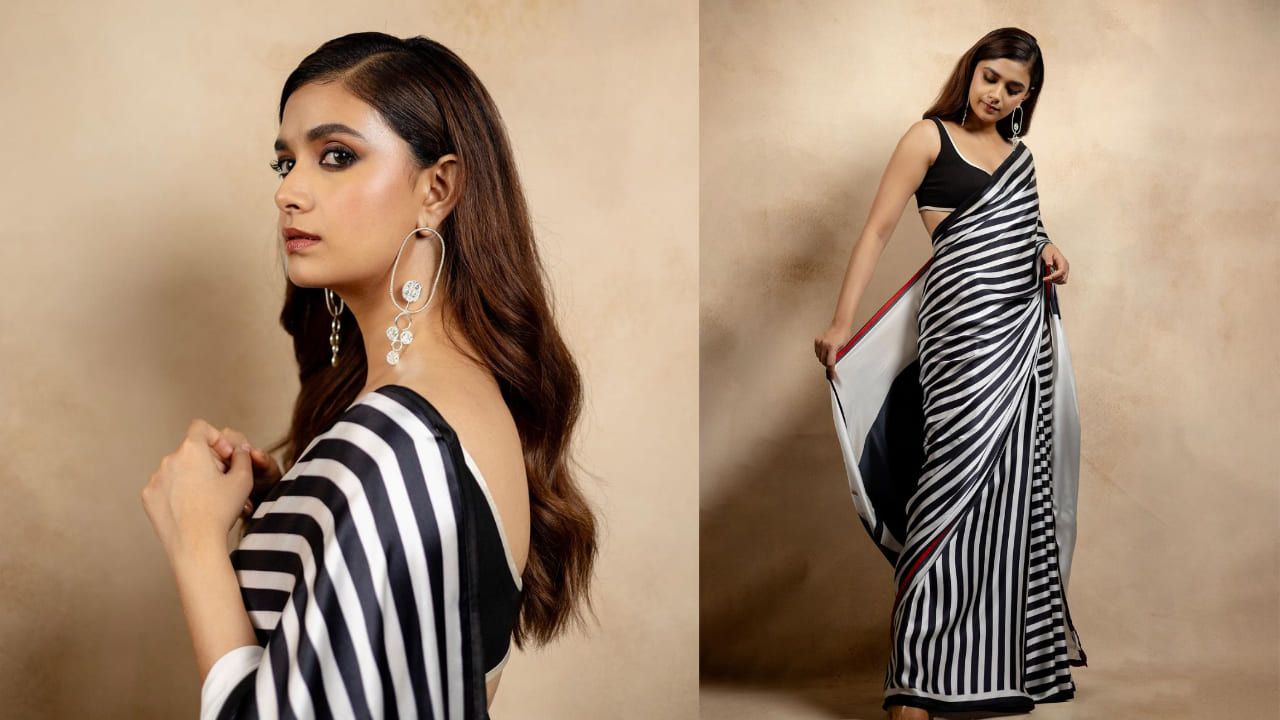 Investing in quality items, as demonstrated by Keerthy Suresh, can indeed elevate any appearance. Quality fabrics and well-crafted designs not only enhance the overall look but also provide comfort and durability, ensuring that the outfit remains stylish and timeless.
Her ability to seamlessly blend different fashion elements in her attire is an inspiration for those looking to push the boundaries of traditional wear and create unique and captivating looks. Fashion is about self-expression, and Keerthy Suresh's style choices exemplify that spirit.
Suhani Pittie's Mirage On The Moon Earrings, valued at Rs. 6,500, served as a stunning centerpiece for Keerthy Suresh's entire outfit. The description of these earrings having a "heavenly appeal" and giving her a sense of supremacy while adding a touch of ethereal beauty to her look underscores the transformative power of statement accessories.
Earrings are often an essential element of an outfit, and in this case, they played a significant role in elevating Keerthy Suresh's fashion game. The unique design and aesthetic of these earrings likely drew attention and made a lasting impact on everyone who saw her.
Statement accessories like these have the ability to transform a simple or classic outfit into a head-turning look. They can add a touch of drama, elegance, or personality to an ensemble, allowing the wearer to express their individual style.
Keerthy Suresh's choice to accessorize with the Mirage On The Moon Earrings is a testament to her attention to detail and her understanding of how accessories can enhance a look. It's an excellent example of how investing in unique and eye-catching pieces can make a significant difference in one's overall fashion statement.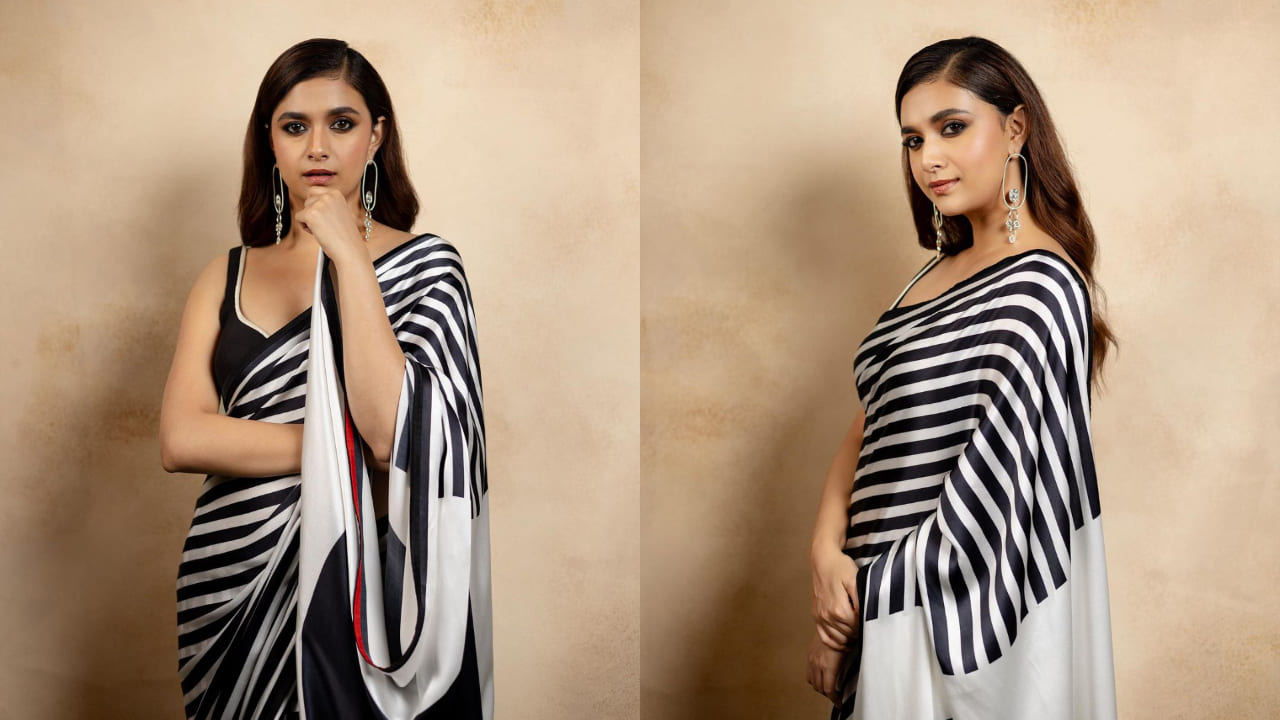 The collaboration of hairstylist Swapnil Kashid, makeup artist Anigha Jain, and stylist Shruthi Manjari in enhancing Keerthy Suresh's appearance for her black and white striped saree ensemble exemplifies the importance of a well-coordinated and detailed approach to styling.
Swapnil Kashid's choice of an open hairstyle with a side partition and front flicks tucked below the earlobes is a classic and elegant choice that complements the saree and the overall look. The hairstyle likely brought out the inherent beauty of Keerthy Suresh's face while adding a touch of sophistication.
Anigha Jain's makeup, described as flawlessly suited to the charcoal black color of the saree, showcases her expertise in understanding how makeup can enhance a specific outfit. The kohl-rimmed eyes and other makeup elements likely emphasized Keerthy Suresh's stunning look and added to the overall impact.
Stylist Shruthi Manjari's role in flawlessly arranging the complete outfit and bringing together every detail is essential in creating a cohesive and gorgeous impression. Stylists play a crucial role in ensuring that all elements of an outfit, from clothing to accessories to hair and makeup, harmoniously work together to create a stunning overall look.
Keerthy Suresh's appearance in this ensemble is a testament to the collaborative effort of these fashion professionals and her own grace and finesse. It highlights the spirit of real fashion expertise and serves as an inspiration for those looking to create well-coordinated and impactful fashion statements.