Sara Ali Khan's pink Punit Balana lehenga worn for Zara Hatke Zara Bachke promotion costs THIS whopping amount
Sara Ali Khan's fashion sense is a delightful blend of vibrancy, youthfulness, and versatility. She has established herself as a trendsetter in the world of Bollywood fashion with her ability to effortlessly transition from traditional ethnic wear to chic contemporary outfits. Sara exudes confidence in her style choices, often experimenting with colors, patterns, and silhouettes.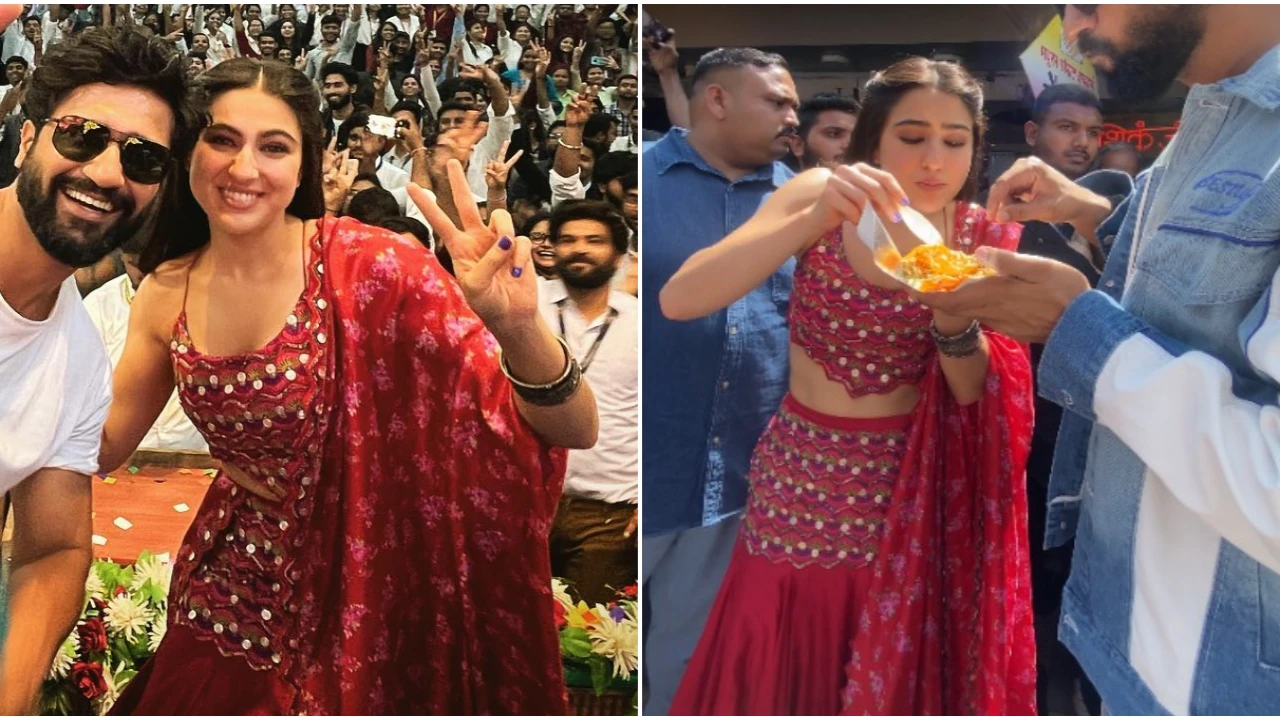 Her wardrobe choices reflect her dynamic personality, and she's not afraid to make bold fashion statements. Whether it's rocking a traditional lehenga with intricate detailing or donning a casual yet stylish ensemble, Sara's fashion sense always leaves a lasting impression. She has the remarkable ability to adapt her style to different occasions, making her a true fashion icon and an inspiration to many. Sara Ali Khan's fashion journey continues to evolve, making her a prominent figure in the ever-changing landscape of Bollywood fashion.
Sara Ali Khan is indeed known for her vibrant, youthful, and fun style, and she has the ability to rock ethnic outfits with great panache. Her fashion choices often resonate with fans for their freshness and uniqueness. Her appearance in a bright rani pink-colored lehenga from Punit Balana during the promotions of her film "Zara Hatke Zara Bachke" in Indore is a perfect example of her ability to carry off traditional attire with grace.
The choice of a bright rani pink color for the lehenga adds a pop of vibrancy and radiance to her look, making her stand out and exuding a princess-like charm. Lehengas are a popular choice for traditional occasions, and Sara's selection showcases the timeless appeal of this outfit.
Punit Balana, known for his contemporary yet traditional designs, likely contributed to the unique and stylish appearance of the lehenga. Fashion designers often play a crucial role in creating ensembles that align with the wearer's personality and the occasion.
Sara Ali Khan's fashion choices during film promotions are eagerly anticipated by her fans and fashion enthusiasts alike. Her ability to infuse her youthful and vibrant personality into traditional wear sets her apart as a style icon in Bollywood.
The description of Sara Ali Khan's Gulabi gulal lehenga set from Punit Balana paints a vivid picture of a beautifully designed traditional outfit with intricate details:
Blouse: The strappy embroidered silk blouse is adorned with coin work and resham work. The multi-colored embroidery over the bright pink blouse adds a pop of color, creating a visually striking and vibrant top. Embroidery and coin work are often used to enhance the richness and appeal of traditional blouses.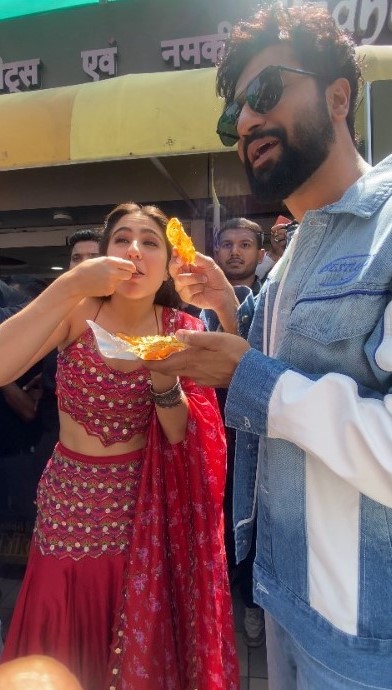 Skirt: The skirt, also in the shade of rani pink, partially features embroidery and coin work on top. This combination of rich embellishments on the skirt's fabric likely adds a touch of luxury and traditional charm to the overall look.
Dupatta: The dupatta provides a contrast with its slightly different shade and features floral prints all over it. The border of the dupatta showcases coin and resham work, adding a touch of elegance and continuity in the design.
The use of multi-colored embroidery, coin work, and resham work in this lehenga set likely makes it visually captivating and perfect for festive occasions or film promotions. The choice of colors and intricate detailing in the blouse, skirt, and dupatta highlights the craftsmanship and design sensibility of Punit Balana, a designer known for his fusion of contemporary and traditional elements in fashion.
Sara Ali Khan's selection of this outfit reflects her vibrant style and her ability to make traditional wear look both youthful and sophisticated. It's no wonder that she looked like a princess in this stunning attire during her film promotions.
The Gulabi gulal lehenga set from Punit Balana, priced at Rs 55,000, is indeed a perfect choice for festive occasions. The eye-catching design and vibrant rani pink color make it an ideal outfit for celebrations and special events. Sara Ali Khan effortlessly rocked this ensemble, showcasing her ability to carry off traditional wear with grace and style.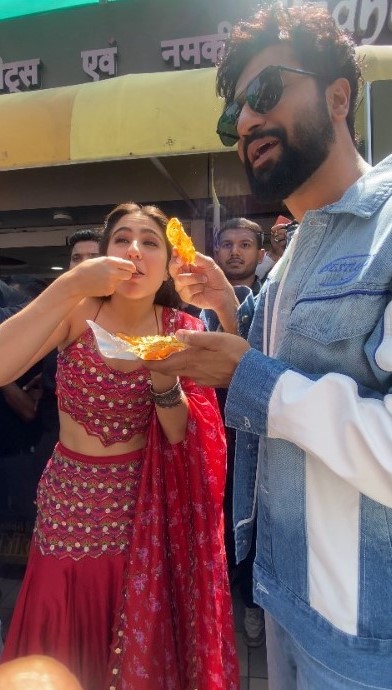 The decision to wear the outfit sans jewelry was a wise choice, as the lehenga itself is a statement piece with its intricate embroidery and coin work. Sometimes, letting the outfit take center stage by opting for minimal or no jewelry allows its beauty to shine through.
Sara's hairstyle, with two twisted sections on either side, complemented the outfit beautifully. A well-chosen hairstyle can add to the overall look and create a harmonious appearance. In this case, the hairstyle likely added a touch of elegance and sophistication to the traditional attire.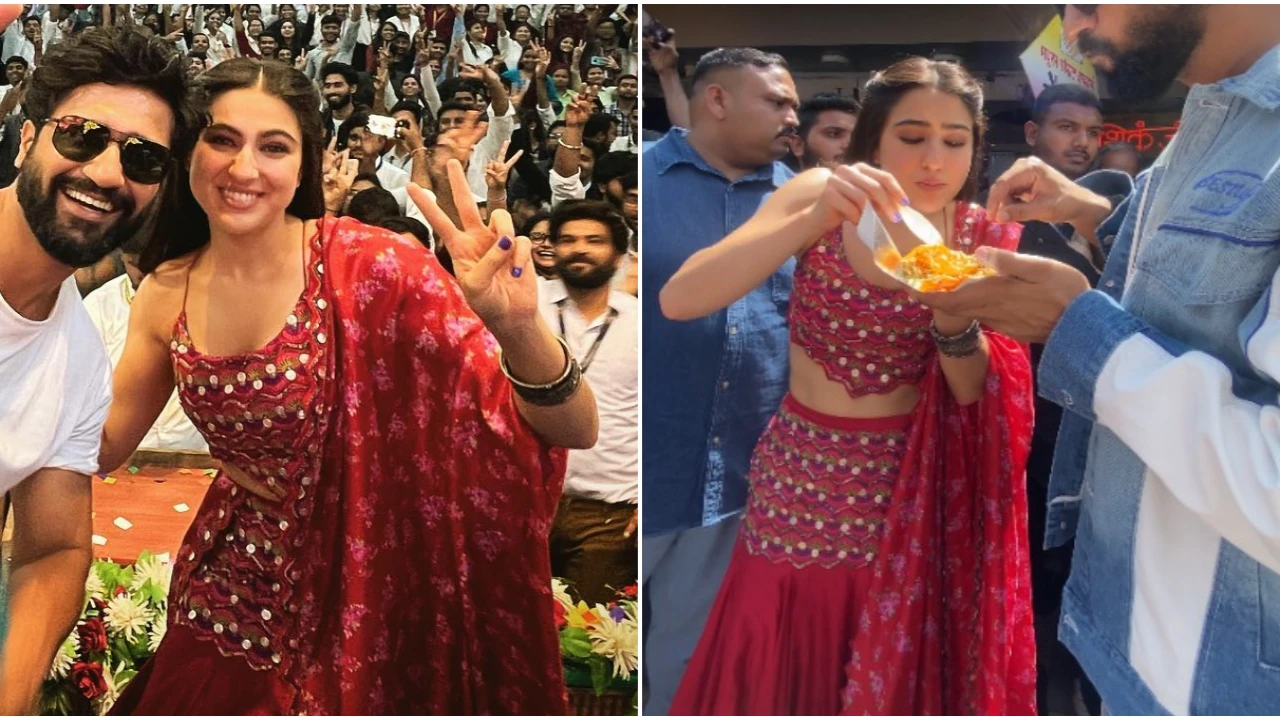 Sara Ali Khan's fashion choices often inspire and set trends, and her appearance in this Punit Balana lehenga is no exception. Her effortless style and her ability to make bold fashion statements are qualities that many admire in her. This outfit and her overall look during the promotions of "Zara Hatke Zara Bachke" exemplify her status as a style icon in Bollywood.