Priyanka Chopra dons Tony Ward's sheer crystal embroidered gown layered with a classy matching oversized coat!
Priyanka Chopra, a celebrated and well-loved global icon, needs no introduction. The talented actress, known for her versatile roles, has always found herself at the top of every list, be it for her incredible acting skills, glamorous presence, undeniable star quality, or her impeccable fashion choices and sense of style. With her grace and charm, she once again graced the red carpet at the Jio MAMI Film Festival, leaving us all in awe of her timeless elegance.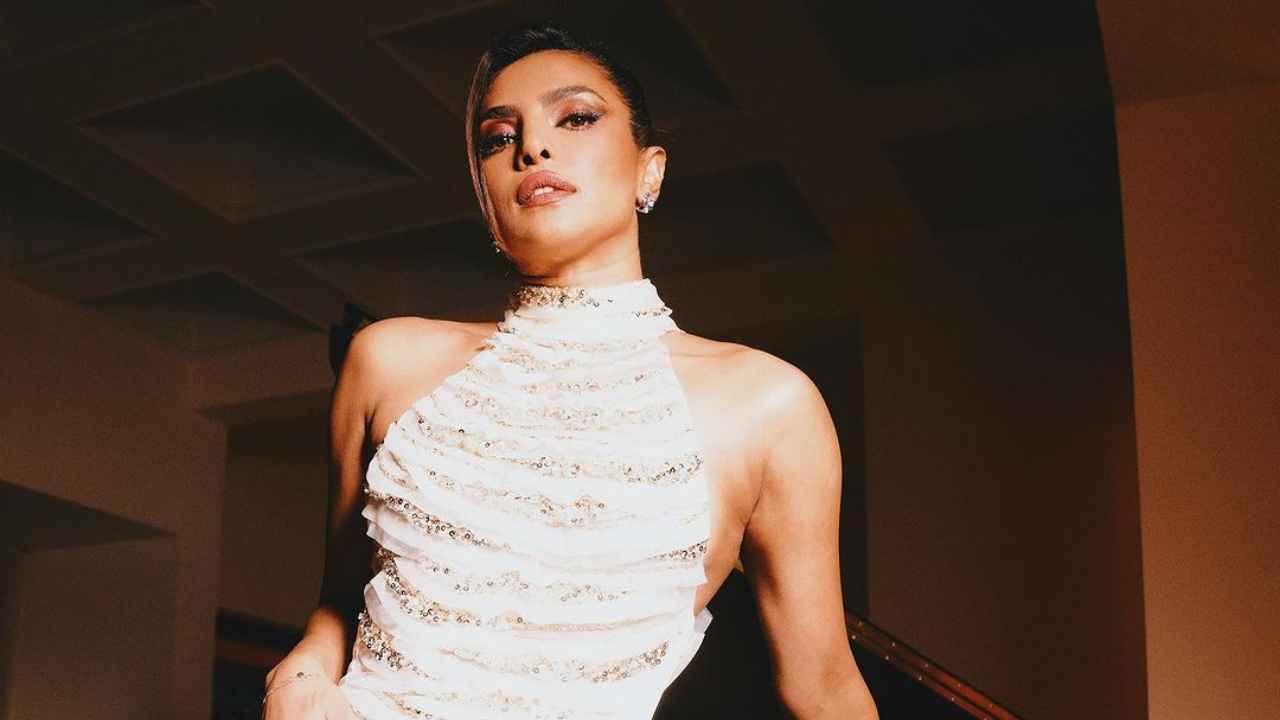 At the festival, the Head Of State actress made a stunning fashion statement with her choice of attire. Priyanka Chopra appeared in a dreamy ivory Tony Ward floor-length gown that was nothing short of a vision brought to life. The gown was exquisitely crystal-embroidered, reflecting her impeccable taste in fashion and her ability to effortlessly command attention and admiration on the red carpet.
The choice of an ivory gown with intricate crystal embroidery added a touch of ethereal beauty to her appearance. It was a testament to her style, which seamlessly combines elements of tradition and modernity, creating a look that is both classic and contemporary. Priyanka's presence at the festival was a reminder of why she is considered a fashion and cinematic icon, showcasing her innate ability to make every red carpet event a moment of pure elegance and grace.
Priyanka Chopra's recent red carpet appearance was a sight to behold, and she looked absolutely gorgeous as she graced the event. She chose to wear an ivory sheer floor-length gown that was sleeveless and featured a high halter neck. The gown was a true work of art, as it combined sheer elegance with contemporary glamour in perfect harmony.
What made this gown even more captivating was its embellished bodycon design, which added a layer of sophistication and opulence to her overall look. The gown was not only adorned with embellishments but also ribbed, creating a unique and textured appearance that added to its allure.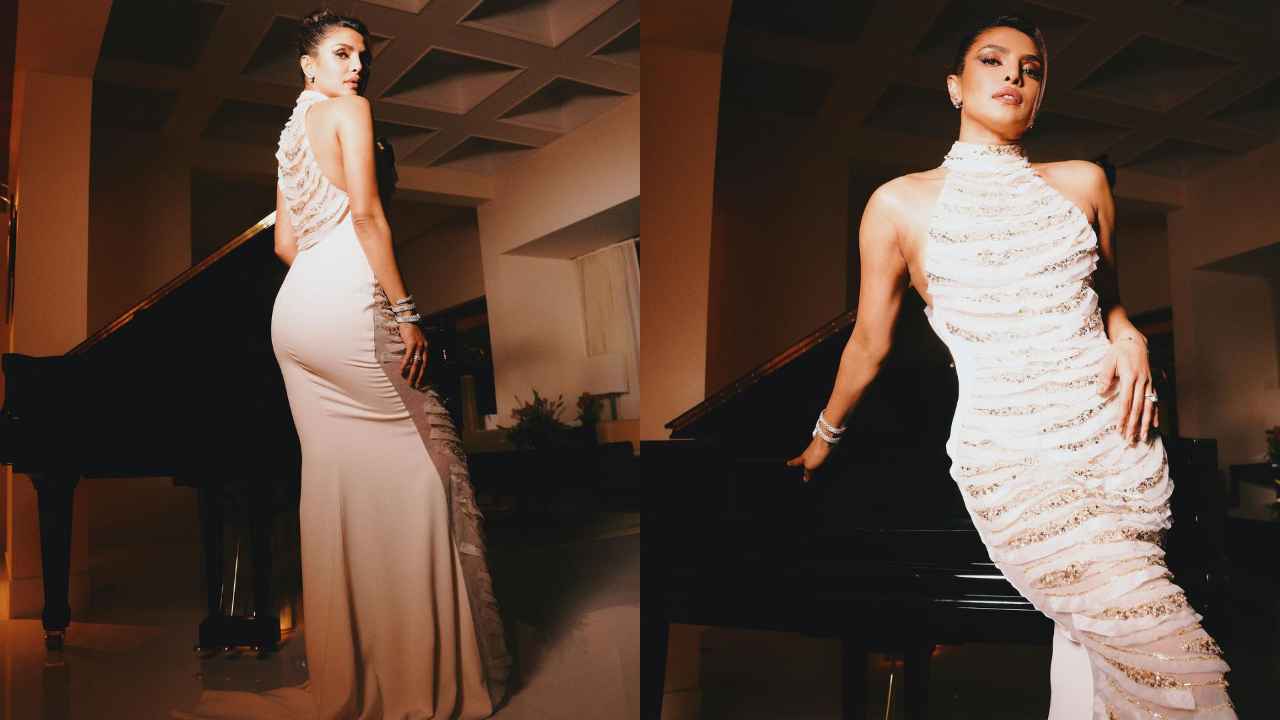 One of the standout features of the gown was how it perfectly hugged Priyanka's curves at all the right places. This attention to detail in the gown's design emphasized her figure and elevated its overall glam quotient. Priyanka's choice of this stunning gown highlighted her impeccable fashion sense and her ability to make every red carpet appearance a memorable and glamorous event. She left a lasting impression with her striking look, once again solidifying her status as a style icon in the world of fashion and entertainment.
Priyanka Chopra's shimmery gown was not just a sight to behold; it was a work of art in motion. The gown featured a beautiful train that gracefully trailed behind the diva as she walked the red carpet with unmatched charm, poise, and confidence. The train added a touch of drama and regal elegance to her overall look, making her entrance and presence truly unforgettable.
In addition to the stunning gown, the talented Bajirao Mastani actress decided to layer it with a matching and long, floor-length coat in a pristine ivory color. This oversized coat was another masterpiece in itself. It was embellished to perfection, adding an extra layer of glamour and opulence to her ensemble. The choice to layer the gown with such an exquisite coat demonstrated Priyanka's ability to experiment with fashion while maintaining a sense of timelessness and sophistication.
This layered look showcased her fashion-forward thinking, as it effortlessly combined elements of modern style with classic elegance. The embellishments on the coat and the overall pristine ivory color made it an absolute showstopper. Priyanka Chopra's fashion choices consistently push the boundaries of style, and this particular ensemble once again affirmed her status as a true fashion icon, leaving fashion enthusiasts and onlookers completely obsessed with her red carpet presence.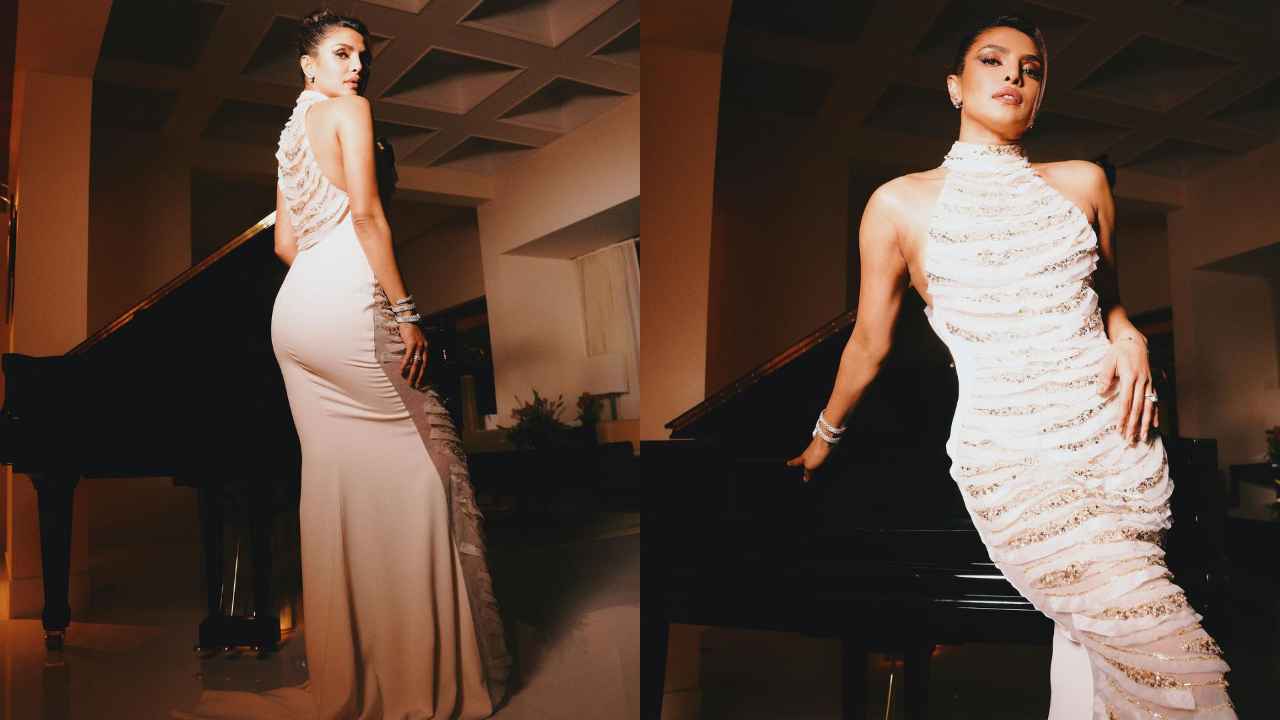 In her typical fashion-forward style, Priyanka Chopra made a wise choice to adopt a minimalistic approach to accessories. The Dostana actress knew that her stunning gown and coat were already the stars of the show, and she wanted them to take center stage. She opted for a less-is-more strategy, allowing her outfit to shine without being overshadowed by excessive adornments.
Priyanka's choice of accessories included a silver bracelet, stunning earrings, and statement rings from the prestigious brand Bvlgari. These accessories were tastefully selected to perfectly complement the overall gorgeousness of her outfit. They added a touch of elegance and sophistication without overpowering the look, showcasing Priyanka's understanding of balance and subtlety in fashion.
This approach to accessories echoed the notion that sometimes, simplicity can be the most striking and effective choice. It allowed her to make a bold fashion statement with her gown and coat while still showcasing her exquisite taste in jewelry. Priyanka Chopra's red carpet appearance was a testament to her fashion sensibility and her ability to create a harmonious and captivating look that emphasized the essence of "less is more" in the world of style.
In one of her final masterstrokes to complete her impeccable look, Priyanka Chopra, the Krrish actress, opted for a sleek bun with a side flick that framed her face to perfection. Her choice of hairstyle was the ultimate finishing touch, highlighting her commitment to every detail when making a fashion statement.
The sleek bun exuded a sense of sophistication and elegance, pulling her hair away from her face to emphasize the beauty of her ensemble. The side flick, carefully styled to frame her face, added a soft and graceful touch, enhancing her facial features and overall charm.
Priyanka Chopra's choice of hairstyle showcased her understanding of the importance of every element in creating a cohesive and striking look. It underlined her ability to make thoughtful decisions that elevate her style to the highest standards, leaving no room for doubt that she is a true fashion maven. This final touch to her appearance solidified her status as a fashion icon and reminded us that the details truly matter when it comes to making a lasting fashion statement.
Indeed, Priyanka Chopra's attention to detail extended to her makeup, which was on point and flawlessly highlighted her stunning features. Every aspect of her makeup was carefully chosen to enhance her natural beauty and complement her overall look.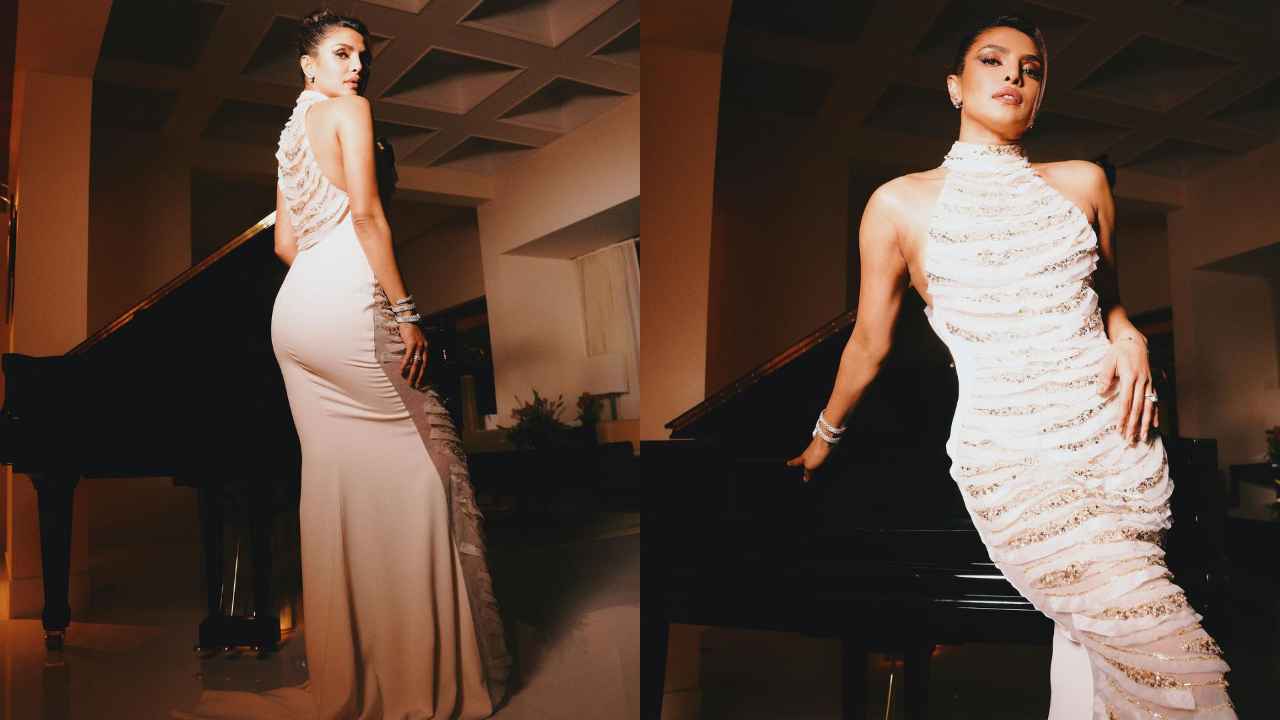 Priyanka Chopra's makeup was a work of art, showcasing her makeup artist's skill and her own innate ability to exude beauty and grace. Her flawless makeup look was in perfect harmony with her outfit and accessories, creating a complete and captivating red carpet appearance that left a lasting impression on all who beheld her impeccable style.
Without a doubt, Priyanka Chopra's choice of outfit, accessories, makeup, and hairstyle at the event showcased her impeccable taste and undeniable mastery of fashion. Her ability to harmoniously blend elements of elegance, glamour, and sophistication in a single look demonstrated that she is truly in a league of her own in the world of fashion. Her attention to detail, balance, and the ability to make every element work together cohesively is a testament to her status as a fashion icon. Priyanka Chopra continues to leave an indelible mark in the fashion world, and her red carpet appearance once again affirmed her position as a style maven who consistently raises the bar for fashion excellence.