Kriti Sanon's Gaurav Gupta co-ordinated outfit is on a sparkling-high
Kriti Sanon's weekend look in a black co-ordinated set showcases her impeccable style and love for monochrome fashion. Let's delve into the elements that made her outfit spectacular:
Monochrome Elegance:
Kriti Sanon's choice of an all-black outfit exudes timeless elegance. Black is a classic color that never goes out of style and is known for its ability to add sophistication to any look.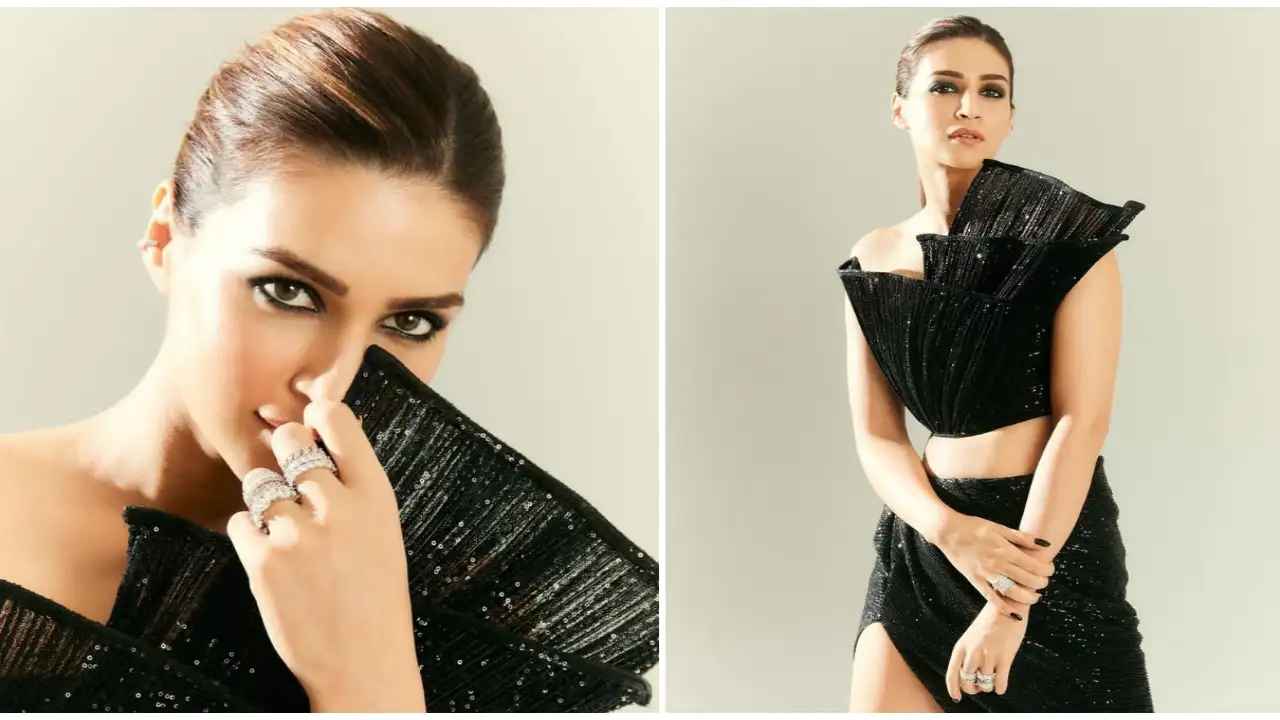 Monochrome outfits create a cohesive and visually pleasing appearance, making them a favorite among fashion enthusiasts.
Two-Piece Combo:
Kriti's ensemble consisted of a two-piece co-ordinated set. Such sets are convenient and provide a cohesive look effortlessly.
Co-ordinated sets often include a top and bottom that complement each other in terms of color, pattern, or design. They are perfect for creating a put-together look with minimal effort.
Sparkling Details:
Kriti added a touch of glamour to her black outfit with sparkling details. Sparkle can elevate an outfit, making it suitable for evening events or special occasions.
The incorporation of sparkles highlights her fashion-forward approach and adds a touch of dazzle to her overall appearance.
Effortless Glamour:
Kriti Sanon's outfit showcases how black attire can effortlessly exude glamour. Her choice of this ensemble demonstrates her ability to make a stylish statement with minimal fuss.
Versatility:
Black co-ordinated sets are incredibly versatile and can be dressed up or down. They are suitable for a range of occasions, from casual outings to more formal events.
Kriti Sanon's black co-ordinated set is a testament to the beauty and versatility of monochrome fashion. Her outfit is a striking example of how simplicity and elegance can coexist, and the addition of sparkles adds that extra layer of charm. For those who appreciate the timeless allure of black and want to make a memorable fashion statement, Kriti's ensemble serves as a source of inspiration.
Kriti Sanon's all-black ensemble for an awards night was nothing short of picture-perfect elegance. Let's dive into the details of her stunning outfit:
Gaurav Gupta Couture: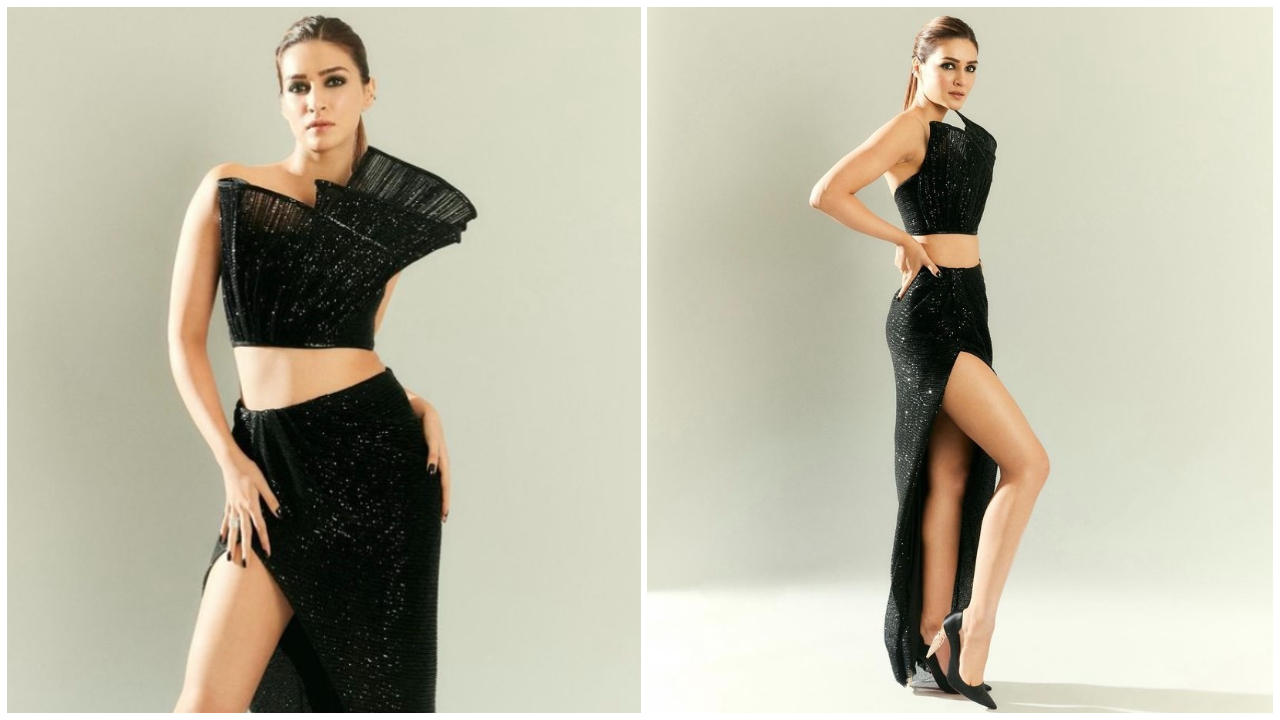 Kriti Sanon chose a Gaurav Gupta couture outfit for the awards night. Gaurav Gupta is known for his innovative and avant-garde designs, often characterized by unique drapery and sculptural elements.
The choice of a couture piece indicates the level of sophistication and craftsmanship in her outfit.
Effortless Spotlight Stealer:
Kriti's black ensemble exudes confidence and sophistication. It's a testament to the fact that sometimes, letting the outfit do the talking is the best approach to stealing the spotlight.
Black outfits have a timeless appeal and are known for their ability to make a bold statement without being overly flashy.
Epicness of Black:
Black is often associated with elegance, power, and classic beauty. It's a color that can elevate any look and exude a sense of epicness.
The choice of black for special occasions is a fashion-forward decision that conveys a strong sense of style.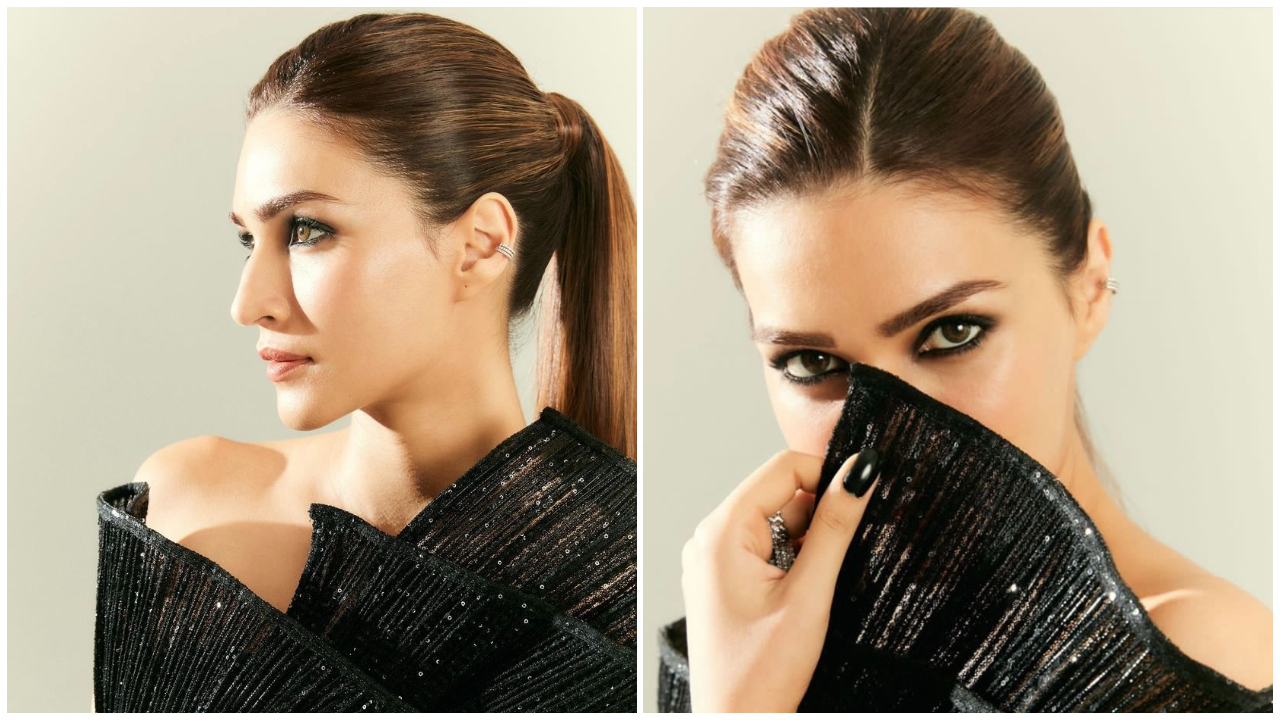 Kriti Sanon's Gaurav Gupta couture ensemble for the awards night showcased her ability to make a statement with understated elegance. The black outfit not only communicated her sense of style but also highlighted the timeless allure of the color black. When it comes to making an impact with a red carpet look, trusting an all-black outfit like Kriti's is a reliable choice. It's a reminder that simplicity and sophistication can go hand in hand to create a memorable and picture-perfect appearance.
Kriti Sanon's asymmetric chic look, styled by Sukriti Grover, was indeed a standout thanks to the unique and signature design elements by Gaurav Gupta. Let's delve into the details that made her outfit exceptional:
Asymmetric Chic:
Gaurav Gupta is known for his asymmetric and avant-garde designs, and Kriti's outfit was no exception. The asymmetric silhouette added a contemporary and edgy vibe to her overall look.
Sculpted Crop Top:
The sculpted construction of Kriti's crop top showcased Gaurav Gupta's mastery in creating intricate and well-structured garments. The attention to detail and craftsmanship were evident in the design.
Delicate sequin embroidery on the crop top added a touch of glamour and sparkle, making it suitable for a special occasion like an awards night.
Tiered Layered Bodice:
One of the most striking features of Kriti's outfit was the tiered seating of layers on her bodice. These layers created visual interest and played a significant role in grabbing attention.
The tiered design added depth and texture to the ensemble, making it a conversation-worthy aspect of her look.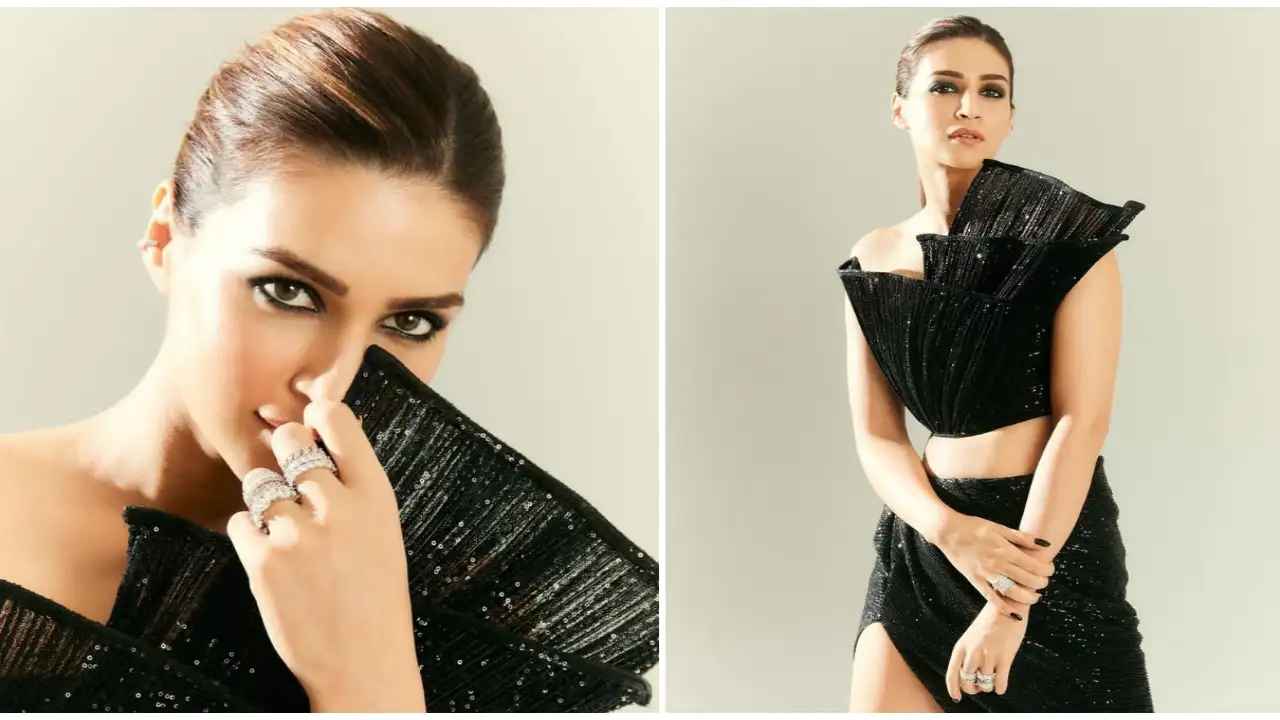 Attention-Grabbing Details:
The sequin embroidery and tiered layers were key elements that made Kriti's outfit stand out. These details not only captured attention but also showcased the artistry and creativity of the designer.
Kriti Sanon's Gaurav Gupta ensemble exemplified the beauty of asymmetry and sculptural fashion. The meticulous sequin embroidery and tiered layers added depth and drama to her look, making it a memorable and conversation-starting outfit. Gaurav Gupta's signature design elements, combined with Sukriti Grover's styling expertise, resulted in a chic and fashion-forward appearance for the diva. This outfit proves that fashion can be a work of art, and every detail matters when creating a standout look.
Kriti Sanon's outfit for the awards night included a strapless top paired with a high-waisted skirt featuring an asymmetric slit. Let's break down the rest of her look and accessories:
Christian Louboutin Pointed-Toe Pumps:
Kriti's ensemble was completed with Christian Louboutin pointed-toe pumps that had edgy heels. These designer pumps added a touch of luxury and sophistication to her overall appearance.
Jewelry Selection:
Kriti's choice of jewelry showcased her attention to detail and her ability to enhance her look with well-chosen accessories.
She wore studded rings and ear cuffs from brands like Golden Window, Joolry, and Ayana Silver Jewellery. These accessories added a hint of glamour and complemented her outfit beautifully.
Sleek Ponytail and Smokey-Eye Makeup:
Kriti's sleek ponytail hairstyle and smokey-eye makeup added a classic and elegant touch to her overall look.
These beauty choices highlighted her facial features and created a sense of balance with her chic and edgy outfit.
Kriti Sanon's red carpet appearance demonstrated that classic elements can indeed enhance a contemporary and edgy outfit. The combination of her strapless top and high-waisted skirt with an asymmetric slit was both fashion-forward and elegant.
Her choice of designer pumps and well-curated jewelry added to the overall allure of her ensemble. The sleek ponytail and smokey-eye makeup are timeless beauty choices that complemented her look perfectly. It's a reminder that classic elements can always find their place in modern fashion, and Kriti's confident style embodies this fusion of the old and the new.