Kriti Sanon's irresistible 90's look in ribbed top, shorts and Celine shoes is all things glam and retro
As we eagerly await the arrival of summer, Bollywood's fashion icons are already showing us how to infuse a dose of warm-weather style into our wardrobes. One such trendsetter is the stunning actress, Kriti Sanon, who recently stepped out and turned heads with her effortlessly chic look. Her outfit not only caught our attention but also piqued our curiosity, leaving us eager to decode her fashion choices and unravel the secrets behind her stylish appearance.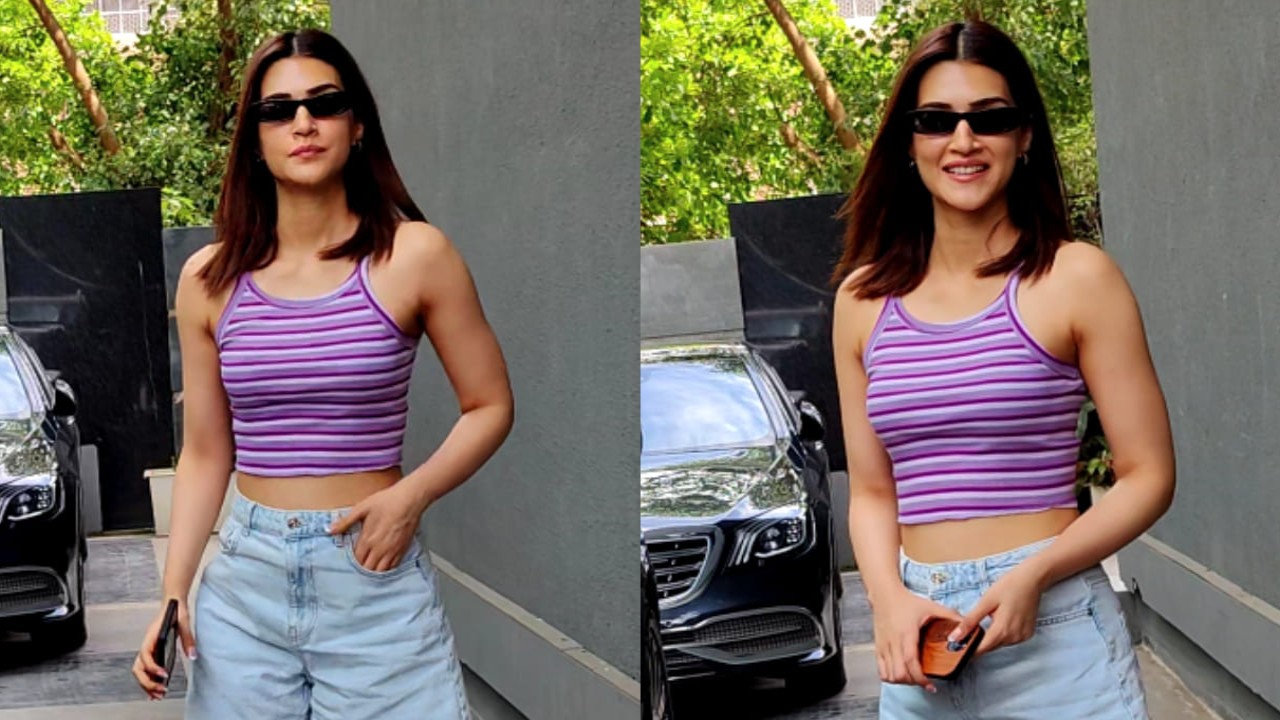 Kriti Sanon's ensemble injected a burst of color into the city streets, and it's worth taking a closer look at what she wore. Her choice of pairing a top with shorts showcased her knack for balancing comfort and style in a way that's perfect for the upcoming summer season.
While shorts may not be the reigning fashion trend at the moment, Kriti Sanon demonstrated how to wear them like a true style legend. Her top and shorts combination not only exuded a sense of effortlessness but also radiated confidence and fashion-forward sensibilities.
Intrigued by Kriti Sanon's fashion choices, let's delve deeper into the specifics of her outfit to uncover the fashion secrets that she so gracefully revealed on that day.
Kriti Sanon's casual excursion certainly turned heads with her effortlessly chic attire. A standout piece in her ensemble was the Uo '90s Tank Top in Purple Multi, which added a vibrant and playful pop of color to her look. This choice from Urban Outfitters brought a sense of nostalgia with its '90s-inspired design.
The tank top's unusual horizontal lines added a quirky touch to the outfit, giving it a unique and eye-catching appeal. Kriti Sanon's choice to wear this piece showcased her ability to blend contemporary fashion with a hint of retro style, making her look stand out in a crowd.
In a world where fashion often leans towards the conventional, Kriti's choice of the Uo '90s Tank Top demonstrated her willingness to embrace unconventional and offbeat designs. This fashion-forward approach not only reflects her individuality but also inspires others to explore their own unique style sensibilities.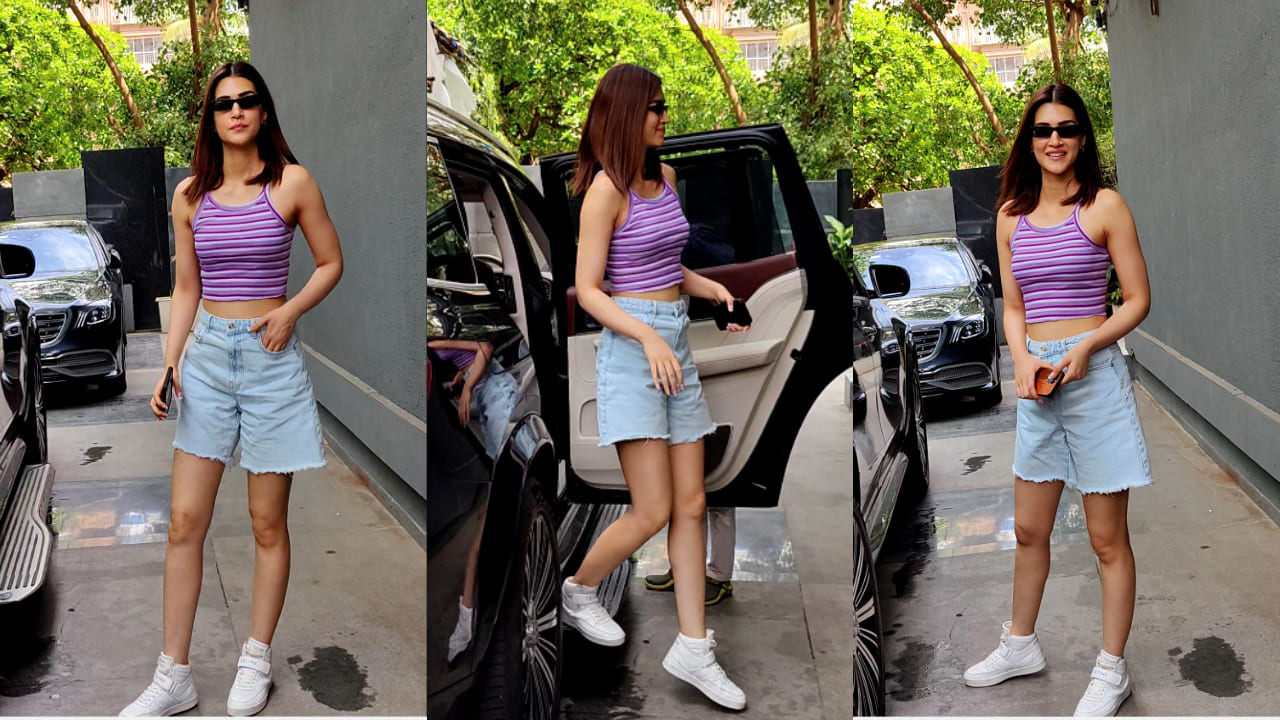 Kriti Sanon's casual yet trendy excursion serves as a reminder that fashion is not just about following trends but also about expressing oneself and having fun with clothing choices. Her ability to effortlessly mix and match pieces like the Uo '90s Tank Top shows that she is a true style maven, always ready to make a statement with her fashion selections.
Kriti Sanon's choice of traditional denim shorts was a perfect complement to her laid-back yet elegant look. Denim shorts are a timeless and versatile wardrobe staple, and Kriti showcased their enduring appeal with her effortless style.
The scoop neck shirt added a touch of simplicity and comfort to her outfit, and Kriti wore it with an air of cool confidence as she strolled through the streets. Her ensemble exemplified that casual can indeed be oh-so-chic when paired thoughtfully and accessorized with the right attitude.
Kriti Sanon's fashion choices often highlight her ability to effortlessly blend comfort and style, proving that you don't always need elaborate ensembles to make a fashion statement. Her casual yet trendy look serves as an inspiration for those who appreciate the beauty of simplicity and the elegance of classic pieces like denim shorts paired with a scoop neck shirt. It's a reminder that fashion is about expressing your individuality and feeling confident in what you wear, no matter the occasion.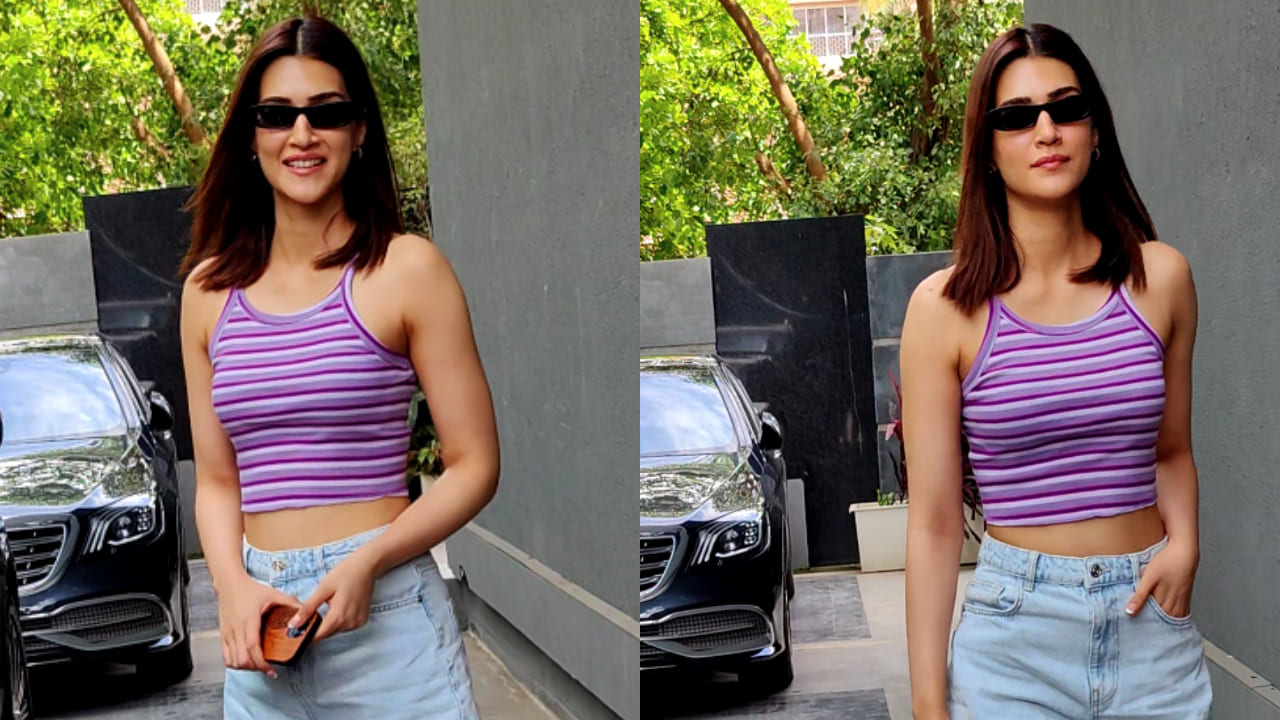 Kriti Sanon truly elevated her clothing game by incorporating some killer accessories into her ensemble. While her colorful blouse and denim shorts were already fashionable, she took her look to the next level by adding a touch of swag with contemporary eyeglasses that perfectly complemented her style.
Accessories can often be the key to transforming a good outfit into a great one, and Kriti's choice of eyeglasses was a brilliant example of this. The contemporary eyeglasses not only added a trendy and edgy element to her overall look but also showcased her attention to detail in creating a cohesive and well-thought-out outfit.
Kriti Sanon's ability to use accessories to accentuate her style is a testament to her fashion-forward sensibilities. It's a reminder that the right accessories can be the finishing touch that takes an outfit from ordinary to extraordinary, and Kriti's choice of contemporary eyeglasses did just that.
Her fashion choices continue to inspire and demonstrate that when it comes to style, it's all about personal expression and the thoughtful selection of elements that make an outfit uniquely yours. Kriti's ensemble serves as a reminder that fashion is not just about following trends but also about infusing your personality and individuality into every look you create.
Kriti Sanon's fashion choices serve as a great example of the power of a well-curated casual ensemble. Her style demonstrates that you can effortlessly elevate your look for relaxed outings by incorporating versatile pieces into your wardrobe. One such item is the ribbed tank top, which is both comfortable and stylish.
Adding ribbed tank tops to your collection is a fantastic way to enhance your casual outfits. These tops can be incredibly versatile, allowing you to create various looks by pairing them with different bottoms and accessories. Kriti's choice of a solid-colored shirt, like the Uo '90s Tank Top in Purple Multi, added a vibrant and eye-catching element to her attire, making her stand out in a crowd.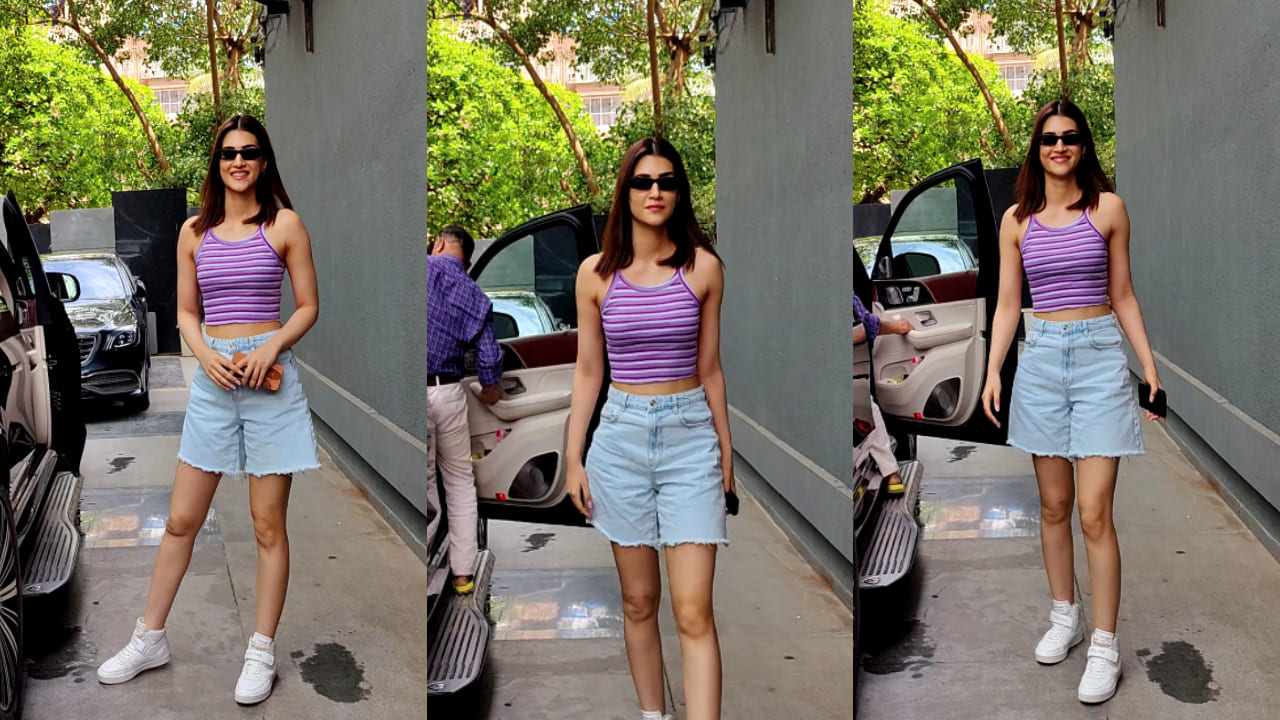 If you're looking to infuse a pop of brilliant color into your casual outfits, following Kriti's style is a great idea. Solid-colored shirts can be paired with various bottoms, including denim shorts like she did, to create a chic and trendy look.
Kriti Sanon's fashion choices remind us that fashion is about expressing your individuality and having fun with your clothing selections, even during relaxed outings. So, whether you're planning a casual day out or simply want to boost your everyday style, consider incorporating ribbed tank tops and colorful shirts into your collection to create stylish and comfortable ensembles that reflect your personal style.
To achieve a stylish and comfortable appearance similar to Kriti Sanon's, you can follow these fashion tips:
Pair the Top with Denim Shorts or Well-Fitted Jeans: Start with a ribbed tank top or a solid-colored shirt like Kriti's Uo '90s Tank Top. Combine it with traditional denim shorts for a casual and comfy look, perfect for warm weather outings. Alternatively, opt for a pair of well-fitted jeans in a color of your choice for a more versatile and put-together ensemble.
Accessorize Thoughtfully: Just like Kriti, accessorize your outfit carefully. Select fashionable eyewear that complements your overall look. Eyeglasses or sunglasses can add a trendy and chic touch to your appearance.
Choose the Right Footwear: When it comes to footwear, consider rounded-toe-shaped trainers with unique features, similar to what Kriti Sanon wore. These sneakers can elevate your look further and provide both style and comfort for your casual outings.
Remember that the key to a well-curated casual ensemble is finding a balance between comfort and style. Experiment with different colors, fits, and accessories to create a look that reflects your personal style and makes you feel confident and comfortable during relaxed outings.