Tara Sutaria's gorgeous subdued golden outfit with matching potli bag is perfect for Diwali parties!
Tara Sutaria, the personification of elegance, made a striking appearance on the red carpet at the MAMI Mumbai Film Festival's star-studded opening ceremony. Her presence was nothing short of mesmerizing as she stepped onto the glamorous stage, capturing the attention of all in attendance. With her ethereal beauty and graceful demeanor, she left a lasting impression on the audience.
Dressed in a magnificent golden gown, Tara Sutaria radiated glamour and sophistication. The gown accentuated her exquisite features, and she looked like a true Hollywood star as she walked the red carpet. Her choice of attire was a testament to her impeccable fashion sense and her ability to effortlessly pull off any style with grace and poise.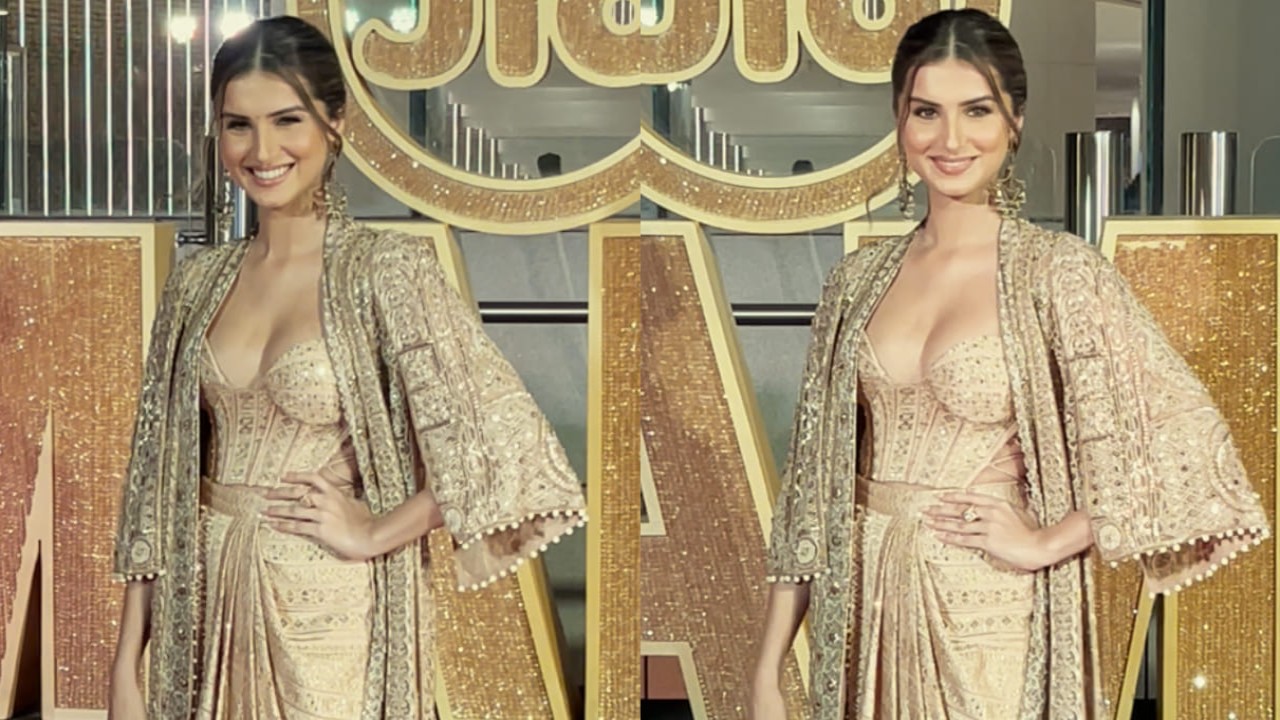 But the evening held even more surprises. Tara Sutaria, the stunning actress, further upped the ante with her traditional outfit. Amidst a sea of modern and contemporary fashion choices, she stood out by embracing her Indian heritage. Her traditional ensemble not only paid homage to her cultural roots but also showcased her versatility as a fashion icon.
Throughout the evening, Tara demonstrated once again why she is often referred to as a fashion girl with signature grace in tow. Her ability to seamlessly transition from a modern golden gown to a traditional outfit without missing a beat highlighted her unique style and fashion sensibility. Tara Sutaria's presence at the MAMI Mumbai Film Festival's opening ceremony was truly a testament to her timeless elegance and her position as a style icon in the world of cinema.
Tara Sutaria has built a reputation for her love of trendy and edgy black ensembles, consistently turning heads on the fashion scene. However, her recent fashion choice left everyone pleasantly surprised. The actress, known for her contemporary style, broke away from her usual preferences and showcased her versatility by adorning a traditional attire.
In a recent appearance, Tara left us utterly speechless with her choice of a stunning crimson Benarasi saree. This exquisite piece of traditional Indian attire not only showcased her incredible fashion sense but also added a touch of timeless elegance to her already impressive style portfolio. The rich, vibrant color of the saree beautifully complemented her natural beauty, leaving a lasting impression on all who witnessed her in this attire.
Tara's ability to effortlessly transition from her signature edgy black ensembles to a classic Benarasi saree demonstrates her fashion prowess. She proves that she can pull off any look, whether it's modern or ethnic, with grace and panache. This bold fashion move by Tara Sutaria not only won the hearts of her fans but also solidified her position as a trendsetter and a style icon in the world of fashion and entertainment.
Tara Sutaria's recent fashion choice certainly made a statement. She stepped out in a truly gorgeous attire that showcased her impeccable style and fashion sense. Her outfit featured an embroidered corset with a deep sweetheart neckline, adding an element of allure and sophistication to her look. The corset was adorned with sequins and delicate threadwork, providing a subtle touch of glitz and glamour.
What truly made Tara's ensemble stand out was her choice of a draped skirt with saree-like pleats tucked into the waistband. This innovative and unique styling created a captivating silhouette that caught the eye of fashion enthusiasts and onlookers alike. The combination of the embroidered corset and the draped skirt brought together elements of modern chic and traditional elegance, blending them seamlessly into a harmonious and stunning ensemble.
Tara Sutaria took her already stunning ensemble to an entirely new level with a brilliant addition. She paired her embroidered corset and draped skirt with a matching embroidered jacket, and the result was nothing short of a fashion masterpiece. The jacket not only complemented the overall look but also made a bold and captivating statement.
The embroidered jacket featured an intricate design that mirrored the geometrical patterns and decorations of the corset and skirt, creating a sense of unity in the ensemble. However, what truly set the jacket apart were the bell sleeves with twist-split detailing. These unique sleeves added an element of drama and flair to Tara's outfit, taking it from beautiful to breathtaking.
Tara's fashion choice, which included this eye-catching jacket, exemplified her ability to infuse creativity and innovation into her style. The dramatic sleeves and the attention to detail in the embroidery brought a sense of theatricality to the ensemble, making it a standout fashion moment. Tara Sutaria's fashion sensibility continues to push the boundaries and redefine elegance, leaving fashion enthusiasts in awe of her unique and impeccable style.
Tara Sutaria paid attention to every detail of her ensemble, right down to her choice of accessories. She carried a potli bag that was equally as stunning as her outfit, and it complemented her attire wonderfully. The potli bag's design and color coordinated seamlessly with her embroidered corset and skirt, enhancing the overall aesthetic of her look. It was a testament to Tara's meticulous approach to fashion.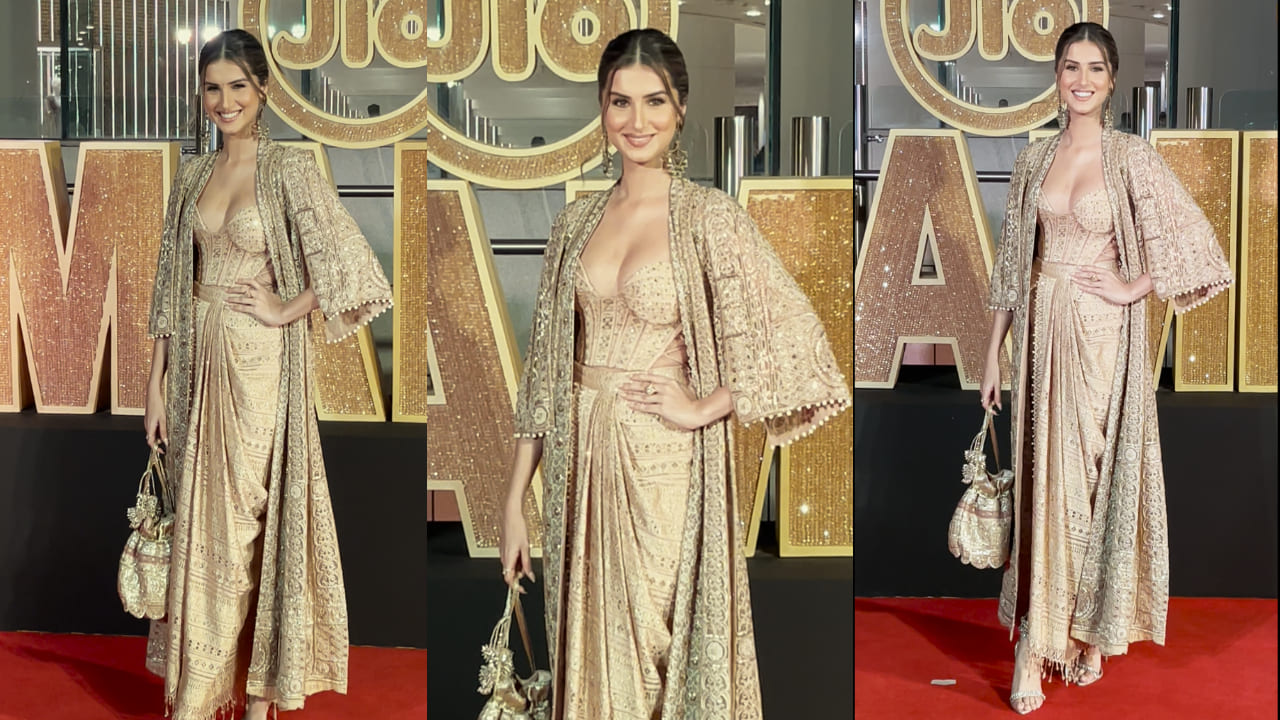 The potli bag featured a scallop edge hem and delicate stitching, which added a touch of refinement and elegance. These subtle but exquisite details showcased the thought and care that went into every aspect of her outfit, further emphasizing her commitment to creating a truly exceptional appearance.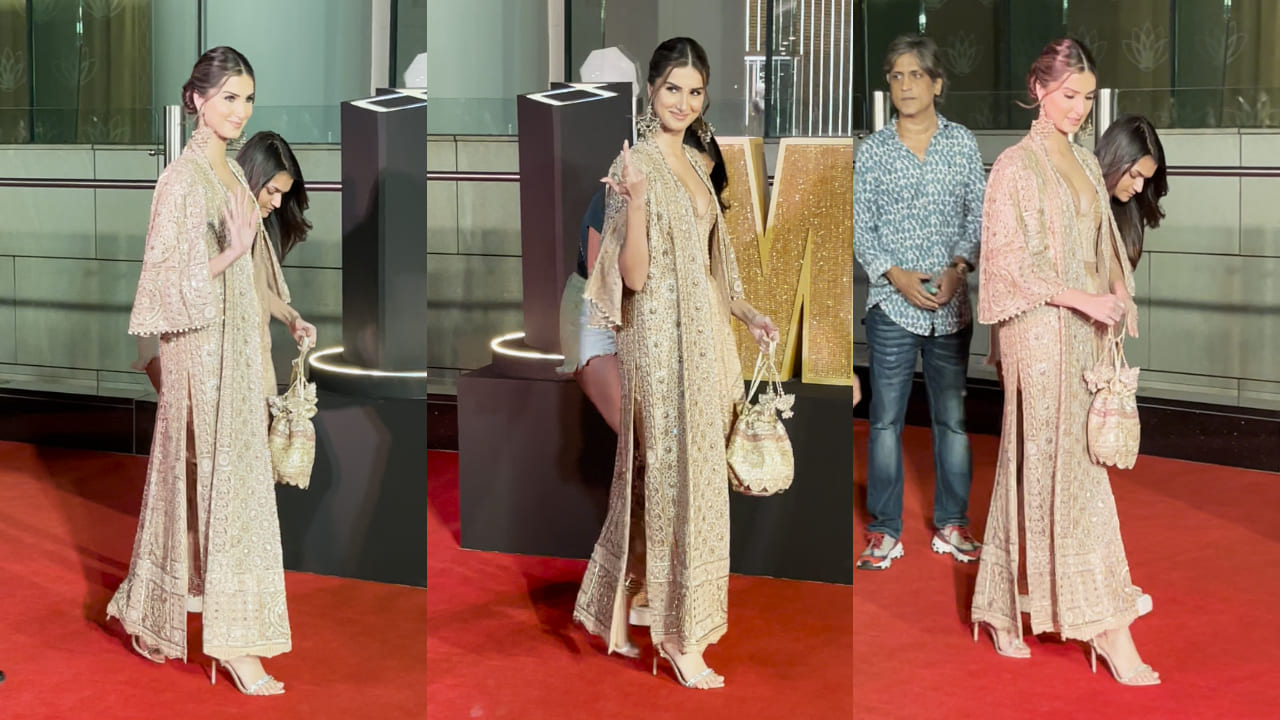 Tara Sutaria's makeup was as impeccable as her outfit, highlighting her facial features with precision. Her brows were a standout feature, flawlessly formed and filled to perfection. They framed her eyes beautifully and added a structured elegance to her overall look. Her attention to detail in achieving the ideal brow shape was a testament to her commitment to looking her best.
Her cheekbones were another focal point of her makeup. They were expertly contoured with a glossy finish that gave her a radiant and delightful shine. The strategic use of contouring brought out the natural angles of her face, enhancing her bone structure and adding a touch of glamour to her appearance.
Tara's makeup artist ensured that her skin appeared flawless with a matte-finished base. The matte finish not only created a smooth canvas for her makeup but also lent an air of immaculateness to her complexion. This choice of a matte finish demonstrated a keen sense of balance in her makeup, allowing her to shine without appearing overly glossy.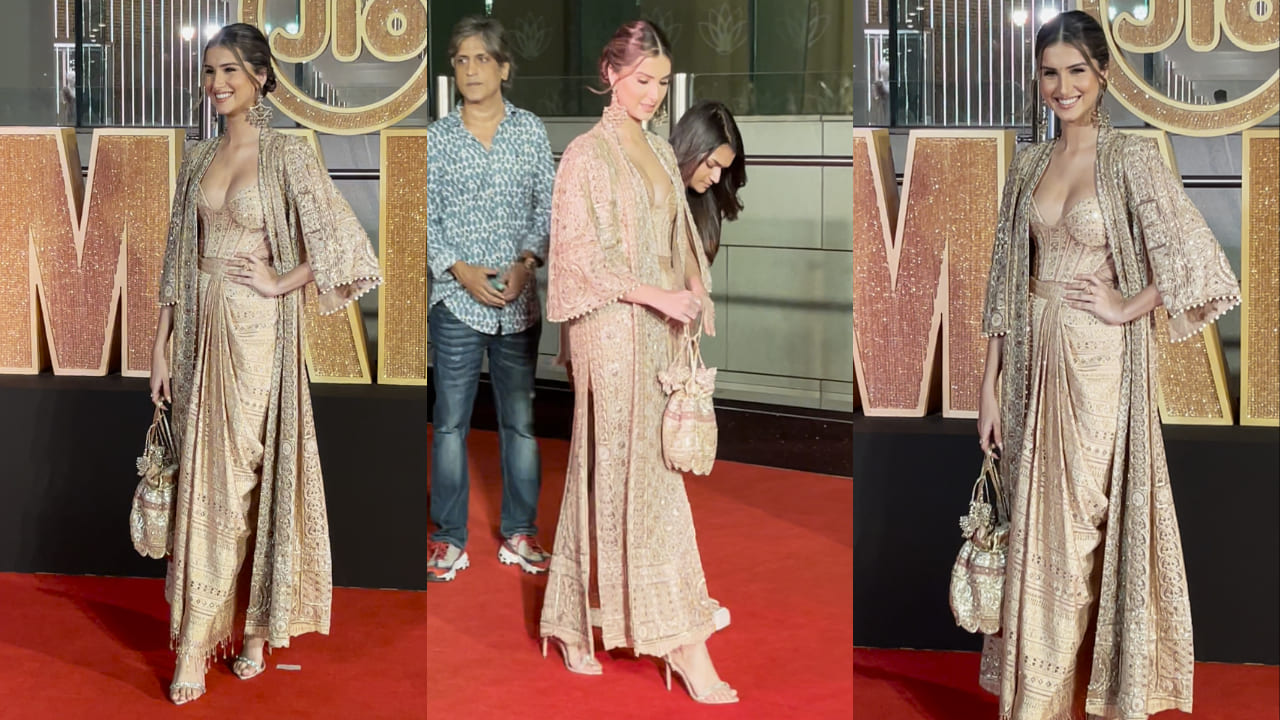 Her lips were adorned with a muted-toned pink lipstick with a glossy sheen, which added a whimsical and playful touch to her makeup. The choice of this lipstick shade not only complemented her outfit but also brought a soft and romantic element to her overall look.
To complete her makeup, Tara wore a silver bindi on her forehead. This traditional touch added a cultural and artistic dimension to her appearance, further enhancing her beauty and showcasing her ability to blend modern and traditional elements seamlessly. Tara Sutaria's makeup was a work of art, showcasing her makeup artist's skill and her own ability to radiate elegance and grace with every detail carefully considered.