Kim Kardashian drops jaws in glossy pink slipdress with massive diamond necklace at Victoria Beckham's show
In the world of high fashion, where creativity knows no bounds, Kim Kardashian has long been a reigning icon known for her exceptional fashion choices and her ability to make a style statement that is truly unique and memorable. With a keen sense of style, indescribably special outfits, and an unparalleled grace and poise, Kim Kardashian consistently captivates the fashion world.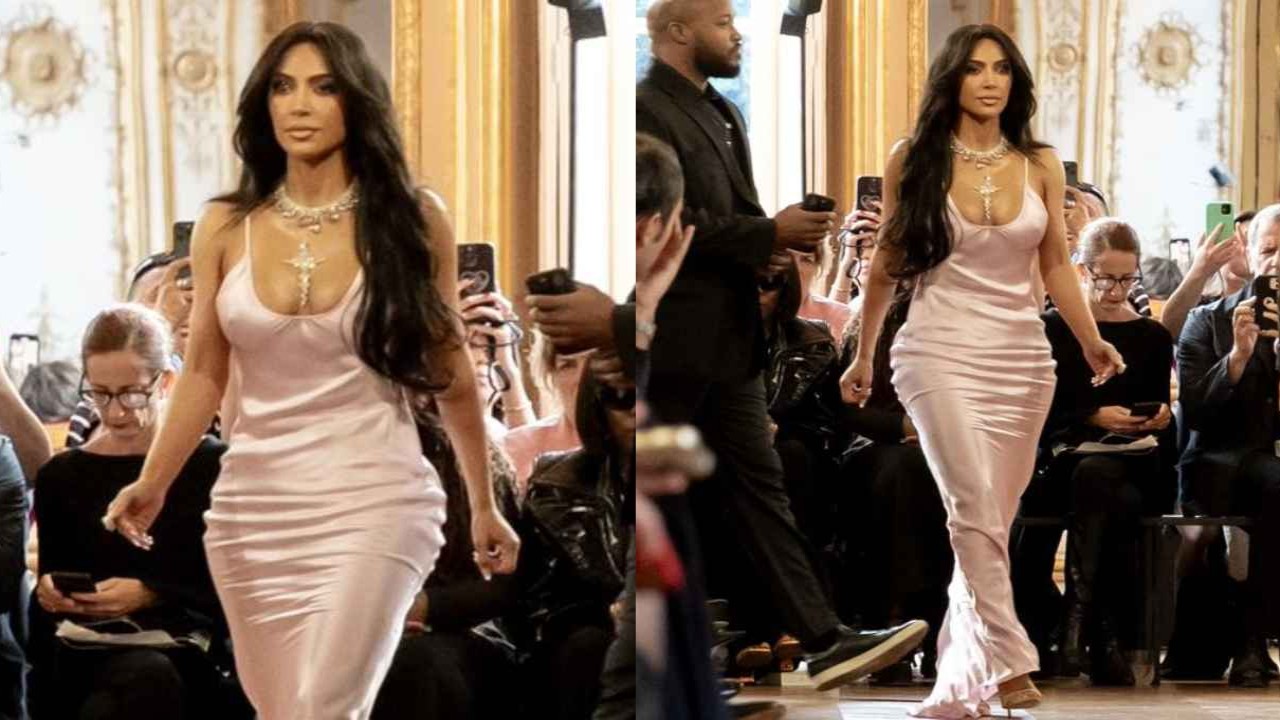 A recent spotlight for the "Keeping Up With The Kardashians" star was her attendance at Victoria Beckham's fashion show during Paris Fashion Week, a notable event in the fashion calendar. The added significance was that her younger sister, Kendall Jenner, was strutting down the runway, reinforcing their family's connection to the fashion world.
For this occasion, Kim Kardashian opted for an absolutely stunning pink outfit that turned heads and set the internet on fire. Her fashion choices have always been bold and daring, and this particular ensemble was no exception. Kim has a knack for embracing a wide range of styles, from high glamour to avant-garde, and her presence at the fashion show was a testament to her impact on the fashion industry. Her impeccable fashion sense, combined with her undeniable confidence, has solidified her status as a fashion icon in the modern era.
Kim Kardashian's choice of outfit for the event not only showcased her affinity for the avant-garde but also highlighted her support for her sister's modeling career. As a style maven, Kim continues to push the boundaries of fashion, inspiring fashion enthusiasts and designers alike with her fearless and trendsetting approach to dressing.
At the recent Victoria Beckham Fall/Winter 2024 runway show, Kim Kardashian took her place in the coveted first row, embodying the essence of high fashion and style. Her choice of attire for the occasion was nothing short of remarkable. The stylish socialite was seen wearing a glossy and slinky pink slip-dress that was entirely crafted from a glossy and metallic material. This choice of fabric added a futuristic and daring element to her look, in line with her penchant for avant-garde fashion.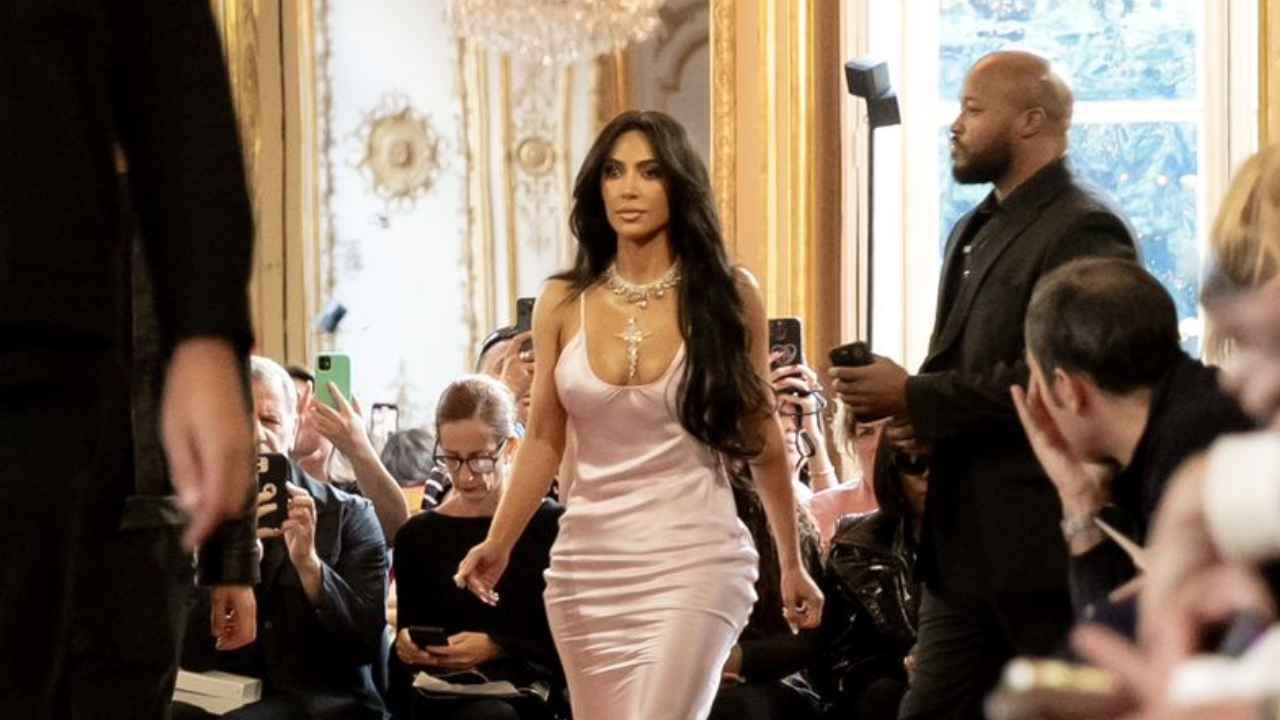 The dress itself was a showstopper, featuring sleek straps and a U-shaped, deep, and plunging neckline that accentuated her décolletage. The daring neckline, paired with the glossy material, exuded sensuality and confidence, showcasing Kim's fearless approach to fashion. The body-hugging silhouette of the dress perfectly clung to her curves, underlining her perfectly toned body. Kim Kardashian's ability to wear such a striking outfit with grace and poise is a testament to her position as a true fashion icon in the contemporary fashion landscape.
Her choice of the glossy pink slip-dress was a reflection of her fashion-forward sensibilities and her willingness to embrace innovative and bold designs. It was a fashion statement that highlighted her self-assured style and her enduring impact on the world of fashion. Kim's presence at the Victoria Beckham show, combined with her choice of outfit, undoubtedly left a lasting impression on fashion enthusiasts and designers alike.
Kim Kardashian's fashion choices are often meticulously curated down to the smallest details, and her choice of accessories for this incredible outfit was no exception. To complete her stunning ensemble, she opted for a pair of strappy light-beige heels, a choice that demonstrated her attention to detail. These heels not only provided the necessary support and elegance but also seamlessly merged with her outfit without overshadowing the star of the show – her glossy pink slip-dress. The choice of footwear was a testament to Kim's ability to achieve a harmonious and polished look.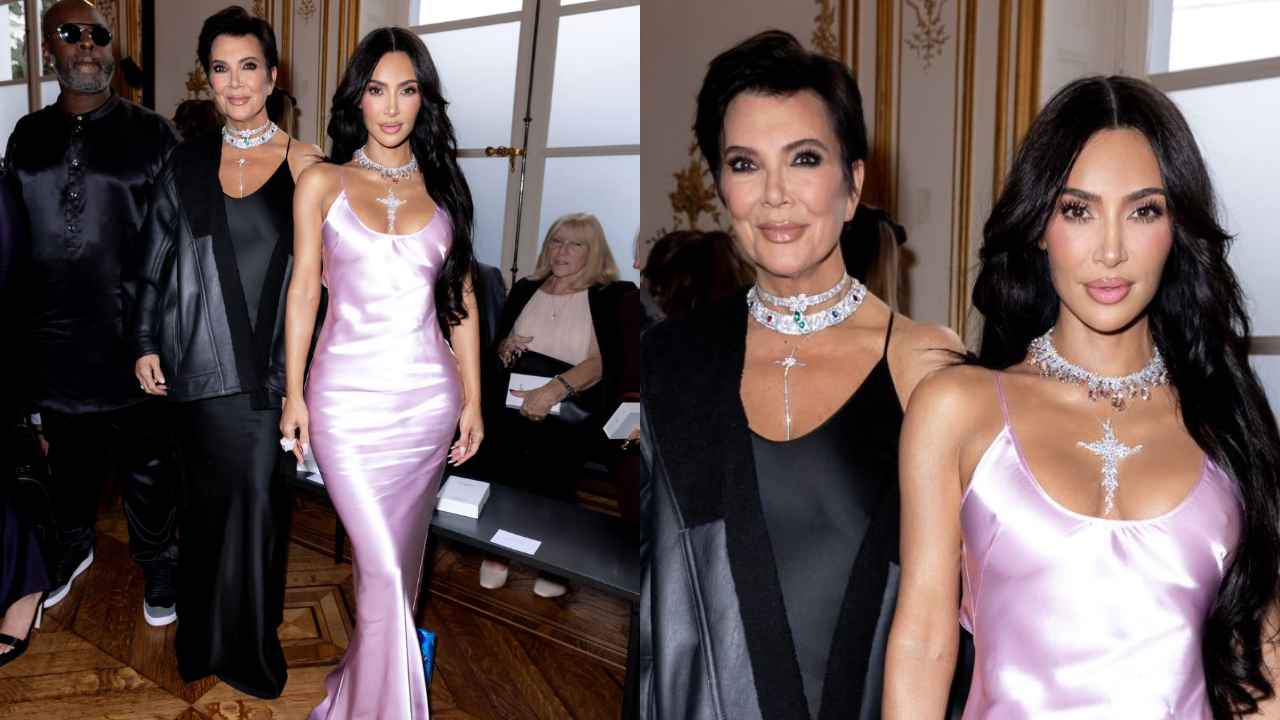 In addition to the well-chosen heels, Kim Kardashian decided to elevate her outfit by adding a truly massive and visibly stunning diamond choker necklace. This exquisite piece of jewelry was adorned with large drop crystal beads, exuding opulence and luxury. The necklace not only added a touch of glamour but also complemented her outfit like a charm, enhancing the overall aesthetic. Kim's choice of this statement piece showcased her penchant for making bold fashion statements, setting trends, and creating a memorable and cohesive look from head to toe.
In the world of high fashion, it's the little details and accessories that often make the biggest impact. Kim Kardashian's ability to select accessories that enhance and harmonize with her outfit, without overshadowing it, is a testament to her fashion prowess. Her outfit's impeccable finish, accentuated by the choice of heels and the dazzling choker necklace, underscored her reputation as a fashion icon who understands the art of dressing to perfection.
In the world of high fashion and beauty, every detail counts, and Kim Kardashian knows this well. To complete her stunning look at the Victoria Beckham Fall/Winter 2024 runway show, the multi-talented actress opted for a soft glam makeup approach that perfectly complemented her glossy pink slip-dress and diamond choker necklace.
Her eyes were a focal point, accentuated with a smoky pink eyeshadow that added depth and a touch of allure to her gaze. The smoky effect in pink hues not only showcased her striking eyes but also harmonized with the color palette of her outfit, creating a cohesive and sophisticated look.
Kim's makeup artist also gave her cheeks a rosy flush, enhancing her natural beauty and adding a healthy, youthful glow to her complexion. The highlighted cheekbones added structure and dimension to her face, further accentuating her features.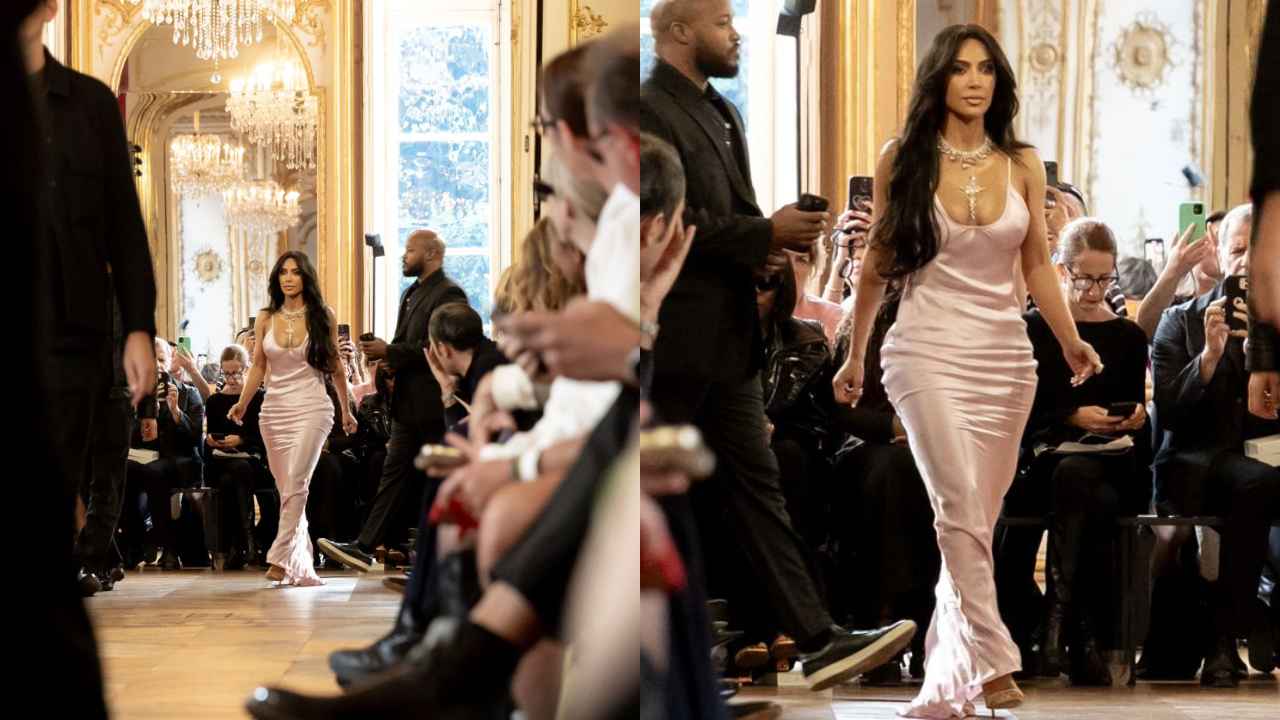 The finishing touch to her makeup was a glossy pink lip, elegantly outlined with a dark-brown lip liner. This choice not only provided a hint of contrast but also emphasized her lips, creating a polished and well-defined pout. The soft and harmonious color scheme of her makeup tied the entire look together, showcasing Kim Kardashian's mastery of the art of makeup and her ability to enhance her natural beauty with subtle yet impactful touches.
Kim's makeup approach for this occasion was a testament to her understanding of how makeup can be used to enhance, rather than overpower, one's overall appearance. It highlighted her elegance, attention to detail, and her ability to effortlessly balance all elements of her look, making her a true beauty and fashion icon.