Katrina Kaif's lookbook from Tiger 3's Leke Prabhu Ka Naam: An extravaganza of stylish co-ord sets and dresses
Bollywood is undoubtedly home to a plethora of fabulous movies, each with its unique charm and allure. However, there is a particular sub-genre that manages to captivate the audience like no other, and that is the YRF Spy Universe, especially the iconic duo of Salman Khan and Katrina Kaif in the Tiger movies. These films have consistently pushed the boundaries of action and entertainment, leaving fans yearning for more with each installment.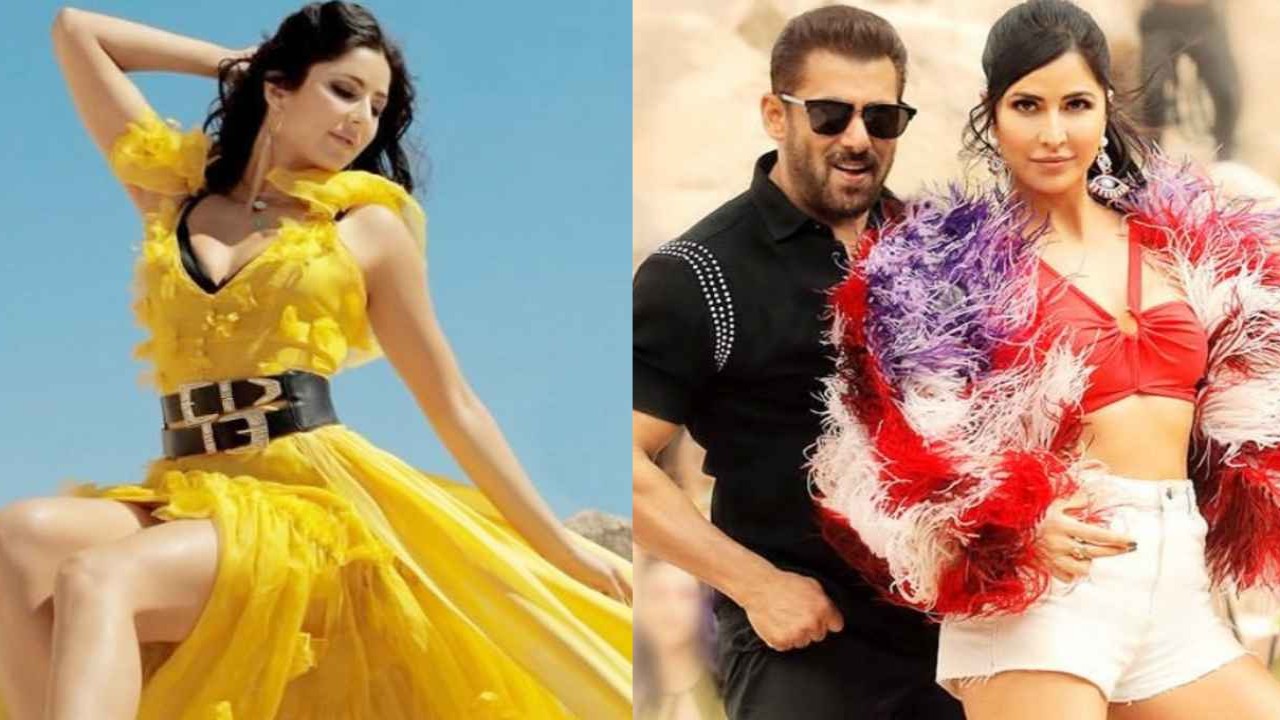 The anticipation for the third installment, "Tiger 3," has been nothing short of electrifying. Fans have been eagerly awaiting any tidbits of information regarding the movie, from its cast and plot to its songs. The Tiger series has garnered a massive fan following, and the chemistry between Salman Khan and Katrina Kaif has only added to the intrigue. It's no wonder that the news of "Tiger 3" sent waves of excitement through the Bollywood community.
The excitement surrounding "Tiger 3" wasn't limited to the movie itself; it extended to the film's music. In the world of Bollywood, songs play a significant role in enhancing the cinematic experience, and they often become as beloved as the films they accompany. The release of a film's songs can be just as eagerly anticipated as the movie itself, and this was certainly the case for "Tiger 3."
Today, the joy of fans reached its peak as the first song from "Tiger 3," titled "Leke Prabhu Ka Naam," was unveiled. The release of a film's first song is a momentous occasion, and it marks the beginning of a musical journey that will become intertwined with the film's narrative. It's a time for celebration, as fans can finally get a taste of what the film's music has to offer.
In the music video, Katrina Kaif showcased her impeccable fashion sense by donning a series of stylish ensembles that left a lasting impression on viewers. One of these remarkable outfits featured her in a classy and vibrant yellow-colored floor-length dress. The dress exuded elegance with its sleeveless design, allowing her to flaunt her graceful arms. What caught the eye and added a touch of sultriness to her appearance was the deep V-shaped neckline, which accentuated her décolletage, adding a dash of allure to the ensemble.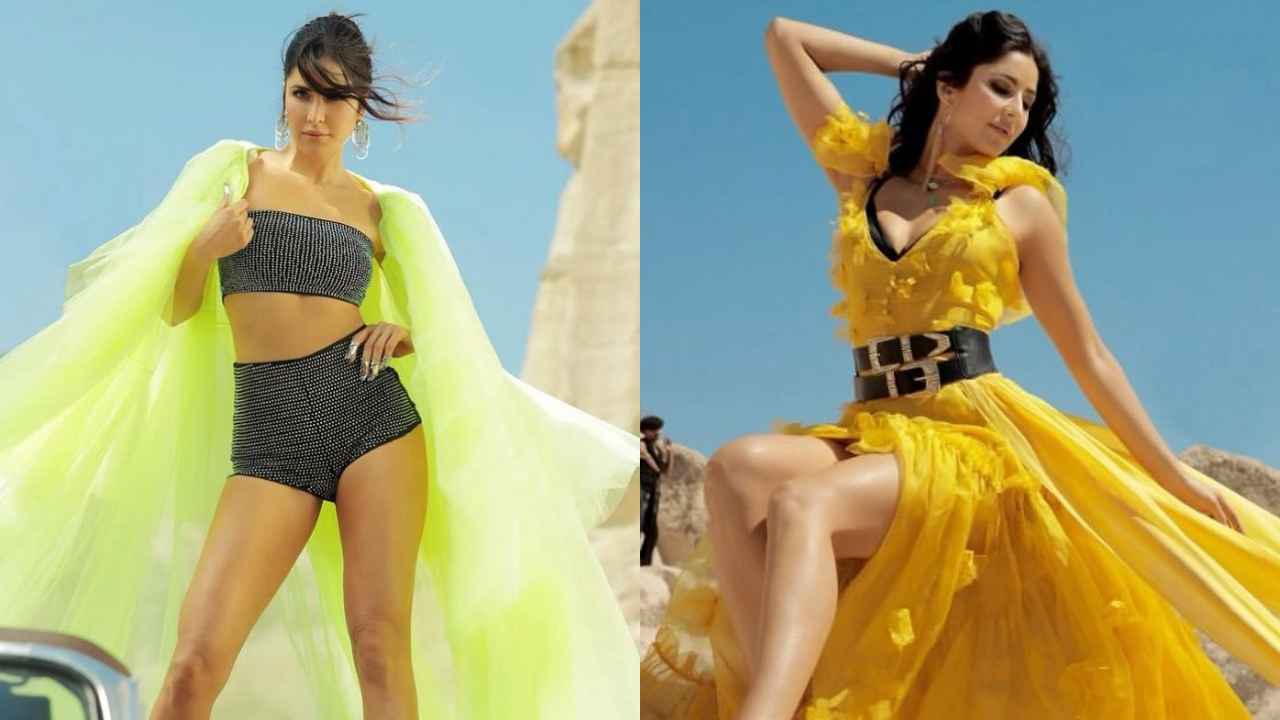 This yellow dress was a true fashion statement, as it was adorned with exquisite floral ruffles and delicate lace accents. The combination of ruffles and lace created a sophisticated and stylish look that perfectly complemented Katrina's beauty and poise. The vibrant yellow hue, often associated with energy and positivity, added a sense of radiance to her presence in the music video, making her a captivating focal point.
Katrina Kaif's ability to carry this ensemble with grace and confidence further emphasized her status as a fashion icon in the Bollywood industry. Her choice of attire not only resonated with the mood and theme of the music video but also left a mark on the fashion-conscious audience, showcasing her as a trendsetter who knows how to make a striking style statement.
In addition to the stunning yellow dress, Katrina Kaif's fashion choices in the music video continued to dazzle the audience. Another noteworthy ensemble featured her in a black co-ord set, which oozed glamour and sophistication. The set included a stylish tube top that accentuated her slender figure and a pair of matching mini-shorts. What set this outfit apart was the shimmery crystal work that adorned the top and shorts, adding a touch of opulence to her look.
With this ensemble, Katrina effortlessly showcased her toned body, leaving no doubt about her fitness and style prowess. The crystal work on the co-ord set caught the light beautifully, creating a dazzling effect that was hard to miss. Her choice of this outfit demonstrated her ability to balance elegance with a hint of glitz and glamour.
Adding an extra layer of drama to her look, Katrina Kaif donned a fluorescent yellow lace cape that added a striking contrast to the all-black co-ord set. The cape, paired with matching boots, not only brought a pop of color but also provided a bold and edgy element to her overall appearance. It's evident that her fashion choices in the music video were carefully curated to make a strong style statement and captivate the audience.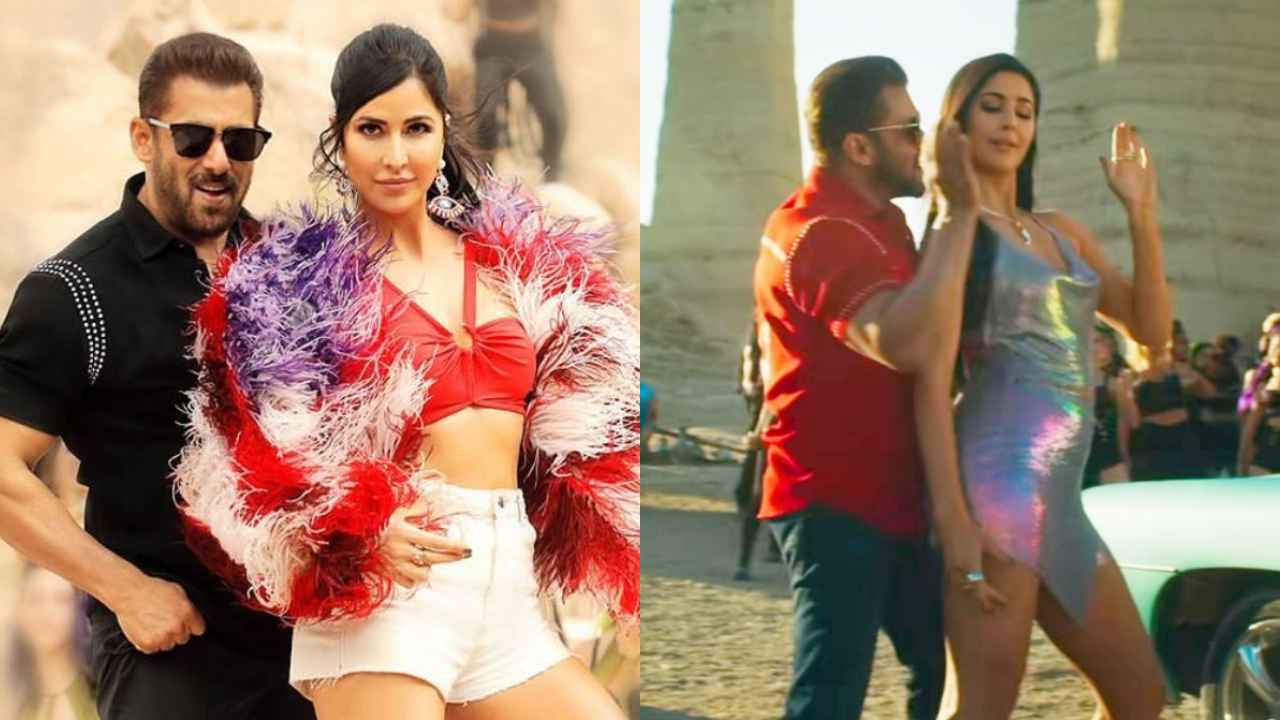 In the music video, Katrina Kaif continued to make a sartorial statement with her fashion choices. She opted for another co-ord set that exuded sultriness and style. The ensemble featured a super sultry red bralette with a unique design, showcasing her confidence and fashion-forward taste. Paired with the bralette were gorgeous white-colored denim shorts, which added a contrasting element to the look, combining the allure of red with the crispness of white.
To elevate her style and add a layer of allure, the diva donned a cropped red and white full-sleeved fur jacket. This jacket not only provided warmth and texture but also brought a touch of luxury to the outfit. Paired with classy silver accessories and super stylish boots, Katrina Kaif's ensemble effortlessly blended elements of edginess, elegance, and a hint of retro charm.
In yet another stunning outfit, the "Jab Tak Hai Jaan" actress showcased her fashion versatility with a silver metallic co-ord set. The set included a cropped top with sleek straps, a divine cowl neckline, and a matching mini-skirt with asymmetrical edges. This outfit exuded a modern and glamorous vibe, with the metallic finish catching the light and adding a futuristic touch to her appearance.
Katrina's impeccable sense of style and her ability to effortlessly switch between different looks highlighted her fashion-forward approach. Her choice of ensembles in the music video not only complemented the visual aesthetics of the video but also underscored her position as a trendsetter in the world of fashion and Bollywood.
In her music video appearance, Katrina Kaif continued to showcase her impeccable fashion choices with another classy and eye-catching ensemble. She opted for an animal print halter-neck crop top paired with a matching flowy skirt that featured multiple slits on both sides. This choice not only highlighted her toned waist but also accentuated her tall legs. The animal print added a touch of boldness and wild charm to her look, making it a stylish and unique combination. Paired with contemporary jewelry pieces, this outfit perfectly encapsulated her fashion-forward sensibilities, demonstrating her ability to pull off diverse styles with ease.
Another classy ensemble that caught the eye was an all-denim co-ord set worn by the "Bharat" actress. This set featured a distressed denim bralette with a plunging neckline, adding a hint of sensuality to her appearance. Layered over the bralette was a rhinestone-laden oversized denim jacket, which not only exuded a trendy and glamorous vibe but also brought a touch of bling to the look. Completing the set were matching denim shorts, creating a harmonious and stylish denim-on-denim combination.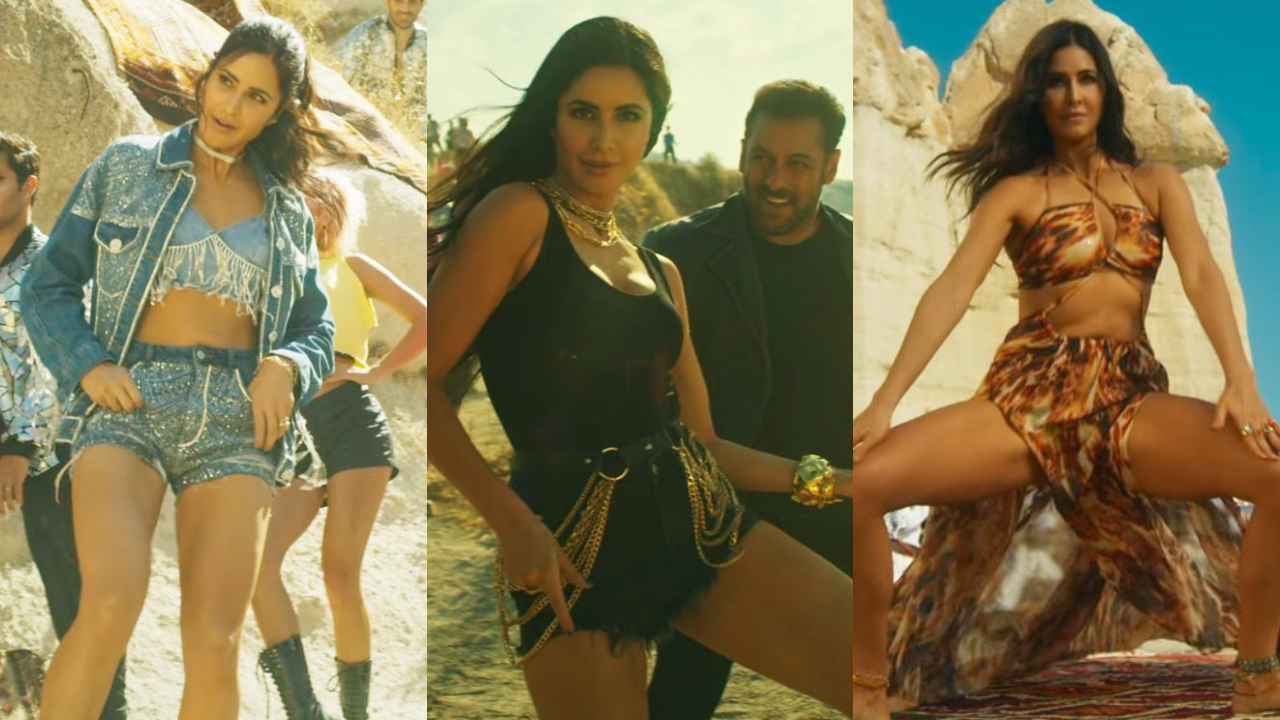 Katrina Kaif's fashion choices in the music video continued to amaze, as she effortlessly switched between diverse styles and looks. Her selection of outfits showcased her ability to adapt to different fashion aesthetics and highlighted her status as a true style icon in the world of Bollywood. Her class and confidence shone through in each ensemble, leaving a lasting impression on fashion enthusiasts and fans alike.