Kareena Kapoor Khan opts for simple fit pairing it with blue Hermes bag and Chloe boots!
Kareena Kapoor, the epitome of beauty and luxury, recently made an appearance at the airport as she made her way to Hyderabad. Her chic fashion sense has been a topic of admiration and recognition ever since her iconic portrayal of Poo on-screen.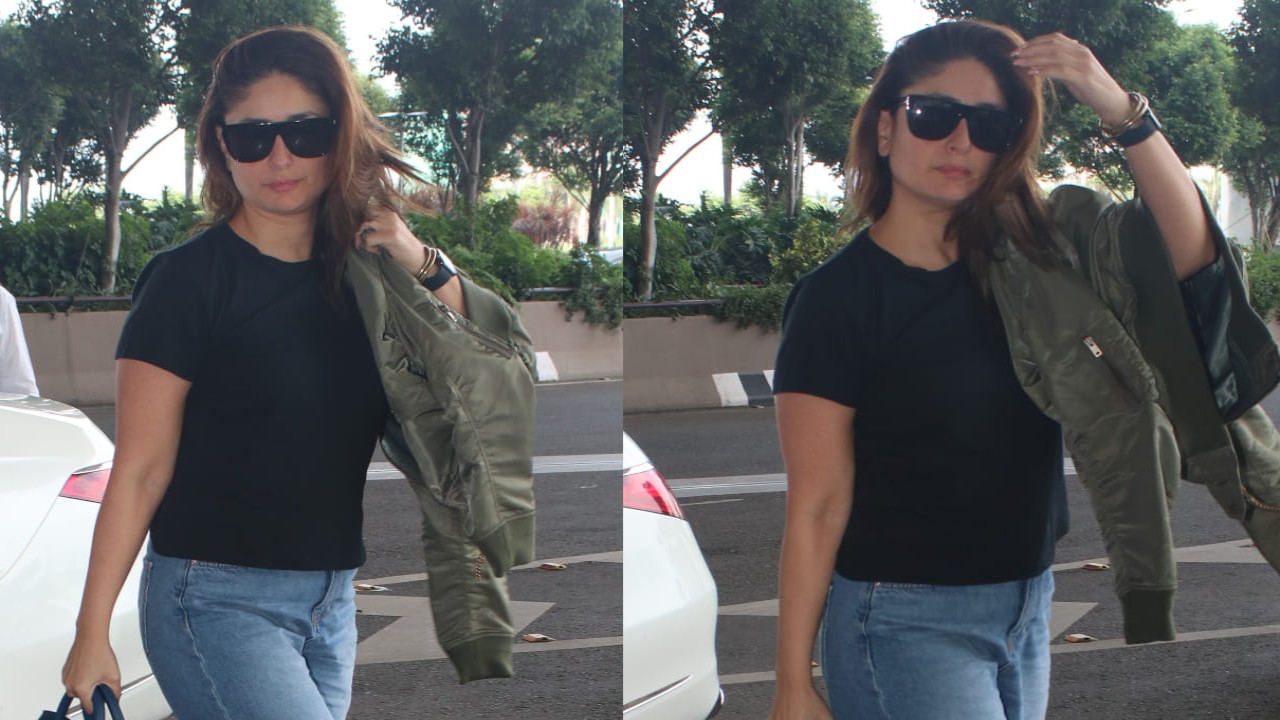 Kareena Kapoor has long been a style icon in the world of Bollywood and beyond. Her ability to effortlessly blend comfort and fashion has made her a trendsetter in the industry. Whether it's her airport looks or red carpet appearances, Kareena always manages to make a statement with her impeccable style and flair.
As she left the airport, all eyes were on Kareena Kapoor, eagerly anticipating her latest fashion choice and how she would once again redefine airport fashion. Her fashion moments continue to inspire and set trends, proving that she is a timeless and iconic figure in the world of glamour and style.
Analyzing Kareena Kapoor's airport fashion ensemble, it becomes evident that she continues to set trends and effortlessly capture attention. Her ability to seamlessly blend elegance and comfort is a hallmark of her style, and she did it once again with her latest airport look.
In this particular ensemble, Kareena chose a simple yet elegant tee, showcasing her signature confidence. The combination of simplicity and sophistication is a testament to her fashion sensibility. She proves that even in the casual setting of an airport, one can make a statement with the right choice of clothing and attitude.
Kareena Kapoor's fashion choices have always been relatable and attainable for her fans, as she often combines high-end fashion pieces with everyday basics. This approach has made her a beloved style icon, demonstrating that fashion is not limited to extravagant outfits but can be incorporated into daily wear.
Kareena Kapoor's ability to effortlessly pull off the casual-chic style was evident in her latest airport attire. She chose to wear a round neck top with half sleeves, opting for a basic yet beautiful combination. The simplicity of her top allowed her to shine through with her signature confidence, demonstrating that elegance can be found in the most straightforward choices.
To elevate her style quotient, Kareena paired the top with high-waisted blue jeans featuring a wide leg. This choice added a touch of retro flair to her look, showcasing her fashion-forward sensibilities. The wide-legged jeans not only enhanced her style but also provided comfort, making them a practical choice for airport travel.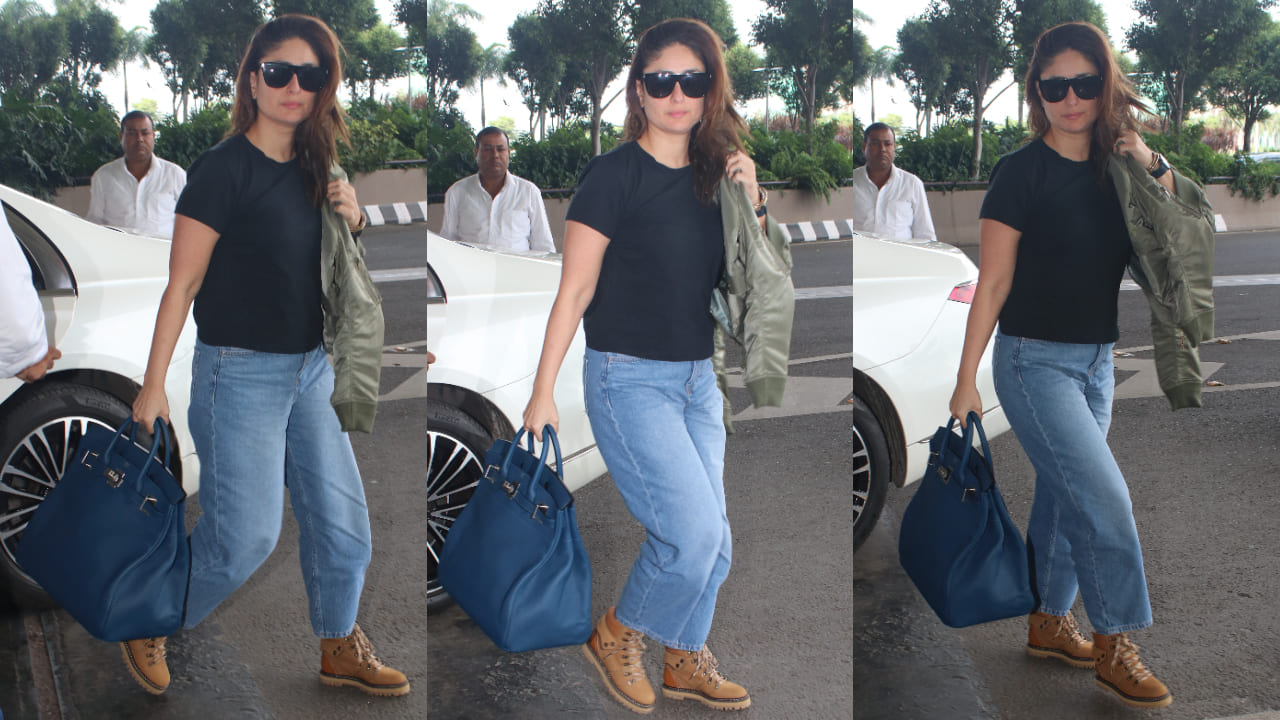 Kareena Kapoor's fashion choices often strike a perfect balance between comfort and chic, and this airport ensemble was no exception. She proves that even when traveling, one can look effortlessly stylish and put together with the right clothing and attitude.
What truly stole the show in Kareena Kapoor's airport ensemble was her colorful fashion statement: a dark green leather jacket casually slung over her shoulder. This unexpected touch added a bold and edgy element to the entire look, transforming it from casual-chic to trendy and fashion-forward.
The dark green leather jacket was the perfect choice to inject some vibrancy and personality into her outfit. It not only served as a pop of color but also added a sense of style and sophistication. Kareena's ability to effortlessly incorporate a statement piece like the leather jacket showcases her fashion instincts and willingness to experiment with different styles.
This edgy and trendy addition to her ensemble highlighted her fashion-forward approach and reminded everyone that fashion is about expressing one's individuality and personality. Kareena Kapoor's airport look was a prime example of how a single piece can elevate an entire outfit and make a memorable fashion statement.
To complete her effortlessly beautiful airport appearance, Kareena Kapoor chose her accessories with finesse. She donned a pair of black sunglasses, adding an element of sophistication to her overall look. The sunglasses not only protected her eyes but also exuded an air of glamour, highlighting her timeless beauty.
Kareena also showcased her jewelry collection by stacking bracelets on her wrist. This understated yet fashionable accessory choice brought a pop of glitter and flair to her look, demonstrating her eye for detail and ability to accessorize with elegance.
Her hair was left open, flowing naturally and adding to the laid-back yet stylish vibe of her ensemble. This choice allowed her to maintain an easygoing and effortless look, while her impeccable grooming and confidence shone through.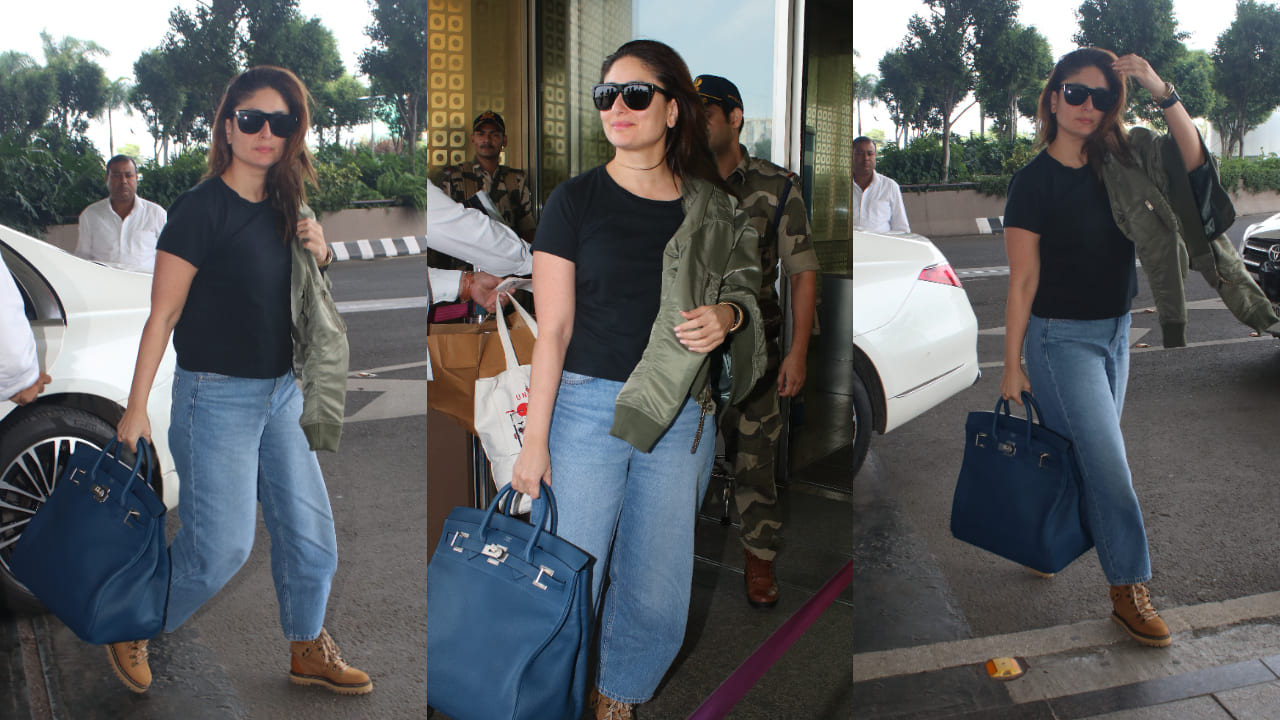 The centerpiece of Kareena Kapoor's airport look was undoubtedly her choice of accessories. Kareena made a powerful fashion statement by carrying a magnificent Hermès Birkin 50 in Blue de Prusse as she left the city. This iconic blue purse instantly became a game changer, elevating her entire look and adding a touch of elegance and refinement.
The Hermès Birkin is renowned in the world of luxury fashion for its timeless design and craftsmanship. It is considered one of the most coveted and exclusive handbags globally, and Kareena's choice of the Blue de Prusse color only amplified its appeal. The rich blue hue complemented her ensemble beautifully, creating a harmonious and stylish combination.
Carrying such a prestigious and iconic handbag like the Hermès Birkin not only showcased Kareena Kapoor's impeccable taste but also added a touch of sophistication and luxury to her airport appearance. It served as a symbol of her status as a fashion icon and further solidified her position in the world of glamour and style.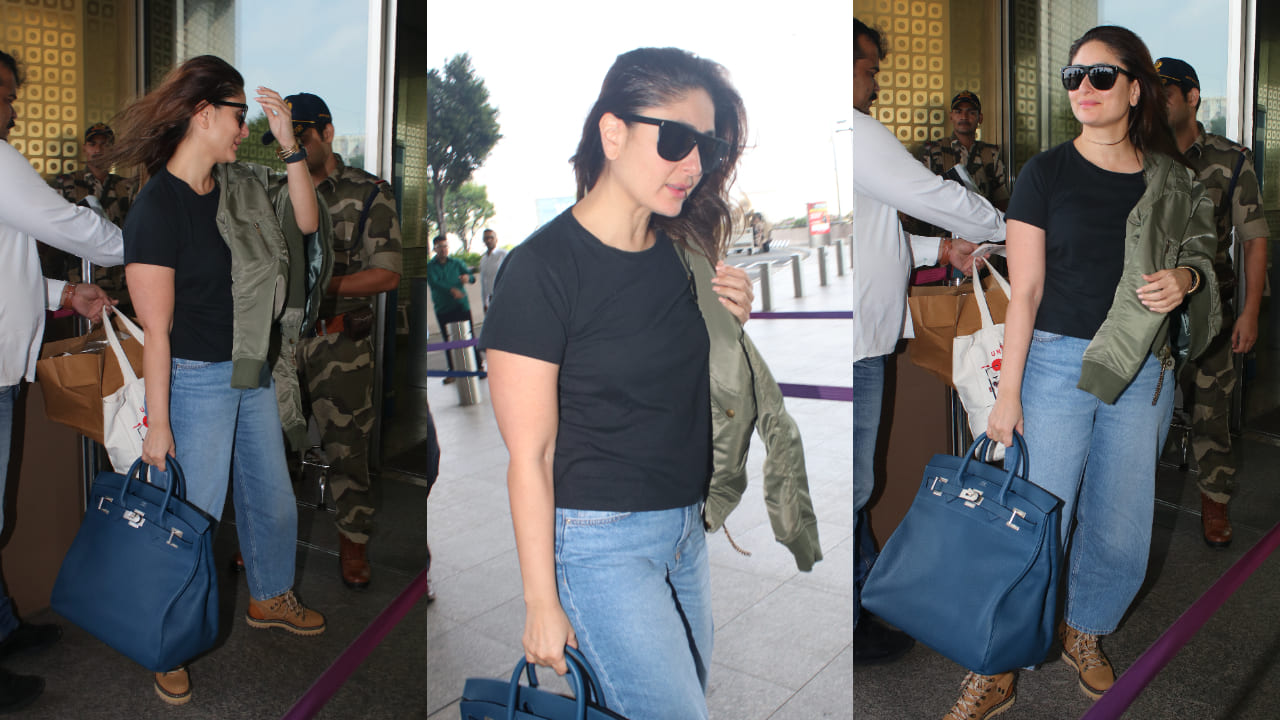 In conclusion, Kareena Kapoor's choice of the Hermès Birkin 50 in Blue de Prusse as the centerpiece of her airport look was a powerful fashion statement. This iconic handbag added an element of luxury, elegance, and refinement to her ensemble, highlighting her impeccable taste and status as a fashion icon in the industry.