Bipasha Basu wears pastel green kaftan set by Anamika Khanna exuding ethereal elegance
Bipasha Basu's recent appearance marks not only her stunning fashion sense but also a significant milestone in her life as she embraces motherhood. The Jism star looked exceptionally stunning in a mesmerizing pastel green attire, showcasing her effortless elegance and style, which never fails to astonish us.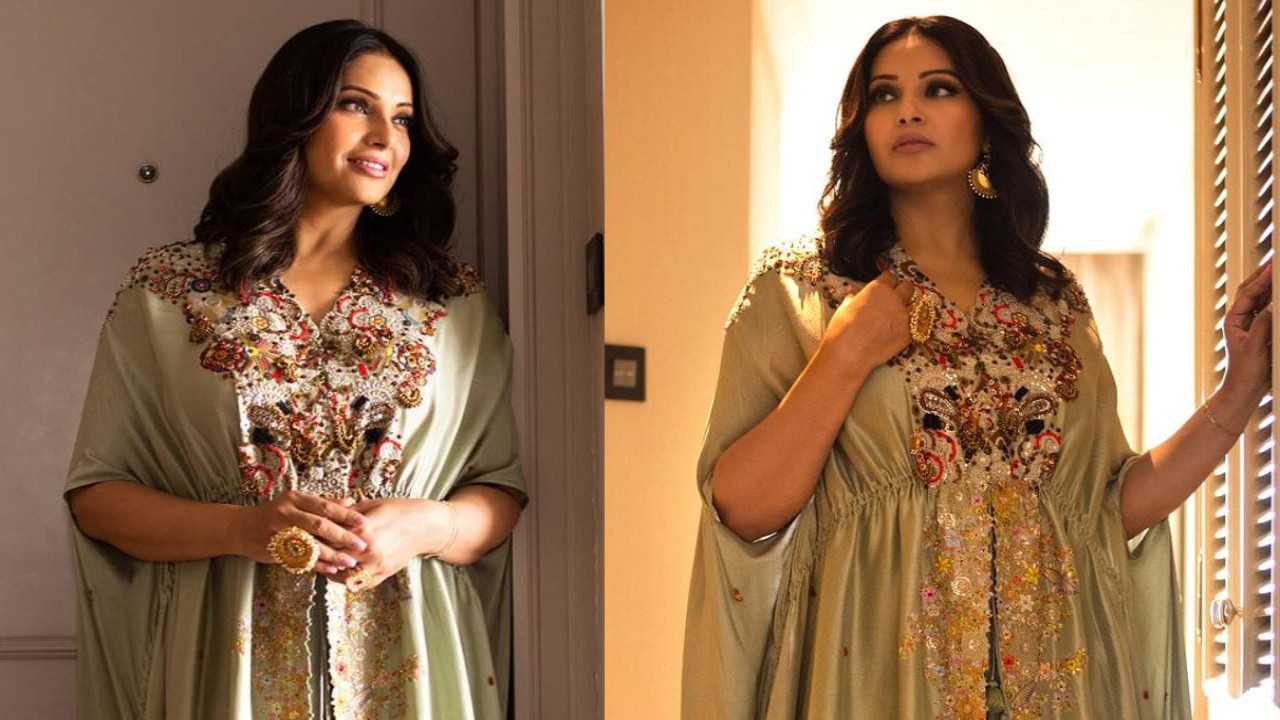 What's truly remarkable about Bipasha is her ability to multitask at its finest, effortlessly balancing her role as a mother while continuing to shine in the world of fashion. Her recent fashion statement is a testament to her remarkable journey as a mother and a fashion icon.
Bipasha Basu's ability to seamlessly mix parenthood and fashion is truly inspirational. She serves as a role model for all fashionable moms out there, proving that motherhood can coexist with a thriving career in the fashion industry. Her graceful return to the fashion scene is a delightful sight for her fans and the fashion world at large.
Bipasha Basu's choice of a gorgeous pastel green kaftan ensemble was truly stunning. The intricate stitching, adorned with pearls, sequins, and beads, formed lovely paisley and floral designs on the kaftan kurta. This exquisite embroidery added a touch of elegance and sophistication to the ensemble, making it a fashion statement worth remembering.
The embroidery work at the V-neck was particularly noteworthy, showcasing expert craftsmanship and attention to detail. This delicate embellishment not only enhanced the beauty of the ensemble but also drew attention to Bipasha's neckline, adding a touch of charm to her overall look.
Bipasha Basu's entire appearance in the pastel green kaftan ensemble was a wonderful combination of flair and comfort. The stylish palazzo trousers not only added a modern twist to the traditional outfit but also ensured that she was both fashionable and comfortable.
One striking feature of the ensemble was the handkerchief hem of the kurta. This design element drew our attention, as it added a distinctive and playful aspect to the overall look. The handkerchief hem brought movement and fluidity to the outfit, creating an interesting visual effect that made the ensemble stand out even more.
Bipasha Basu's fashion choice in the pastel green kaftan ensemble showcased a perfect blend of flair and comfort. The stylish palazzo trousers and the handkerchief hem of the kurta were key elements that made the outfit not only fashionable but also unique and eye-catching. Bipasha continues to impress with her impeccable sense of style.
The gorgeous pastel green kaftan ensemble that Bipasha Basu wore was designed by none other than Anamika Khanna, known for her impeccable fashion creations. The outfit bore the signature style and craftsmanship of the renowned designer.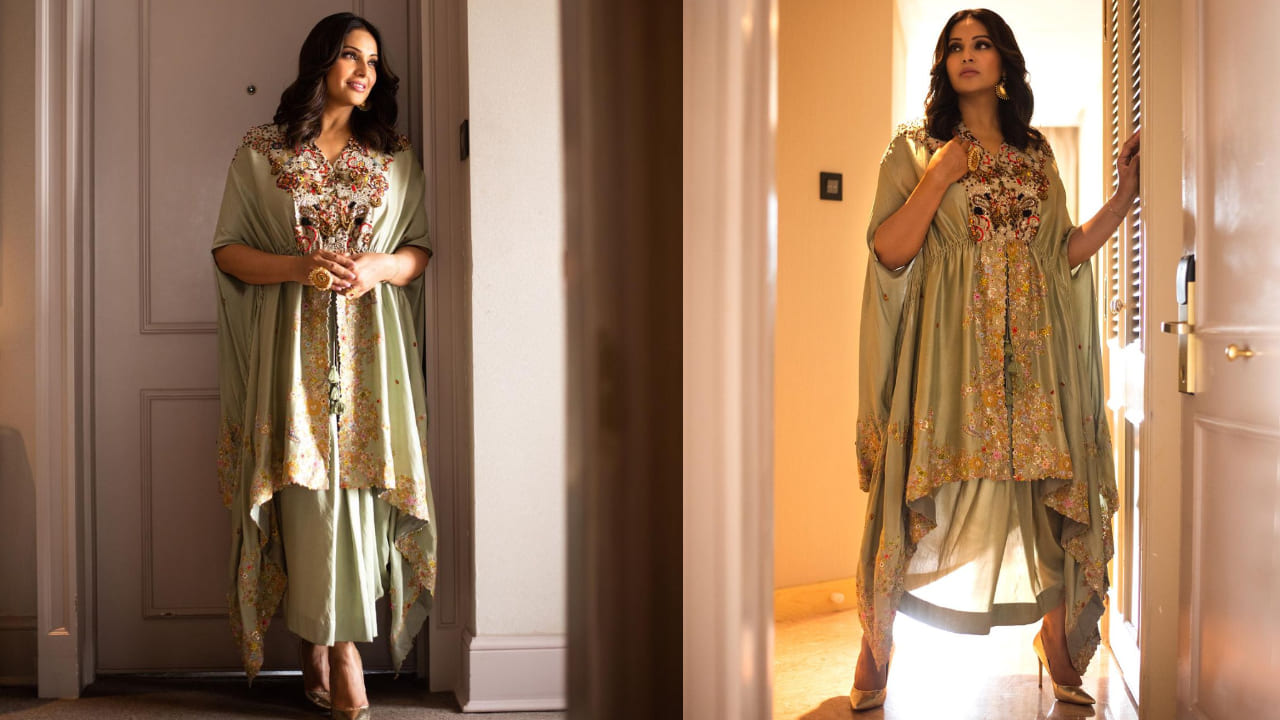 Bipasha's hair, styled in loose waves, was expertly done by Kaushal, featuring a neat partition that added a touch of refinement to her overall look. The hairstyle complemented the ensemble perfectly and added to her elegance.
In the world of cosmetics, Billy Manik worked his magic to give the Race actress a beautiful matte finish. The makeup artistry was truly exceptional, with a black smokey eye makeup creating drama and emphasizing her eyes. The addition of pink lipstick offered a splash of color, completing the look with a touch of vibrancy.
Bipasha Basu's stunning appearance in the pastel green kaftan ensemble was a result of the collaborative efforts of talented individuals in the fashion and beauty industry. Anamika Khanna's design, Kaushal's hairstyling, and Billy Manik's makeup artistry all played a crucial role in creating a fashion moment that was both elegant and captivating. Bipasha's presence and style continue to leave a lasting impact in the world of glamour and fashion.
Bipasha basu accessorizing choices were equally impressive and added a touch of elegance and traditional charm to her overall look. She adorned her ears with exquisite golden chandbali earrings from Amrapali Jewels, which perfectly complemented the pastel green ensemble. These statement earrings were a nod to traditional Indian jewelry, and they added a touch of regal sophistication to her appearance.
To make a statement with her jewelry, the Alone actress chose a large-sized circular ring from Aquamarine Jewellery. This eye-catching ring turned heads and added a bold and fashionable element to her look, while its circular design beautifully harmonized with the ensemble.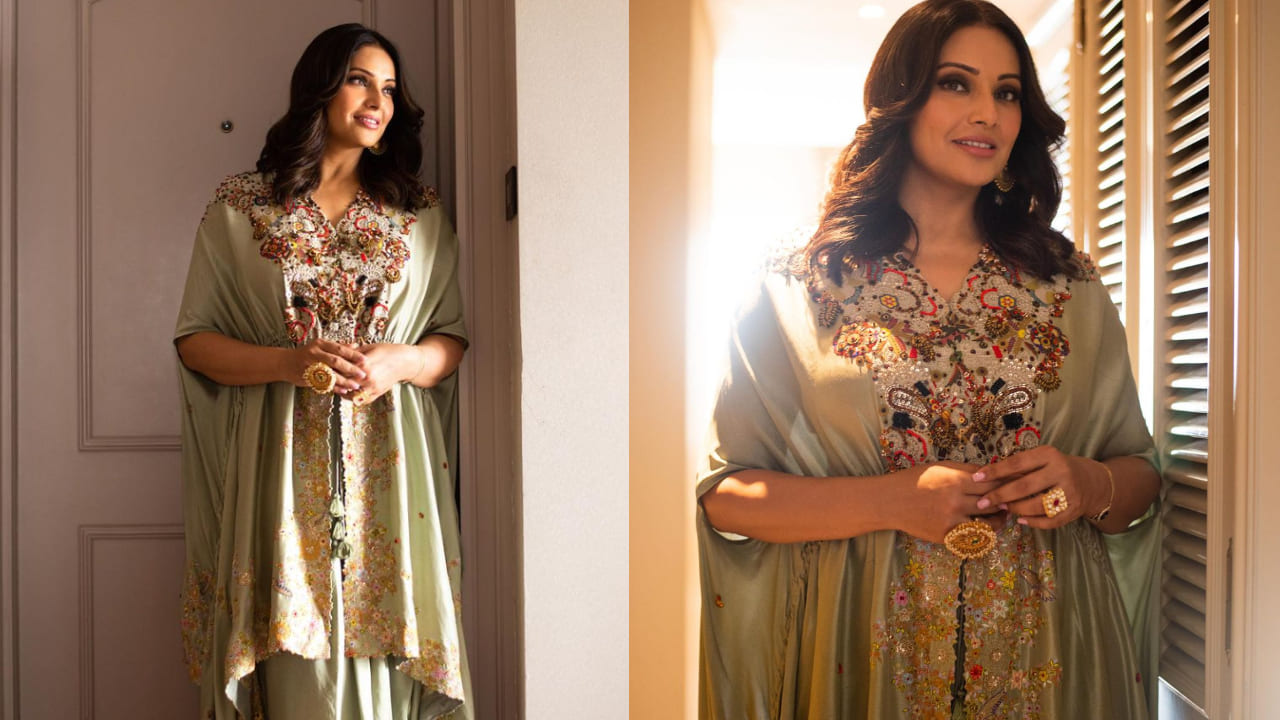 The metallic golden pointed-toe pumps from Steve Madden were the ideal finishing touch, giving a touch of refinement and completing the appearance from head to toe. These elegant shoes not only matched the color palette of the outfit but also added a modern and chic touch to the overall look.
Credit must also be given to Esha L Amin, the skilled stylist, who masterfully put together this gorgeous look, ensuring that every detail, from the clothing to the accessories, was perfectly on point. Bipasha's appearance was a testament to the power of impeccable styling and attention to detail.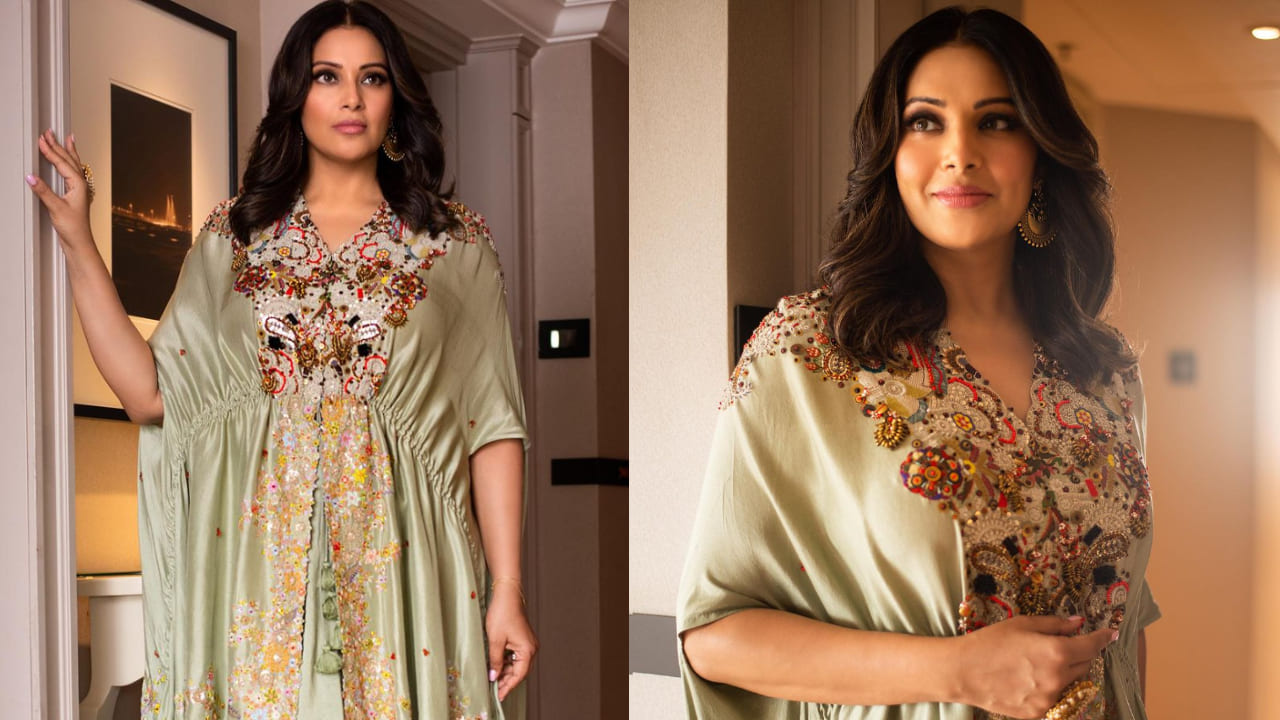 In conclusion, Bipasha Basu's accessorizing choices, including the golden chandbali earrings, statement ring, and metallic pointed-toe pumps, added the perfect finishing touches to her pastel green kaftan ensemble. These elements contributed to the overall elegance and sophistication of her look, showcasing her impeccable fashion sense and the expertise of her stylist.