Shilpa Shetty's embracing her inner Barbie in strapless pink Gaby Charbachy gown with a sultry thigh-high slit
Shilpa Shetty Kundra, a stalwart in the glamorous world of Bollywood, continues to hold a well-deserved place at the top of the list of iconic actresses. Her ability to reinvent herself and consistently showcase her supremacy in the industry is truly remarkable. Let's step into her world as she embraces her inner Barbie with a jaw-dropping twist, leaving us in awe of her evergreen charm and style.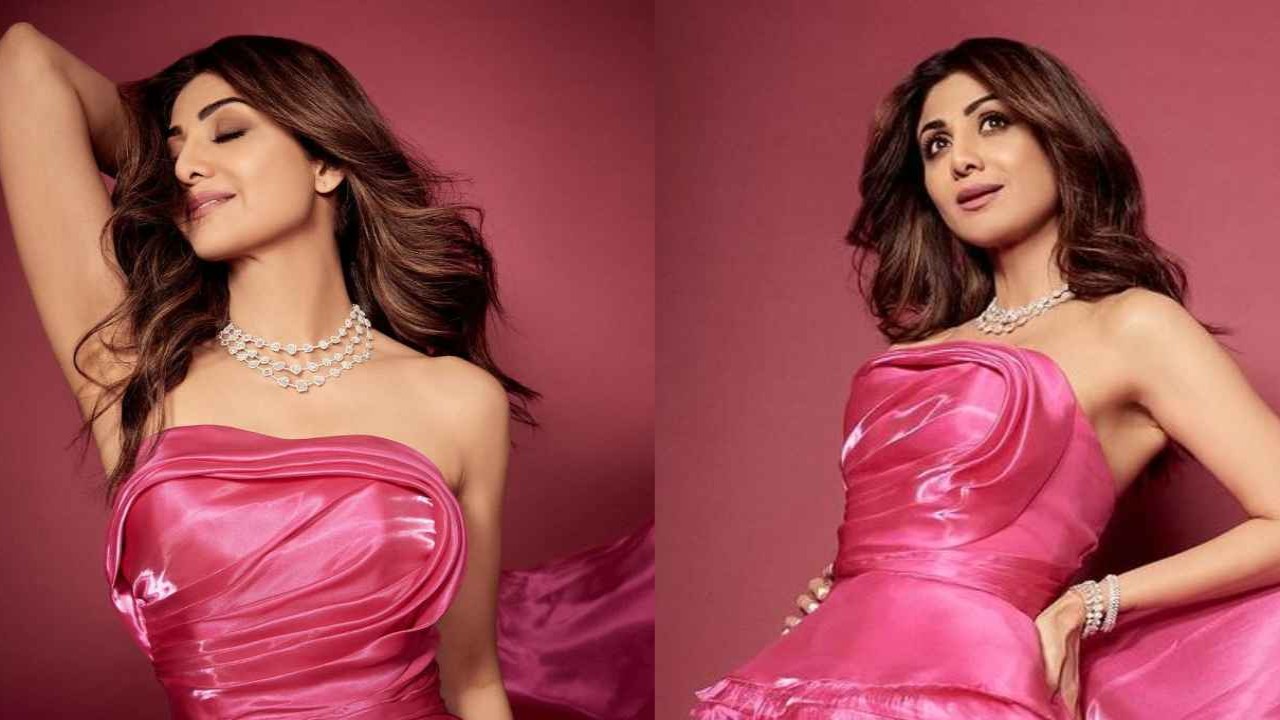 Shilpa Shetty Kundra's fashion choices have always been a reflection of her vibrant personality and fashion-forward sensibilities. She is known for her ability to effortlessly blend traditional and contemporary styles while adding her own unique twist. This time, as she channels her inner Barbie, we can expect nothing short of a fashion spectacle that will captivate hearts and set new trends.
Shilpa's fashion journey has been marked by her willingness to take risks and experiment with different looks. Her ever-evolving style has made her a true fashion icon, and her ability to embrace her inner Barbie with a jaw-dropping twist is a testament to her fearless approach to fashion.
In a recent Instagram post that set the internet abuzz, the dazzling Sukhee actress, Shilpa Shetty Kundra, unveiled a show-stopping moment in a vibrant, strapless Gaby Charbachy gown that exuded sassy elegance. This fashion choice was nothing short of a SLAY Barbiecore extravaganza, making it an unforgettable fashion moment that left everyone in awe.
Shilpa's choice of the Gaby Charbachy gown showcased her impeccable style and fearless fashion sense. The vibrant color palette, featuring shades of pink, created a visually striking and memorable look. The gown's strapless design added a touch of sophistication, highlighting Shilpa's graceful shoulders and neckline.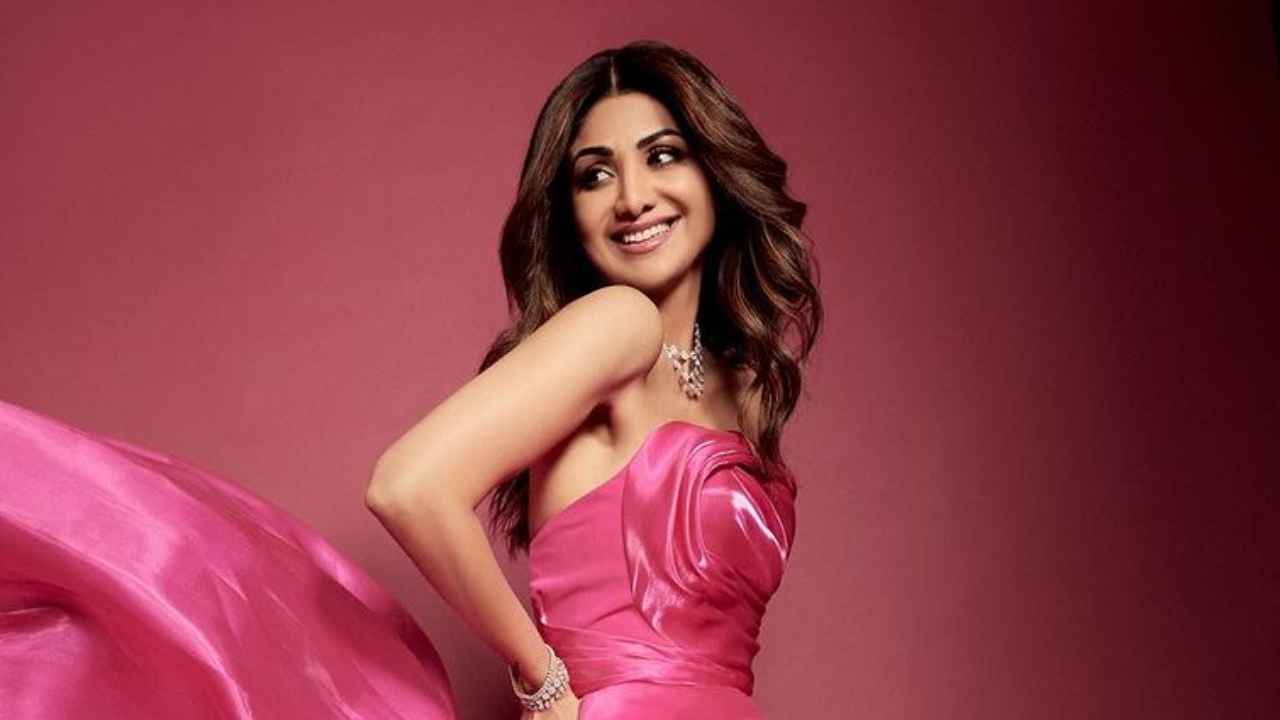 The daring thigh-high slit in the gown added an element of drama and allure to the ensemble, making it a bold and statement-making choice. It showcased Shilpa's confidence and her ability to embrace fashion that makes a powerful impact.
Shilpa Shetty Kundra's appearance in the vibrant Gaby Charbachy gown was a fashion moment that left a lasting impression. Her ability to exude sassy elegance while embracing the Barbiecore aesthetic demonstrated her fashion-forward sensibilities and her position as a true style icon in the world of Bollywood. Shilpa's fashion choices continue to inspire and set trends, reaffirming her reign as a fashion queen.
Shilpa Shetty Kundra's recent fashion choice featured a gorgeous and vibrant glossy pink floor-length gown that truly captivated onlookers. The gown's super feminine sleeveless, off-shoulder design added a touch of elegance and allure, perfectly complementing her style.
The incredible Gaby Charbachy gown also featured a layered look and a flowing edge, which created a graceful train that cascaded behind the talented diva. This design element added an extra layer of drama and sophistication to the ensemble, making it an absolute show-stopper.
As Shilpa walked ahead with poise, charm, and confidence, the gown's train followed her with a graceful flow, creating a mesmerizing visual effect. Her ability to carry off such an elaborate and stunning gown with ease further solidified her status as a fashion icon known for her grace and style.
Shilpa Shetty Kundra's choice of the Gaby Charbachy gown featured an upper half with a ruched corset-like design that added a layer of texture and allure to the ensemble. This design not only hugged her body, accentuating all her perfect curves, but also contributed to the gown's super gorgeous texture. It was a masterful touch that elevated the overall look.
The incredibly luscious gown also incorporated a side thigh-high slit, which further enhanced the ensemble's allure. This daring detail added an element of drama and sexiness to the already fabulous gown. It allowed Shilpa to showcase her confidence and style while making a powerful fashion statement.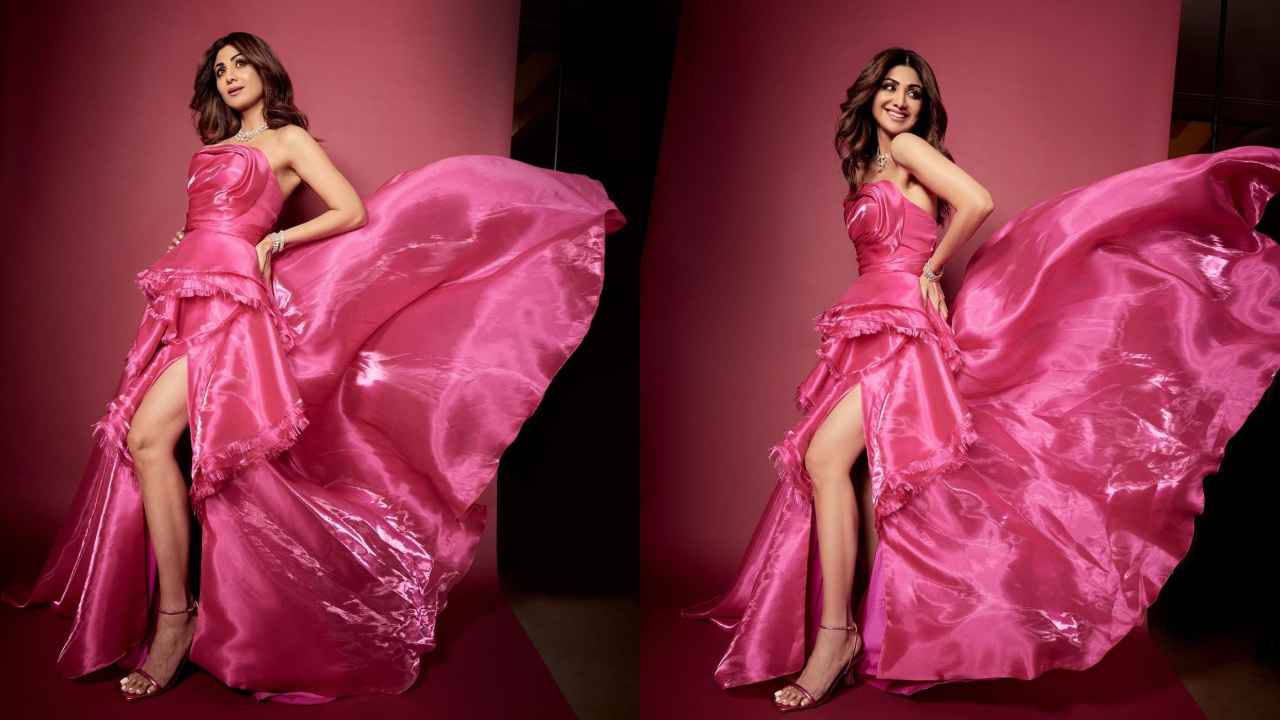 The combination of the ruched corset-like design and the thigh-high slit created a harmonious blend of elegance and boldness, perfectly reflecting Shilpa's fashion-forward sensibilities and her ability to push the boundaries of style.
To complete her classy ensemble, the talented Shilpa Shetty made a wise choice by opting for matching metallic pink heels from the same brand. This decision added a harmonious appeal to her overall look, ensuring that every detail was perfectly coordinated. The metallic pink heels not only complemented the vibrant pink gown but also added a touch of glamour and sophistication.
In addition to her choice of footwear, the Indian actress decided to accessorize her outfit with exquisite jewelry pieces. She adorned herself with a triple-layered diamond necklace and a matching layered bracelet from Anmol Jewellers. These stunning jewelry pieces added the much-needed bling to Shilpa's barbielicious outfit, elevating her overall look to another level of opulence and style.
The combination of the perfectly coordinated metallic pink heels and the dazzling diamond jewelry showcased Shilpa's attention to detail and her commitment to creating a well-balanced and captivating appearance.
Shilpa Shetty Kundra's makeup and hair game were absolutely on point for this particular ensemble. The talented diva's makeup was flawlessly executed, with a focus on enhancing her natural beauty and harmonizing with her vibrant pink gown.
Her eye makeup featured pretty brown eyeshadow, which complemented her eye color and added depth and warmth to her gaze. The choice of brown eyeshadow was a subtle yet effective touch that highlighted her eyes without overpowering her overall look.
Shilpa's makeup artist also ensured that her blush was applied to perfection, providing a healthy flush of color to her cheeks. This added a youthful and radiant glow to her complexion, enhancing her natural beauty.
The pièce de résistance of her makeup was, of course, her pretty pink lips that mirrored the shade of her dress. This choice of lipstick tied the entire look together, creating a seamless and coordinated appearance that showcased her impeccable sense of coordination.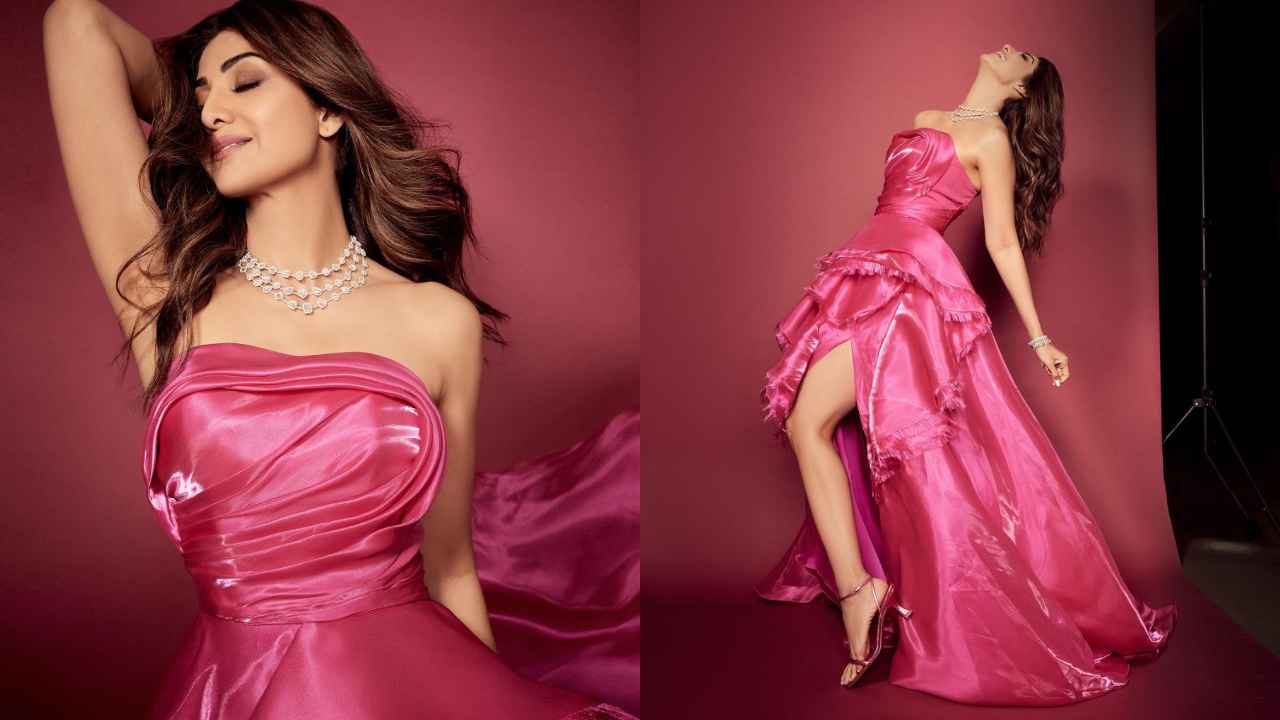 In addition to her makeup, Shilpa's hair was styled to perfection, with her locks cascading down gracefully. The overall effect was a hairstyle that framed her face beautifully and added to her overall elegance and sophistication.
Shilpa Shetty Kundra's dark hair was left open and styled into a loose curled look that added a touch of glamour and elegance to her overall appearance. Her luscious locks beautifully cascaded down her shoulder, creating a stunning and mesmerizing effect. This hairstyle perfectly framed her face and complemented the vibrant pink gown, elevating her entire look beyond compare.
What truly sets this fashion moment apart, however, is the diva's confidence and charisma. Shilpa Shetty Kundra has always been known for her poise and grace, and this particular ensemble was no exception. Her radiant smile and undeniable confidence added an extra layer of charm and magnetism to her already stunning appearance.
Shilpa's ability to exude confidence and charisma, combined with her impeccable fashion choices, continues to make her a true icon in the world of Bollywood and fashion. Her presence on the red carpet is always a spectacle to behold, leaving everyone in awe of her beauty, style, and grace.
In conclusion, Shilpa Shetty Kundra's confidence and charisma are the true factors that set her fashion moments apart. While her impeccable style, flawless makeup, and beautiful hair enhance her appearance, it's her inner radiance that truly shines through, making her an enduring and beloved figure in the world of glamour and fashion. Shilpa's fashion choices continue to inspire and leave a lasting impact on the industry and her fans.