Kriti Sanon is radiating elegance in Burberry Trench Coat!
Kriti Sanon's fashion sense is a perfect blend of elegance, versatility, and trendsetting. Whether she graces the red carpet, attends high-profile events, or simply steps out for everyday errands, she never fails to make a stunning style statement.
Known for her ability to effortlessly carry off both traditional and contemporary ensembles, Kriti exhibits a keen eye for fashion, always opting for outfits that highlight her individuality. From chic co-ord sets to breathtaking gowns with daring slits, she fearlessly experiments with various silhouettes, colors, and patterns, showcasing her confidence in fashion choices.
Her love for accessorizing is evident, as she flawlessly pairs her outfits with the perfect accessories, be it elegant jewelry, stylish handbags, or statement footwear. Kriti's fashion sense continues to captivate the hearts of fans and fashion enthusiasts alike, making her a true icon in the world of glamour and setting trends that inspire and resonate with many.
Indeed, a trench coat not only provides warmth but also adds a touch of sophistication and style to winter outfits. Kriti Sanon's recent appearance in a Massimo Dutti pantsuit and long coat, showcasing the barbiecore trend, is a perfect example of how to rock winter fashion with elegance and flair.
Barbiecore is a fashion trend that draws inspiration from the iconic Barbie doll, characterized by vibrant, girly, and retro elements. Kriti's ability to embrace this trend while staying true to her personal style is a testament to her fashion versatility.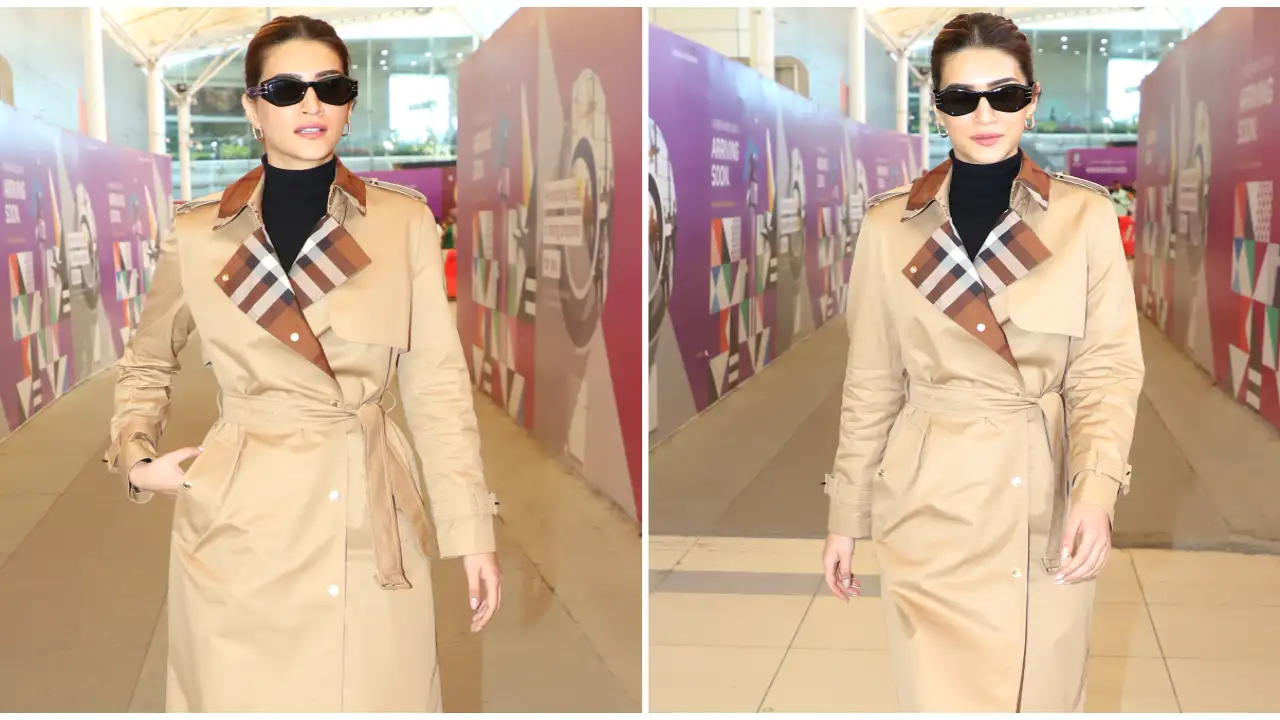 The combination of a pantsuit and long coat is both chic and practical, making it an ideal choice for winter. The tailored silhouette of the pantsuit adds a polished and professional touch, while the long coat provides an additional layer of warmth and elegance.
Fashion enthusiasts often look to celebrities like Kriti Sanon for style inspiration, and her ability to pull off unique and on-trend looks only amplifies her influence. As she confidently embraces the barbiecore trend, she might inspire others to experiment with playful and retro elements in their winter outfits.
Massimo Dutti is a well-known brand that offers high-quality and fashionable clothing, and Kriti's choice to wear their ensemble showcases her appreciation for fine craftsmanship and luxury fashion.
Kriti Sanon's latest airport look features a luxurious and chic coat that clearly exudes style and sophistication. The coat comes with a hefty price tag of Rs. 2,11,571.53, showcasing its high-quality craftsmanship and materials.
The fact that the coat was designed in Yorkshire and made from bespoke cotton gabardine emphasizes its exclusive and tailored nature. Cotton gabardine is a durable and weather-resistant fabric, making it a practical choice for airport travels, especially during unpredictable weather conditions.
The coat's design reflects the brand's aesthetic, with a check-printed collar and lapel adding a touch of classic elegance and instantly elevating the overall look. The check print is a signature of the brand, which further adds to the coat's prestige.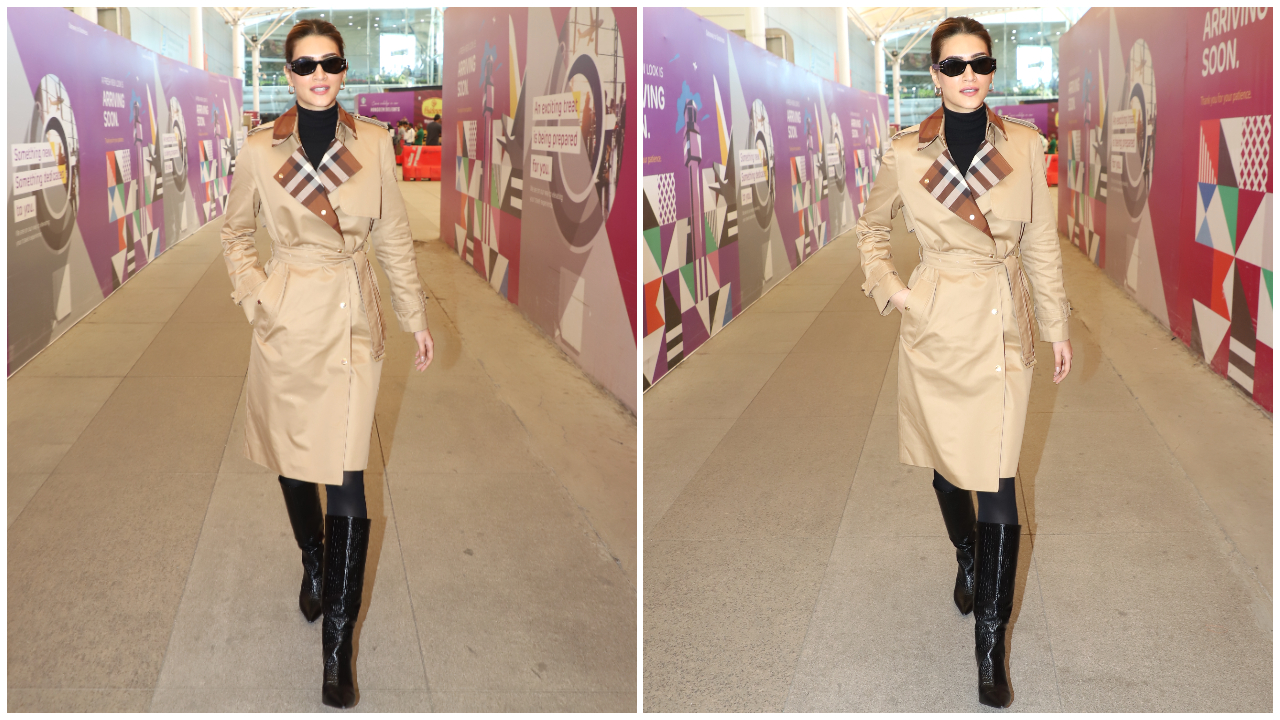 The press-stud button closure offers a modern and clean look, while details like belted cuffs and a gun flap add a touch of sophistication and military-inspired elements. Welt pockets not only provide functionality but also add to the coat's tailored and polished appearance.
The added storm shield is a practical feature that helps protect against the elements, making it an ideal choice for airport travel when weather conditions can be unpredictable.
With its versatile design and multiple stylish details, this coat can be styled in various ways, allowing Kriti to create many cool and fashionable looks during her airport travels. Its timeless and investment-worthy nature makes it a statement piece that can be worn for many seasons to come.
Kriti Sanon's preference for almost knee-high, well-heeled, and black croc-embossed boots adds an edgy and stylish touch to her overall look. The choice of knee-high boots is not only fashionable but also practical, especially during the winter season, as they provide added warmth and protection.
The well-heeled design of the boots suggests that she prioritizes both style and comfort. Well-heeled boots offer a flattering lift while still being comfortable enough for prolonged wear, making them a perfect choice for various occasions, including airport travels.
The black croc-embossed texture adds a touch of sophistication and luxury to her footwear, enhancing the overall outfit's elegance. The croc-embossed pattern is a classic and timeless design that complements various styles and looks.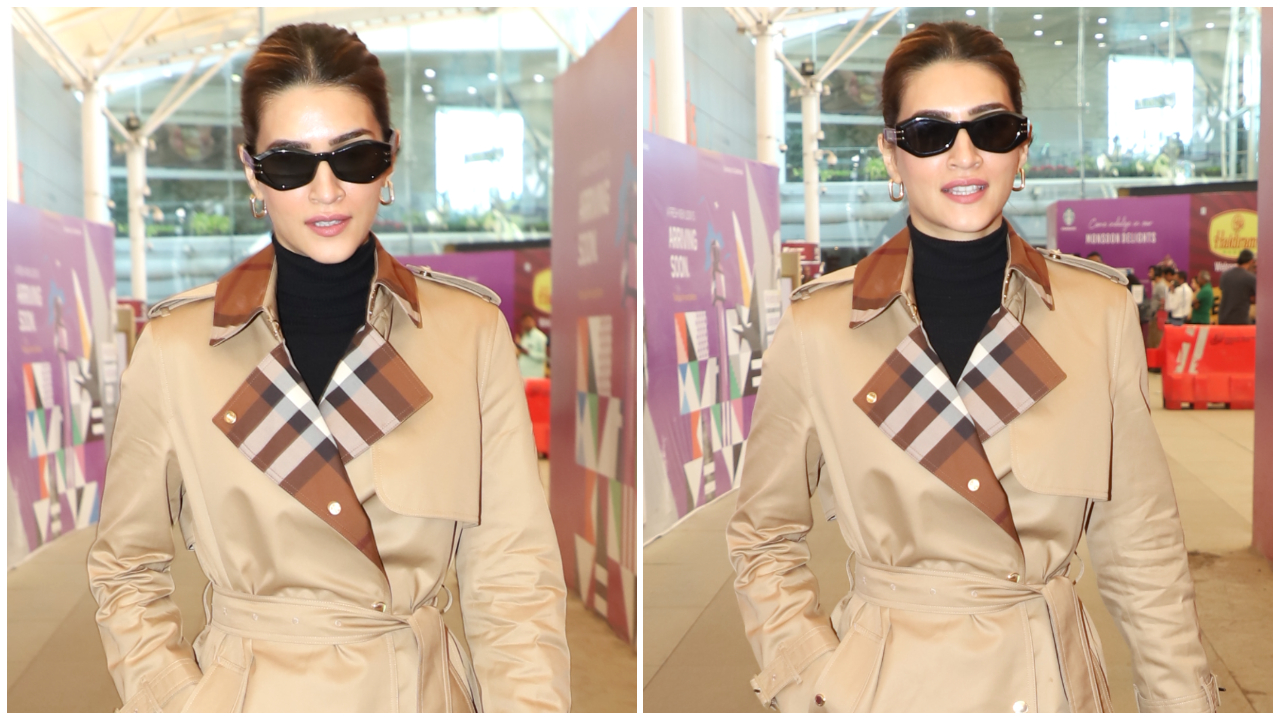 Kriti's preference for keeping her accessories organized and uniform in terms of color indicates a thoughtful and cohesive approach to her fashion choices. By sticking to a consistent color theme, she can effortlessly create a put-together and polished appearance.
Black is a versatile color that pairs well with almost any outfit, making it a smart choice for her boots. It allows her to mix and match her wardrobe easily while maintaining a sense of coordination and elegance.
Kriti Sanon's attention to detail in her outfit and accessories is truly remarkable. By choosing black stockings and Dior sunnies, she maintains a consistent and stylish color theme, complementing her overall look while also providing practicality and protection from the winter chill.
The black stockings not only add a chic touch but also help keep her legs warm, making them a perfect choice for the colder weather. The Dior sunnies not only elevate her style but also shield her eyes from the sun's glare, offering both fashion and function.
Her love for essential winter accessories is evident, as she selects pieces that not only enhance her outfit but also serve a practical purpose during the season. It shows her thoughtfulness in creating a well-rounded and functional ensemble.
The choice of gold earrings adds a touch of elegance and sophistication to her look. Simple yet impactful, gold earrings can effortlessly elevate any outfit, making them a versatile choice that complements a wide range of styles.
By tying her hair into a pulled-back ponytail, Kriti keeps the focus on her outfit and accessories while maintaining a clean and polished appearance. A pulled-back hairstyle also works well with winter clothing, keeping her hair out of the way and showcasing her accessories.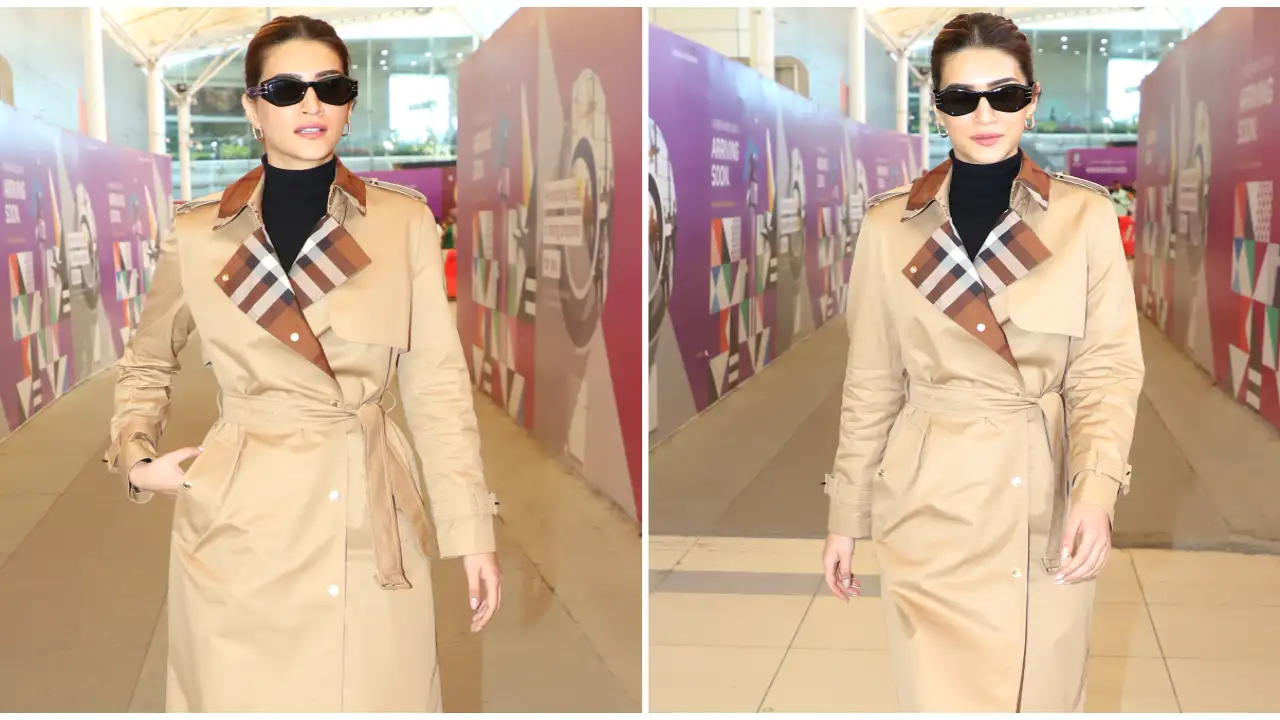 Completing her look with pink lipstick adds a pop of color to her ensemble, brightening up her face and adding a touch of femininity. It's a subtle yet effective way to enhance her overall appearance.
Overall, Kriti Sanon's attention to detail in her winter clothing and essential accessories demonstrates her impeccable sense of style and fashion flair. By carefully curating her outfit and combining it with well-chosen accessories, she creates a polished and fashionable look that is both practical and chic. Her fashion choices continue to inspire and impress her fans and followers worldwide.